We want to help you avoid monotony in your holiday planning by giving you everything you need to fill your time with action packed adventures in Galway. Discover 50 different ways you can enjoy a day out in Galway right here. Just remember to throw the swim suit, hiking boots, picnic blanket and umbrella into the bag, because who knows what kind of weather lies ahead and that is one thing we absolutely cannot guarantee!
Escape into Nature
1. Brigit's Garden
Soak up the Celtic heritage and picturesque views as you transverse the grounds and gardens of Brigit's Garden. Widely regarded as one of the most picturesque gardens in Ireland; fairy forts, native wildflowers, a gorgeous Garden Café, enchanting fairy village and a beautiful lake are just some of the stunning features dotted around these Celtic gardens. This spot is also dog-friendly so the whole family can come along and sightsee their way throughout these beautiful surroundings. Plan your visit here.
2. Coole Park
Head just about 4km north-west of Gort and you'll come to the tranquil Coole Park. It lies at the centre of a rare wetland system that is considered to be of global importance. It's characterised by underground rivers, springs, and seasonal lakes (turloughs) which are almost unique to Ireland. It's extensive woodlands is the home to red deer, barn owls, common buzzards, swans and many more wildlife species. There are also 6km of signposted nature trails, the gorgeous and homely Coole Park Tea Rooms, plus a late 18th century walled garden which contains the autograph tree - a copper beech that is engraved with the initials of many of the leading figures of the Irish Literary Revival, who were friends with Coole Park's former owner Lady Gregory. Discover our complete guide to Gort and its surrounding areas here.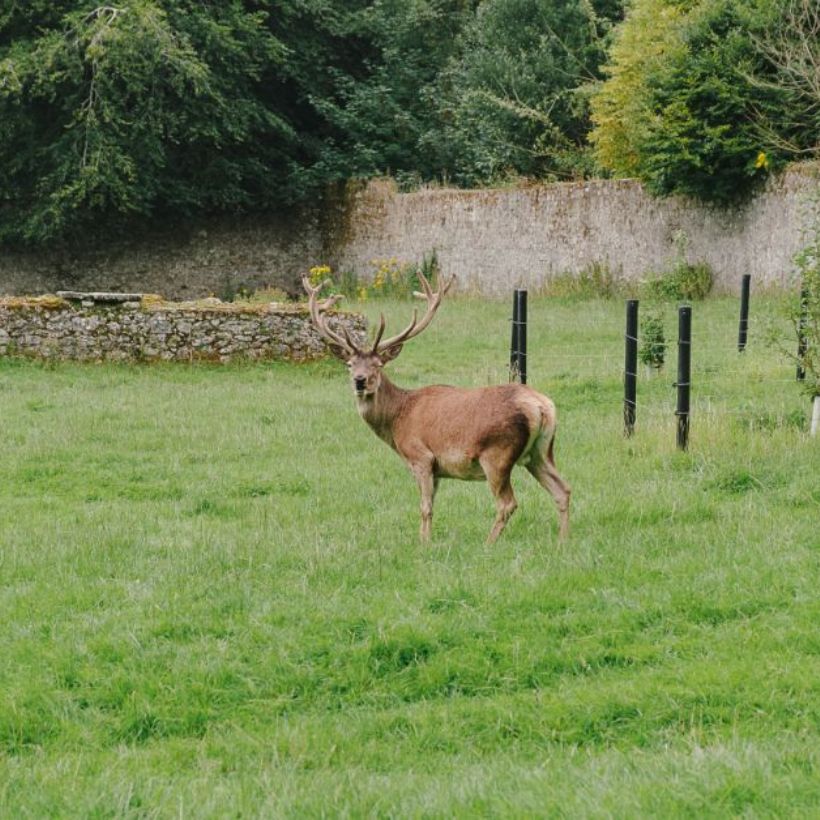 above: photo from Coole Park, photo by Ciarán MacChoncarraige
3. Burren Nature Sanctuary
The perfect introduction to the beautiful biodiversity of The Burren region, Burren Nature Sanctuary offers days of fun and discovery. Stroll the natural trails in the ancient woodlands, meet friendly farm animals and learn about the area's unique flora and landscape. Just remember to bring your camera as you never know when a photo opportunity will present itself! Discover more about it here.
4. Slieve Aughty Centre
Bundle the whole family into the car and head out to Loughrea's Slieve Aughty Centre, where activities such as horse riding, sightseeing, walking trails and a whole lot more are at your fingertips - they've even got an enchanted fairy forest! When you are in need of refueling they've also got delicious food options and, each Friday, from April to the end of October they host their popular Pizza Party Nights. With the additional options of camping, glamping or eco accommodation, you may as well turn this day trip into a gorgeous night away. Book your stay here.
5. Delphi Adventure Resort
Offering a very welcome combination of both ultimate adventure and luxurious relaxation, Connemara's Delphi Resort consists of a 4 star hotel, an active adventure centre, a peaceful spa and a whole lot more. Delphi is perfect for a family day out, a method of tiring out the kids or an ideal spot for a romantic escape. There range of  20+ activities on offer for ages 4 and up include a mix of land and water sports, such as kayaking, aerial trek, archery, canoeing, bog obstacles courses, surfing and more. Discover all about it here.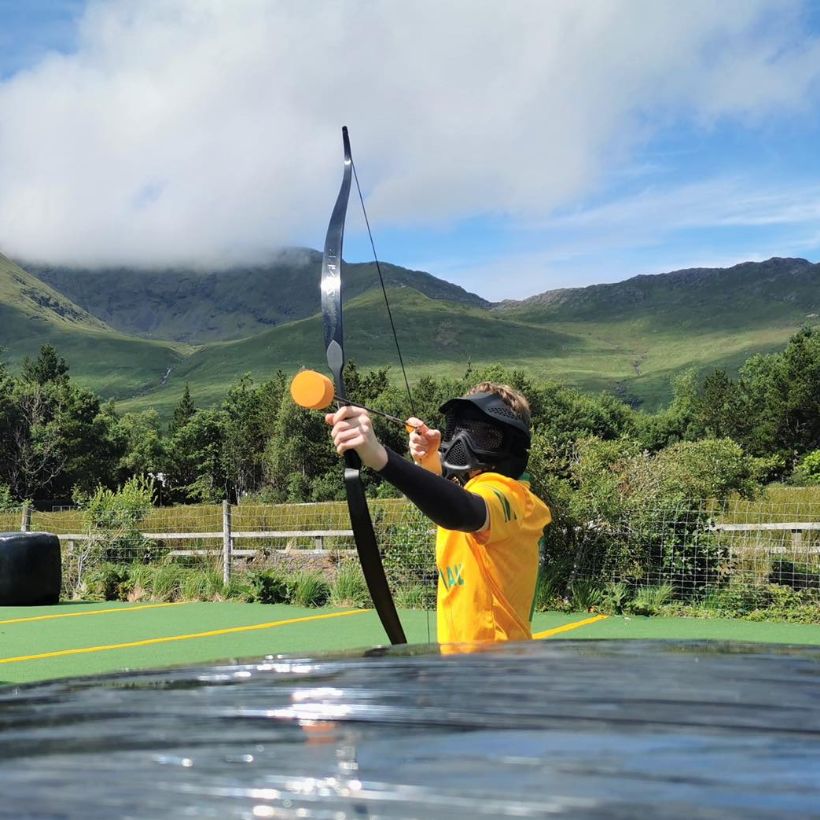 above: photo courtesy of Delphi Adventure Resort
6. Dog's Bay Beach
If you're looking to explore a bit more of the wild west coast, travel up to Connemara to visit Dogs Bay and Gurteen Bay beaches. These beaches are some of the most beautiful in all of Ireland. The beaches are surrounded by the beautiful Connemara countryside. Dog's Bay is this incredible horseshoe shape, making the views absolutely stunning. Lying back to back with Gurteen Beach, the two form a tombolo on the Atlantic Ocean, and Dog's Bay's mile of white sandy shore make it the ideal place for a relaxing stroll. Whether you want to swim, windsurf or kitesurf in the clear water, or kick back on the sand with a good book, it's an ideal way to get off the grid for the day.
The Must Visits of Galway City
7. The Galway Markets
Every Saturday and Sunday, Church Lane just off Shop St comes alive with loads of the most impressive market stalls. As the Galway Market gets underway you'll find intricate crafts, handmade pieces and plenty of mouth-watering grub to go around. We always feel that the perfect way to cap off a weekend in the city is spending the afternoon perusing the many offerings. Additionally, the fabulous vendors of Tiny Traders Market every Sunday will keep your marketplace wandering at an all time high. Now running at the top of Eyre Square every weekend, you are sure to find something you'll love amongst their many stalls.
8. Pálás Cinema
Sometimes all you really want to do is sit back, relax and watch a good movie. Luckily, Pálás Cinema screen some of the very best nostalgic flicks as well as the most popular new releases. They also run event cinema screenings, so whether you're an opera buff or a member of their book club, there'll always be something to enjoy. Their bar is also a hub of activity throughout the day, offering phenomenal drinks and special offers on their cocktails it's the perfect spot for a pre or post movie drink. They also work with Doghouse who provide visitors with delicious hot dawgs and sides, and are well worth the visit to Pálás Cinema alone.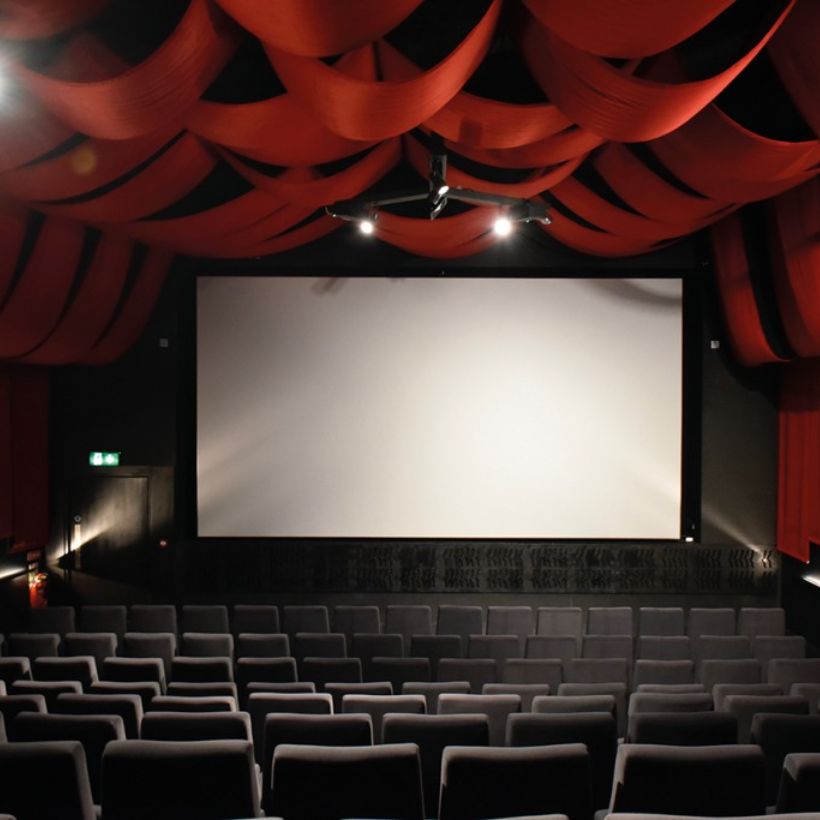 above: photo courtesy of Pálás Cinema
9. Galway Cathedral
Yes you've probably seen photos and its curved dome has more than likely made it into your eye line at one point or another, but have you ever really, truly appreciate the beauty of Galway's Cathedral? Consecrated in 1965, the structure features ornate rose windows, intricate mosaics and Renaissance-inspired pillars. With so much to gaze at, you won't find the hours passing. Check out out here. After your visit here, pop across the road to the stunning grounds of the University of Galway, while it can be a bit busy during college semesters, over the weekends and in the summer months it provides the perfect backdrop for a walk with your dog or a casual stroll with your friends.
10. Galway Atlantaquaria
Get lost under the sea in an educational and enthralling environment at Galway Atlantaquaria in Salthill. As you learn about Ireland's diverse marine ecosystem, experience aquatic life taking place right in front of your eyes and, most importantly, look at the pretty colourful fishes. The Atlantaquaria provides a great day for all ages, and gives you the chance to get up and close with sea life. From the sharks that swim in our seas to freshwater fish that glide along our rivers and under the surface of our tranquil lakes, not to mention the colourful and exotic creatures from warmer climates – there is so much to experience! Plan your visit here.
11. Galway City Museum
For a fun and free activity, a visit to Galway City Museum is always a good idea. Here, you can learn all about Galway's interesting past.  The fully accessible building is home to three levels of fascinating exhibitions offering visitors the chance to soak up the archaeology, history, sea science and culture of Galway while also enjoying spectacular sea views. They also offer a number of free events and workshops throughout the year aimed especially towards kids.
12. Immerse yourself in seaside living in Salthill
From scenic views to the best local cuisine, Salthill has got it all. All that's left to do is to have a look at our ultimate Salthill recommendations listed here and enjoy a fabulous time by the seaside on us! Enjoy some ice cream while looking out at the Bay, walk the famous promenade and watch the waves lapping on the shore. Whether you want to dip your toes in or watch people cannonball off of Blackrock, a day at the seaside is always a good choice.
13. Galway Food Tours
Experience the city and its many foodie gems on a two-hour culinary tour of the city, where you will meet artisan producers, sample their delicious produce and soak up the rich food landscape, with the help of Galway Food Tours expert insider knowledge. During the tour you will get to experience fabulous flavours artisan producers, cheese makers, creative beer projects, artisan chocolatiers, traditional family run businesses to young entrepreneurs with devotion and commitment to showcase the best of Irish produce. This is the ultimate Galway experience.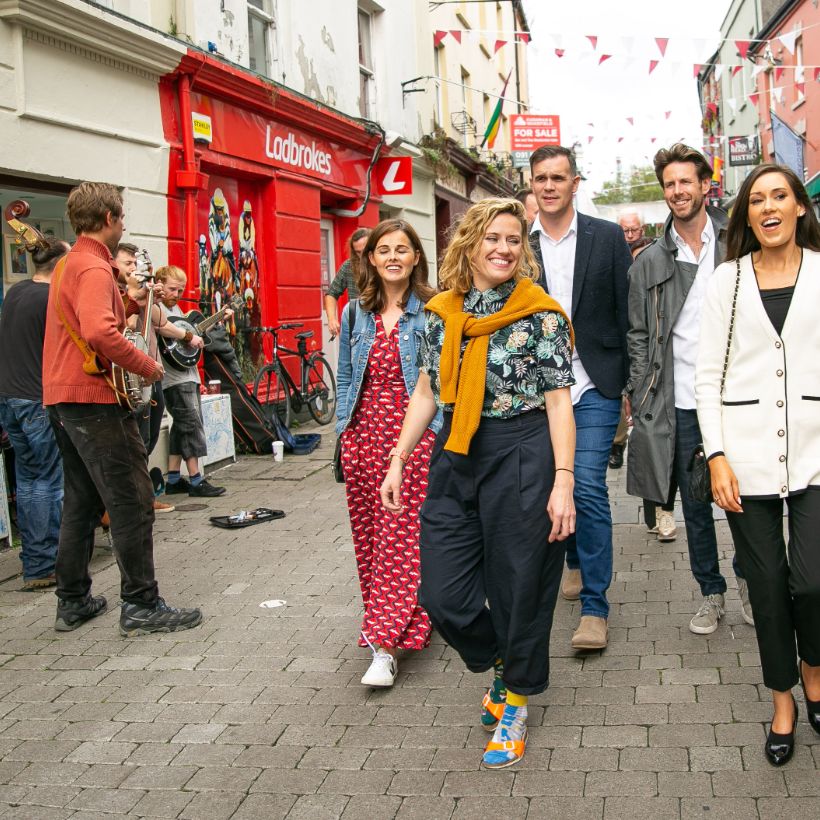 above: photo courtesy of Galway Food Tours
Head off on some island gallivanting
14. Inis Mór
If you've been planning on paying a visit to the Aran Islands, where the locals chat as Gaeilge and historic significance oozes throughout, we've got some inside knowledge that'll help you navigate the ancient rocky landscapes of Inis Mór. Providing year round travel to Inis Mór from Rossaveal and from Galway City Docks (April to September), Aran Island Ferries offers an award-winning Irish experience and should definetly be your guide to a phenomenal island getaway. Out in Inis Mór you better make sure to check out Thomas Faherty's pony and trap tours, and get a feed in and a pint in Tí Joe Watty's. And sure isn't there always the options to hang around for the night in one of the hospitable B&Bs! Check our full guide to this island here.
15. Inishbofin
An escape rich in calmness, culture and craic, Inishbofin has loads to offer whether you want to lie back in the serenity of the beach or gallop across it on horseback, you can do it all right here. Featuring a selection of official looped walks, two Green Coast Awarded beaches, a dive centre, an equestrian centre, bicycle hire and many more activities and sites to see. On the island there are also five restaurants and four bars to choose from, which each offering its own unique blend of local cuisine. To get here take the ferry from Cleggan pier, located northwest of Clifden. The ferry leaves three times a day during peak times and twice a day during the off peak times. To begin planning your trip to Inishbofin, tap here.
16. Inis Oírr
Inis Oírr is the smallest of the Aran Islands and the one that is closest to the mainland. Characterised by its distinctive charm, white sandy beaches and home to the eye-catching Plassey Wreck. There's plenty for you to discover on this little island off the West Coast, from Instagram worthy views, to eating your way around the local food and drink scene, we can guarantee you'll love every moment spent on Inis Oírr. To get here, Aran Island Ferries provides year round travel to Inis Oírr from Rossaveal, with a shuttle bus to Rossaveal leaving from the city centre each day. Begin planning your island visit by tapping here.
17. Inis Meáin
Inis Meáin as the name as Gaeilge implies is the middle island of the three Aran Islands. A maze of winding roads, rocky hillside and bountiful native wildflowers, it's no wonder that Inis Meáin is considered one of the ultimate getaway destinations. One noteable attraction include; Synge's Chair and Cottage, (for those who are unfamiliar with JM Synge, he was an Irish writer to whom Inis Meáin owes much of its cultural significance. Sygne was inspired by his surroundings when penning his noteworthy play 'The Playboy of the Western World' from the vantage point that would become known as Synge's Chair.) To get here, Aran Island Ferries provides year round travel to Inis Meáin from Rossaveal, with a shuttle bus to Rossaveal leaving from the city centre each day. Begin planning your island visit by tapping here.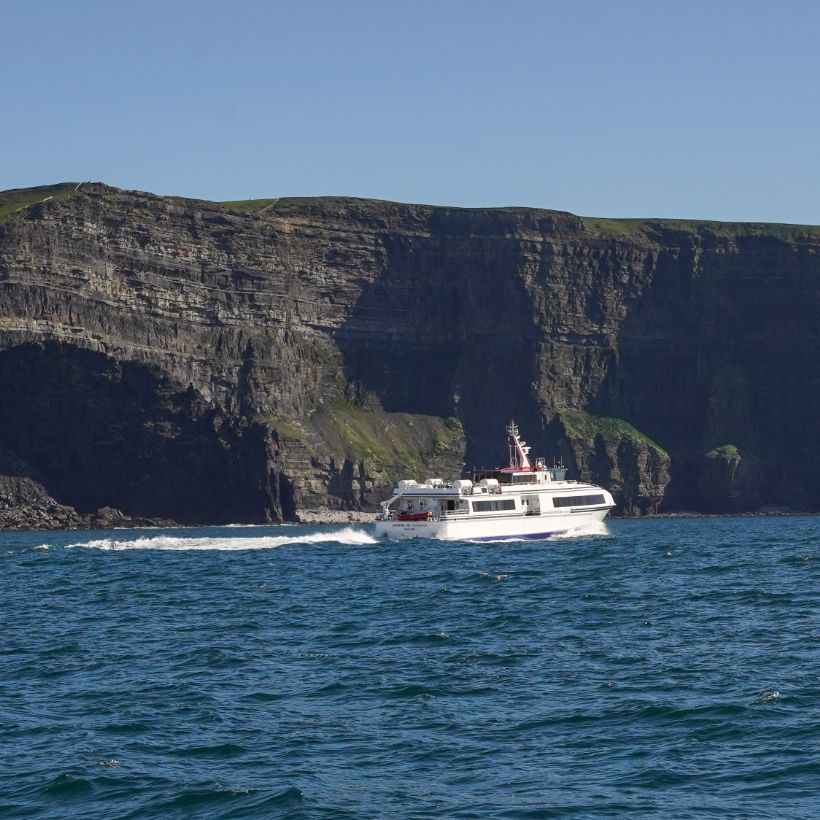 above: photo courtesy of Aran Island Ferries
Get off the beaten track..
18. Cleggan
Approximately 10km north of Clifden lies the picturesque fishing village of Cleggan. If you're a seafood fanatic, this will be music to your fishy ears! The pier, which dates back as far as 1822, is home to a whole lot of fishing and boating activities and the village's lively music scene and numerous sites of architectural points of interest add to Cleggan's charm. Discover more about it here.
19. Carna
Bring your cúpla focal to the heart of Connemara's Gaeltacht region, Carna, where you can even pick up a bag of turf if you're suck! Make sure to bring the rod, as the famous Carna Loughs are home to brown trout and the occasional sea trout. The area is renown for their skillful boat building, best known for the legendary Galway Hooker sailing boats. Discover more about it here.
20. Moycullen
Between the wilds of Connemara and the shores of Lough Corrib, lie a number of villages and towns that have been accurately dubbed 'the Gateway to Connemara', one of these towns is Moycullen. Featuring a wealth of natural attractions, the area is exceptionally beautiful in its own right, Moycullen is also another Gaeltacht village that is without a doubt worth a visit. Peruse the farmers market, pet the animals at Loughwell Farm Park and even head along on a guided angling service if the moment takes you! Discover our guide to the area here.
21. Kinvara
Nestled between the world-famous Burren landscape of Clare and the buzz of The City of Tribes, the beauty of Kinvara knows no bounds. Featuring unreplicable views of the sea and home to the photogenic Dunguaire Castle, each visit to Kinvara will nourish your soul. Whether you're planning a rural getaway or you want to shake off the buzz of city life for a day, we've got the inside scoop on where to go and what to do while you're in the area. Read all our recommendations here.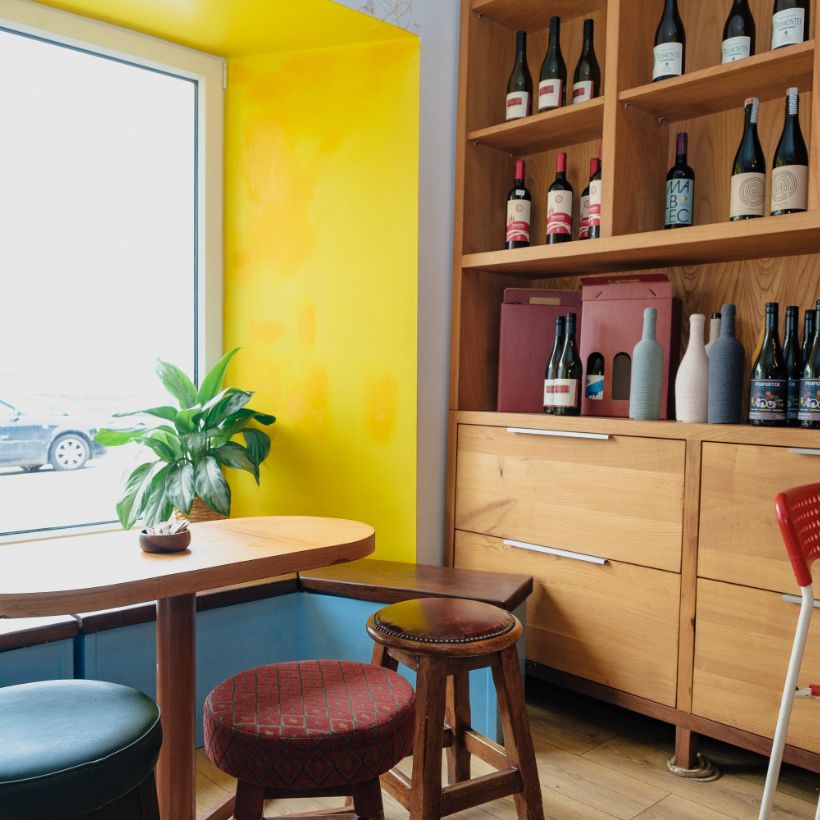 above: photo of SIAR in Kinvara, photo by Ciarán MacChoncarraige
22. Portumna Castle and Gardens
Right on the shores of Lough Derg, Portumna Castle and its Walled Garden are a stunning architectural relic dating back to the 17th century. If you want to learn about the history and intrigue of the castle, the ground floor is open to the public, bringing the story of the remains to life as well as providing a more in depth look at the de Burgo family. Additionally it is near to the River Shannon and Portumna Forest Park, which makes it a fabulous choice for a delightful day out. For more information on the castle, discover everything you need to know here.
23. Gort
A hidden gem between the idyllic Burren landscape and the lush Slieve Aughty Mountains, Gort is the perfect base for all your adventures in Galway. With the help of our little guide, discover this area's ties to many famous historic literary figures, immerse yourself in its flourishing natural environment and meet some of the local creators and makers. Take this opportunity to go forth to Gort and spend a day exploring the areas' hidden gems. Discover all about it here.
24. Clifden
Capital of Connemara and Jewel of the West, Clifden certainly lives up to its reputation as being both a picturesque and flourishing cultural town. Home to stunning views, cosy bars & restaurants, and a lively atmosphere. To give you the opportunity to fully explore all the gems in this iconic West of Ireland destination, find our favourite things to see and do in Clifden right here. A landmark town along the Wild Atlantic Way, if you haven't already taken a whirl down Sky Road, this is your chance. Discover our guide to Clifden here. 
25. Letterfrack
The real beauty of Ireland, North Connemara is home to an abundance of stunning walking trails, crystal clear lakes and white sandy shorelines. With so much to see and do, we want to help you make the most of your time amongst the natural beauty of this Connemara region because every visit to Letterfrack and North Connemara is an experience you'll treasure for a lifetime.. Discover our guide to this area here.
For some Adventure
26. Wildlands
Let your hair down at Wildlands Activity Centre and have an adrenaline racing time on their indoor and outdoor courses - Zip 'n' Trek, Fun Walls, Disc Golf, Bushcraft, Archery, Fairy Trails, Challenge Rooms, Ninja Course and much, much more. From Baile Beag (the incredibly cute tiny town for the kids) to the more adventurous obstacles courses and delicious food in their onsite restaurant Olive Tree Kitchen, there's something to keep the whole family entertained at Wildlands. Discover all about it here.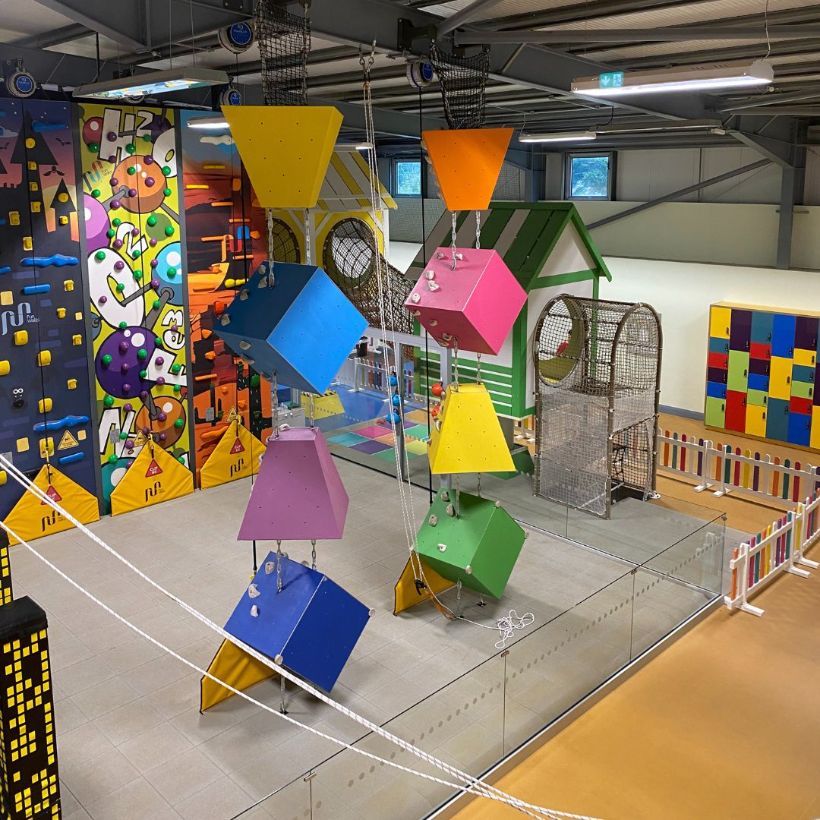 above: photo courtesy of Wildlands
27. Real Adventure Connemara
Offering a whole host of exciting activities, Real Adventures Connemara are specialists in outdoor adventure activities and explorations. Whether it's coasteering or kayaking, rock climbing or surfing, hiking or SUPing, they offer activities for everyone. For even more breath-taking scenes, take full advantage of their summertime sunset kayaking activities. Watching the sun set across the Atlantic Ocean from the comfort of your own kayak? Yes, please! Book in for your next adventure here.
28. Diamond Hill & Connemara National Park
We knew those hiking boots we mentioned in the intro would come in handy! Starting from the visitor centre in Connemara National Park, you'll be trekking across gravel footpaths and wooden boardwalks to reach the summit and - believe us - once you make it to the top and take in the views, you'll forget all about the journey up. The views are seriously spectacular! The Diamond Hill loop takes about two hours to complete so a packed lunch is highly recommended. More on this here.
29. Fat Bike Galway
In addition to merely renting a bike, there's nothing better than getting out in nature and experiencing the most scenic Galway sights up-close-and-personal with Fat Bike Galway (so called because of their 10cm wide wheels which afford the rider a more comfortable ride). They provide exhilarating tours of Galway city and Connemara. The bikes are ideal for exploring all kinds of terrain and this tour will give you some great views of Galway at its very best! Fat Bike Galway will provide a personal experience with numbers limited to six guests, supplying helmets and safety equipment while every tour starts with a safety talk and a lesson on how to use the bike... although, it's very easy! Book your tour here.
30. Knockma Hill
Situated 8km from Tuam, Knockma Hill is famous for its historical importance and its ties to many folklore and fairy legends. Home to a series of archaeological features such as cairns, tombs, hill forts and Castle Hackett at its base, there are loads to discover along its many walking trails. To top it all off, once you reach its summit, you'll be greeted by panoramic views from all angles. Brush up on the history here.
31. Rusheen Bay Windsurfing
There are days of action-packed adventures to be experienced and enjoyed at Rusheen Bay Windsurfing. Their team of trained professionals provide a full range of activities, as both lessons and rentals, including windsurfing, kayaking and stand-up paddle boarding. Additionally, their kayaking tours are also an ideal activity for groups of friends as they are suitable for all level of kayaker. Discover more of the activities offered here.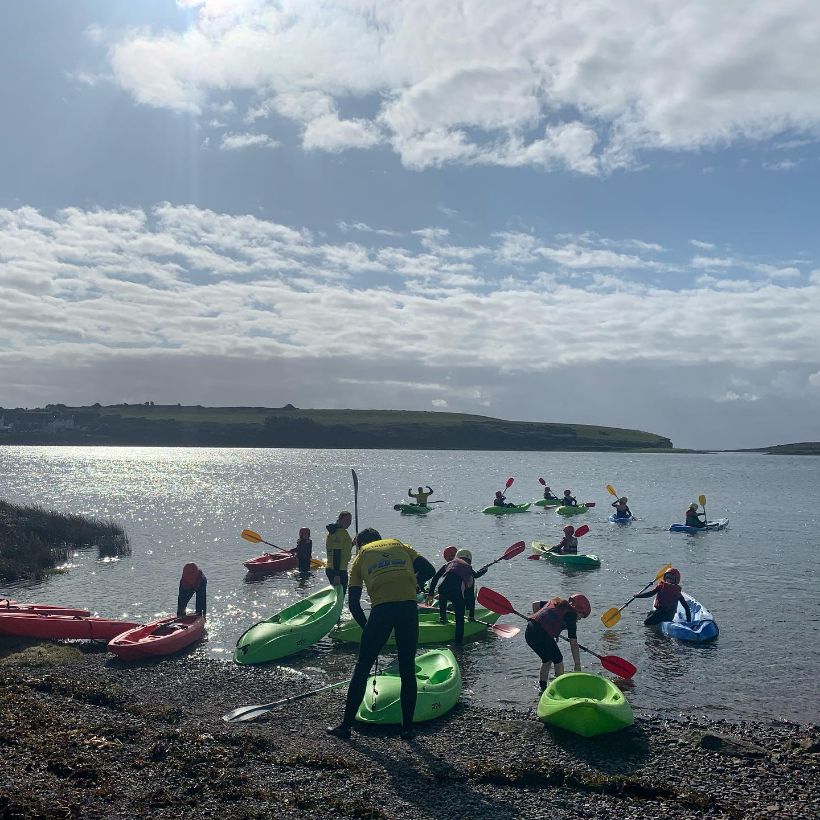 above: photo courtesy of Rusheen Bay Windsurfing
Easy Paced Activities
32. Glengowla Mines
One of Connemara's hidden gems, Glengowla Mines offer guided tours of the silver and lead mines, which have been abandoned since 1865. Having since been reclaimed, restored and transformed into a stunning tourist attraction, the mines even offers farm walks, sheep herding and turf cutting demonstrations… if you're looking! Discover all about it here.
33. Kylemore Abbey
Complete with its Victorian Walled Garden, Kylemore Abbey and its grounds really is an incredibly magnificent experience. Stunning architecture, breathtaking woodland and lakeshore walks, chocolate factory and cute gift shop, every visit to the estate of Kylemore Abbey is astonishingly beautiful. It'sone of Ireland's Best Loved Tourist Attractions while also being a haven of tranquillity, history, nature and romance so it should definitely be on the aul bucket list, if you haven't already been. Discover all about it here.
34. Clifden's Sky Road Cycle Route
We're sure you have already heard of Sky Road's spectacular view but trust us when we say the stories don't live up to the experience. Overlooking Clifden Bay, the route lies more than 150m above sea level so you'll feel on cloud nine as you fly along on your bike. Just remember to bring a camera so you can capture some of these breathtaking sights. Check out some of its main features here.
35. When in doubt.. go golfing!
The ultimate way to leave your worries behind is with a day of golfing. At Galway Bay Golf Resort, the 18-hole course blends both natural beauty with golfing adventure and it's regarded amongst the very best golf courses in Ireland. Alternatively, if the weather isn't as nice as you'd like, SWING Golf is the perfect solution. They bring the game of golf to life with 6 state-of-the-art TrackMan simulators. With the latest technology, they offer a fully immersive golf experience that allows you to play on some of the world's most famous courses without ever leaving Galway.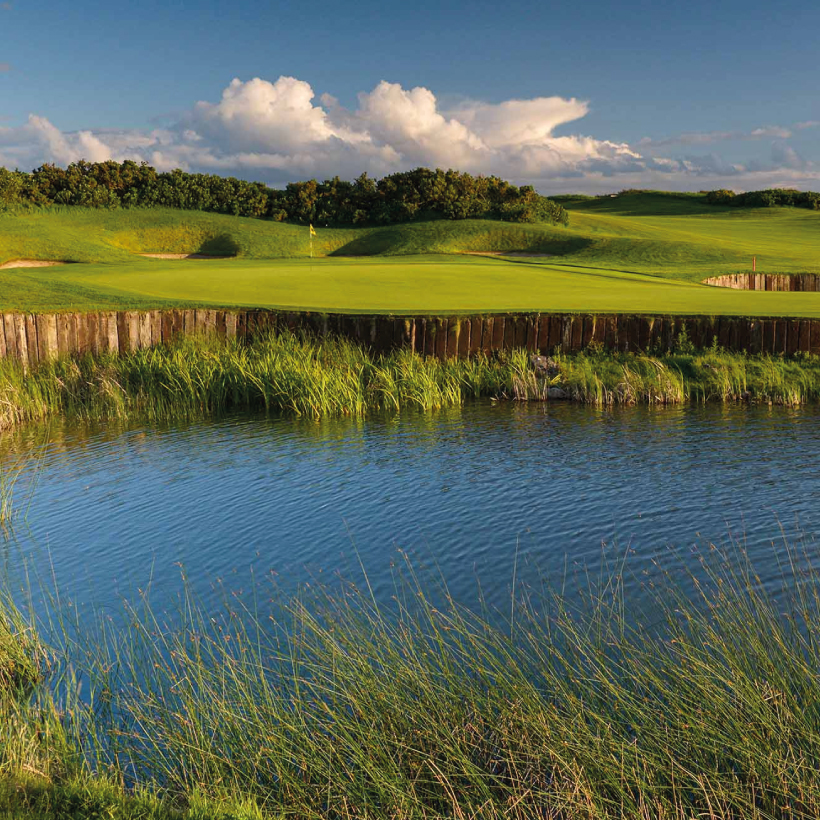 above: photo courtesy of Galway Bay Golf Resort
36. Corrib Princess tours
If you fancy seeing River Corrib from a new perspective, a trip aboard the Corrib Princess is exactly what you need. The 90 minute tours run from April to October and are a fun alternative way to spend your day in Galway. This luxury cruise boat also offers private evening cruises with dinner and entertainment and are definitely worth booking during your visit to the City of Tribes. Book your tour here.
37. Hazel Mountain Chocolate Tours
For those of you with a sweet tooth, this will be right up your alley! The Hazel Mountain Chocolate Tours will bring you through the entire process of making the finest chocolate, from the roasting and cracking to the stone-grinding and tempering, all guided by an expert chocolatier. They are Ireland's only bean to bar chocolate factory, based along the Wild Atlantic Way so be sure to check them out. There'll even some tasty treats in store! Discover all about it here.
38. Barna Woods
Approximately 3 miles from Galway city centre, Barna Woods has loads of gorgeous trails to go exploring on. There are also loads of interesting historical features around the wood that are worth checking out for yourself. With free parking and the new upgraded pedestrian crossings and pathways, the woods have become more easily accessible to visitors. Leave the city behind and bring your pooch and your pals out for a walk amongst the beautiful woodland. With the stunning Silverstrand Beach mere minutes away, make the most of your day exploring the area.
Galway's Simplest Pleasures...
39. Beer Garden Boozing
Few things in life amount to the joy in finding yourself in one of Galway's best beer garden, surrounded by good company and sipping away on delicious booze. Gorgeous weather, good tunes, great people and an unbeatable atmosphere, there really isn't anything better than Galway on a sunny day, so make the most of it and visit the best beer gardens in the wesht, right here in Galway. Discover all our top beer garden picks here.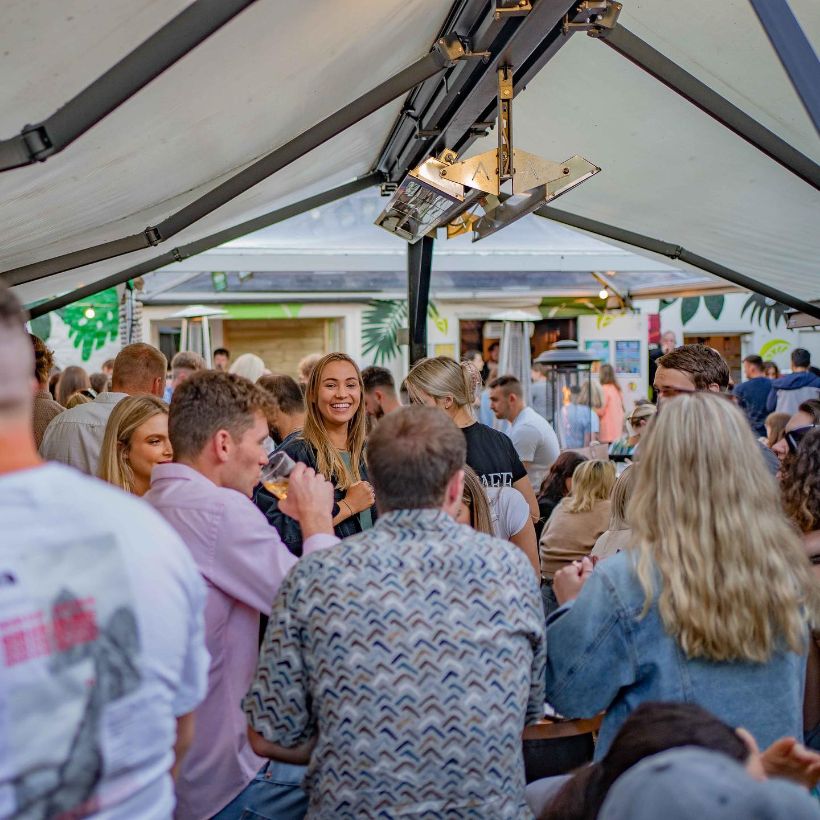 above: photo courtesy of Taylor's Bar & Beer Garden
40. A bit of Shopping
If you're in the city for the day and want to fit in as much drinking, eating and shopping as humanly possible, we've got you covered. Jammed full of beautiful stores both old and new, its fair share of atmospheric boozers, and eateries offering food from all over the world, you've got everything you could want! Check out the best bits of Galway right here.
41. Spanish Arch
What is a list of days out in Galway without mention of the glorious Spanish Arch? When the sun shines it's almost too easy to let yourself spend the day at the Sparch sipping cans, listening to music and chatting with some familiar faces. Alternatively a few steps away, The Long Walk is a bit shorter than it sounds but is a fabulous way to enjoy a bit of quiet in the city and sit looking out at the Claddagh.
42. Partake in some People Watching
Watching people come and go makes for terrific Galway entertainment. From an old man smoking a pipe to a group of kids running about, there is so much to take it. A pint in hand and not a care in the world, it would be hard to find a better way to spend the day. No one loves a good snoop like a Galwegian, so discover where to find our favourite people watching right here.
43. Check out the Culture
From the Town Hall Theatre and Galway Arts Centre to the county's many galleries, there is so much culture to be absorbed throughout the city. If you fancy being able to show off your historical knowledge of Galway, or you want to expand your artistic appreciation, there are always some fantastic exhibitions or theatrical shows on offer. Discover it all here.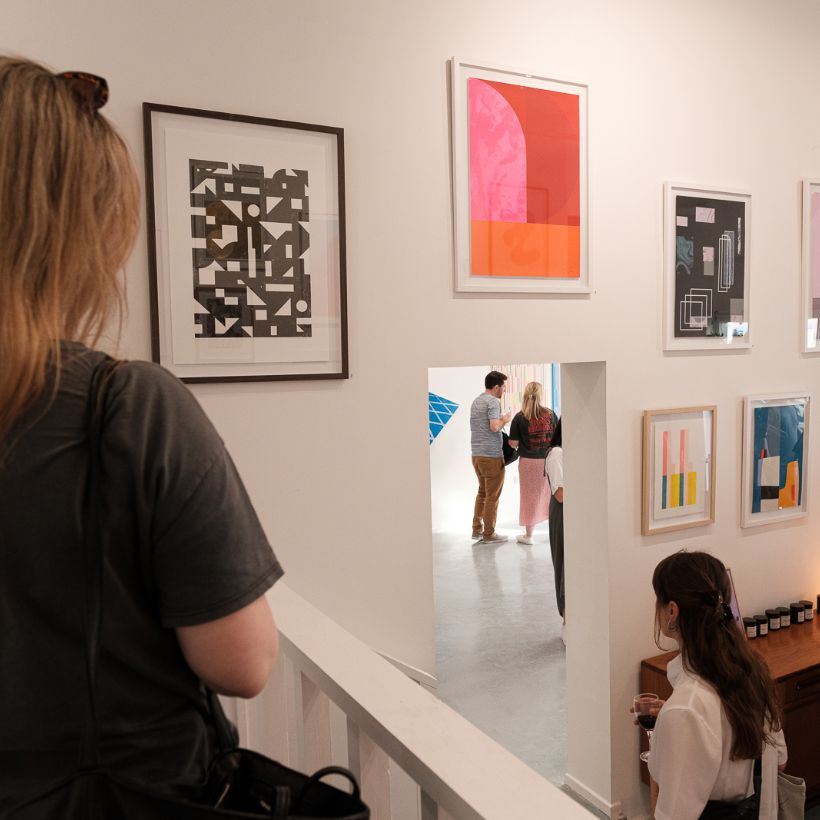 above: photo courtesy of Outset Gallery
44. Visit Nora Barnacle's House
The West of Ireland is known far and wide for its intrinsic link to the country's most prominent literary names, having set the scene for some of the greats to come to fruition. Looking at the smallest house on Bowling Green in Galway city today, you couldn't imagine that such a tiny building could have held the magnificent woman who inspired some of James Joyce's very best work, Nora Barnacle. Open seasonally from June to September, Thursday, Friday and Saturdays from 10-4pm, if you are interested in receiving a private tour of the museum contact them here.
Festivals Galore..
45. Festivals of Galway
Throughout the year, Galway buzzes to life with festivals of all kind, both internationally famous ones and other more locally inspired occasions. Standout festivals include; Galway International Arts Festival, Galway Comedy Festival, Cúirt International Festival of Literature, The Galway Races, Galway Film Fleadh and Baboró International Arts Festival for Children. With something taking place each month we can guarantee that these special occasions offer loads of exciting events that you can feel your days with. Discover what's going on in Galway right here.
Some more shenanigans…
46. Spiddal Craft Village
Immerse yourself in the wonderful craftsmanship of local Connemara artists at Spiddal Craft Village and gift yourself one of their amazing wares to bring home to remember your time in Galway. They've got an array of glass creations, hand woven baskets, celtic coin jewellery, ceramics and loads more stunning crafts to choose from. The craft studios are open seven days a week so make sure you pay them a visit while you are in the area and meet the people behind the magic.
47. Complete our Bucket List
Whether you're a Galway native or just passing through, there are certain things that everyone has to tick off their bucket list before leaving the West. We've put together a list of our 30 top picks so see how many can you tick off? Check it out here.
48. Throw an afternoon tea party
The height of sophistication, afternoon tea  in Galway is an incredibly comfortable and satisfying way to spend the day. From their hand cut sandwiches to their pastry creations, these offerings are always top class, and there's always the option of a cheeky glass of prosecco too. Embrace your inner notions and be sure to check out our guide on where to have an afternoon tea to remember right here.
49. Explore Galway's Castles
Whether it's the castle at Caher or Lough Cutra, Kilcolgan or Claregalway, who doesn't love being treated like royalty? Take a step back in time and imagine how they lived back in the day, centuries before indoor plumbing, electricity and - dare I say it - social media! Whether you want to admire the architecture or spend the night in a bed fit for a King (literally), Galway's got it all on offer. Check them out here.
50. Live Music
From Róisín Dubh to The Black Gate at An Taibhdhearc, Galway's live music scene is seriously off the charts! Drawing some big national and international names, as well as bolstering local talent, Galway is ace when it comes to a bitta ceol. Whatever genre you're into, you'll be able to find something that will get you on your feet. Check out the latest musical events right here.
Feature photo by @chaoshengzhang
Published on Updated on