Chances are you've already run out of ways to while away the hours over summer, boredom is slowly starting to trickle in and you've even contemplated watching reality television. We've decided to save you from the perils of monotony, handing you everything you need to fill the rest of the holidays with action packed adventures. Throw the swim suit, hiking boots, picnic blanket and umbrella into the bag, because who knows what kind of weather lies ahead!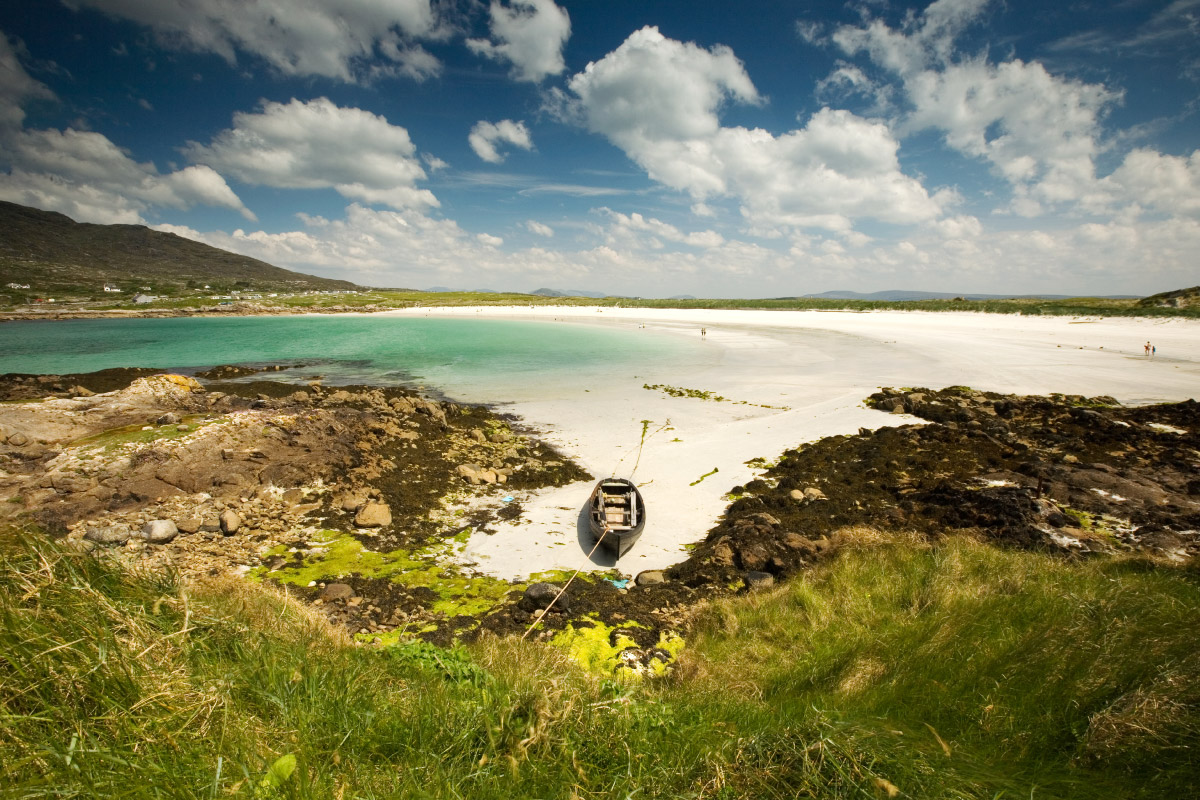 ESCAPE TO NATURE...
1. SLIEVE AUGHTY
Bundle the whole family into the car and head out to Loughrea's Slieve Aughty Centre, where activities such as Horse Riding, sightseeing, walking trails and a whole lot more are at your fingertips - they've even got an enchanted forest! They've got delicious organic food and, on a Friday, they whip up Spanish Tapas or a Pizza Party! With the options of camping, glamping or eco accommodation, you may as well turn the day trip into a night away.
2. DELPHI RESORT
Offering a welcome mix of both ultimate adventure and luxurious relaxation, Connemara's Delphi Resort consists of a 4 star hotel, a jam packed adventure centre, a peaceful spa and a whole lot more. Delphi is perfect for a family day out, a method of tiring out the kids or an ideal spot for a romantic escape.
3. BRIGIT'S GARDEN
Soak up the Celtic heritage and picturesque views as you transverse the grounds of Brigit's Garden. Fairy forts, native wildflowers and a beautiful lake are dotted around the garden, and while you sip a well-deserved cuppa on the Garden Cafe's patio, the kids can explore the fairy village!
4. COOLE-GARRYLAND NATURE RESERVE
Head just about 4km north-west of Gort and you'll come to the tranquil and peaceful Coole Park. The centre of a rare and complex wetland system, this park's idyllic charm attracted the likes of W.B. Yeats and George Bernard Shaw back in the 20th century, and sure if it's good enough for them it's good enough for us!
5. BURREN NATURE SANCTUARY
Nature trails, ancient woodlands and an animal farm, this is the ideal way to discover the raw, natural beauty of the Burren landscape. With plenty of events and experiences lined up for the months ahead, and plenty of audio guided walking tours, a day spent with nature never sounded so good.
6. DOG'S BAY BEACH
Lying back to back with Gurteen Beach, the two form a tombolo on the Atlantic Ocean, and Dog's Bay's horseshoe shape and mile of white sandy shore make it the ideal place for a relaxing stroll. Whether you want to swim, windsurf or kitesurf in the clear water, or kick back on the sand with a good book, it's an ideal way to get off the grid for the day.
RIGHT UNDER YOUR NOSE…
7. GALWAY MARKET
Each weekend Church Lane comes alive with some of the most impressive market stalls. With intricate crafts, handmade pieces and plenty of mouth-watering grub to go around, the perfect way to cap off a weekend in the city is spending the afternoon perusing the many offerings.
8. PÁLÁS
Sometimes all you really want to do is sit back, relax and watch a good movie. Luckily, Pálás cinema screen some of the very best nostalgic flicks as well as the most popular new releases. They also run event cinema screenings, so whether you're an opera buff or a member of their book club, there'll always be something to enjoy.
9. GALWAY CATHEDRAL
Yes you've probably seen photos and its curved dome has more than likely made it into your eye line at one point or another, but have you ever really, truly appreciate the beauty of Galway's Cathedral? Consecrated in 1965, the structure features ornate rose windows, intricate mosaics and Renaissance-inspired pillars. With so much to gaze at, you won't find the hours passing.
10. GALWAY ATLANTAQUARIA
Get lost under the sea in an educational and enthralling environment as you learn about Ireland's diverse marine ecosystem, experience aquatic life taking place right in front of your eyes and, most importantly, look at the pretty colourful fishies.
11. CRAFT AND FOOD MARKETS
Nothing beats a wander around the many stalls of a good market, and Galway's flushed with some of the best in the land! The fabulous vendors of Tiny Traders will ensure you're well entertained, and their produce is certainly worth a browse. A Sunday afternoon in Salthill is made ten times more enjoyable with some nibbles, not to mention the unbeatable atmosphere!
12. GALWAY FOOD TOURS
Experience the city and its many foodie gems on a two-hour culinary tour of the city, where you will meet artisan producers, sample their delicious produce and soak up the rich food landscape, with the help of Sheena's expert insider knowledge. Having been at this since 2013, it's safe to say she won't lead you astray!
13. THE GALWAY SPIRIT WHISKEY TOUR
For a tailor-made, customisable whiskey tasting tour of Galway, The Galway Spirit should be your first port of call. Spend the day being led through the city's best bars, soaking up the history and knowledge from your extremely experienced guide. Avail of the pure pot still tasting, a comparative glassware tasting or a whiskeys of the world tasting, all while enjoying the city's vibrant energy.
14. THE SIGHTS OF SALTHILL
Enjoy some ice cream while looking out at the water, watching the waves lapping on the shore. Whether you want to dip your toes in or watch the kids cannonball off of Blackrock, the seaside is a great place for some family bonding. A picnic on the sand, or a spot of lunch in Ground and Co., and you're on your way!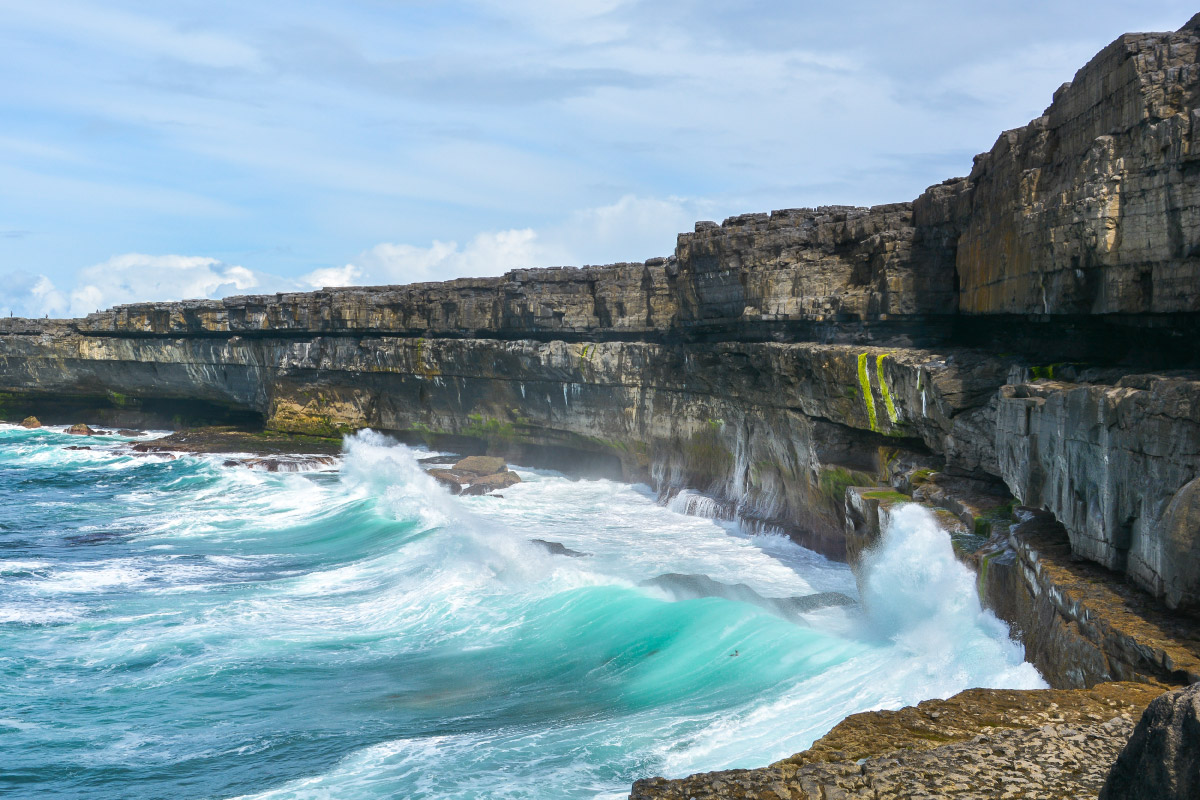 HEAD A LITTLE FURTHER AFIELD…
15. INIS MÓR
You're never going to regret taking a trip to the islands - the warm welcome, homely feel and authentic Irish surroundings make sure of that. Out in Inis Mór you better make sure to check out Thomas Faherty's pony and trap tours, get a feed in Bayview Restaurant and a pint in Tí Joe Watty's. And sure isn't there always the options to hang around for the night in one of the hospitable B&Bs!
16. INISHBOFIN
An escape rich in calmness, culture and craic, Inishbofin is made up of five eateries, four pubs, centuries of heritage and plenty of entertainment. Whether you want to lie back in the serenity of the beach or gallop across it on horseback, you can do it all right here.
17. INIS OÍRR
The smallest of the Aran Islands, Inis Oírr is jam packed with distinctive charm. Close by the Burren and with the Cliffs of Moher in its sights, this island's traditions are alive and well. Sandy beaches and a fantastic music and arts scene, Inis Oírr is a great getaway from city life. Make sure to pay a visit to the shipwreck of Plassey while you're exploring.
GET OFF THE BEATEN TRACK…
18. CLEGGAN
Roughly 10km north of Clifden lies the picturesque fishing village of Cleggan. If you're a seafood fanatic, this will be music to your fishy ears! The pier, which dates back as far as 1822, is home to a whole lot of fishing and boating activities and the village's lively music scene and numerous sites of architectural points of interest add to Cleggan's charm.
19. CARNA
Bring your cúpla focal to the heart of Connemara's Gaeltacht region, where you can even pick up a bag of turf if you're suck! Make sure to bring the rod, as the famous Carna Loughs are home to brown trout and the occasional sea trout. The area is renown for their skillful boat building, best known for the legendary Galway Hooker boats.
20. KINVARA
Nestled into the corner of the Galway Bay, this port village's colourful buildings create a stunning, vibrant reflection on the Bay's waters which is reason enough to pay a visit. Bursting with character and charm, Kinvara's many pubs and restaurants are extremely welcoming. If that's not enough, the Merriman Hotel has got the largest thatched roofs in Ireland!
21. MOYCULLEN
Located near Lough Corrib, Moycullen is another Gaeltacht village that is without a doubt worth a visit. Peruse the farmers market, pet the animals at Loughwell Farm Park and even head along on a guided angling service if the moment takes you!
22. PORTUMNA CASTLE
Right on the shores of Lough Derg, Portumna Castle and Demesne is a stunning architectural relic dating back to the 17th century. If you want to learn about the history and intrigue of the castle, the ground floor is open to the public, bringing the story of the remains to life as well as providing a more in depth look at the de Burgo family.
FOR SOME ADVENTURE TIME…
23. EPIC IRELAND'S ADVENTURE TOURS
A sure way to get your blood pumping is jumping right off the edge of a cliff! Specialists in outdoor adventure, Epic Ireland want you to keep your body guessing as you experience some insane adrenaline rushes. Coasteering, surfing, mountain biking and more, head on a spine tingling adventure across the Wild Atlantic Way.
24. REAL ADVENTURES CONNEMARA
Offering a whole host of exciting activities, Real Adventures' Kayaking in the Connemara Caves is an incredible experience. For even more breath-taking scenes, take full advantage of their summertime sunset kayaking activities. Watching the sun set across the Atlantic Ocean from the comfort of your own kayak? Yes please.
25. SCUBA DIVE WEST
Offering adventure day trips departing from Cleggan Pier and from Scubadive West that will stay in your memory for a lifetime, Scuba Dive West travel to world-class dive sites off High & Friar Island, Inis Boffin, Caher Island and Crump Island, including Inis Boffin's renowned Spotted Rock, which is a sheer drop off to 47 metres!

26. DERROURA MOUNTAIN BIKE TRAIL
10 years on the go, Derroura MTB Trail is a must-visit for all you out-doors lovers. An incredibly natural and variable terrain, Derroura is one of the few forests in Connemara. The often steep climbs are reconciled by the gentle descent's scenic route. At times laboursome and wholly rewarding, journeying this trail is incredibly worth it.
27. DIAMOND HILL
We knew those hiking boots would come in handy! Starting from the visitor centre in Connemara National Park, you'll be trekking across gravel footpaths and wooden boardwalks to reach the summit and - believe us - once you make it to the top and take in the views, you'll forget all about the journey up.
28. CONNEMARA WILD ESCAPES
Who'd have thought you could experience the most exhilarating of adventures out in Connemara? Rock climbing, coast trail riding, scuba diving, the works! They also encompass leisure, wellness, equestrian and just about everything else you could imagine, and they tailor make each experience to suit the visitor.
TAKE IN THE SIGHTS...
29. BIKE ELECTRIC
A great way to take in the beauty of Connemara is to hop onto a rented bike and set off. No rush, no interference, no nothing! Just you and the bike, travelling at your own pace with extra ease, so whether you want to go slow and steady or zoom across hills, it's up to you!
30. GALWAY BAY BOAT TOURS
All aboard this family-run boating business as you experience unfathomably beautiful ocean views and learn over 100 year's worth of awe-inspiring maritime history from the informed and knowledgeable tour guides. Sit back, relax and let it all wash over you.
31. GLENGOWLA MINES
One of Connemara's hidden gems, Glengowla Mines offer guided tours of the silver and lead mines, which have been abandoned since 1865. Having since been reclaimed, restored and transformed into a stunning tourist attraction, the mines even offer sheep herding and turf cutting demonstrations… if you're looking!
32. DARTFIELD EQUESTRIAN CENTRE
Set across 350 acres of parkland, Dartfield's range of activities includes horse riding, sheep dog demonstrations and clay pigeon shooting. If you're a history buff, they've also got a museum filled with vintage farm machinery and carriages, featuring an equine veterinary gallery, workshops and the opportunity to learn about blacksmith craftsmanship.
33. KYLEMORE ABBEY
Complete with its Victorian Walled Garden, Kylemore Abbey is an incredibly magnificent experience. Stunning architecture, breathtaking woodland and lakeshore walks and a fantastic dining experience, a visit to the estate of Kylemore Abbey is astonishingly beautiful, and should definitely be on the aul bucket list.
FESTIVALS GALORE...
34. CRUINNIÚ NA MBÁD
Taking place in Kinvara across the second week in August, Cruinniú na mBás Festival celebrates the longstanding tradition of the legendary Galway Hooker boats with their fantastic regatta. With sailing and entertainment galore, and plenty of superb craftsmanship to be admired, you'll soon know why Galway Hookers are such a well loved aspect of Galway's culture.
35. GALWAY INTERNATIONAL ARTS FESTIVAL
From July 15-28, GIAF returns with some of the biggest names in the music game making appearances, and some stellar operatic, theatrical and visual arts performances making up the lineup – not to mention their array of First Thought Talks, – there's a whole lot to be excited for!
Check out our 'best of' guide here.
36. THE GALWAY RACES
Attracting tens of thousands of people each year, it's no wonder the Galway Races are one of the ultimate highlights of our social calendar. The hospitality, style and craic is second to none, and the meeting itself is sure to get your heart racing. The entire city is filled with a buzz like no other, so whether or not you make it out to Ballybrit, you'll still manage to spend the night on the tiles!
SOME MORE SHENANIGANS…
37. SPIDDAL CRAFT VILLAGE
Overlooking the incredibly scenic Galway Bay, Spiddal Craft Village is a hub of creativity and community. From pottery and photography to jewellery and paintings, they've got all the artsy bits and pieces to keep you interested. Admire the creators hard at work or even bring home a piece of art to mark the visit. Make sure to check out Builín Blasta while you're about!
38. EXPLORE SOME OF GALWAY'S MANY CASTLES
Whether it's Cahercastle or Lough Cutra, Kilcolgan or Clare Galway, who doesn't love being treated like royalty? Take a step back in time and imagine how they lived back in the day, centuries before indoor plumbing, electricity and - dare I say it - social media! Whether you want to admire the architecture or spend the night in a bed fit for a King (literally), Galway's got it all on offer.
39. MISUNDERSTOOD HERON
Take in the stunning views of the Killary Fjord while tucking into a tasty meal and slurping up a warm cup of coffee in this award-winning food truck that serves up the most delicious flavours of Connemara in an al fresco dining experience like no other. Their ever-changing menu is always filled with flavourful and local ingredients that are sure to have your mouth watering.
40. LIVE MUSIC SESSIONS
From Róisín Dubh to The Black Gate, Galway's live music scene is off the charts! Drawing some big national and international names, as well as bolstering local talent, Galway is ace when it comes to a bitta ceol. Whatever genre you're into, you'll be able to find something that will get you on your feet. Check out our guide to what's going on in the tunes department this July right here.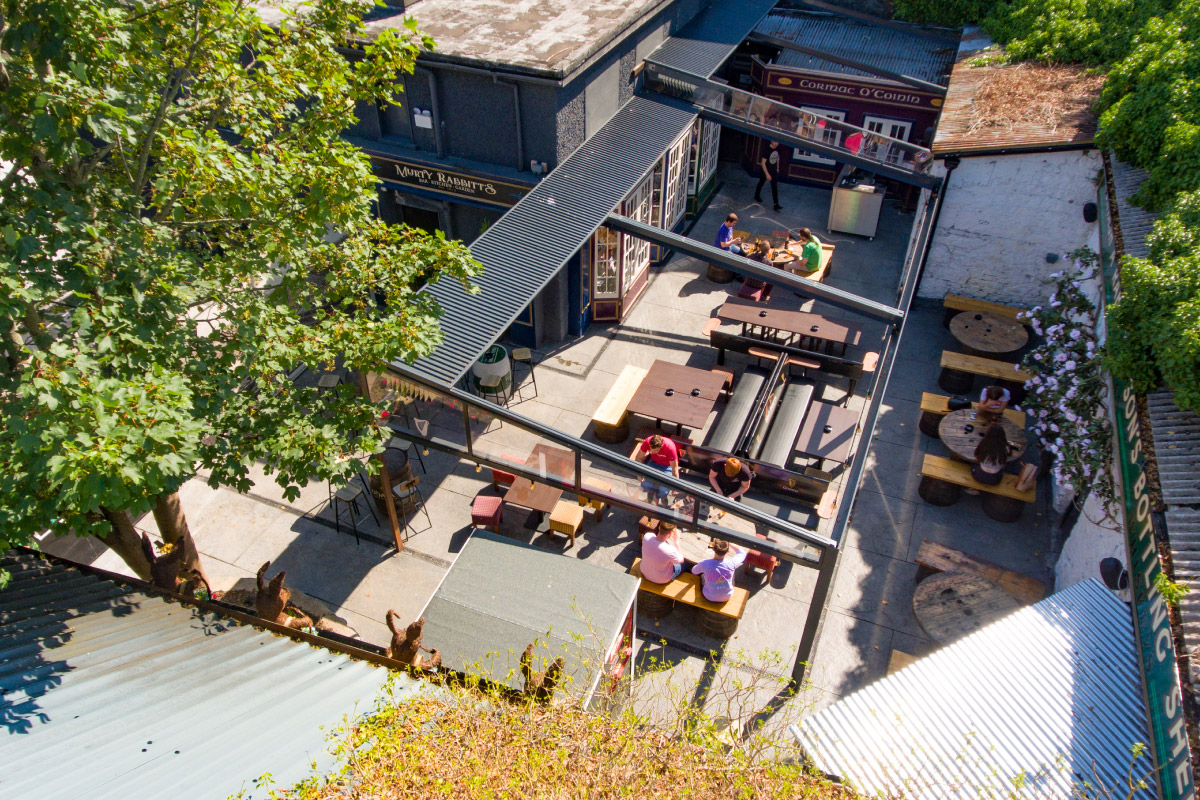 SIMPLE PLEASURES…
41. BEER GARDENING
Like gardening, but ten times more enjoyable! Between O'Connell's, An Púcán and Carroll's, Galway's got no shortage of savage places to spend the day. Drinks are flowing, the craic is ninety and spirits are at an all time high – you just can't beat it.
42. THE LATIN QUARTER
If you're in the city for the day and want to fit in as much drinking, eating and shopping as humanly possible, the Latin Quarter is the place to do it. Jammed full of beautiful stores both old and new, its fair share of atmospheric boozers, and eateries offering food from all over the world, you've got everything you could want!
43. SPANISH ARCH
What is a list of days out in Gaillimh without mention of the glorious Spanish Arch? When the sun shines it's almost too easy to let yourself spend the day at the Sparch sipping cans, listening to music and chatting with some familiar faces.
44. PEOPLE WATCHING
Take a pew on the patio of Neachtains and watch the many happy heads of Galway wander up and down the streets. From the old man smoking a pipe to a group of kids running about, there is so much to take it. A pint in hand and not a care in the world, it would be hard to find a better way to spend the day.
45. SKY ROAD CYCLE ROUTE
Rising 150 metres above sea level, the Sky Road loop out in Clifden serves up spectacular views of the Atlantic Ocean. As you follow the coastline, which should take roughly an hour, you'll pass by the ruins of Clifden Castle and plenty more historical monuments along the way.
46. HAZEL MOUNTAIN CHOCOLATE TOUR & TASTING
For those with a sweet tooth amongst us, this will be right up your alley! You'll be brought through the entire process of making the finest chocolate, from the roasting and cracking to the stone-grinding and tempering, all guided by an expert chocolatier. There'll even some tasty treats in store!
47. BARNA WOODS
Buzzing with bustling wildlife, beautiful woodland and intriguing architectural features, a jaunt as far as Barna Woods will restore a sense of tranquility to anyone who visits.
48. IMMERSE YOURSELF IN THE CULTURE
From the Town Hall Theatre and Galway Arts Centre to Galway City Museum and Gallery, there is so much culture to be absorbed throughout the city. If you fancy being able to show off your historical knowledge of Galway, or you want to expand your artistic appreciation, there are always some fantastic exhibitions or theatrical shows on offer.
49. HALL OF RED EARL
Erected to serve as a place for locals to curry favour way back in the 13th Century by Richard the Red Earl, the remains have been excavated and encased in glass panelling for you to visit and admire along with some ancient artefacts!
50. HISTORICAL TOUR OF GALWAY
Galway is more than just a pretty face, you know? It's got a lot going on behind its veil of beauty, culture and craic. From the Browne Doorway in Eyre Square to the Lynch Memorial Window and a whole lot more in between, there's
so many monuments dotted throughout the city with a rich and fascinating story behind them.
Published on Updated on