If you've been planning on paying a visit to the Aran Islands, where the locals chat as Gaeilge and historic significance oozes throughout, we've got some inside knowledge that'll help you navigate the ancient rocky landscapes of Inis Mór.

Inis Mór is the largest of the 3 islands, home to a number of fascinating landmarks and must see attractions. It's easy to see why, it's regarded as one of the major Irish tourist destinations.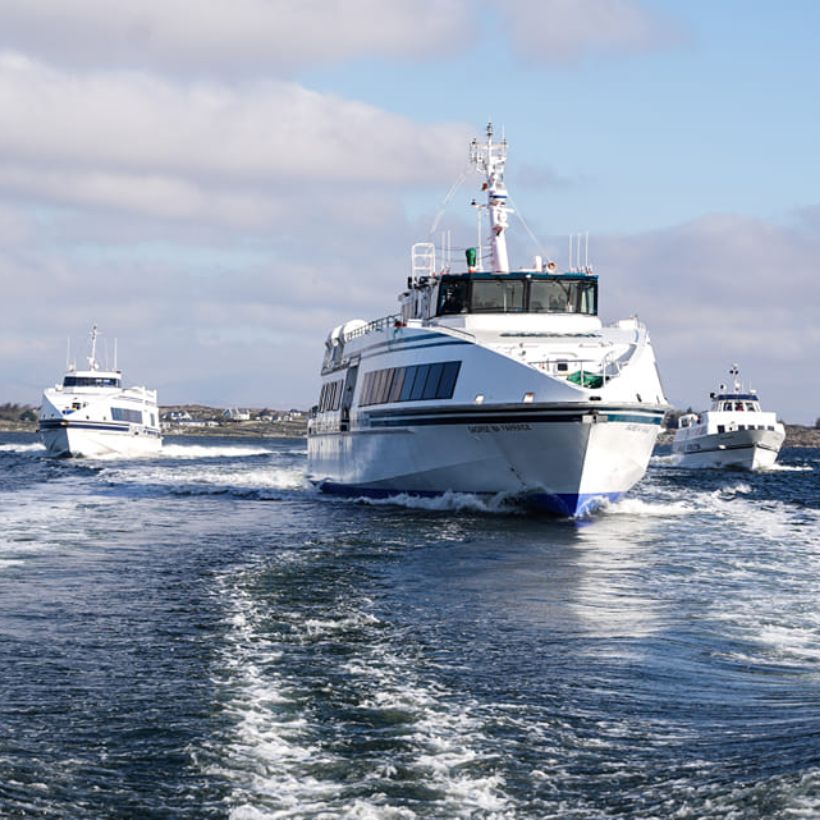 Getting there! 
Providing year round travel to Inis Mór from Rossaveal and from Galway City Docks (April to September), Aran Island Ferries offers an award-winning Irish Experience. If you choose to travel during the summer season, departure is at 9.30am and the journey out will give you plenty of time to prepare yourself for the amazing adventure that awaits. Book your trip here. Onboard, enjoy a warm Irish welcome and avail of their food and drink facilities during the 40-minute journey. You can either choose the day trip option or opt to spend the night on the island at one of the below accommodation providers. Once your island explorations have come to an end your return journey with Aran Island Ferries will introduce you to the Cliffs of Moher from another level. From aboard the ferry, take in the scale of the cliff's magnificent beauty and keep your eyes peeled and camera ready to snap shots as you might also catch a glimpse of dolphins, seals and basking sharks along the route.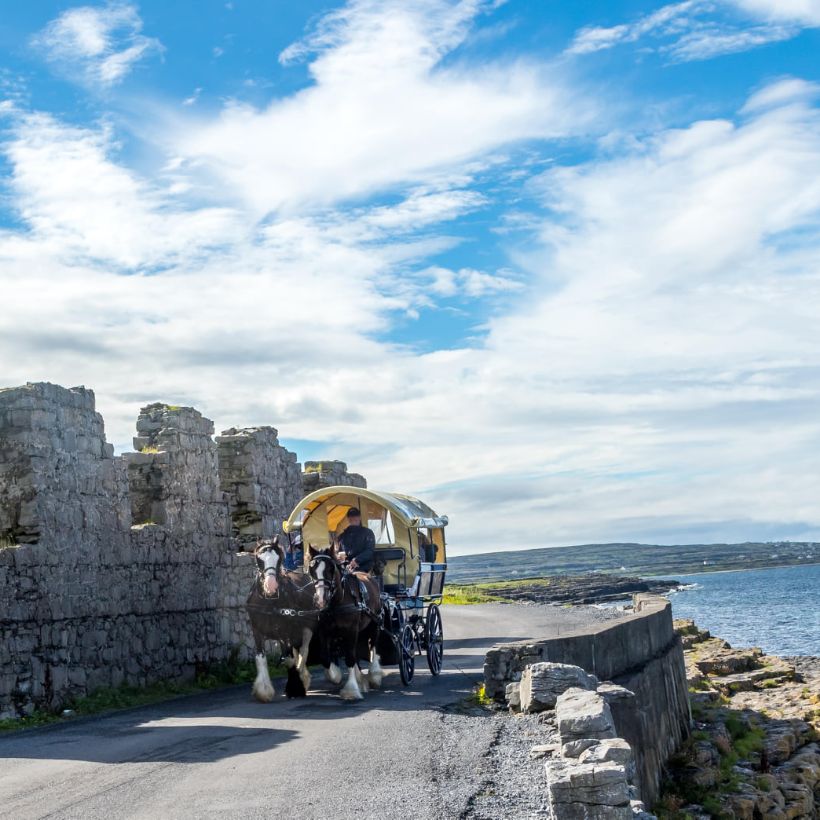 See the Sights
Thomas Faherty Tours 
Providing unforgettable guided island experiences, Thomas Faherty Tours gives visitors the chance to see everything the island has to offer the traditional way - via a pony and trap tour. Thomas knows all the ins and outs of Inis Mór ensuring you get the most out of your time on the island. These tours really are the ultimate insider's guide to all that Inis Mór offers. Whether you wish for a private tour for two or an afternoon jaunt for ten, a tour can be arranged that accommodates your plans. To book your tour tap here. 
Aran Island Bike Hire
Experience island life at your own pace with Aran Island Bike Hire. They have a wide range of modern bikes to suit every age group from novice to experienced. They also have bikes to suit families with small children so everyone is accommodated for. Simply speak to the team when you get your bikes and they can offer you all the need-to-know info on seeing the sights and the best routes to get you there. For more information on booking your bike tap here.
Instagram-worthy Spots
Dún Aonghasa
The prehistoric World Heritage site should be on every island visitors' to-see list. Poised atop the cliff's edge just about 300 feet above the Atlantic, the site consists of a series of semi-circular stone walls enclosing an area of 50 metres. Not only will you enjoy an eclectic array of sights along the way to see it, your end destination is like nothing you've ever seen before and we can assure you that the view from the top will fill your soul.
Poll na bPeist/The Wormhole
Just about 1.6km south of Dún Aonghasa, you'll come across another spectacular attraction. Inis Mór's Wormhole is a naturally formed rectangular limestone pool into which the sea splashes, creating quite the scene. We recommend waiting to see the waves crash directly into the Wormhole so that you can watch the mesmerising tiny waterfalls effect it creates.
Aran Sweater Market
The home of the famous Aran Sweaters, treat yourself to a gorgeous new Aran knitwear from the place where it all started. There are over 300 different patterns available with more still to be developed, inspired by the different parts of Ireland and the Irish names which originated from within. Located in Kilronan village, call in and discover if your clan has its own pattern and shop their range of sweaters, cardigans, jackets and coats for men and women, as well as kidswear, accessories, homeware and authentic Aran knitting wool.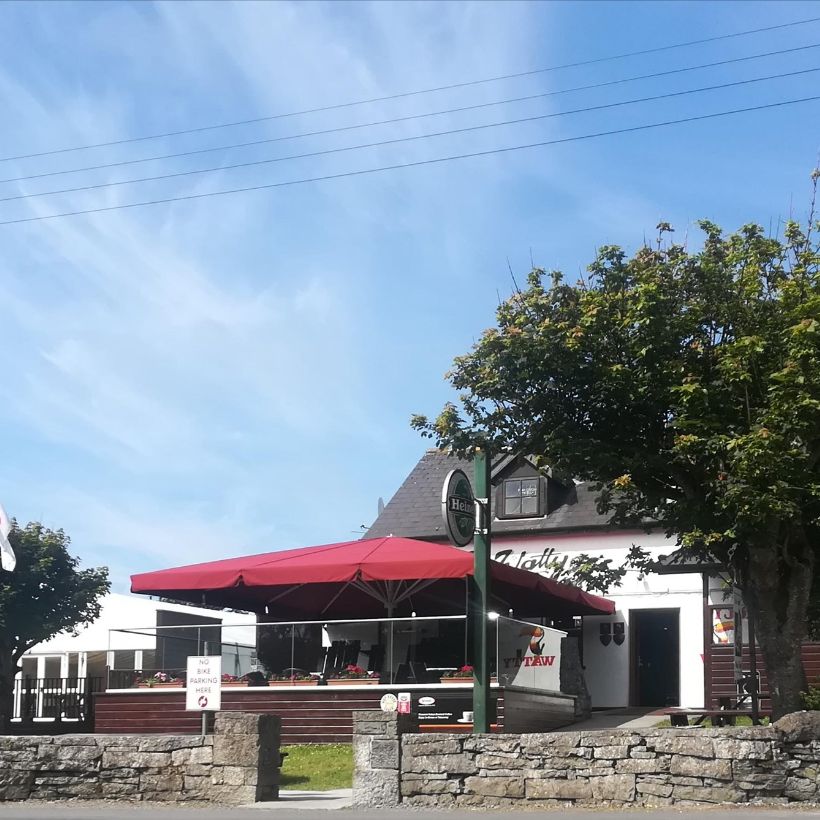 photo courtesy of Tí Joe Wattys Bar & Restaurant 
Taste the local cuisine
Tí Joe Wattys Bar & Restaurant 
A crucial addition to your time on Inis Mór. Visiting the welcoming traditional Irish pub - Tí Joe Wattys is a must. During your stay, relax by the open fireplace with a delicious Irish coffee or bask in the sunshine in their gorgeous outdoor area with a creamy pint of Guinness. Featuring delicious food menus, a fully stocked bar, top notch hospitality and traditional live music sessions that are the stuff of legend, you are covered for ceoil, ól, bia agus craic at Tí Joe Wattys! 
Kilronan // more here 
Man of Aran Fudge
If you're planning on touring the island, building up a stock of necessary snacks should be the first thing you do off the ferry. We highly recommend taking this opportunity to visit Man of Aran Fudge. Homemade by Tomás Póil, there are over 24 varieties of fudge available for you to choose from, almost all of which are gluten free. Options include the award winning baileys fudge, salted caramel, heavenly honeycomb, tiger butter fudge and vanilla rum raisin fudge to name a few. These fudges also make for a lovely homeward bound treat on the ferry so make sure you stock up.
Kilronan // more here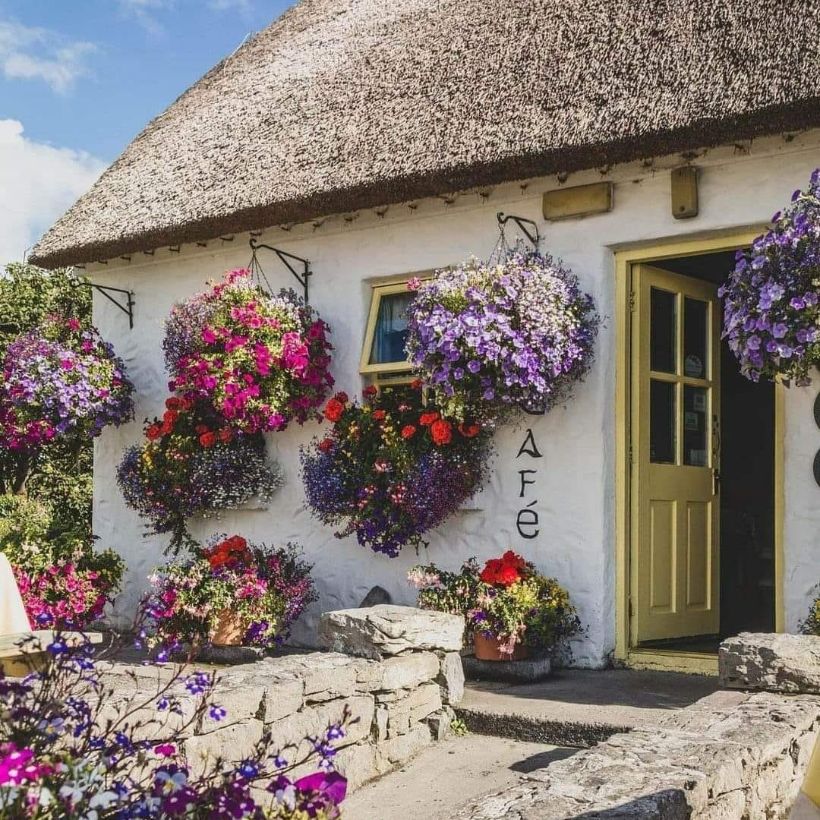 photo courtesy of Teach Nan Phaidi
Teach Nan Phaidi
One of the prettiest little cottages in Galway is also one of the tastiest café in the West of Ireland and you can find it on the beautiful island of Inis Mór. Teach Nan Phaidi is a beautiful thatched Irish cottage complete with colourful floral displays and a cosy inviting atmosphere. The delicious menu is on par with the loveliness of the cottage itself. There's nothing like sitting out in their outdoor area with the sun on your face and taking in the fresh sea air - it's absolute bliss.
Kilmurvey // more here
The Bar 
One of the oldest bars in the Atlantic, The Bar radiates character and atmosphere with local musicians playing nightly. With a front patio that has stunning harbour views, this spot knows how to provide a meal with a view. They offer a wide range of traditional Irish food serving breakfast, lunch and dinner daily. Their best seller is the locally caught seafood dishes, these come highly recommended so be sure to stop by and try it for yourself.
Kilronan // more here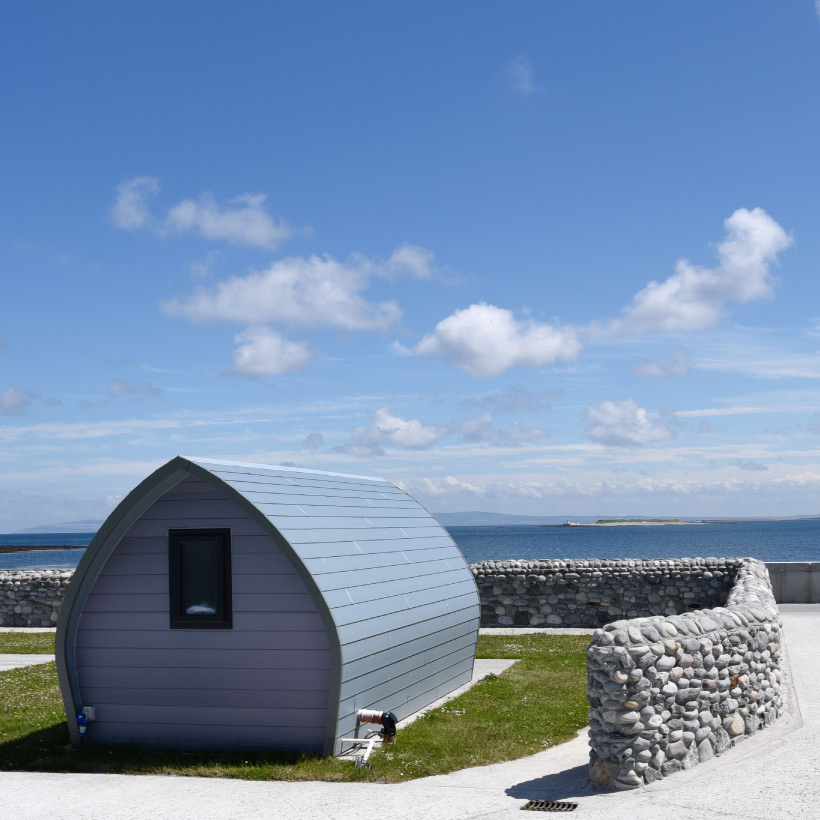 Spend the Night under the Stars
Aran Island Camping & Glamping
Unique camping and glamping accommodation can be enjoyed at Aran Island Camping & Glamping. At a luxurious seaside site and eco-friendly campground, their premium beachside solar-powered lodges are perfect for groups, families or couples who want to extend their Irish island experience. They offer both 4 person Clochan pods and 6 person Tigín pods. For those of you looking to reconnect with nature and enjoy a tech detox, the campground comes equipped with everything you need. Facilities include showers, laundry and the campers kitchen. When you book with Aran Islands Camping & Glamping you'll embark on your dream getaway, on an island steeped in culture and history and blessed with breathtaking scenery it makes every adventure here a cherished memory.
Frenchman's Beach // more here
This is the final part in our three part guide of the Aran Island so if you fancy taking a tour of Inis Meáin tap here and for Inis Oírr tap here.
Feature photo by Gareth McCormack courtesy of Fáilte Ireland.
Published on Updated on