Capital of Connemara and Jewel of the West, Clifden certainly lives up to its reputation as being both a picturesque and flourishing cultural town. Home to stunning views, cosy bars & restaurants, and a lively atmosphere. To give you the opportunity to fully explore all the gems in this iconic West of Ireland destination, find our favourite things to see and do in Clifden right here. A landmark town along the Wild Atlantic Way, if you haven't already taken a whirl down Sky Road, now is your chance..

FOOD & DRINK
LOWRY'S BAR
The place where all the greats have played. Incredibly voted Best Traditional Bar in Ireland on three separate occasions; when it comes to catching a ol' trad session and enjoying a whiskey in Clifden, Lowry's Bar has made a name as being one of the very best. Famous throughout Connemara and Galway, for its lively atmosphere, unique character,  legendary music sessions, with a vibrant clientele of both locals and tourists alike who share a love for all things trad music. Lowry's is also home to Connemara's largest selection of Irish whiskies, with over 150 varieties available. This bar is one of the best places along the West Coast where you can sit and savour an amazing whiskey tasting experience.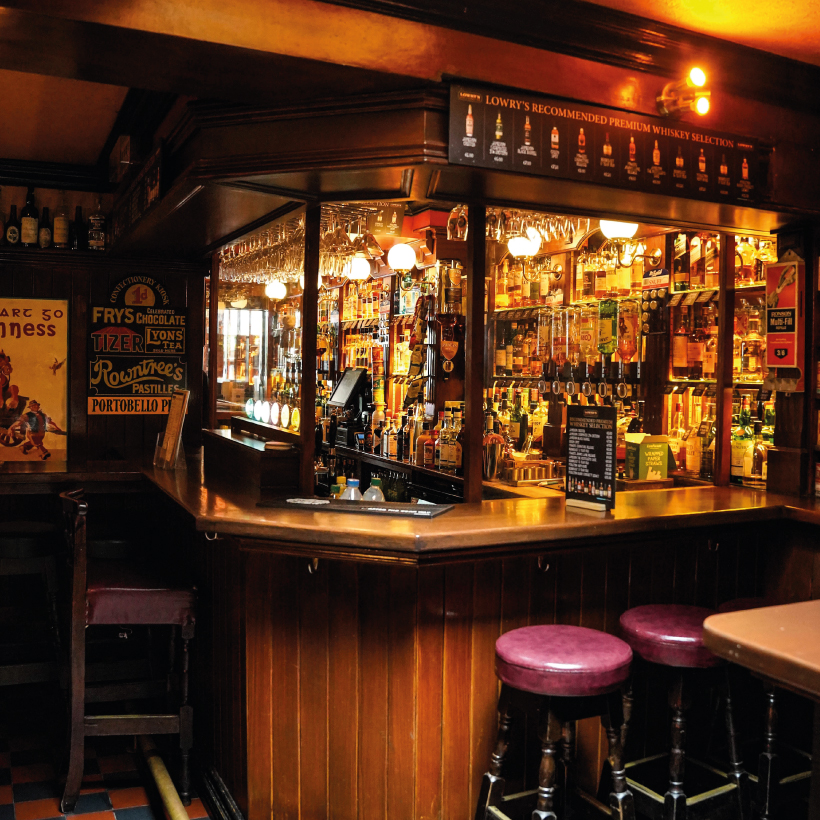 THE LAMPLIGHT WINE BAR
For those of you who love nothing more than sipping on biodynamic, organic wine late into the  evening, The Lamplight Wine Bar is going to be your new favourite place. The Lamplight team skillfully combines over 20 years of wine industry experience with a passion for food and time honoured hospitality to bring a special experience to their guests. Named in the Star Wine List for their wines and for Anke Hartmann's vast knowledge and passion for wines from all corners of the globe. Chef Damian McGill has curated a fire and wine menu inspired by a method of barbecuing that allows meat to retain its succulence, and working together with Manager & Wine Man Ivan Preboc, they have created the perfect wine pairing for each dish. What makes Lamplight even better is that you can enjoy bed and breakfast accommodation at their cosy Arch Guesthouse, so that your next glass of wine is never far off.
EJ KINGS
A magnet for writers, artists, film-makers and naturalists, Clifden enjoys an international reputation for excellent food, drink and good cheer, and EJ Kings is no exception! The restaurant at E.J. Kings offers a wide range of dishes that showcase the best of Irish cuisine with a modern twist. Its menu is now under the supervision of Chef Shane Regan, who has taken up a front of house role. Shane is both a popular and talented Chef, who has an exceptional reputation for food and hospitality. In the evenings, E.J. Kings is a popular spot for live music. The bar regularly hosts local musicians and bands creating a lively and festive atmosphere that draws in both tourists and locals alike.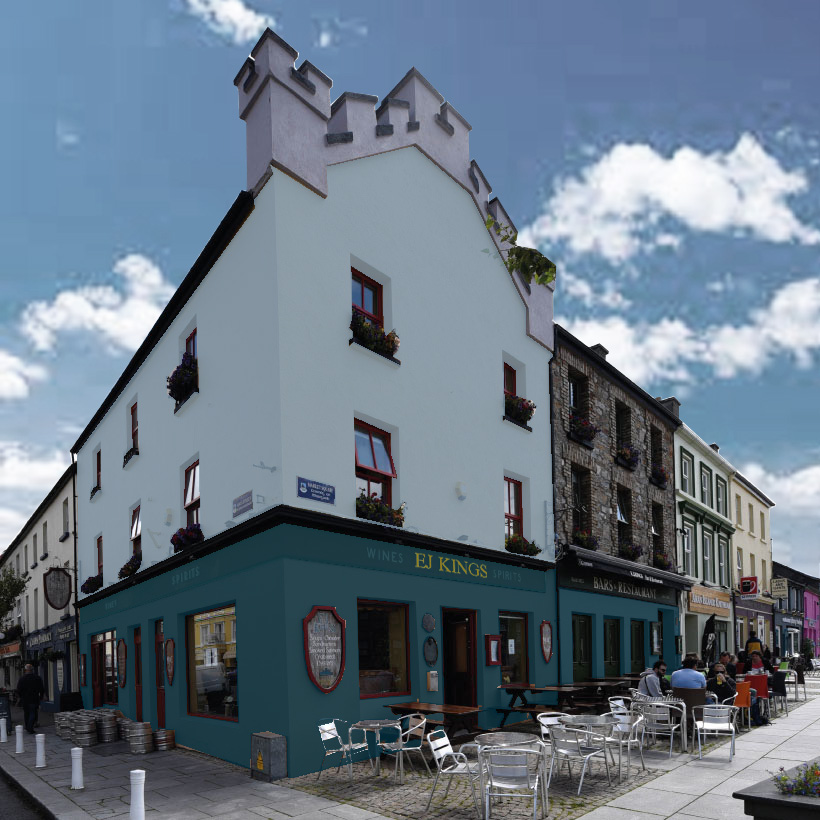 MC MCGRATHS
One of the oldest family owned bars in Clifden, MC McGraths has been pouring creamy pints and hosting performances by local and visiting musicians for over six generations. Always eclectic, the feel and ambiance of this original Irish bar is unparalleled. Its unique décor offers snapshots into days gone by and each tells their own story. We especially love all the photographs on the bar's walls that show the story of the MC McGrath's from down through the years. At the core of the space however, is live music. This magnetic music venue attracts the most talented and passionate musicians from near and far spanning just about every genre; old Irish, American country, rock n roll, blue grass – you name it, they've got it.
THE PINK WAGON
If you're exploring the historic landing site of Alcock and Brown at the Macroni Site in Derrigimlagh, pop by the eye-catching food truck - The Pink Wagon. Tea, coffee, mini apple pies, cakes, breakfast rolls and daily specials, they've got everything you could ever want to keep you fueled on your adventures. Not to mention that the people running it are absolutely lovely, so when in Clifden be sure to call by and say hello.
RAVI'S BAR & RESTAURANT
With live music three nights a week and amazing menu options, Ravi's is the perfect location for any social gathering. This family friendly gastropub's seasonal menu features an array of locally sourced seafood platters and bar room favourites with an occasional Sri Lanken twist. At Ravi's, they make all their own spices so you are guaranteed excellence down to the smallest detail when you dine out.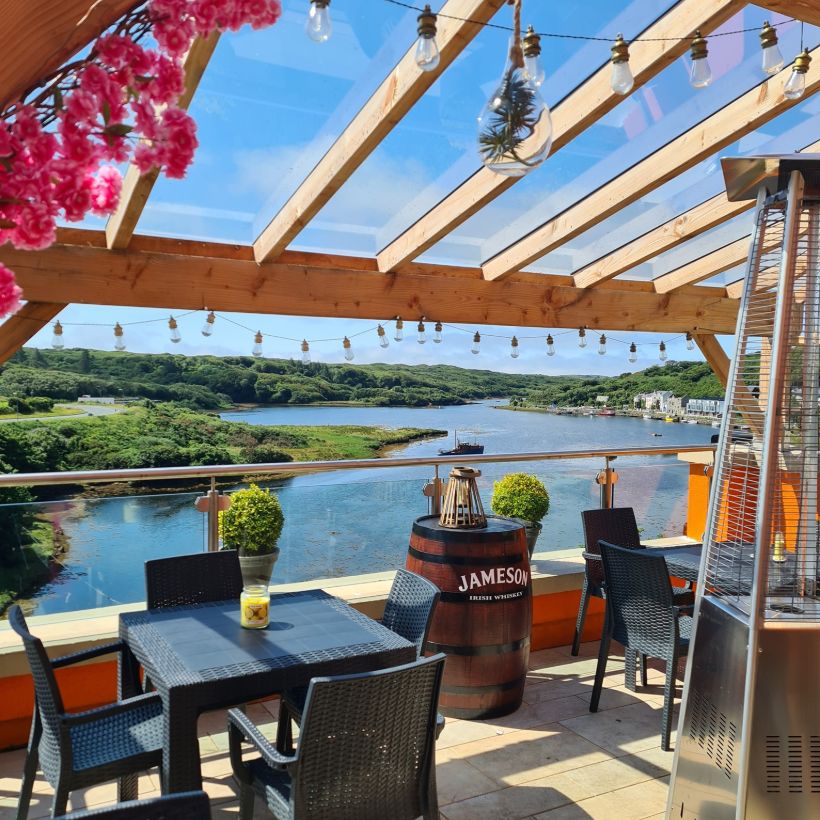 TOM KINGS BAR AND SNUG
Tom Kings Bar and Snug has been quenching the thirst of locals and tourists alike since the 1800's. Synonymous with Clifden, this cosy bar was initially opened and established by The King Family; it has been under the management of another local clan, The Keoghs, since early 2022. Tom Kings Bar prides itself on being an authentic local bar. What you get is a pub where the real local characters drink. Within minutes someone will want to know your story and tell you theirs, whether you want to hear it or not! The Guinness is glorious, the staff are friendly and the interiors are old school and traditional, with an open turf fire that blazes all year round.
DELI 19 CLIFDEN
Imagine fine coffee, freshly baked pastries, all day brunch and tasty lunches in a rustic-chic contemporary café set right in the middle of Clifden town centre… That's Deli 19! A new addition to the Clifden social scene and food offering, Deli 19 is an accumulation of ideas for all the senses. Open daily from 8am, with a dine in or take out option, you will be spoilt for choice. Offering delicious coffee from JJ Darboven, and serving brunch and lunch until 3pm. Come in and watch the world go by over a glass of wine and do some retail therapy with their niche goodies. Or, if you fancy some Deli 19 at home, they also provide a catering service that's perfect for those summer parties and events. As well as this, they offer a bespoke take out range for you to cook at home, combining homemade food with a little luxury.
WALSH'S BAKERY
When you visit Connemara, stopping in Walsh's Bakery is a must, it's a tradition! The family run Walsh's Bakery offers the people of Clifden and beyond, delicious handcrafted baked goods, freshly roasted coffee and hot deli foods. Famous for their wonderful selection of pastries, fresh cream celebration cakes and delicious breads, Walsh's family baking tradition keeps the bakery buzzing with visitors all year round. Alongside their mouth-watering display of breads and cakes, Walsh's café offers both breakfast and light lunch options to eat in or take out. If you are planning on doing some sightseeing, bring along a picnic full of Walsh's Bakery treats - which you can enjoy along the Wild Atlantic Way!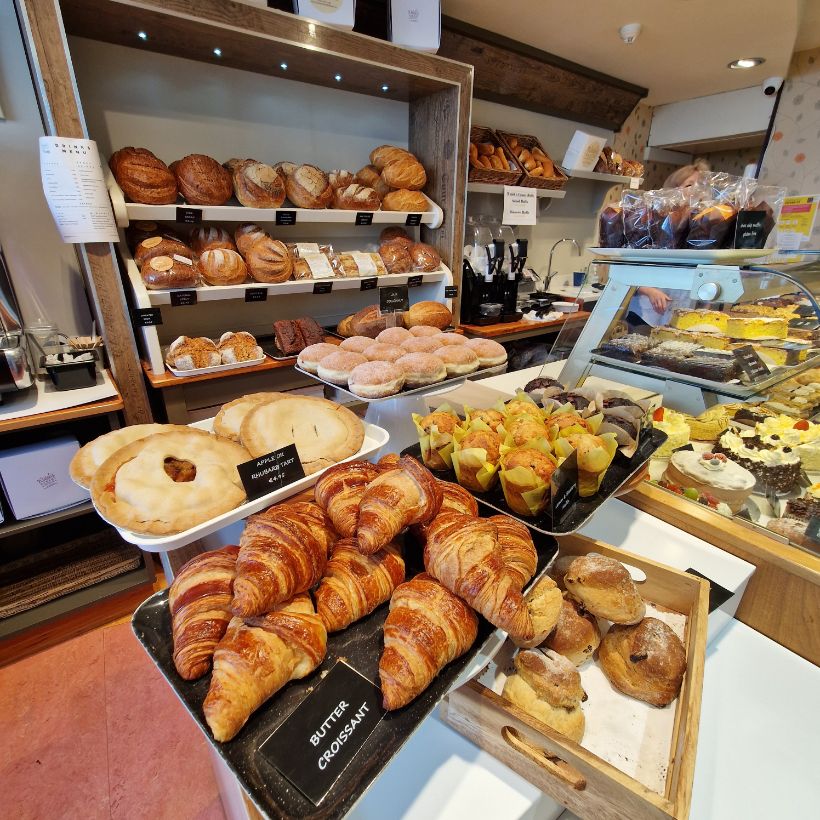 BRIDEWELL BREWERY
Offering a true taste of Connemara, the beers of Bridewell Brewery can be found on tap in bars, hotels and restaurants across the region. Brewed right in the heart of the Capital of Connemara, this family-run brewery specialises in original draught beers that are filled with flavour. Brewed by locals for locals and special guests, Bridewell Brewery supplies traditionally-brewed beers to businesses across West Galway. Whether these beers are paired with food or enjoyed on their own, the premium quality of Bridewell Brewery beers makes them the perfect drinks to enjoy when you are meeting friends or simply relaxing in some well-deserved downtime. Be sure to ask for Bridewell.
GUYS BAR 
Guys Bar really have built up a reputation of excellence throughout their 150 years in business. They've been greeting visitors to Clifden since day one and it's welcoming atmosphere makes it fantastic spot for chatting with the locals and discovering some must to do things to tick off the bucket list before you leave town. The bar is made of small intimate traditional snugs and corners, meaning no matter rain or shine Guys is an ideal spot for intimate meals out with friends and family.
FADÓ PIZZA
Serving takeaway pizza in the idyllic Clifden Camping & Caravan Park, Fadó Pizza is a wood fire pizza trailer that should be on everyone's to-do list while visiting Connemara. Their trailer is a uniquely hand-built truck and offers a range of both classic and their own specialty pizza options. You are guaranteed to catch them on a summer's day serving up their delicious pizza so no matter if you're passing through or staying in town this is one spot you need to sample for your yourself.

STAY
ABBEYGLEN CASTLE HOTEL 
Located on the picturesque Sky Road, Abbeyglen Castle Hotel is every holiday-maker's dream hotel. This Clifden hotel combines splendour and comfort with exciting adventures that you'll never forget! They have a variety of charming rooms, each one reflecting the opulence of Abbeyglen. These rooms and suites each have their own unique character and some of the superior rooms and castle suites even have four poster beds, open fires and relaxing, free-standing claw-foot baths. Waking up from a deep sleep in the luxuries of a 4-star hotel, taking in the unparalleled beauty of the Connemara countryside and enjoying some of the most mouth watering food and drink imaginable? Yeah, that sounds pretty good to us! Check out their special offers and book your stay here.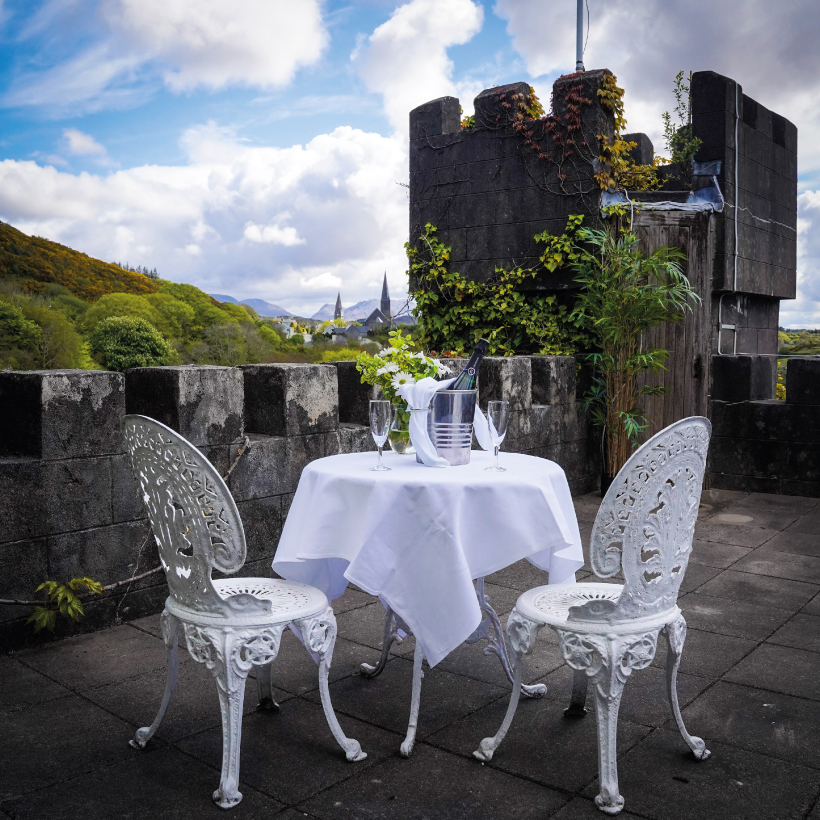 ALCOCK AND BROWN HOTEL
The idyllic Alcock and Brown Hotel sits right in the heart of the Capital of Connemara. Looking out over Clifden's town centre square you'll wake up each morning at the very epicentre of all that makes the West of Galway and Connemara so fabulous. Following refurbishments in the last year, the hotel radiates both comfort and luxury. The pristine bedrooms are all beautifully decorated in the traditional style and the hotel itself contains lovely local artefacts. After a day of sightseeing, relaxing in the hotel's Vickers Bar & Cocktail Lounge is a must. The cocktails are to-die for and are the ultimate indulgent treat after a day on the road or ahead of a night on the town. As well as being the centrepoint for all of Clifden towns' famous summer  excitement, its location makes it the ideal hotel for Wild Atlantic Way explorers and people looking to go on day-trips up to Connemara National Park and Kylemore Abbey. To find out more and to start planning your stay, just click right here.
CLIFDEN STATION HOUSE HOTEL
A picturesque accommodation provider for all Clifden holidaymakers, Clifden Station House Hotel goes the extra mile to guarantee their guests an enjoyable and restorative break. Located in the courtyard of the Clifden Station House Hotel, Clifden Station House Suites offer a choice of two and three bedroom deluxe self-catering apartments. If you are planning an extended holiday in Clifden, they're the ideal choice as a home-from-home for family and friends. All guests can enjoy full use of the hotel facilities including the swimming pool and leisure facilities and children can attend the Railway Kids Club which operates during certain school holiday periods. To begin planning your holiday in Clifden head over to their website here.
DOLPHIN BEACH LODGE
If you are someone who loves a beach holiday, we have the perfect accommodation for you! Dolphin Beach Lodge is a magnificent home lodge with a beach as its front garden. Featuring a cosy outdoor fire pit, late evenings on this beach are the backdrop of many lifelong memories. A hidden paradise along the Wild Atlantic Way, this lodge's sleek modern beach-house aesthetic is heightened by the locale's incredible views of the bay and Galway coastline. Book your stay right here.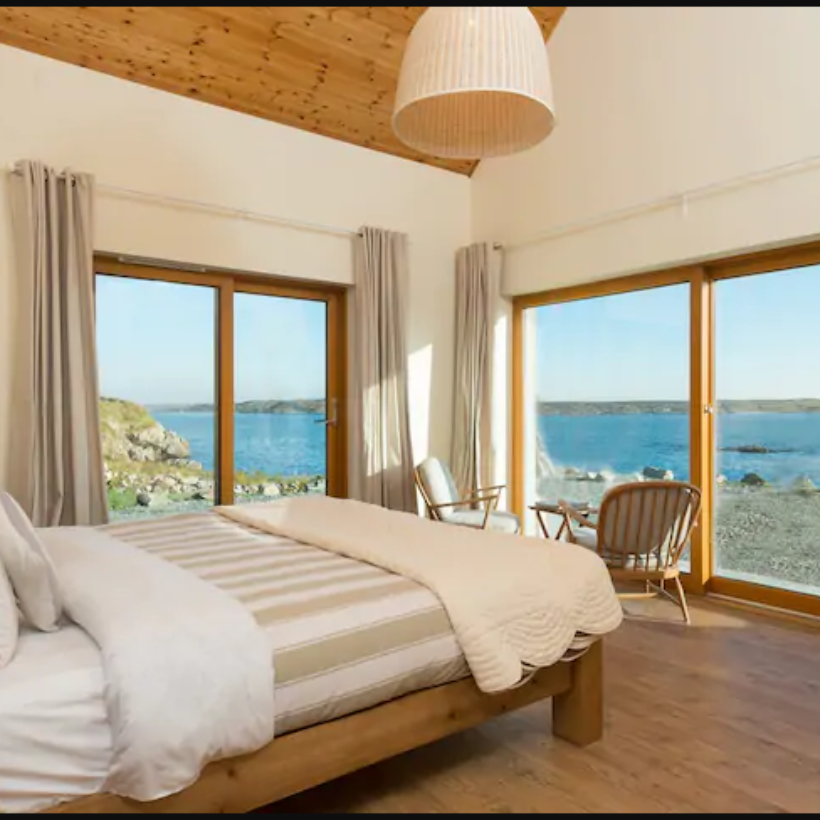 OTHER THINGS TO DO
TAKE A SPIN TO SEE THE SIGHTS
To see the full scope that Clifden has to offer, rent a bike from Clifden Bike Hire and off you go.
Sky Road: We're sure you have already heard of Sky Road's spectacular view but trust us when we say the stories don't live up to the experience. Overlooking Clifden Bay, the route lies more than 150m above sea level so you'll feel on cloud nine as you fly along on your bike. Just remember to bring a camera so you can capture some of these breathtaking sights.
Errislannan Loop:  This short loop will bring you past Owenglen waterfall where you just might spot the odd salmon swimming upstream. You'll also spot a signpost directing you to  the landing point of the very first transatlantic flights from 1919, the Alcock & Brown Memorial. Not too far away lie the remains of the world's very first transatlantic radio station -the Marconi Station- which was greatly damaged during the Irish War of Independence.
Cleggan Loop: The route will give you the opportunity to ascend Cleggan Head for optimum views all around.
Roundstone Loop: Offers a tranquil escape past beautiful bogland and the shores of Gurteen and Dog's Bay.
ENJOY SOME SEA AIR AT CLIFDEN'S BEACH
Picture perfect beaches dot the coastline around Clifden such as the breathtaking white sands of Gurteen and Dog's Bay. Another local favourite, Eyrephort Beach provides an ideal escape against the backdrop of lapping waves. Perch on one of the surrounding stones and watch the tide roll in - you won't feel the time passing by. With fish in the rock pool and seagulls standing guard, there's plenty of critters to keep you company on a visit to Eyrephort Beach. Keep your eyes peeled too, because it wasn't all that long ago that a Viking sword and shield were unearthed on the site!
SHOP
EVITA STUDIO
An independent fashion studio, Evita Studio supports women owned businesses by presenting the creations of 3 mesmerising women designers - Süel Knitwear, EYCIIR, and AudryAnne. Showcasing the gorgeous designs of three independent designers, Evita Studio offers a collection of unique, colourful knitwear, designer dresses, eye-catching jewellery pieces with sophisticated craftsmanship and more. Independent, feminine and unique - these values lie at the heart of Evita Studio. Its founder Szilvia Toth, is on a mission to provide a platform for talented, high-vibrational women to showcase their creativity. Visit Evita Studio's website at: www.evitastudio.com to shop these collections & to arrange a visit while you are in Clifden.
O'DALAIGH JEWELLERS
Experts in their craft, the Dalaigh family have been creating eye-catching jewellery for people across the globe since 1973. The unique collections at O'Dalaigh Jewellers can't be found anywhere else, and is a credit to their skill and passion for their work. Amongst their pieces you'll find jewellery made of the world-renowned Connemara Marble. Celtic design is another speciality of theirs, with intricate pieces resembling the famous Gleninsheen Gorget, Lough Gur Shield and La Téne Torc.
THE WHITETHORN GALLERY
To see Connemara through an artist's eye, The Whitethorn Gallery showcases the artistic talents of local, national and international creators and makers. Featuring a combination of both paintings and sculptures, there is plenty for you to see and admire. This gallery space also provides a shopping opportunity should you fancy bringing a bit of Clifden home with you.
CONNEMARA BLUE
With a focus on unique, contemporary design Connemara Blue offers a wonderful array of one-of-a-kind glass art pieces and gifts to suit all budgets. With exciting new designs coming out regularly, it's always a thrill to discover their newest glass creation. As well as doing their own glass pieces they also offer a bespoke design service, meaning that you can get one of their incredible glass pieces made uniquely for you.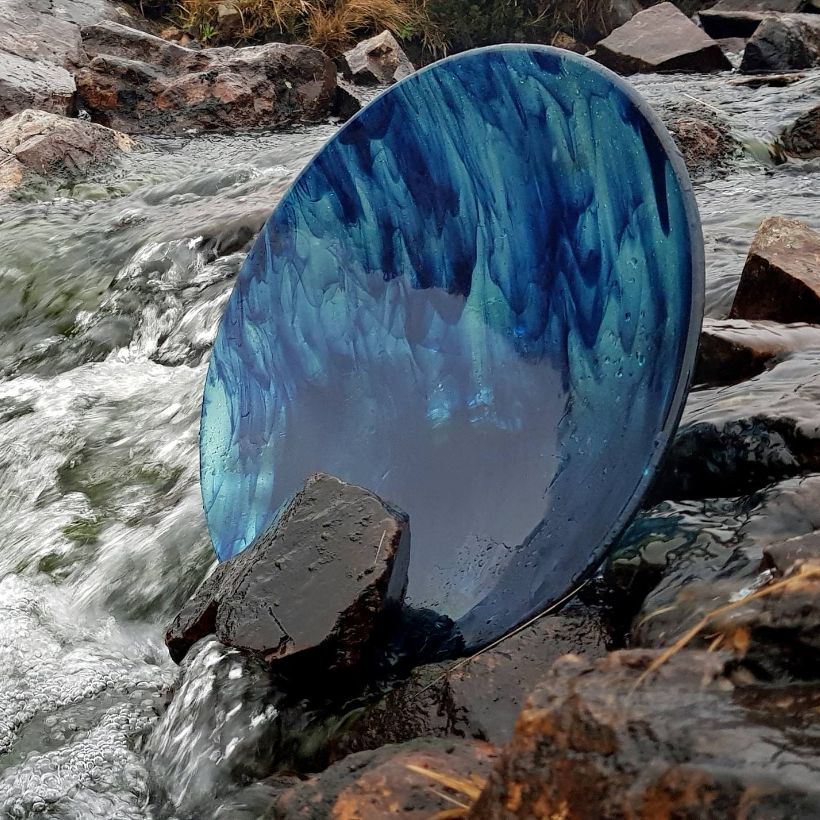 WHISTLESTOP
First open in 2000, Whistlestop needs to be on your list of shops to visit while in Clifden. Whether you're shopping for yourself and buying a persent for someone else you'll find the perfect gift inside this bright and airy shop. Stocking an electric mix of home furnishings, garden products, ceramics, glassware, baby gifts and jewellery, it is well worth stopping by Whistlestop and browsing the wares for yourself.
HISTORICAL INTERESTS
CLIFDEN CASTLE 
Just a 2 kilometre wander from Clifden town, you'll find the spectacular ruins of Clifden Castle. Overlooking the bay, this historical landmark dates back to 1812, when it was founded by John D'Arcy. The romantic Gothic style castle is just part of the legacy left by this family, who owned much of the west of Galway in the early 19th century. An afternoon spent admiring the ancient stonework, magnificent pillars and beautifully crafted archways is an afternoon well spent - after all, who doesn't enjoy acting like royalty for the day?

D'ARCY MONUMENT
Erected in 1842 by the people of Clifden, in memory of the founder of Clifden town, John D'Arcy (1785-1839). This square-plan stepped monument contains examples of graffiti dating from 1871 which can be seen etched into the side of the monument. The monument also serves as a focal point for locals and visitors alike to observe Clifden town below and offers a breath-taking view of Connemara's stunning mountains, bogs and coastline.
ALCOCK & BROWN MEMORIAL
The Derrigimlagh looped walk is an ideal destination to clear your head, this 5km trail will provide you with an abundance of incredible sights that will definitely peak your interest. The most noteworthy among these sights is the landing point of the very first transatlantic flights from 1919, and commemoration to Alcock and Brown, who were the airmen on board when the plane crash landed. As well as that, you'll also come across the remains of the world's very first transatlantic radio station- Marconi Station which was greatly damaged during the Irish War of Independence.
Published on Updated on