If you've been planning on paying a visit to the Aran Islands, where the locals chat as Gaeilge and historic significance oozes throughout, we've got some inside knowledge that'll help you navigate the natural beauty of Inis Meáin.

Inis Meáin as the name as Gaeilge implies is the middle island of the three. A maze of winding roads, rocky hillside and bountiful native wildflowers, it's no wonder that Inis Meáin is considered one of the ultimate getaway destinations.
Getting there! 
Providing year round travel to Inis Meáin from Rossaveal, Aran Island Ferries offers an award-winning Irish Experience. If you don't have your own means of transport there is a shuttle bus available from Queen Street in Galway city, more on that here. Onboard, enjoy a warm Irish welcome and avail of their food and drink facilities during the 50-minute journey. On the journey to and from the island, take in the stunning sight of Galway's magnificent coastline and keep your eyes peeled and camera ready to snap shots as you might also catch a glimpse of dolphins, seals and basking sharks along the route. Book your trip here.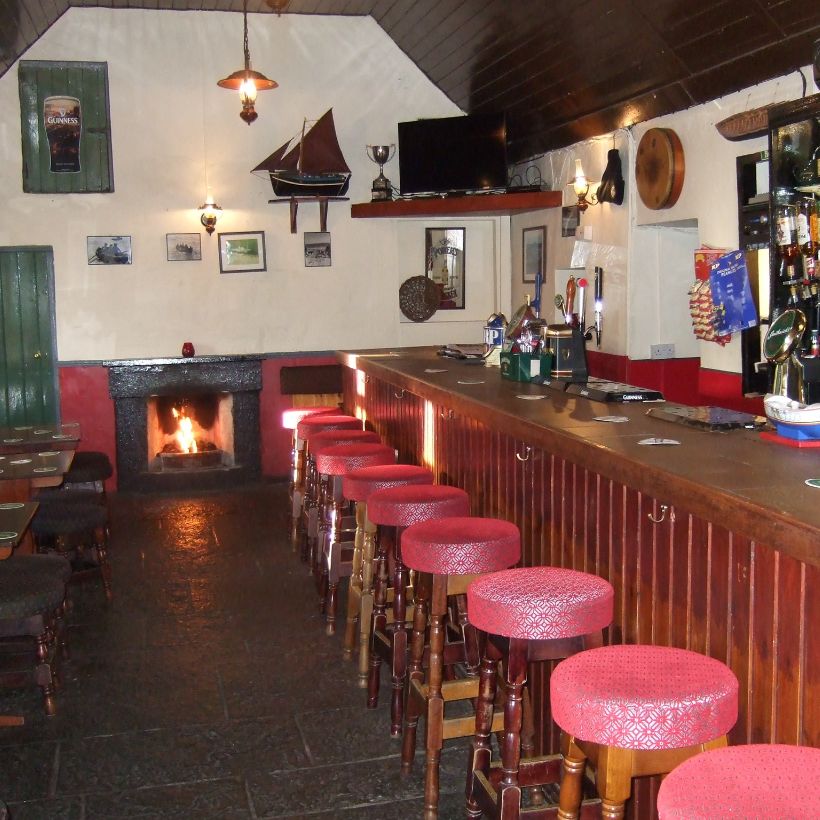 Taste the local cuisine
Teach Ósta
A lovely local traditional pub, Teach Ósta offers visitors a chance to enjoy delicious food and drink during their time on the island. Located in the heart of the island, the cosy fireplace evokes a welcoming atmosphere and complete with the friendly staff you'll love the space the moment you step through the door. Due to the size of Inis Meáin, Teach Ósta is actually the only pub on the island so if you want a well poured pint of Guinness you know where to be. With live trad music sessions regularly being held throughout the summer season we highly recommend stopping by to enjoy some class music and some local banter.
Café Baile 
For a little pick me up on your travels, the family run Café Baile provides soups, sandwiches and cakes with the best view. The outdoor area is gorgeous for a family picnic with jaw-dropping views of Galway Bay. The menu is entirely homemade and they also offer dairy free and gluten free options to ensure they have something for everyone.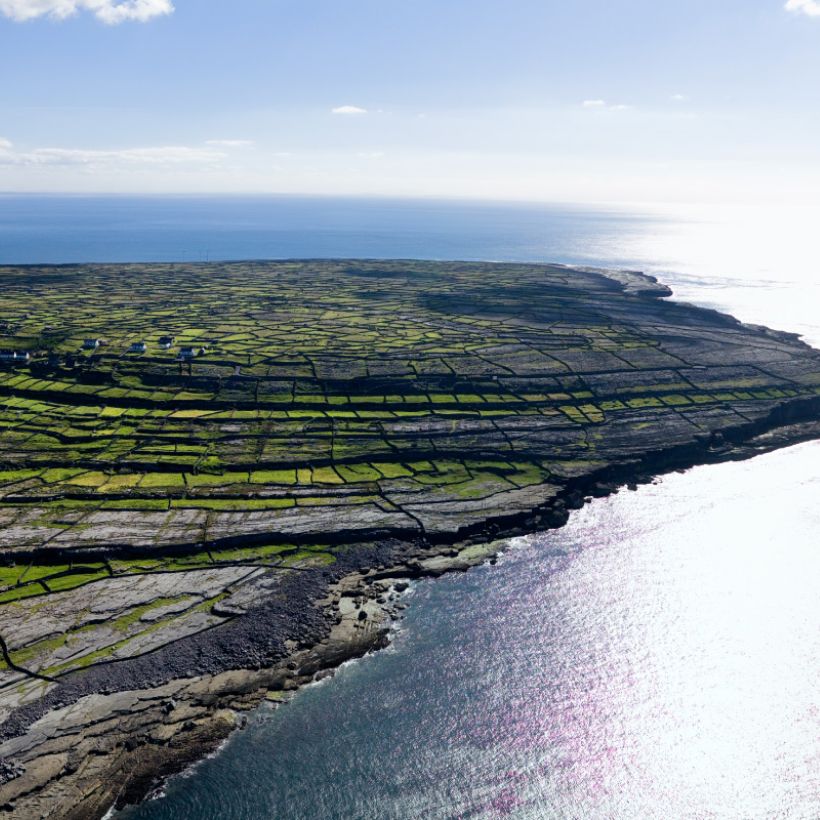 Instagram-worthy Spots
Synge's Chair 
For those who are unfamiliar with JM Synge, he was an Irish writer to whom Inis Meáin owes much of its cultural significance. A resident of the island between 1898 and 1902, Sygne was inspired by his surroundings when penning his noteworthy play 'The Playboy of the Western World' from the vantage point that would become known as Synge's Chair. The area resembles a large chair, with a flat stone at the centre, it offers spectacular views of Inis Mór and Connemara, and a peaceful stillness. So, while you're passing through make sure to do as Synge did and rest those weary bones. A bit of deep breathing against the backdrop of rushing waves might just awaken something hidden deep within.

Synge's Cottage
Synge first arrived on the island on the advice of fellow writer W.B. Yeats, and found Inis Meáin to be a great source of inspiration. You've visited his chair and now you can take a step inside a place JM Synge once called home. The cottage has undergone restoration work in recent times and has been restored to its former state. Open to the public during the summer months as a small museum, it offers visitors a chance to see the island through the eyes of this legendary Irish writer.
The Church of Mary Immaculate
Located inside the historic church lies two marvellous creations by recognisable Irish figures. The church has garnered fame thanks to its stunning stained glass windows designed by Harry Clarke as well as an altar designed by James Pearse, father of the Irish patriot Pádraic Pearse.
Inis Meáin Knitting Company
Inis Meáin Knitting Company designs and produces individual, unique pieces of knitwear in the finest yarns, all exquisitely finished by hand. The showroom has an extensive collection of items available for purchasing and their museum contains the story of its origins and the meaning of the different stitches in Aran and houses some island memorabilia, including a bronze bust of John Millington Synge. Their opening hours vary season to season so be sure to check what time they will be open ahead of your visit. More information here.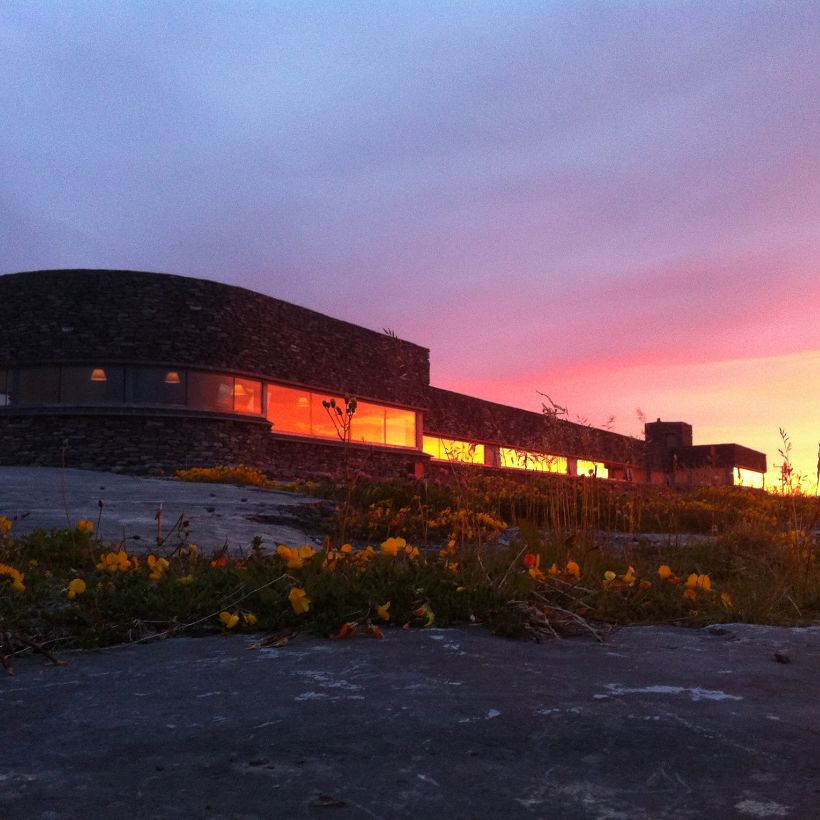 Spend the Night
Inis Meáin Restaurant & Suites
Inis Meáin Restaurant & Suites was created by Marie-Thérèse and Ruairí de Blacam in 2007, with the aim of enabling guests to best experience their island location of unique natural beauty. They are both widely travelled and have curated their best hotel experiences into their very unique hospitality offering - Ireland's original luxury nature lodge. The suites are designed to provide guests with an escape from modern life and offer an entirely new hospitality concept inspired by their unique location. Book your stay here.
An Dún Bed & Breakfast
Ideal Accommodation for your stay on Inis Meáin, An Dún Bed & Breakfast have 5 ensuite rooms all with wonderful views of the Atlantic Ocean and the unique Aran Islands landscape. Each room has a different layout, with simple and bright decor with the scenic views from all the rooms being the main feature. Book your stay here. 
This is the final part in our three part guide of the Aran Island so if you fancy taking a tour of Inish Mór tap here and for Inis Oírr tap here.
Published on Updated on