If you've been itching for a break away in Galway, good news! Summer has finally arrived in Costa del Salthill and the good times are here to stay. From scenic views to the best local cuisine, Salthill has got it all. All that's left to do is to have a look at our recommendations listed here and enjoy a fabulous staycation in Galway on us!

Stay : Galway Bay Sea View Apartments
No more waking up to city landscapes or brick walls, at Galway Bay Sea View Apartments it is exactly what the name implies. Be greeted by breathtaking views of Galway Bay and the Clare Hills each morning as you roll out of bed. Whether you're traveling solo, in a couple or group of up to 6 people, these self catering apartments can cater to your every need. Their penthouse apartments offer a touch of luxury with floor-to-ceiling glass doors leading out to the large terrace which is perfect for enjoying late night drinks as the sun sets. Located on Salthill's famous Promenade you won't find a place like Galway Bay Sea View Apartments anywhere else.
The Promenade, // more here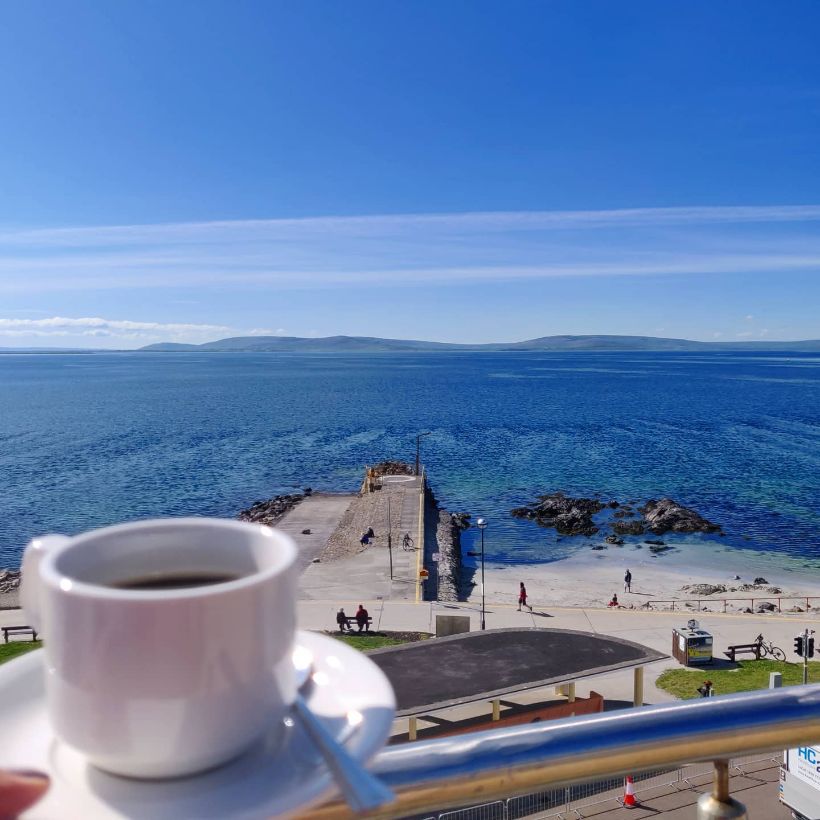 Explore the Salthill food & drink scene:
Blackrock Cottage
Blackrock Cottage is the latest venture of Executive Head Chef Martin O'Donnell, who you may know from his instrumental role at The Twelve Hotel in Barna. With a style of cooking that focuses on local and seasonal produce, Blackrock Cottage works with a variety of local suppliers to bring you delicious contemporary modern Irish cuisine. They have also collaborated with Álainn to bring their guests the popular Álainn bowls. Housed inside a beautifully restored and renovated 1830s cottage, you'll find them located alongside Salthill's iconic Blackrock Diving Tower. The ideal spot for sea-swimmers, prom walkers and locals to sit, chat and enjoy delicious food.
Salthill Promenade // more here
Osaka
Bringing brand new tastes to the West of Ireland, Osaka Japanese and Korean BBQ restaurant is a hugely welcome addition to Galway. Osaka offers visitors a dining experience of the finest Japanese and Asian cuisine. Their kitchen uses only the freshest ingredients and never uses MSG. Serving Hot Pot, Donburis, Currys, Sushis, Noodles and Wok Stars, there is something to suit everyone, with a variety of gluten free and vegan/vegetarian options available too.
157-159 Upper Salthill // more here
Barnacles Bar and Kitchen
The duo behind Linnane's Lobster Bar and Flaggy Shore Oysters, Mark Commins and Conor Graham have partnered up once again to bring you Barnacles Bar and Kitchen. With the aim to introduce both Salthill locals and visitors alike to a unique dining experience, the menus at Barnacles are heavily influenced by their proximity to the sea and local seasonal produce. Alongside the exceptional menus, at Barnacles you can enjoy a fully stocked bar, a cosy atmosphere and the very best of Irish hospitality.
163 Upper Salthill // more here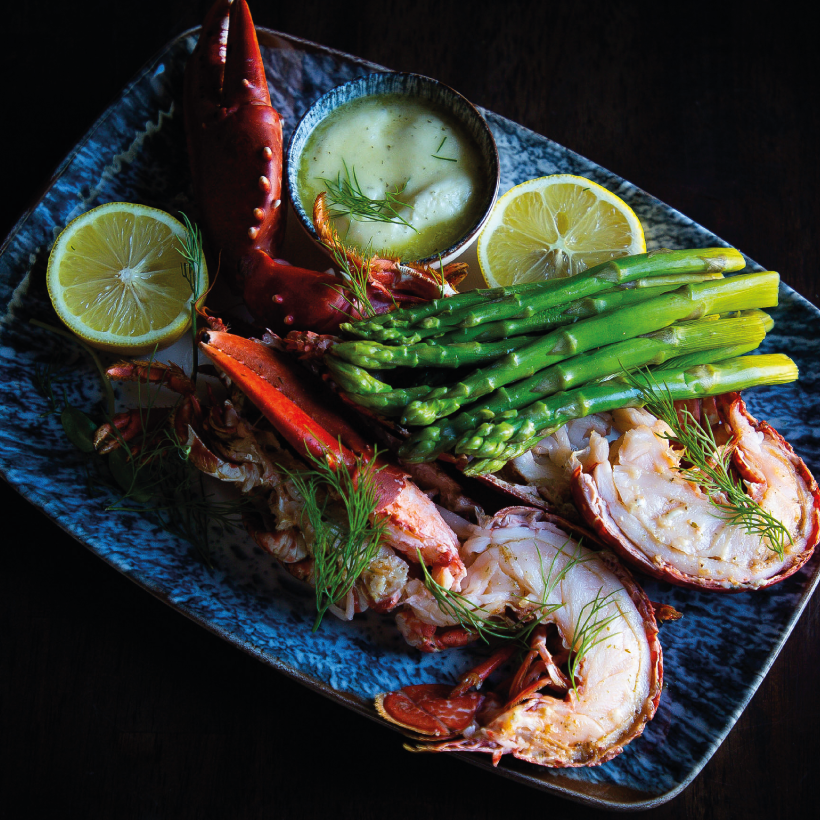 Magnetti's
For a taste of Italian excellence, treat yourself to beautiful Italian food at any time of the day at Magnetti's on the Waterfront. The aroma of freshly-made dough and breads will entice you inside and you'll feel right at home as you browse their menus of mouth-watering foods. With focaccia bread, authentic pizza, fresh salads with the finest quality dressings and an array of wines and beers to suit– no matter what you are after, you will find something to satisfy all taste buds at Magnetti's.
Unit 1, Upper Salthill Rd, // more here 
PJ Flaherty's Pub
Experience all the comforts of a traditional Irish pub with a modern touch at PJ Flaherty's Pub in Salthill. Known for its buzzing atmosphere, top notch pints of Guinness and sound staff, this popular spot is perfect for any lazy day meanderings. Not to mention their cosy beer garden that is decked out in pink cherry blossoms which make for a beautiful backdrop for a holiday themed Instagram post. Be sure to check out for yourself when in the area, we guarantee you'll fall in love with this Salthill pub.
Lower Salthill, // more here
Kali Coffee Bar
Owned by two coffee enthusiasts, Laura and Enda, their goal is to share great coffee without the snobbery. Come in, relax, and discover the world of coffee in a chill and cosy environment. Kali Coffee Bar is a little hideaway in Salthill that is passionate about coffee while also caring for the planet. This spot is also dog-friendly so feel free to bring along your furry pal. When the Galway weather permits, take a breather and relax in their opened Kali Oasis. We highly recommend chilling out on bean bags or relax under their big sycamore tree and tuck into some cakes, cookies, and delicious treats - Bliss.
133 Upper Salthill Rd, // more here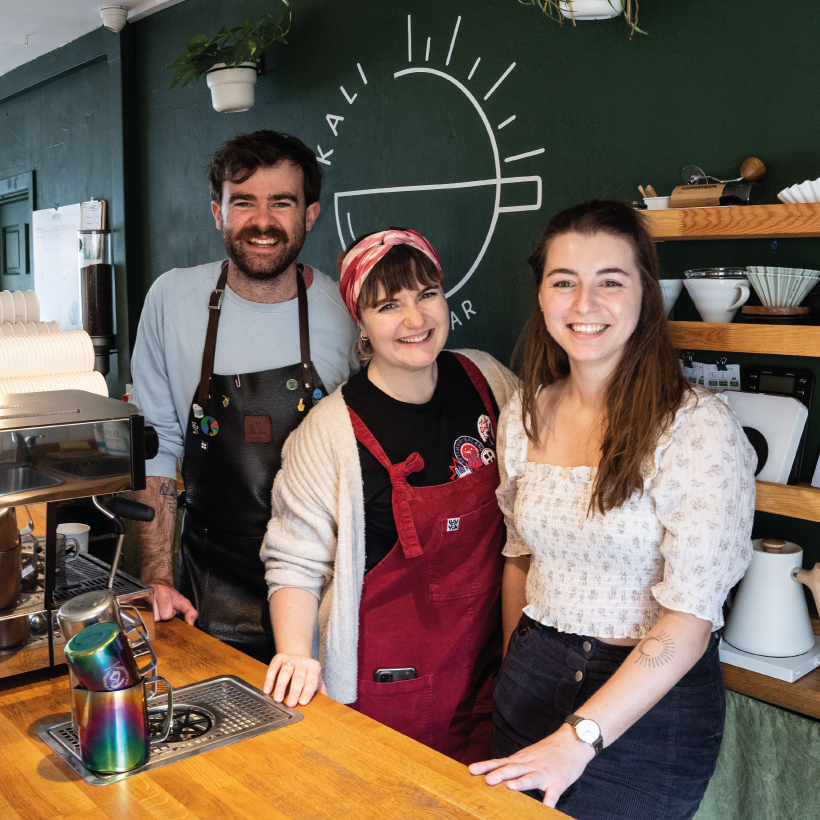 Chef Laura Rosso
If you would fancy some authentic Brazilian foods while you're enjoying the sunshine, sit out in the gorgeous outdoor area at Chef Laura Rosso. While you dine out at this amazing Brazilian restaurant you can take in picture perfect views of Galway Bay and feel like you are a world away from your day to day life. With plant based and vegetarian options that are worth the trip to Salthill alone, calling into Chef Laura Rosso is a must for those visiting Galway.
At GCI Building, Grattan Rd, // more here 
O'Reilly's Bar & Kitchen
In the summer months very little can beat sipping away on delicious cocktails at the rooftop bar of O'Reillys Bar & Kitchen. With stunning views of Salthill beach and the prom you can try out new drinks off their cocktail menu as you soak in Salthill's electric atmosphere. The team at O'Reilly's have also been known to throw a BBQ every now and then so if that sounds like your kind of buzz get in touch with them and see how they can make your summer BBQ dreams come true.
232 Upper Salthill // more here

Galway Bay Hotel's Beachfront Barista
If you're bringing the doggo on holidays with you, you need to bring them along with you to this lovely coffee dock. After your morning stroll along the beach call by Galway Bay Hotel's Beachfront Barista for badly needed refreshments. With giant deck chairs out front you and your pooch can enjoy the mid morning sunshine and take a moment to unwind with coffee and pastries for the humans and water for the pups. The team here would love to meet your little (or big!) puppy so be sure to call in and say hi.
Salthill Rd Lower, Upper Salthill // more here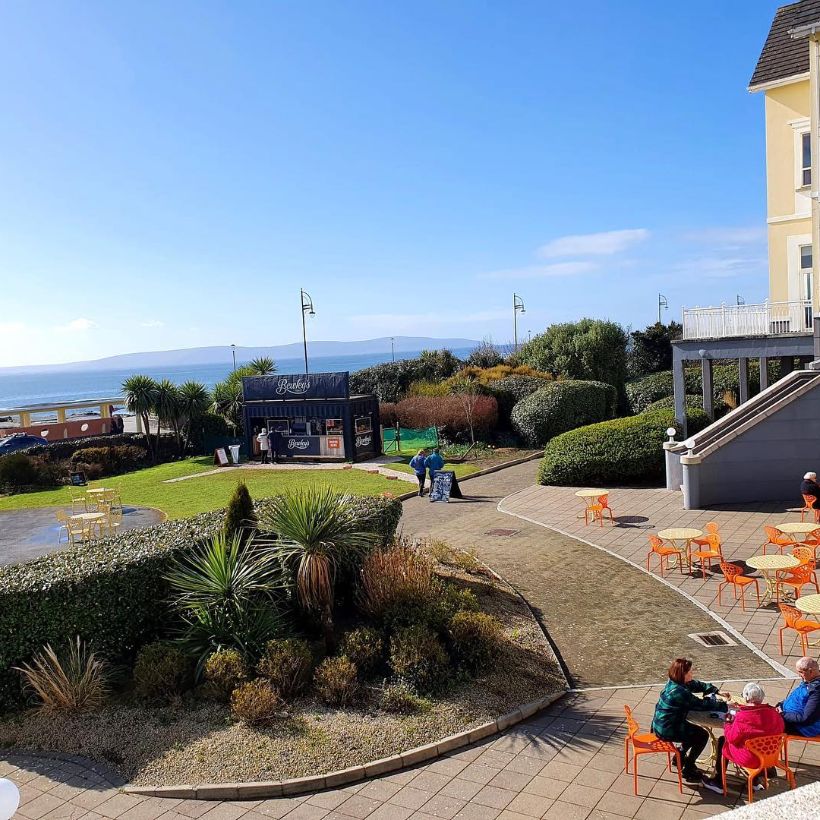 Black Cat
If you're enjoying a romantic getaway with your significant other, you are going to want to pay Black Cat a visit. This is the ideal intimate date night spot.  Ambient jazz music will set the atmosphere for your evening, as you dine on exquisite tapas made from locally sourced produce and a glass or two of their delicious wines. Having built up a stellar reputation amongst tourists and locals alike for their inviting atmosphere, this is one spot you're definitely going to want while in Salthill.
179 Upper Salthill, // more here 
Gourmet Food Parlour
After a day of swimming and sunning yourself at the beach, you're going to want to spoil yourself with a deliciously filling meal at Gourmet Food Parlour. With a kids menu that is on par with the adults, small plate options, mains and desserts, there's something for everyone on their extensive menus. If you're not ready to leave the beach just yet, choose some delicious goodies off their takeaway menu and opt for a picnic by the seaside to finish off your day.  They also have a selection of cocktails, mocktails, bubbly and more, which are always a good addition to a summer's evening.
14 Lenaboy Gardens, // more here 
Ground & Co.
For an early morning power breakfast, there's no better spot in Salthill than Ground & Co. Located right next door to Galway Atlantaquaria on the prom, this is a brilliant starting point to begin your day out in Salthill. With a breakfast menu that includes everything from creamy oats, eggs your way and freshly squeezed juices, herbal teas and coffee you'll be ready to take on your next great Salthill adventure in no time. Whether you want to eat in house, at their outdoor seating or grab n go, calling into visit Ground & Cos amazing team is a must while in Galway.
Atlantaquaria Toft Park // more here 
The Pear Tree Café & Bistro
At the core of everything The Pear Tree Café & Bistro does, is a dedication to sustainability and working with local suppliers and producers. They aim to bring their customers a menu made from the very best locally sourced ingredients including breads from Sullivan's in Oughterard, organic mixed leaves from Mill House Farm and house specialty coffee from Soma Coffee Company. Looking ahead, they have loads of exciting plans in the works, with the opening of a wine bar in the summer of 2023, so make sure you stay tuned on the latest updates!
107-109 Upper Salthill Road // more here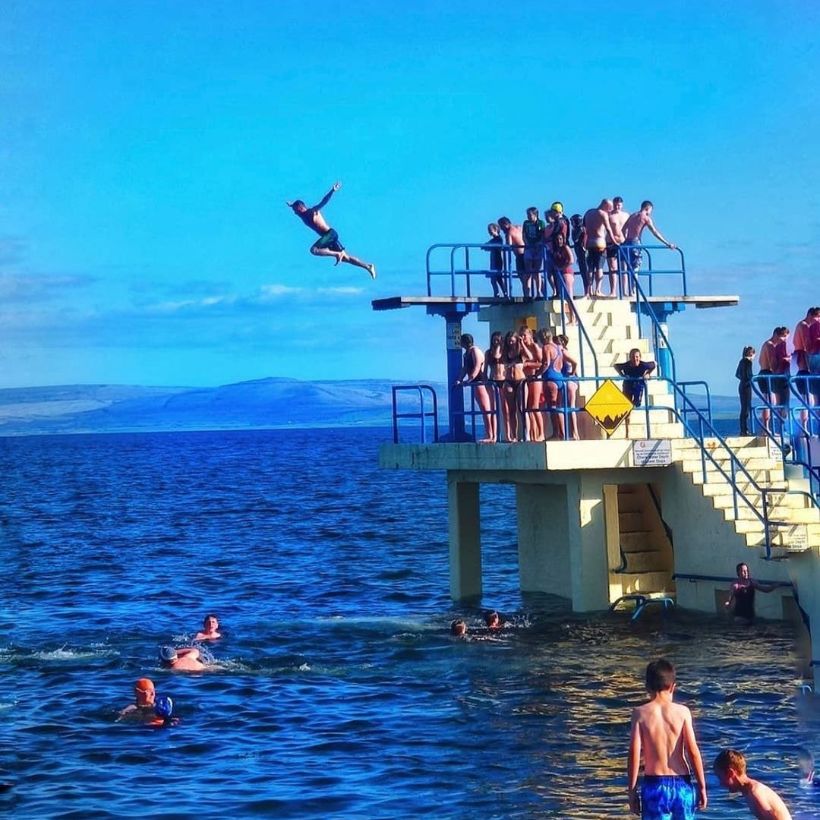 photo by @neha_artsylens
Something for everyone:
A Day out on the Beach
When in Galway do as the locals and take a plunge off Blackrock Diving Tower. We're sure you've seen it gracing your Instagram and Facebook feed before and now it's your chance to make some memories and jump into the sea. Just don't forget to kick the wall across from the diving tower for luck! Right next to the diving tower is a lovely green area where you can join a weekend morning yoga class by the ocean with Yoga with Misha. It's a great way to relax and reconnect with yourself before diving into the rest of your day plans.
Walk The Prom
Whether you want to stroll, walk, run or cycle it, Salthill's 2km Promenade is well worth wandering down. You don't have to do it all and the spectacular views speak for themselves so be sure you check it out for yourself. You'll encounter people of all ages and their doggies enjoying the seaside walkway, we recommend walking it when the sun is rising or setting as the skies over the bay are really magical at those times. Add a bit more excitement to your walk by calling into Curry's Funpark and spending the afternoon trying out the different rides.
Visit Galway Atlantaquaria
Right next door to Ground & Co. is Galway Atlantaquaria, Ireland's largest native species aquarium. If you have kids this is a great way to keep them entertained while also teaching them about Ireland native sea life through clear and interesting displays, informed helpful staff and exciting live presentations and animal interaction sessions. Afterwards, an ice cream from The Creamery comes highly recommended.
Published on Updated on