Between the wilds of Connemara and the shores of Lough Corrib, lie a number of villages and towns that have been accurately dubbed 'the Gateway to Connemara'. Featuring a wealth of natural attractions, each of the locations mentioned below are exceptionally beautiful in their own right. For anyone planning your trip out West, check out our recommendations below and get out and discover it all for yourself...

MUST VISIT SPOTS
WILDLANDS (Moycullen)
Let your hair down at Wildlands Activity Centre and have an adrenaline racing time on their indoor and outdoor courses - Zip 'n' Trek, Fun Walls, Disc Golf, Bushcraft, Archery, Fairy Trails, Challenge Rooms, Ninja Course and much, much more. From Baile Beag (the incredibly cute tiny town for the kids) to the more adventurous obstacles courses and delicious food in Olive Tree Kitchen (see below!), there's something to keep the whole family entertained at Wildlands.
BRIGIT'S GARDEN & CAFÉ (Rosscahill)
Take a break and surround yourself with nature at Brigit's Garden and Café. Widely regarded as one of the most spectacular gardens in Ireland, the garden's stunning features are themed on the Celtic seasonal festivals. The gardens have been thoughtfully designed to show off Connemara's untamed beauty. Discover the native plants on the woodland trail, visit the living willow play area, or look for underwater life by the crannog. At the very centre of it all, the Roundhouse is a place for art and music, meditation, meetings or just relaxing.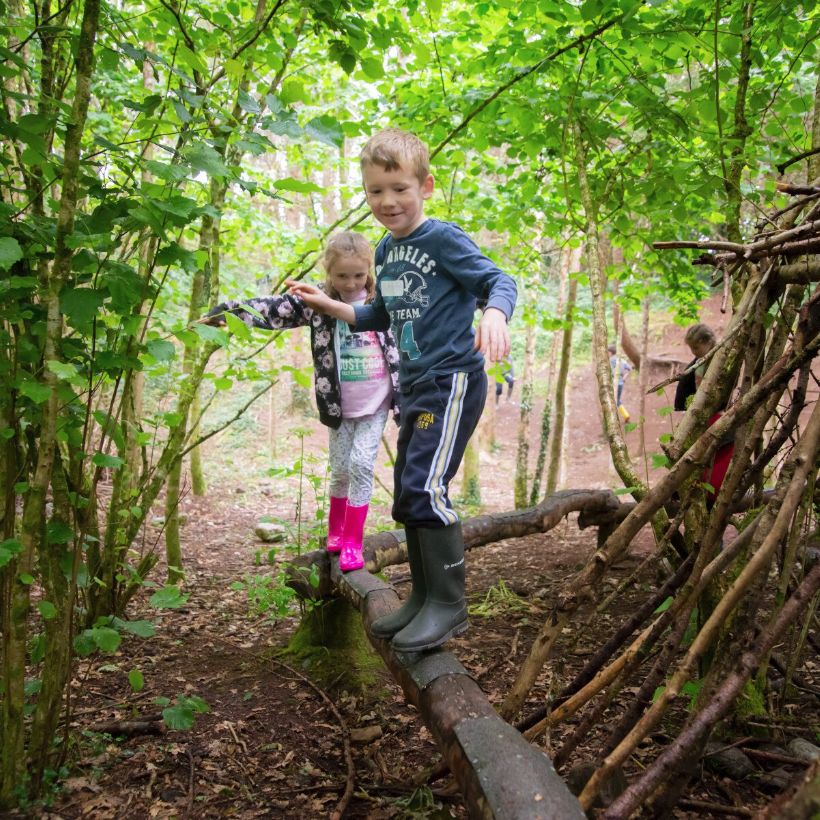 above: photo courtesy of Brigit's Garden
THE QUIET MAN BRIDGE (Oughterard)
For any film buffs out there, travel a short 8km from Oughterard and you'll come across the Quiet Man Bridge at Leam. Connemara was the main setting for the iconic 1952 film 'The Quiet Man' and this bridge was one of the filming locations. The way to the bridge is signposted and has proven to be a popular spot for visitors to the area.
MOYCULLEN MARKET (Moycullen)
If you happen to be visiting on a Friday, a wander about Moycullen Market is a must! Offering a wide selection of locally produced foods and crafts, there are so many goodies to choose from. Keep an eye out for the market's regulars including Andy's Spelt Treats, Moycullen Green Foods, Crafty Family, Feoil Burger and Thefruitbrothers.ie. Pass your afternoon by chatting away with vendors, enjoying the live music provided by local musicians and soak in the buzz of the Moycullen marketplace.
FISHING ON LOUGH CORRIB
With an abundance of salmon and wild brown trout, Lough Corrib is considered to be one of the best fishing spots in Europe. Experience a day out on the lake and test your luck, if you'd like to make the most of your time then hire one of the local fishermen to guide you and have a fab day out learning all the tricks of the trade in great company and see what type of fish you manage to catch.
LOUGHWELL FARM PARK (Moycullen)
A favourite with families - Loughwell Farm Park guarantees a day filled with fun. There is over 12,000 square feet of indoor entertainment including a mega indoor play structure with what is considered to be the best selection of slides in Ireland! Outdoors you can meet and hand feed the park's friendly farm animals, and take a stroll through their magical fairy forest or spend the day relaxing in the stunning Elderflower Café.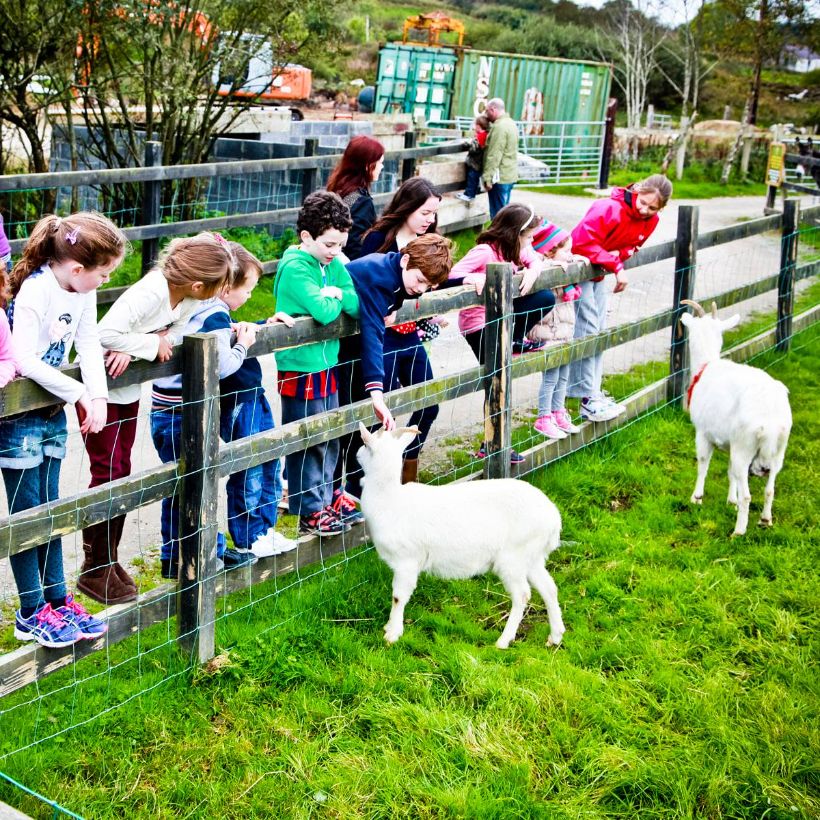 above: photo courtesy of Loughwell Farm Park
SHOP
TREE BARK STORE (Moycullen)
Combining unique Irish craft gifts, a photography studio, specialty coffee and delicious wines all into one space, Tree Bark Store is a one stop shop for all your shopping needs. They stock a stunning array of Irish made goodies including prints, coasters and cards, and after shopping through their home brewing equipment you'll find yourself never being stuck for making a delicious brew at home.
REPLENISH (Moycullen)
Replenish has a zero waste ethos. Meaning that you can simply refill your own containers from home with the products of your choice without all the unnecessary waste. Replenish stocks locally produced goods, fresh Blue Moon coffee, sustainably sourced products, supplements and delicious wholefoods. The owner Stephanie is passionate about her work so don't be afraid to get her advice on different products while shopping instores.
WHITE GABLES (Moycullen)
If you're on the search for a few presents, White Gables hampers are perfect for every occasion. Packed full with loads of tasty treats, these hampers never fail to impress. The store has a gorgeous selection of Irish made ceramics, kitchenware, candles, decorative accessories and tableware, you really could spend hours admiring their collections. Shop their hampers here.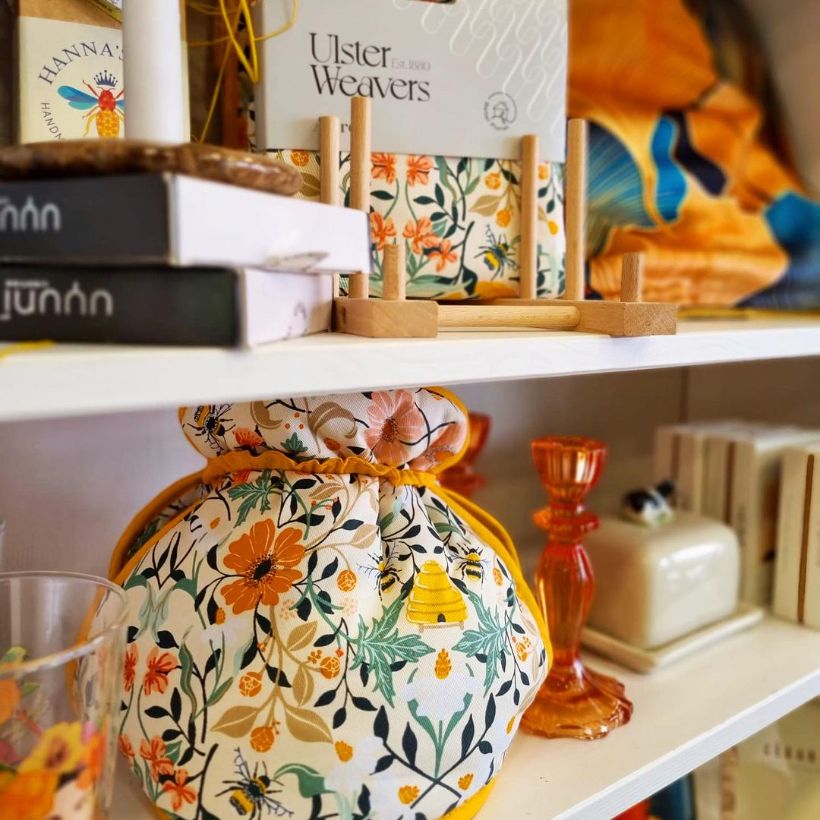 above: photo courtesy of White Gables
EVERGREEN HEALTHFOODS (Moycullen)
At the forefront of natural health & wellness in Ireland, Evergreen Healthfoods supplies  quality supplements and health foods. They offer a huge range of products including  vitamins, nutritional supplements, herbal remedies, and natural and organic skincare to name a few. Their expert team can guide you to the best products to suit your needs.
FUSION FASHION (Moycullen)
Showcasing gorgeous, affordable occasion-wear dresses and accessories, Fusion Fashion is an exciting designer boutique in the heart of Moycullen village. If you've got a celebration or special occasion coming up then Fusion Fashion is the perfect place for you. The staff are guaranteed to help you put together a flattering outfit that you won't be able to help falling in love with.
MOYCULLEN BOOKSHOP (Moycullen)
More than a bookshop, Moycullen Bookshop is a little Galway gem tucked away in Moycullen village. This beautiful store will introduce you to different literary treasures, the bookshop contains an amazing curated collection of books along with maps, stationery, toys and art and craft materials. Ask the knowledgeable team for their recommendations and we can confirm that their suggestions will lead you to your next favourite book.
FOOD & DRINK
WHITE GABLES (Moycullen)
Housed in a beautifully restored stone cottage that dates back to 1820, the inviting exterior of White Gables only hints at the treasures within. We highly recommend dining in their restuarant and availing of all the deliciousness on their lunch and dinner menu, however if you really are on the move, their takeaway meals, pasteries and homemade baked treats should not be missed.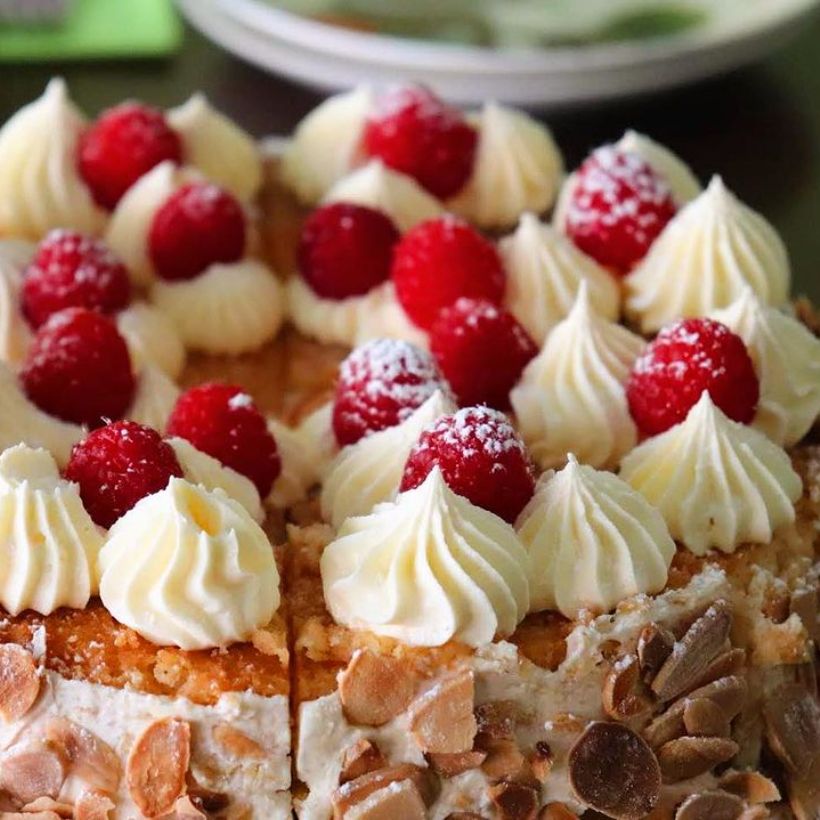 above: photo courtesy of White Gables
KELEHANS BAR (Bushypark)
The latest addition to the area, Kelehans Bar has it all. Showing live sport fixtures across 6 big screens around their bar, a huge, covered and heated beer garden, a aromatic fireplace, and cosy nooks and seats throughout, not to mention their fabulous offerings on their drinks which include a wide selection of cocktails, whiskeys and beers. This spot is quickly becoming a favourite so be sure to check it out and pay them a visit.

OLIVE TREE KITCHEN AT WILDLANDS (Moycullen)
Open to the public, you don't need to purchase a ticket to their exciting outdoor activities to access the Olive Tree Kitchen at Wildlands. Food is freshly prepared each day, using vegetables from their veggie patch on-site! While dining in, try their daily specials, or enjoy a pizza, cooked right in front of you in their traditional Italian fire brick pizza oven, handcrafted in Naples, the birthplace of pizza.
POWERS THATCH, BAR & RESTAURANT (Oughterard)
Rory and the team at Powers Thatch always go above and beyond, to exceed all your expectations. The gorgeous thatched bar is full of charm and homeliness, you won't find anywhere else quite like it. If happen to call in on the right day you'll be spoilt with some fabulous live music session to accompany your meal. This lovely spot should definitely be onto your to visit list while heading out West.
MY LITTLE FLOWER (Oughterard)
A pretty little coffee shop, the team behind My Little Flower set out to create a cosy space where people could come together and connect over delicious coffee and snacks. All your caffeine needs are taken care of thanks to their delicious coffees that are sourced and roasted by neighbours; Calendar Coffee and their baked goods are all sourced from local bakers ensure you enjoy a locally sourced good time.
BRIGIT'S GARDEN AND CAFÉ (Rosscahill)
Relax in the calming dining area of Brigit's Garden and Café, and look out over the gardens as you sample their exquisite dishes. Sample yummy treats off their menu that specialises in vegetarian and vegan foods. Local food producers feature in the dishes and all plates are garnished with homegrown herbs and edible flowers from the gardens.
PULLMAN RESTAURANT (Bushypark)
The Pullman Restaurant on the grounds of Glenlo Abbey Estate offers a fine dining experience like no other! The restaurant was awarded the prestigious second AA rosette and Ireland's Best Fine-Dine Restaurant at the Gold Medal Awards. Indulge yourself with their menu that is packed with exquisite combinations of flavours and textures using the finest local produce.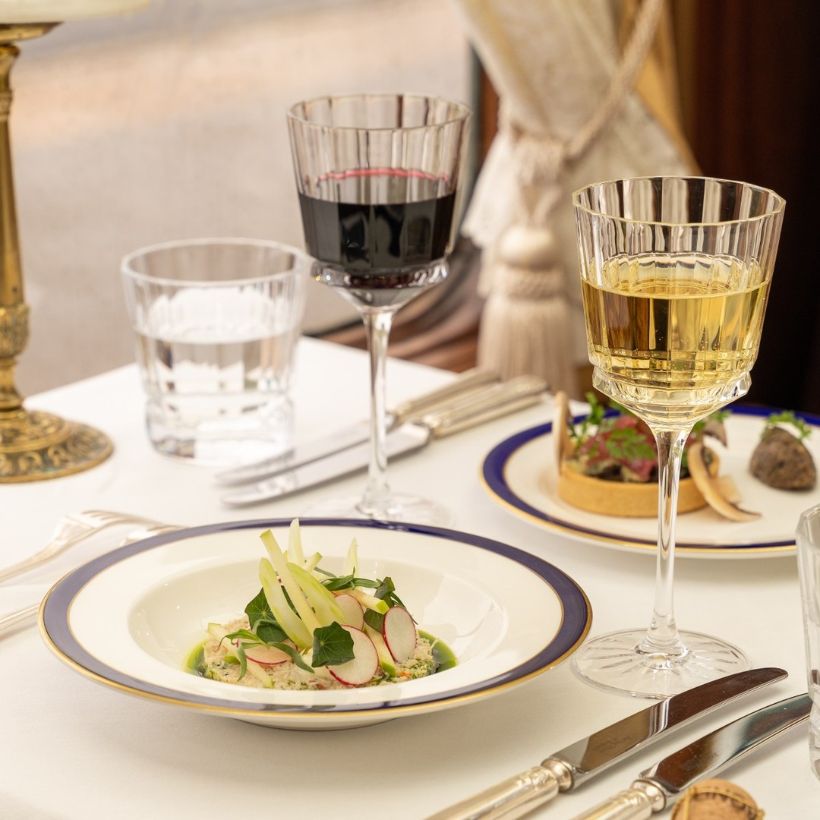 above: photo courtesy of Pullman Restuarant 
CONNEMARA GREENWAY CAFÉ & RESTAURANT (Oughterard)
Renowned for their very warm welcome, inviting atmosphere and friendly, accommodating service — not to mention the delicious food! They've just received the McKenna's Guides Best in Ireland 2022 plaque for their food and front of house hospitality. No matter whether you've spent the day exploring Connemara or are a local to the area, you're going to want to add Connemara Greenway Café and Restaurant to your itinerary for the day.
THE BOAT INN (Oughterard)
The award winning gastro pub The Boat Inn, is the place to be on the weekends! The bar offers food all day long and outside seating, you can enjoy food that is a treat for the tongue and easy on the wallet. Call in over the weekend and catch the live music sessions, best enjoyed with a pint of good stuff in hand.
CAMP STREET CAFÉ (Oughterard)
Pop into Camp Street Café for a memorable dining experience. Their unique outdoor pods make for a lovely setting for your meal. The comfortable environment of this café and availability of free parking makes this the perfect place to visit to enjoy a hearty meal while on your way out West. The team is seriously sound and will make you feel right at home from your very time visiting them.
STAY
GLENLO ABBEY HOTEL & ESTATE (Bushypark)
There's no better way to spend a holiday in the West than surrounded in luxury at the 5 star Glenlo Abbey Hotel and Estate. With the stunning views of Connemara right on your doorstep and Galway city mere minutes away, Glenlo Abbey Hotel is the perfect place for a relaxing countryside getaway. With the Pullman Restaurant, Abbey Movie Theatre, Billiards Room and outdoor activities including falconry, archery and a 9 hole championship golf course all available on the Estate grounds, Glenlo really does have it all!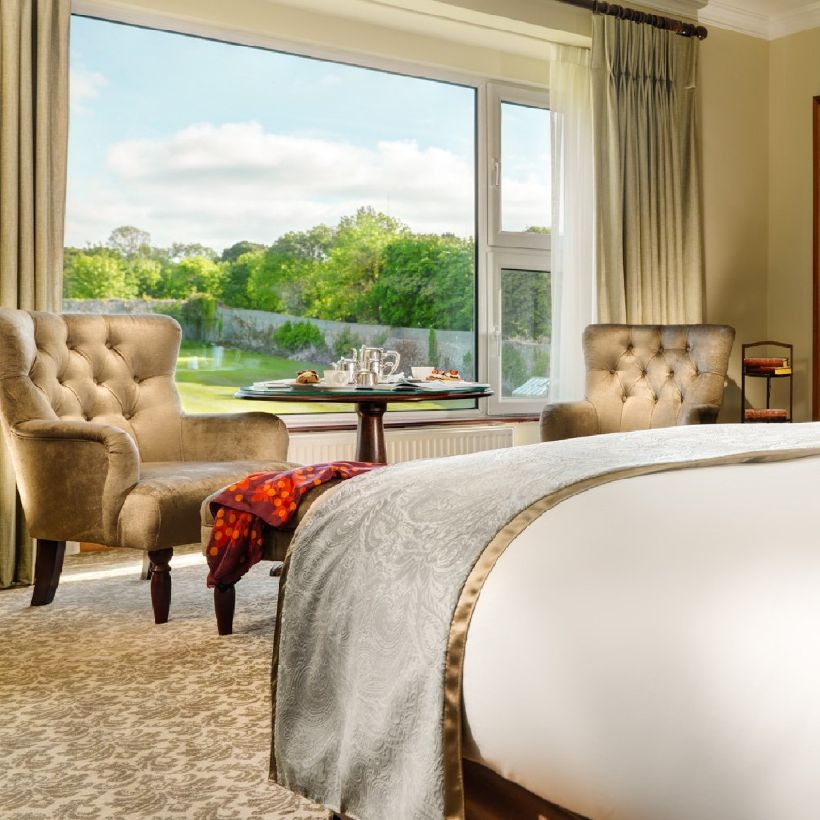 above: photo courtesy of Glenlo Abbey Hotel & Estate 
CURRAREVAGH HOUSE (Oughterard)
Currarevagh House offers an oasis of privacy for guests in an idyllic, undisturbed natural environment. With sustainability and protecting the environment at the centre of everything they do, Currarevagh is also a wildlife and environmental sanctuary. Each of the bedrooms have been styled individually with undisturbed views of either Lough Corrib or the mountains of Connemara and their new lakeside sauna will help alleviate your stresses and help you unwind for a relaxed and calming experience.
HISTORICAL INTERESTS
ANCIENT DISCOVERIES IN LOUGH CORRIB (Oughterard)
Dating back over 4,500 years, a log boat was one among 12 early Bronze Age, Iron Age and medieval crafts that were found in Lough Corrib. With the log boat, several Viking-style battle axes and other weapons were uncovered. Who knows what other pieces of history lie at the bottom of Lough Corrib, perhaps if you go walking along its shores you may uncover something historic for yourself.
AUGHNANURE CASTLE (Oughterard)
Regarded as one of the most unique castles in Ireland, Galway's Aughnanure Castle is one of over 200 fortified tower houses built by the most powerful families in Ireland - the O'Flaherty clan - centuries ago. One of its well-known features is the infamous trap door in the banquet hall. Legend has it that after a lengthy siege, the O'Flaherty clan were required to surrender to the fourth Earl of Clanricarde - Richard Burke - who sent his son to the castle to collect the tribute. It just so happened that Burke was standing over the infamous 'flagstone of treachery', which turned on its axis and plunged him deep into the flowing river beneath the castle. Learn all about it here.
GLENGOWLA MINES (Oughterard)
Offering guided tours, turf cutting demonstrations and a fantastic museum and gift shop, you can experience the ways of life from long ago at Connemara's unique tourist destination - the Glengowla Mines. In the mid 19th century, over a period of 14 years the mines produced 390 tonnes of lead, 28 kilograms of silver and Dolomite, quartz and marble were also discovered in these mines. Go a bit deeper into the mines' history here.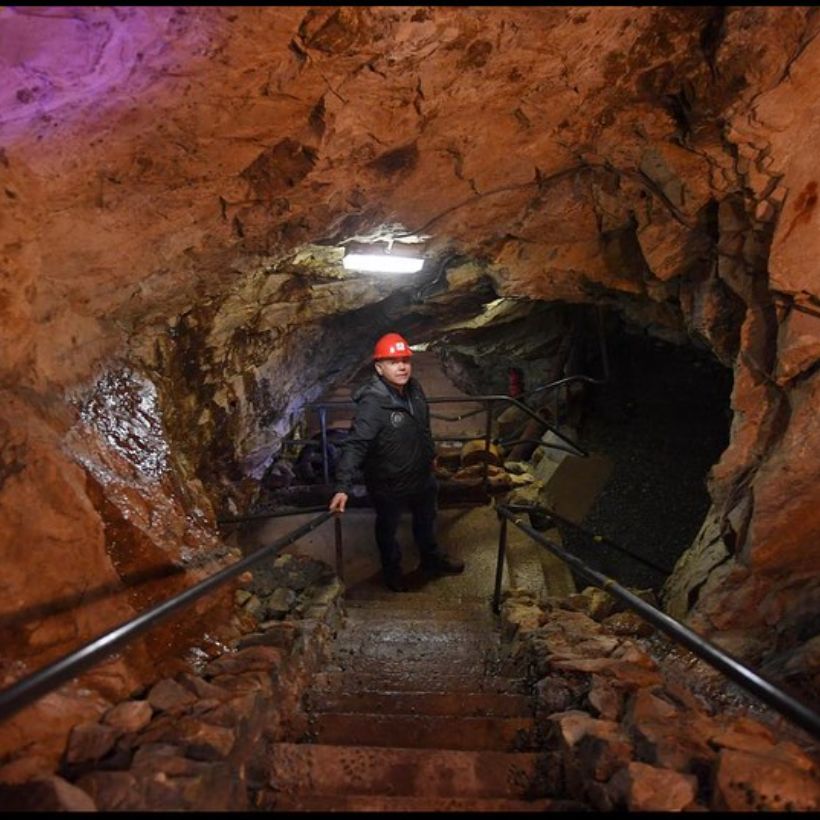 above: photo courtesy of Glengowla Mines
Feature photo courtesy of Wildlands Galway.
Published on Updated on