There are few things in this life that fill you with such a feeling of opulence as a spot of afternoon tea! It really is luxury at its finest which is why we are delighted to let you know that Galway has some of the very best places to enjoy a traditional afternoon tea for when you're in a fancy mood or looking to celebrate a special moment.
Sandwich squares, jam-laden scones and sweet treats galore, afternoon tea is the ideal way to spend a hen night, a special occasion or a fancy afternoon with your nearest and dearest. Throw in a glass of prosecco and you're in paradise! Read on for our recommendations for an afternoon tea to remember in Galway..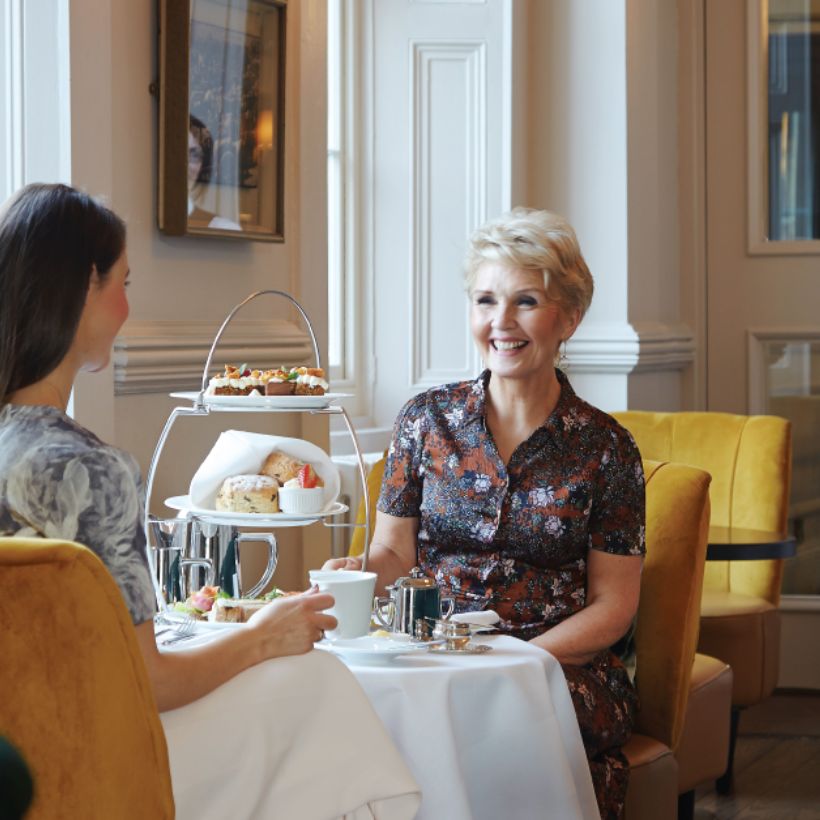 The Hardiman 
A symphony of gentle indulgence, Afternoon Tea is a time-honoured tradition which has been enjoyed by guests at The Hardiman for over 170 years. Served daily from 1pm-4.30pm, this is your chance to relax with a selection of delectable treats created by the Head Pastry Chef, accompanied by teas and coffees selected by the in-house tea masters and barista. They have a separate menu for kids so even your little ones can take part in this wholesome tradition. The gorgeous interior will make you feel as if you're on the set of a Victorian period drama and only heightens the elegance of the occasion. If you're on a mission to really spoil yourself, then add a bottle of bubbly to top off your delightful afternoon.
Eyre Square // more here
Glenlo Abbey Hotel and Estate
For an afternoon fit for a king and queen, Glenlo Abbey Hotel & Estate delivers a truly memorable classic afternoon tea experience. The team at Glenlo will have you spoilt for choice with their selection of finely cut sandwiches, freshly baked scones and beautifully presented tartlets and cakes. Add a further touch of decadence to your afternoon with a bottle of bubbly by selecting their champagne afternoon tea option. No matter if you're celebrating a special occasion, or just looking to spend some quality time with family, at Glenlo Abbey Hotel you'll receive the ultimate fine dining luxuries.
Bushypark, Galway // more here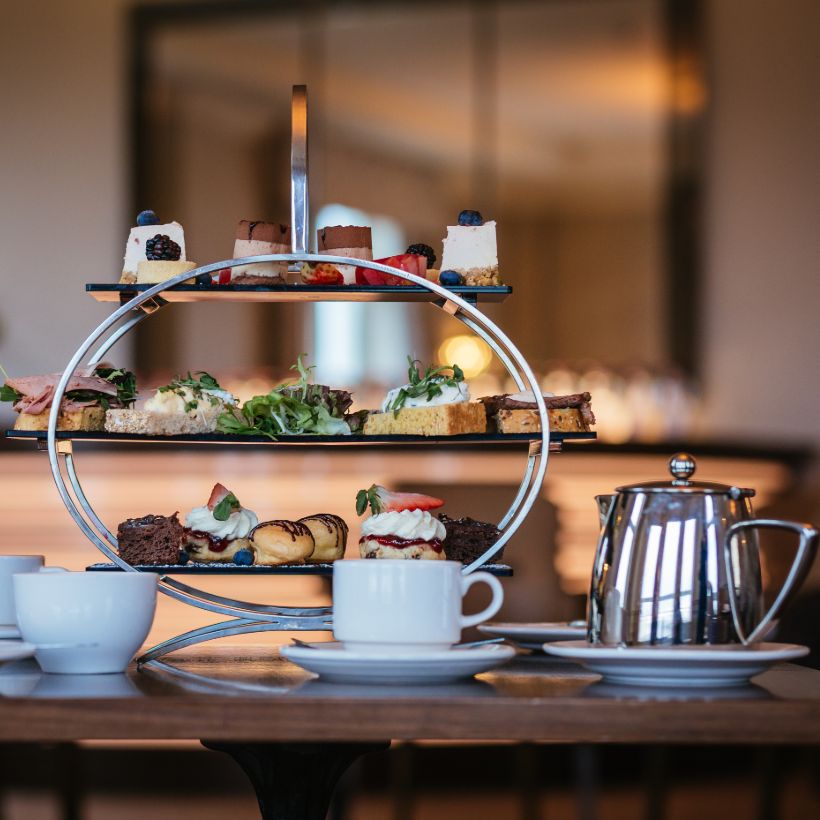 Galway Bay Hotel
Breathtaking views of Galway bay and platters of delicious treats make up the afternoon tea experience at Galway Bay Hotel. Enjoying an afternoon full of their delectable array of freshly baked scones, pastries, finger cut sandwiches and sweet treats is the perfect addition to a day spent in Salthill. Whether you're catching up with friends or treating your family members to a special dining experience, at the amazing price of €27 per person with the chance of adding a glass of bubbly from only €5, it really is one of best spots for afternoon tea in Galway!
The Promenade, Salthill // more here 
Hendrick's High Tea in Tigh Nora
Blowing the concept of traditional afternoon tea out of the water, Tigh Nora's Hendrick's High Tea features all the staples, from tiers of freshly baked scones and savoury tartlets to sweet treats and miniature desserts with the added excitement of some beloved gin. Your Hendrick's gin and tonic will be served in the prettiest teapot and China cups to create an experience like no other. A favourite for hen parties, birthday fun or engagement celebrations, you can even get a voucher for the gin lover in your life. Some of the treats are even gin-infused so, really, what more could you want?
8 Cross Street, City Centre // more here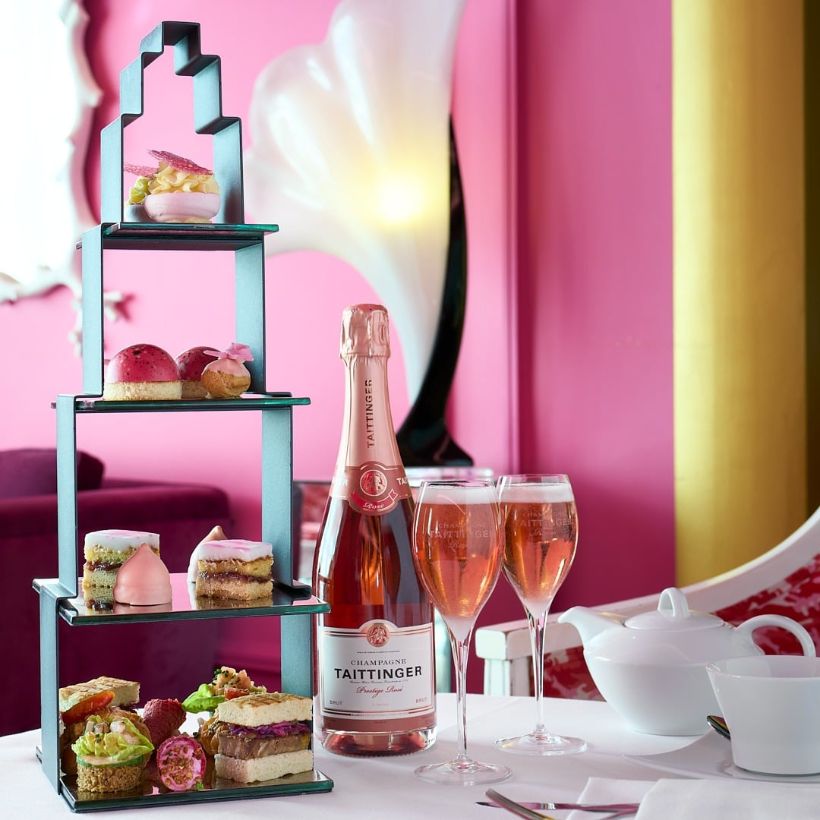 The g hotel & Spa
The 5 star g Hotel is renowned for its top-class food and the team have taken things to another level with their various afternoon tea options. Take your seat in luxurious surroundings as the highly-trained team of waiters shower you with the 5-star service that is the cornerstone of their iconic afternoon tea. Indulge on a selection of handcrafted pastries, freshly baked scones and an array of finger sandwiches in the stylish, designer surroundings of the g Hotel. This is luxury at its finest!
Old Dublin Rd, Wellpark // more here
The House Hotel 
The Yard at The House Hotel believe that being good deserves a treat and what better way to treat the little ones than to share the experience and accompany grown-ups for the children's afternoon tea at The Yard. Their traditional afternoon tea serves a delicious combination of sweet and savoury treats and your choice of Fonté tea or coffee. The addition of Prosecco, Gin or Champagne makes an afternoon in Galway all the more enjoyable so we have to recommend you spoil yourself to a glass or two, we know you deserve it.
Merchants Road Lower, Latin Quarter // more here. 

Cupán Tae 
Step back in time into one of the most exquisite afternoon tea settings in all of the West of Ireland. Cupán Tae welcomes you to indulge in their handcrafted, tea-focused and tea-infused afternoon delight. From your first step inside the blush pink door, you're greeted with a warm welcome and excellent service. With their hats tipped to tradition, Alison and her team strive to preserve the fine traditions of the iconic tea party through a fusion of traditional etiquette with a contemporary twist. From their frilled linens to their antique bone china, the experience is nothing short of luxury. If you can't wait until the afternoon, don't worry as Cúpan Tae also have a special brunch noon tea that is as good as their afternoon tea.
No.8 Quay Ln, Latin Quarter // more here.
The Galmont Hotel
Having established itself as one of Galway's must do experiences, afternoon tea at The Galmont Hotel comes highly recommended. Serving a combination of savoury and sweet delicacies there's something to suit everyone tastes on the afternoon tea menu at The Galmont. Sit out with your loved one and dine your afternoon away. An afternoon tea accompanied by gorgeous views of Lough Atalia and beyond, a relaxed day in Galway doesn't get much better than this.
Lough Atalia Rd, Fairgreen // more here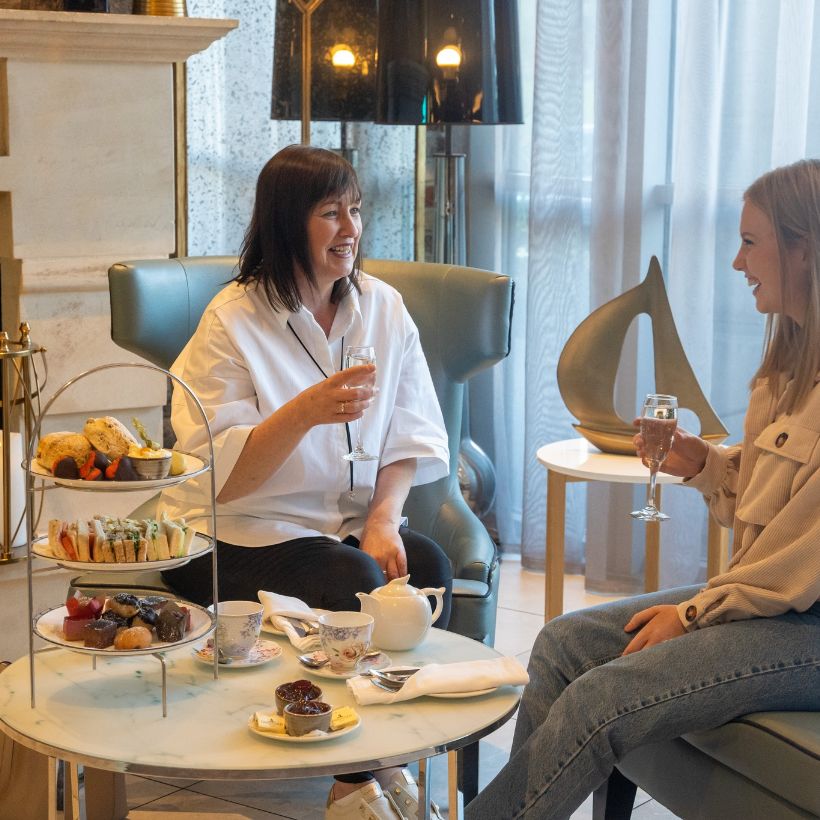 Dillisk on the Docks at Harbour Hotel
The 4 star waterfront hotel in the heart of Galway provides a classic afternoon tea for two with the added enjoyment of prosecco if you would like (which we all do). Sit back and relax in The Harbour Hotel's stylishly rustic lobby, where the comfortable furnishings, muted lighting and soft, vibrant colours will make you feel like royalty. From the three tiered platter of exquisitely prepared sandwiches, wraps and home-baked scones to some seriously tasty sweet treats and delicacies, you'll be looking for any old excuse to celebrate with afternoon tea.
New Dock Rd, The Docks // more here
Oranmore Lodge Hotel
Sit back, relax and prepare to be spoiled at this afternoon tea experience in Oranmore. Oranmore Lodge Hotel provide a menu featuring homemade scones with fresh cream and jam, gourmet finger sandwiches and a selection of desserts along with some teas and coffee. There's always the option of upgrading your package to include a choice of bubbly or gin to make the afternoon all the more vibrant. This is the ideal place to meet up with some friends for a chat and a bit of fancy fun.
Oranmore // more here