A hidden gem between the idyllic Burren landscape and the lush Slieve Aughty Mountains, Gort is the perfect base for all your adventures in Galway. With the help of our little guide, discover this area's ties to many famous historic literary figures, immerse yourself in its flourishing natural environment and meet some of the locals. Take this opportunity to go forth to Gort!


photo of Thoor Ballylee, photography by Luis de Morais
See the Sights
A great place to start your explorations of the local areas is Coole Park. It lies at the centre of a rare wetland system that is considered to be of global importance. It's characterised by underground rivers, springs, and seasonal lakes (turloughs) which are almost unique to Ireland. Coole Park's extensive woodlands is the home to red deer, barn owls, common buzzards, swans and many more wildlife species. There are also 6km of signposted nature trails, the gorgeous and homely Coole Park Tea Rooms, plus a late 18th century walled garden which contains the autograph tree - a copper beech that is engraved with the initials of many of the leading figures of the Irish Literary Revival, who were friends with Coole Park's former owner Lady Gregory. One such friend of Lady Gregory, William B. Yeats took inspiration from Coole Park for his poetry. WB Yeats' home itself lies just 3 miles away at Thoor Ballylee, which is open for visitors and the perfect spot for taking a glimpse into this monumental moment in Ireland's literary history. For a deeper dive into the history of the area and the lives of all the fascinating people who once lived here, call in for a visit to the lovely Kiltartan Gregory Museum. Another site that all those interested in Galway's historic past need to check out is Kilmacduagh Abbey and its Round Tower. Which has managed to maintain its impressive form and original condition since its establishment in the 7th century. It is also the tallest round tower in Ireland at a height of 34.5 metres! Nearby to this, the countryside surrounding Lough Cutra Castle and Ardamullivan Tower is rich with stories from the past centuries, stretching all the way back to the Tuatha De Danann.
If keeping active is more of your kinda buzz, Gort River Walk is a beautiful river walkway that has recently been awarded Galway County Council's Cathaoirleach's 'Pride of Place' award 2023. It's a lovely amenity that is maintained and beloved by the local community so we highly recommend visiting it while you are in the area. For a day of laid back sport, Gort Golf Club is an 18 Hole Championship Golf Course complete with picturesque views and provides loads of fun for all golf enthusiasts. An alternative way to view Gort and its surroundings is to get on your bike and tour its many Cycle Trails. A quick online search will direct you to the loop best suited for your wants. With loops ranging from 5km to 20km, there are loads of cool locations for you to discover from your bike around Gort.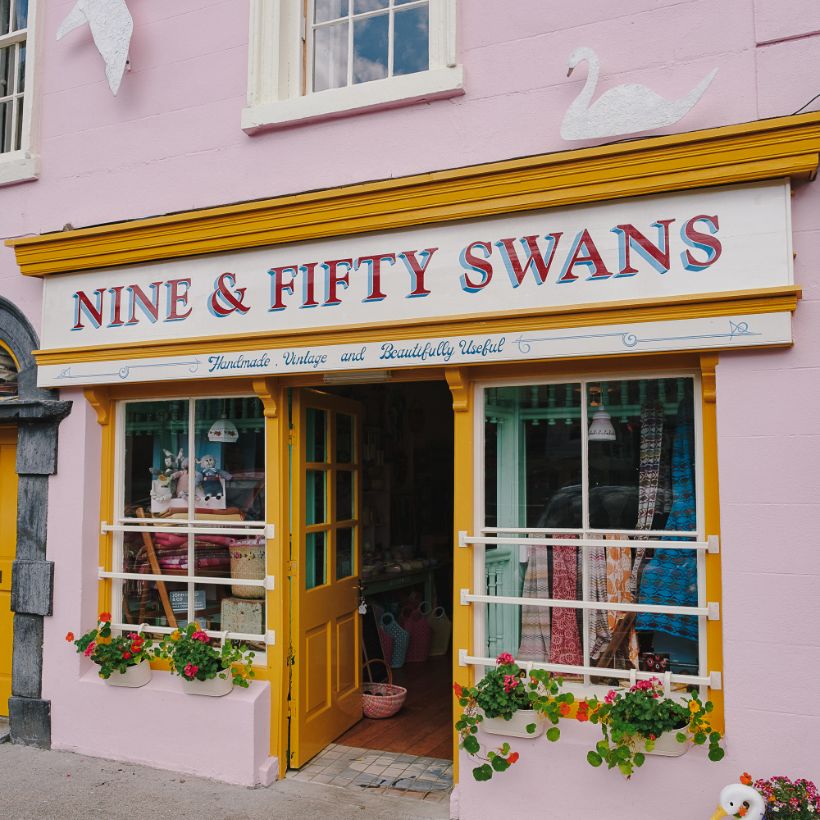 photo by Ciarán MacChoncarraige
Things to do around Gort Town
On the accommodation side of things, Lady Gregory Hotel has all your needs taken care of under one roof, and is in the ideal position for all your West of Ireland travels. Alternatively, the father and daughter run The Burren Inn is a newly renovated pub and accommodation provider in the midst of the Burren landscape. All your adventures will need some fueling so we recommend calling into Gort town for a bite to eat and to meet some of the local creators. There are plenty of dining options to choose from; The Granary Pizzeria, The Field Gastropub, and O'Connor's Bakery. Additionally, Gallery Café is the perfect spot to enjoy a delicious meal, along with a fresh brew of the local roasters, Anam Coffee. It's not just the food that makes this little gem so special, the café walls showcase new exhibitions every 4-6 weeks and all artworks are available for purchase. Featuring a menu of signature dishes, light bites, salads and fresh baps, Rooster's Café & Farmshop have cultivated a real foodie community while highlighting regional produce and giving nearby producers a route to market. For pints and live music, Hennelly's Bar and The Haggard beer garden is the best spot in town.
A new addition to Gort, Nine and Fifty Swans brings together a wide array of products made by local creators and artists. Meanwhile for unique one-off vintage items, call into Horan's Antiques. The Hidden Gem offers visitors a large selection of books and arts & crafts to suit all ages, definitely a worthwhile spot to visit with the kids. If giving your wardrobe a facelift is a priority for you, Treasures Boutique has loads of lovely staple pieces that can be dressed up or down depending on the occasion. For a true glimpse into the artistic side of Gort, research ahead of your trip at Coole Gallery, Gort Arts on Instagram and Coole Music & Arts on Facebook. These organisations work to promote the local arts and music and are a brilliant introduction to all of the creative talents in the area.

photo of Gallery Café, by Ciarán MacChoncarraige
Feature photo from Coole Park by Ciarán MacChoncarraige
Published on Updated on