The real beauty of Ireland, North Connemara is home to an abundance of stunning walking trails, crystal clear lakes and white sandy shorelines. With so much to see and do, we want to help you make the most of your time amongst the natural beauty of Connemara. Discover some of our must visit spots below and trust us when we tell you that every visit to Letterfrack and North Connemara is an experience you'll treasure for a lifetime..

Sleep: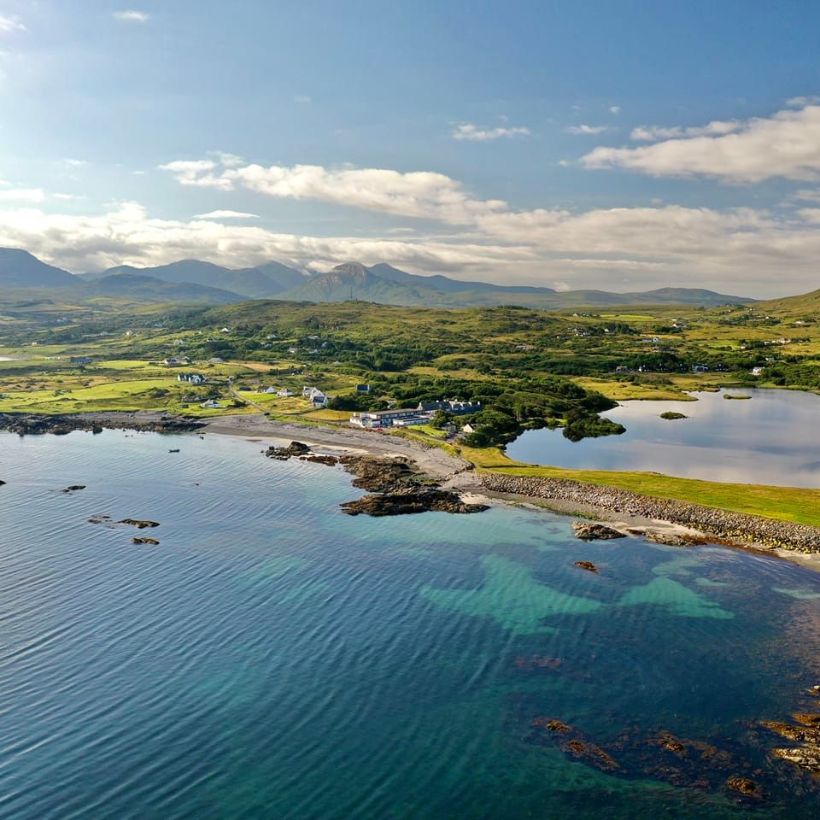 photo courtesy of Renvyle House Hotel 
Renvyle House Hotel & Resort
The 4 starred family owned Renvyle House Hotel & Resort provides an idyllic holiday away from everyday life. With a private freshwater lake (Rusheenduff) for boating, fly-fishing and Kayaking, their own 1km beach on the shores of the Wild Atlantic Way, and an outdoor heated pool and a hot tub with views out over the ocean, you won't find a more peaceful escape anywhere else in Ireland. As they will tell you themselves, the only stress here is on relaxation. The team at Renvyle House Hotel know just how important it is to bring the whole family on vacation and this lovely Connemara hotel is also pet friendly! For a unique location, award winning restaurant, comfortable bedrooms and a truly uplifting break, Renvyle House Hotel will never disappoint.
Old Monastery Hostel
For over 20 years the Old Monastery Hostel has been welcoming guests to relax and experience the cosiness and hospitality that this hostel has become known for. The spacious bedrooms have each been lovingly decorated with different themes; the Tuscan suite, the African room, the Caribbean room, the Church room and the Connemara Dreamtime suite are all welcome places to curl up after a busy day exploring the local area. Located next to the Connemara National Park, the hostel offers its guest majestic views over the village of Letterfrack towards Tully Mountain and out across the sea to Inishbofin. Whether you are after a holiday of exploration and travel or simply looking to immerse yourself in the stunning Connemara landscape, Old Monastery Hostel is the perfect base to make your Connemara holiday dreams come true.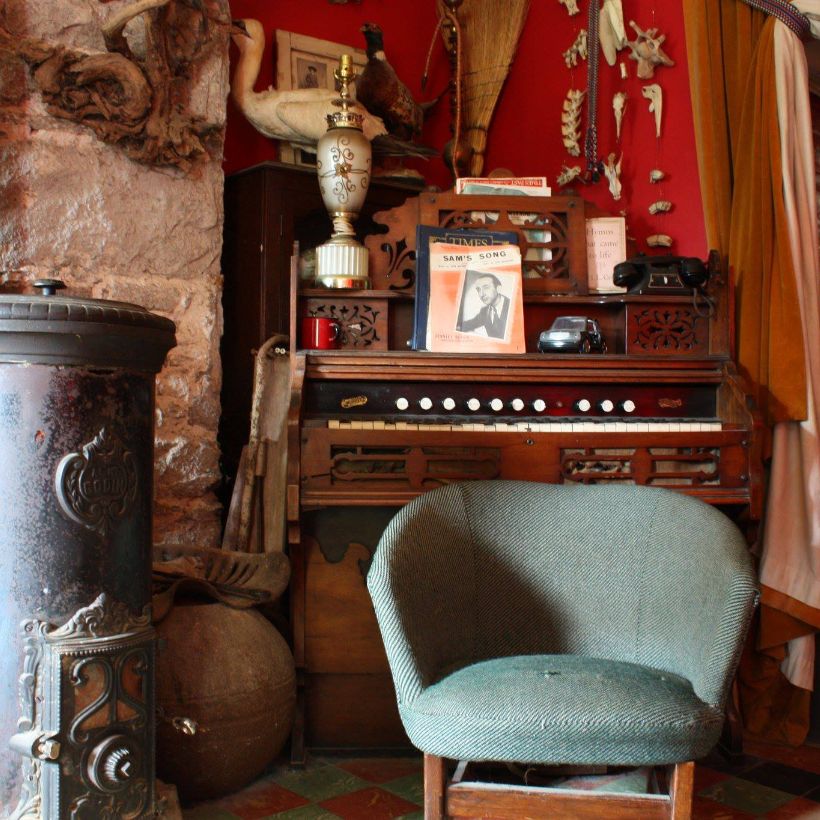 Rosleague Manor Hotel
Surround yourself in old world charm at one of Galway's most exquisite manor house hotels Rosleague Manor Hotel. Resting on the shores of Ballinakill Bay, and beautifully secluded within 30 acres of its own private woodland, this Letterfrack hotel is mere minutes away from Connemara's main attractions - Kylemore Abbey, The Twelve Bens and Connemara National Park. Maintaining the charm and character of a 19th manor house, all of Rosleague Manor Hotel's luxurious rooms contain a unique layout and design and have a number of original antique furnishings - many with their own story to tell. During your stay you can also enjoy a fine dining experience in their homely restaurant with open log fires and historic paintings. When you choose to stay at Rosleague Manor Hotel you'll be making memories that will last a lifetime.
Food & Drink:
Kabo Café
For some delicious goodies on the road, Kabo Café is the perfect place to stop when you're en route to Kylemore Abbey and Clifden. Named after their parents, Kathleen & Bob, Kabo Café is run by sisters Rosaleen and Aisling. Kabo Café offers a range of great tasting, locally sourced food, fresh coffee and homemade sausage rolls, cakes and treats, they also provide vegetarian, vegan, and gluten free choices for those looking for a more wholesome and healthy option. If you want to treat yourself to a gift to mark your time in North Connemara, you'll find loads of lovely Irish made crafts and cards at Kabo Café so be sure to do a bit of browsing while you wait for your coffee.
Little Fish Food Truck
While you are busy enjoying all the sights and attractions that the West of Ireland is famous for, make sure you don't forget to sample some of the world famous Connemara seafoods! Stop by Letterfrack Pier to taste some of Little Fish Food Truck Letterfrack's amazing seafood dishes. Menu options include fresh fish and chips, Calamari Spice Bag with house fermented hot sauce aioli, fish sambos and more. Using locally sourced ingredients, every dish really looks as good as it tastes! Make sure you add this spot to your Connemara bucket list - stunning sea views, and delicious sea foods, you're not going to want to miss it.
Veldon's Seafarer
Right at the heart of Letterfrack is one spot you simply need to check out for yourself. The award-winning bar, restaurant and café, Veldon's Seafarer is a constant buzz of locals and tourists out enjoying a cold one or a satisfyingly filling dinner after a day climbing Diamond Hill in Connemara National Park. With live music 6 nights a week, great food, sound staff and some seriously stunning décor, Veldon's Seafarer really is the place to be. We have to recommend you spend an evening sitting out in their unique and colourful beer garden and immerse yourself in the easy-going ambience of Letterfrack with a glass of wine, and treating yourself to some of their selection of famously good seafood specials, you can thank us later!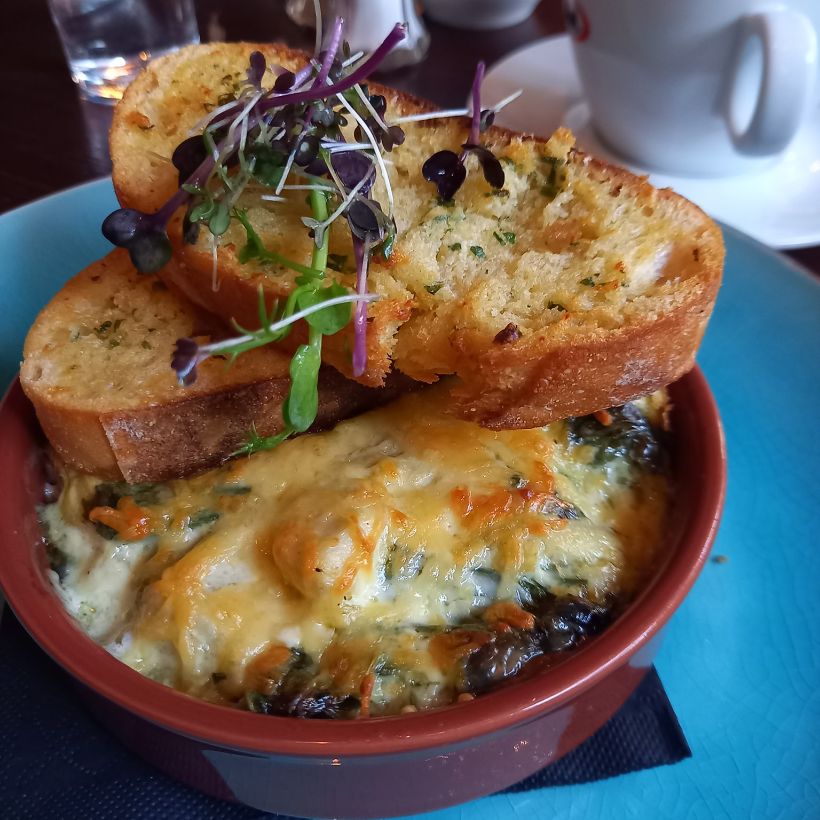 Wild Goat Café
The incredible social enterprise Wild Goat Café is well worth visiting while you're in the area. Open from 8am, this is the ideal spot to get some brekkie before setting off on your day of sightseeing. There really isn't a better way to start your day than tucking into one of their yummy breakfast wraps. What makes this spot even better is that all the proceeds from their sales go towards helping out local charities, so you don't have to feel bad when you decide to treat yourself to that extra slice of cake.

Molly's Bar
Call by and enjoy all the craic of Molly's Bar Letterfrack. When your day on the road is at its end, there's no better spot to enjoy a few creamy pints of Guinness than at this traditional Irish pub. Sitting out in the comfy beer garden chatting with the locals is a terrific way to pass an evening in Connemara. With live music, all the sports on the TV and a pool table inside to keep you entertained, you will want to return time and again to experience a night out at Molly's Bar.
To do: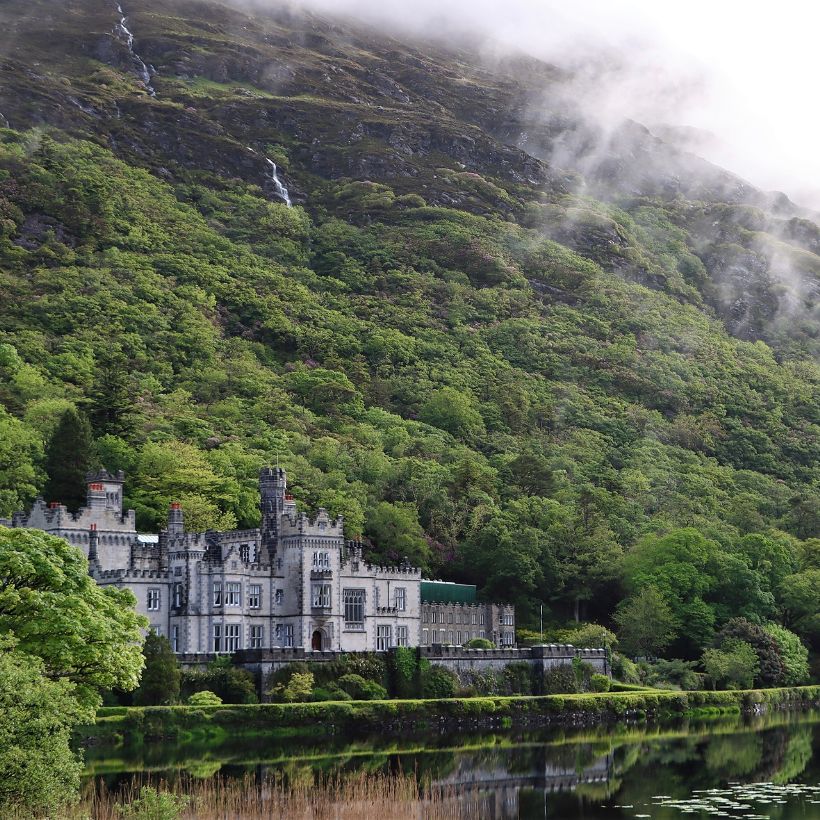 photo courtesy of Kylemore Abbey
Kylemore Abbey & Gardens
Nestled in the heart of North Connemara is one of Ireland's best loved tourist attractions,  Kylemore Abbey & Victorian Walled Gardens.  You could easily spend an entire day checking out all the wonderful things to do on the huge estate. Some of the highlights of Kylemore Abbey include the unique Walled Garden, woodland & lakeshore walks, the romantic and tragic neo-Gothic Church and mausoleum. When all you exploring has come to an end or simply want to refuel before taking on the next leg of your fun, Kylemore's shop and café has loads of lovely goodies for you to enjoy. If you want to know more about the history behind this amazing place, Kylemore Abbey also hosts regular guided tours which provide an incredible behind the scenes insight of this historic destination. It's not just fun for adults mind you, there are plenty of exciting things for the little ones to enjoy at Kylemore too, including a visit to Kylemore's friendly farm animals - piggies Gloria Summer and Ken Scamper and the majestic Connemara ponies.
Connemara National Park
A highlight of your trip to North Connemara will undoubtedly be the breathtaking Connemara National Park. With an abundance of walking trails, playgrounds and wildlife to look out for, every visit to Connemara National Park is an exciting exploration of the natural Connemara landscape. There are 4 Diamond Hill walking trails to choose from, each of various difficulty and length, but no matter which you walk you decide to go on, the views are spectacular.  When your day of hiking has come to an end, pop by the Hungry Hiker Café to get some badly needed refreshments and sit out in their courtyard, enjoying a picnic at the base of Diamond Mountain. Dogs are allowed in the park just remember to keep them on their leash.
Books at One
How could we recommend a holiday in the West without mentioning where to enjoy a bit of shopping! Books at One is a haven of literary delights, as soon as you walk through the door you'll find yourself being swept in all the magic of this stunning book store. Run by husband and wife team, Vincent Murphy and Mary Ruddy who also own an award winning publishing business, Books at One provides visitors with the chance to discover their new favourite read. Stocking a range of both new and preloved books, keep an eye out for their wheelbarrow of on sale books which is an adorable addition to the already gorgeous little shop. Nothing goes better with a good book than a fresh cup of coffee or tea, which is why you can enjoy a cuppa and a snack sitting out in their patio area on their book bench with your book haul in hand.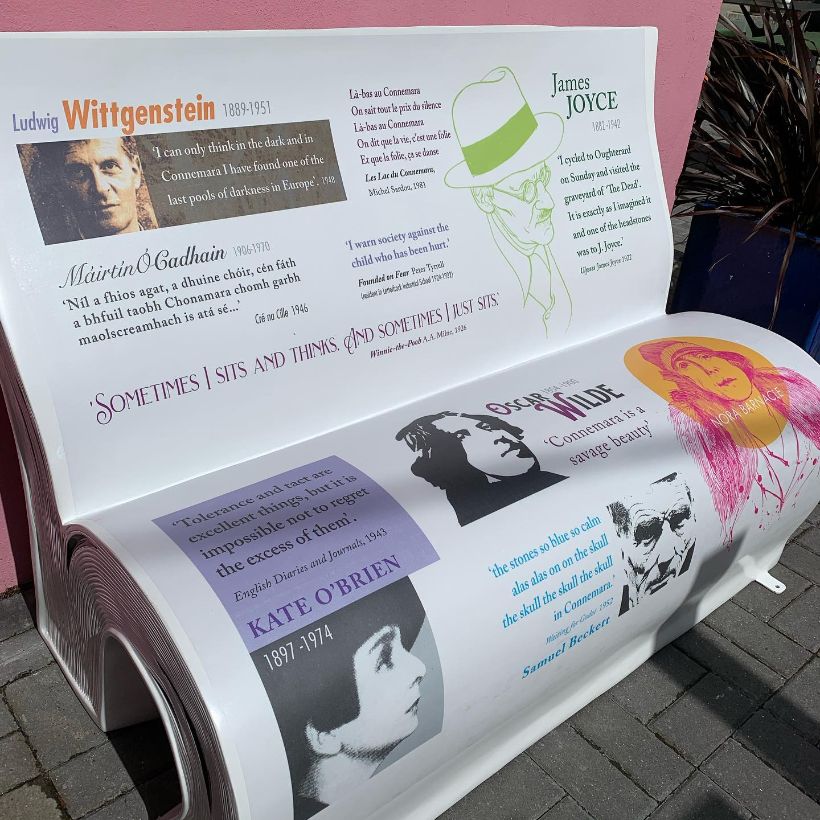 Letterfrack Farm Experience
Offering people a chance to feed and interact with a range of animals such as pigs, calves, alpacas, lambs, hens, turkeys, ponies and horses, Letterfrack Farm Experience provides a day of fun for the whole family. Your tour guide will lead you around the grounds and introduce you to each of their friendly animals - be sure to say hi to Alvin the Alpaca for us! - while also giving you the chance to learn about each of the animal's personalities and information about their breeds and how best to care for each of them. Open annually for the summer season, be sure to drop them a message in advance to get yourself booked in for a brilliant farm experience.
Visit Connemara's scenic beaches
While you are in the area, make sure you check out one of North Connemara's most famous beaches! One of the prettiest beaches in the West of Ireland is Renvyle Beach, this white sandy beach is ideal for enjoying a peaceful stroll or going for a quick dip. Located between Renvyle and Killary Bay, Glassilaun Beach has a stunning backdrop of impressive mountains which makes for a stunning background for your holiday photos.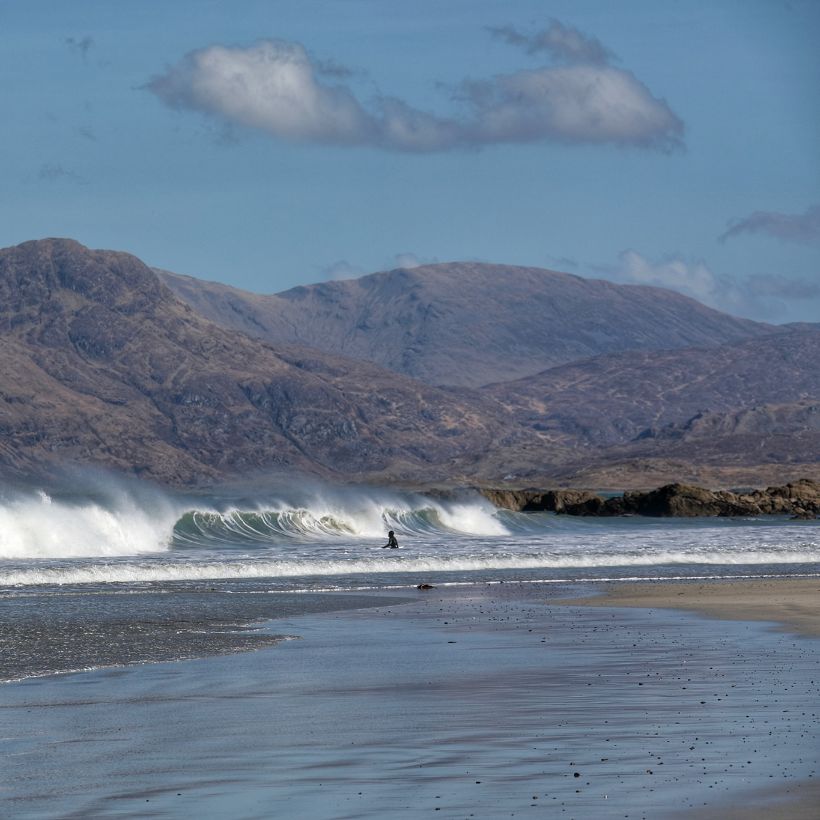 Photo courtesy of @Chaosheng Zhang
Published on Updated on