The beauty of Galway city is that it blends the buzz and bustle of a major European city with a welcoming, small-town feel. The City of Tribes packs a whole load of craic into its 54.2 square kilometers, and it's so simple to get around to all of the sights and main attractions. Here are the best ways to traverse Galway city and county with ease...via cab, bike, bus, ferry, airplane and on foot!

Walk the Walk
In our opinion, the best way to discover Galway city centre is the old-fashioned way. And no, we don't mean horse and cart! Our city is famed for its cobblestone streets so you really should try to walk them while you're here. You'll be surrounded by delightful music from Galway's popular buskers, and centuries of history in the old buildings and churches dotted along the way. Wind your way down to the Spanish Arch and pass by the colourful houses looking across the River Corrib. I mean, this area is literally called The Long Walk, so you just know it's going to be a great place for a ramble. Additionally, in recent years the city has become increasingly pedestrianised only further emphasising our point that touring Galway city by foot is one of the best ways to get around. If strolling about the city with a coffee in hand sounds good to you, be sure to check out our recommendations for where to go to enjoy a coffee and a stroll in Galway here.
If you fancy going off on a guided tour, Galway's Westend Walking Tours offer immersive experience will allow visitors and locals to delve into the rich tapestry of Galway's Westend, revealing the hidden gems, unique stories, and vibrant atmosphere that make it a must-visit destination. Alternatively, if you would prefer a tour that allows you to eat and drink away around Galway's best foodie spots, Galway Food Tours have just thing for you. These tours give a great overview of the city's passionate people and beautiful produce which combine to make Galway one of Ireland's gourmet jewels.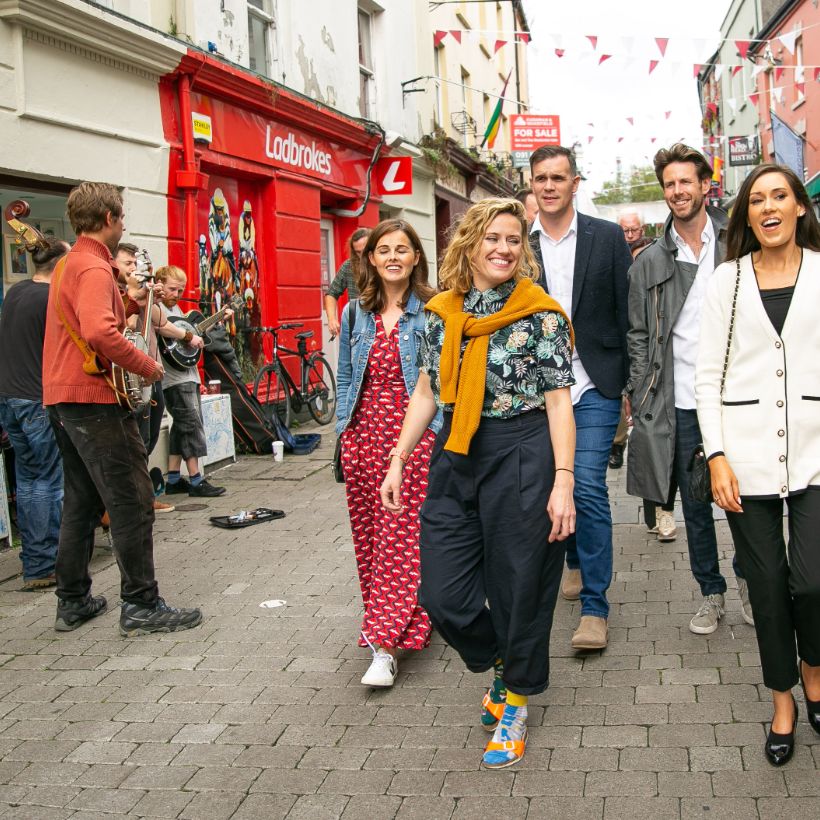 above: photo courtesy of Galway Food Tours
Fly In
Getting to Galway is an easy task thanks to the fact that it has its own airport. Ireland West Airport currently serves 19 International destinations including the biggest selection of services to and from the UK from any Irish airport outside of Dublin. The airport is located in the heart of the West of Ireland and is regarded as the Western gateway to the Wild Atlantic Way. Its location is perfectly suited for visitors and tourists travelling to Galway as the airport is only a 60 minute drive from Galway city. The airport is very well connected by public transport links with Galway with up to 5 daily services to and from Galway provided by Ireland's national bus carrier, Bus Éireann, on Route 64. Check out the full bus schedule here. Topping off all of that, it was recently ranked 6th best airport in Europe and the top-ranking Irish airport for passenger queue times! Read more about that study here.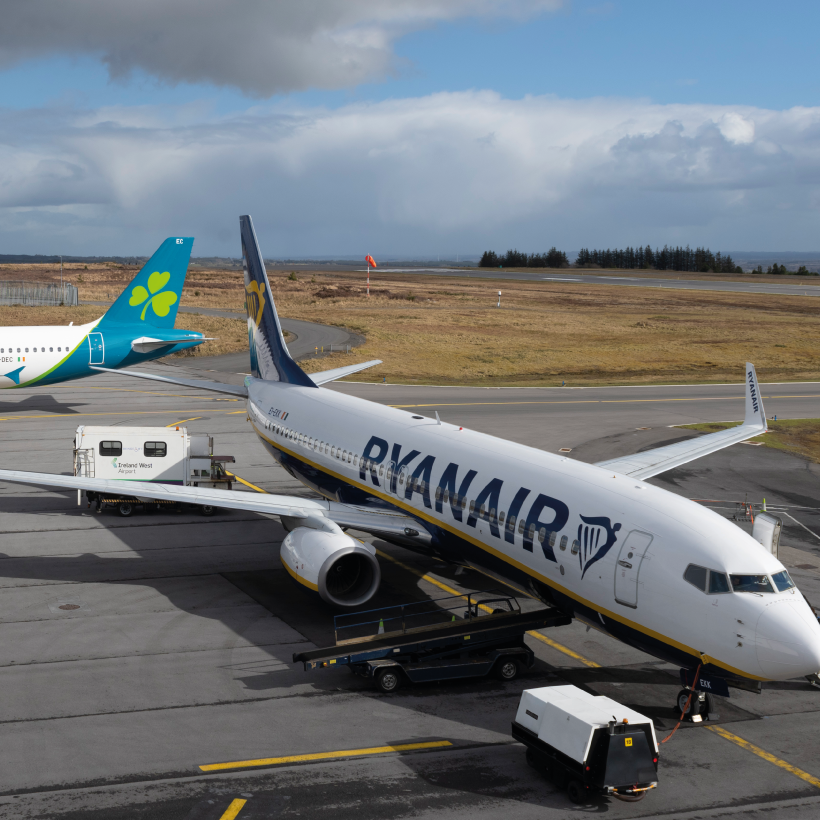 above: photo courtesy of Ireland West Airport
Bus it
The ultimate way to travel is with the intercity coach buses Citylink/GoBus. Not only do they offer non-stop bus service between Galway and Dublin up to every 30 minutes, they also offer services to Cork, Limerick, Ballina, Athlone, Ballinasloe, Clifden, Loughrea and more. Their coaches are of the highest standards, putting customer comfort first. All coaches offer free Wi-Fi, toilets, reclinable seats, plug sockets and charging points. So you can sit back and enjoy some quality me-time as they do the driving for you. Check out their bus times here.
For generally just getting about, Eyre Square is the hub of Galway's bus network, with regular routes going to all parts of the city centre as well as places like Barna, Spiddal, Carraroe, Oranmore, Ballybrit, Terryland and more. The majority of buses run from 7am in the morning until 11.30pm meaning that a quick journey on an affordable, modern bus is a good transport option for Galway, no matter the time of day.
If you only have a short time in Galway and want to enjoy as many of the city's iconic attractions as possible, then you should consider booking a Hop-on Hop-off tour bus with CitySightseeing. This worldwide company can certainly be trusted, with so much experience in the world of city tours. This tour will bring you from Eyre Square to Spanish Arch, Salthill Promenade and Galway Cathedral - all essential stops for your holiday in Galway city.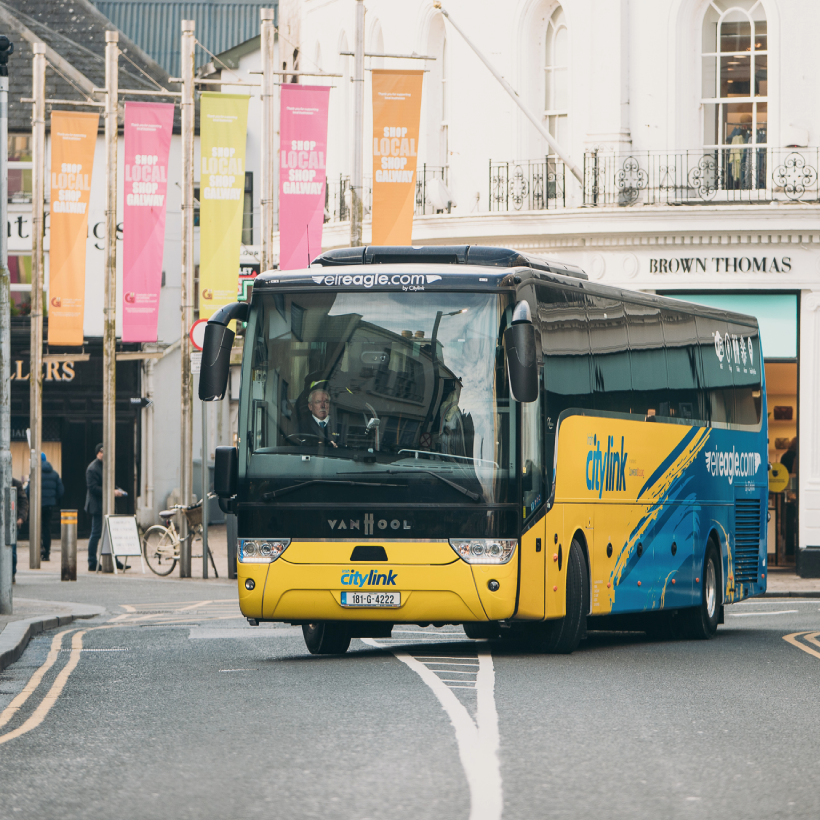 above: photo courtesy of Citylink

Take off to the Aran Islands
Offering both year-round travel to the Aran Islands from Connemara's Rossaveel and to Inis Mór & the Cliffs of Moher from Galway City Docks from the start of April to September, your dream island holiday destination is only a few clicks away with Aran Island Ferries. All year long, daily sailings depart from Rossaveel Port, with an average sailing time of 40 minutes. Take the shuttle bus service departing from Galway City or drive and park at the pier. Alternatively throughout the summer their services offer a day trip option departing from the City Docks each morning before returning via the Cliff of Moher in the late evening. Check out our guide to a dreamy island getaway with Aran Island Ferries here and make sure you book your next adventure asap through their website here.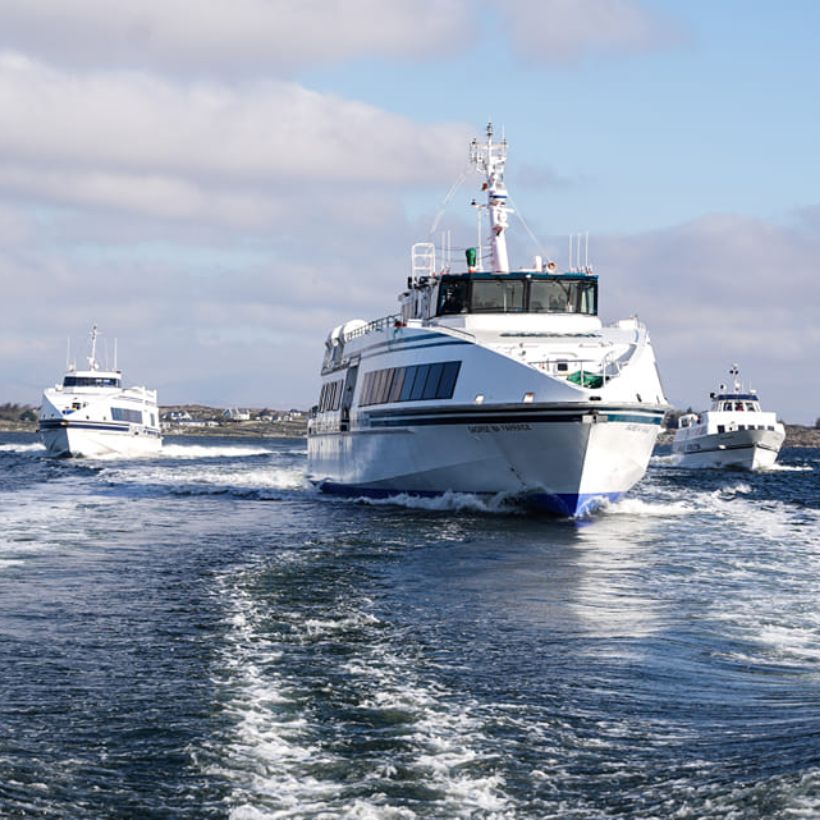 above: photo courtesy of Aran Island Ferries 
On Your Bike
Although there's more than enough to do right in the city centre, there are also some beautiful parts of Galway just on the outskirts. But never fear, simply hire a bike from one of Galway's many bike rental companies and off you go! These companies include; TFI Bikes and Bike Hire Ireland. Following this then, you can cycle your way along the scenic cycle path around South Park, which will bring you from iconic Claddagh to seaside Salthill. Continue along the prom all the way out to Blackrock Diving Tower and soak up the sights and sounds of Galway Bay. Pick up a coffee and a treat from Ground & Co's takeaway hatch beside Atlantaquarium and you'll be ready for the return journey into the city. To discover Galway's greener side by bike, you can take a spin along the River Corrib and into the leafy campus of NUI Galway. With historic buildings, great picnic spots and loads of green space to chill out in, you'll be glad you got the electric bike to keep you feeling as relaxed and serene as the surrounding nature. It's also better for the environment, so win-win!
In addition to merely renting a bike, there's nothing better than getting out in nature and experiencing the most scenic Galway sights up-close-and-personal with Fat Bike Galway (so called because of their 10cm wide wheels which afford the rider a more comfortable ride). They provide exhilarating tours of Galway city and Connemara. The bikes are ideal for exploring all kinds of terrain and this tour will give you some great views of Galway at its very best! Fat Bike Galway will provide a personal experience with numbers limited to six guests, supplying helmets and safety equipment while every tour starts with a safety talk and a lesson on how to use the bike... although, it's very easy! Book your tour here.

above: photo courtesy of Fat Bike Galway
Call a Cab
Sometimes after a day of exciting activities and sightseeing, you just want to sit down and be brought directly from door-to-door. That's where Big O Taxis come in! They offer a highly professional taxi service, which is reliable and efficient. Their drivers endure a rigorous vetting procedure to ensure they meet Big O Taxis standards in safety, professionalism, hygiene and efficiency. For customers with specific needs, they offer a number of wheelchair-friendly taxis as well as numerous six and eight seater buses. Call yourself a cab here.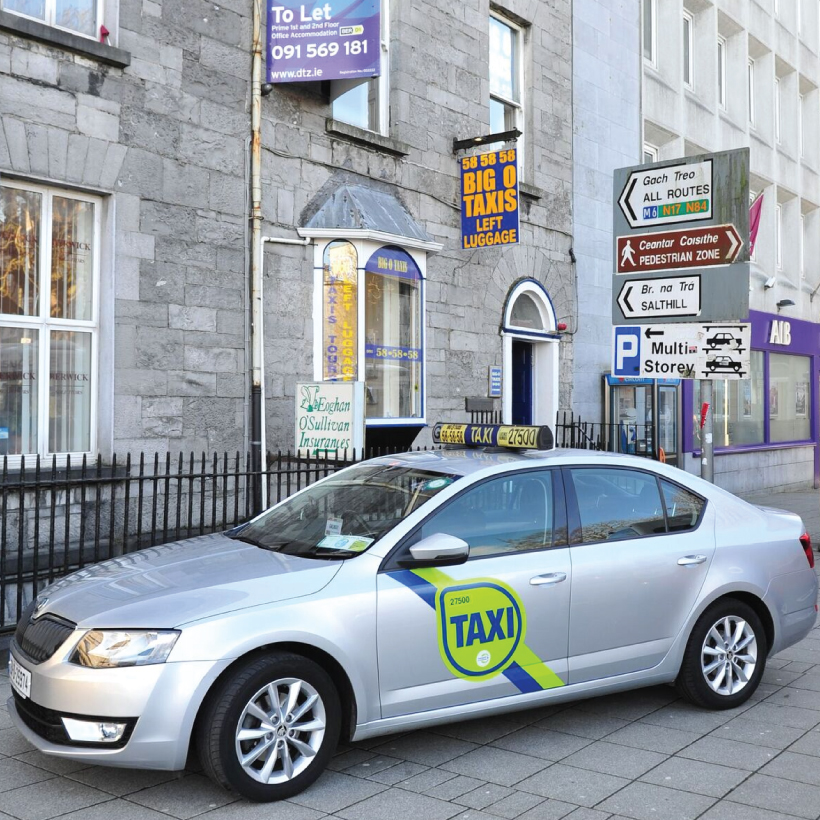 above: photo courtesy of Big O Taxis
Galway's Accessibility
Galway is becoming more and more accessible for anybody who wishes to spend some time in this beautiful city. Our main thoroughfare has been resurfaced with flat tarmac and all of the canal walks are wheelchair accessible. You'll also find loads of hotels, cafés and restaurants that are wheelchair accessible too. Various streets around Galway have been pedestrianised, to make it easier and safer to walk through the city as well as giving more space for outdoor dining. Read more about Galway's accessible public walk ways here.
Feature photo courtesy of City Sightseeing Galway
Published on Updated on