Hidden deep off the trail inside the dense Clonbur Woodland, pass the deer wandering through the bright wildflowers and you'll find the enchanting ruins of Ballykine Castle, completely concealed by the surrounding emerald foliage. Follow the overgrown pathway into the depths of the rich forestry which has enveloped the building over time, leaving it submerged in an eerily quiet atmosphere.
Located 1.5km east of Clonbur, between Lough Corrib and Lough Mask at the Galway and Mayo border, you'll find one of Ireland's oldest castles - Ballykine Castle. One of five built by the O'Kyne (O'Cadain) Clan in the 13th century, the lands and castle were lost when Queen Elizabeth I appointed Sir Edward Fitton to the position of Lord President of Connacht. In 1571 the lands were seized for the Crown by Fitton. The castle was given to the powerful Anglo-Norman Burke (de Burgos) family, however it is believed that they never actually resided in the castle. Instead, they gave the castle to the McDonnells, Scottish mercenaries who they had hired for protection and gave them the castle in lieu of payment for their services.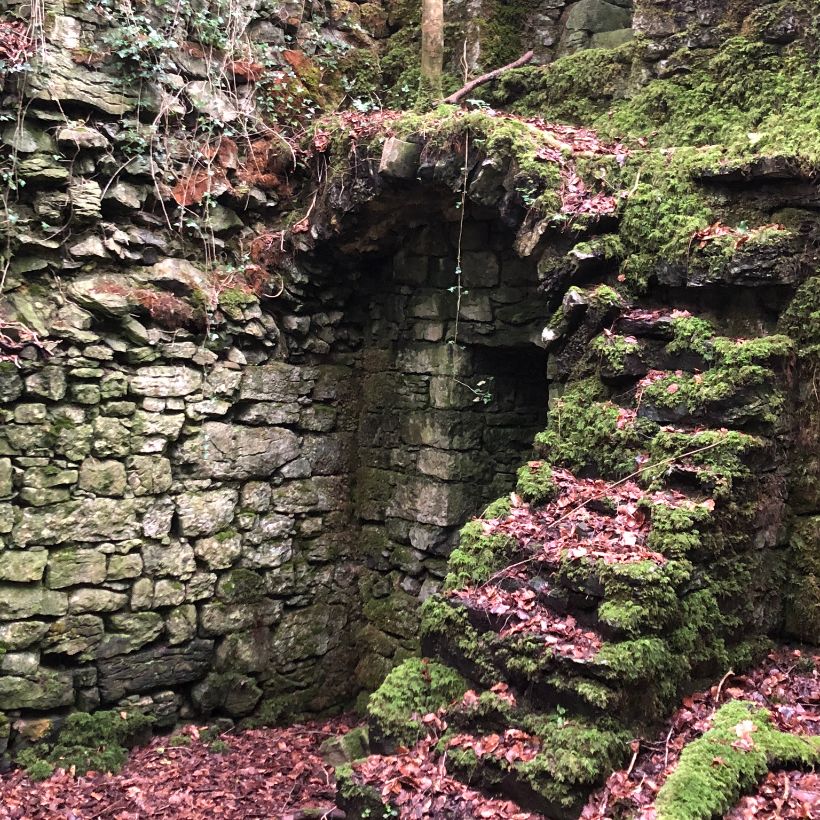 The castle was eventually passed from Sir Richard O'Donnell to Sir Benjamin Guinness and became a part of the great Guinness estate. Its interior was destroyed by a fire in the late 15th or early 16th century, which is evident by the exposed stones inside the building and outer stones near the tops of the windows that cracked due to intense heat.
Ballykine Castle had two rooms on the ground floor and one large room on the upper floor. There was no door into the ground floor, access instead was through an outside stairway to the second floor. It has a four-story tower on one side. The structure was small for a castle, standing at a mere 24 feet by 17 feet, making it more like a fortified house than a castle.

The castle has some interesting architectural features. The trabeated doorway with its inclined jambs pre-dates the rest of the structure by about 900 years, its age is estimated at c.1286. Certain sections of the stonework are not bonded together suggesting that later additions were added to the original building.
Discover the tales behind Galway's gorgeous castles and great houses with our series of History features right HERE. Photos generously provided by Ashland Pym