The beauty of Galway is that it blends the buzz and bustle of a major European city with a welcoming, small-town feel. Galway city packs a whole load of craic into its 54.2 square kilometers, and it's so simple to get around to all of the sights and main attractions. Here are the best ways to traverse Galway with ease...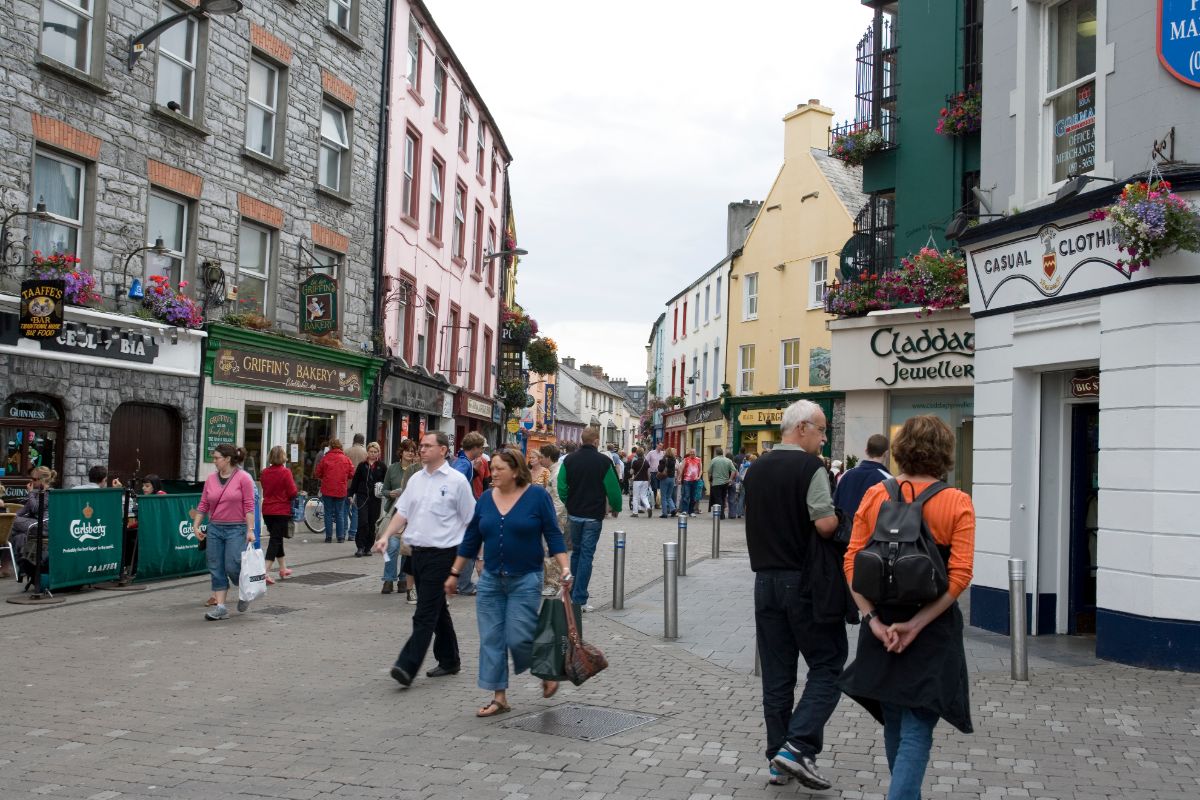 WALK THE WALK
In our opinion, the best way to discover Galway city centre is the old-fashioned way. And no, we don't mean horse and cart! Our city is famed for its cobblestone streets so you really should try to walk them while you're here. You'll be surrounded by delightful music from Galway's popular buskers, and centuries of history in the old buildings and churches dotted along the way. Wind your way down to the Spanish Arch and pass by the colourful houses looking across the River Corrib. I mean, this area is literally called The Long Walk, so you just know it's going to be a great place for a ramble.
There are so many pubs, cafés and restaurants to be found running along the heart of Galway City, all within a 15 minute walk of Eyre Square. When your legs start to get weary you can refuel with tasty grub from the likes of Dough Bros Pizza, The Kings Head, Sliders Bar & Grill or An Cupán Tae. Galway's glorious waterways, rivers and canals are the perfect way to relax with an after-dinner stroll. Perfect!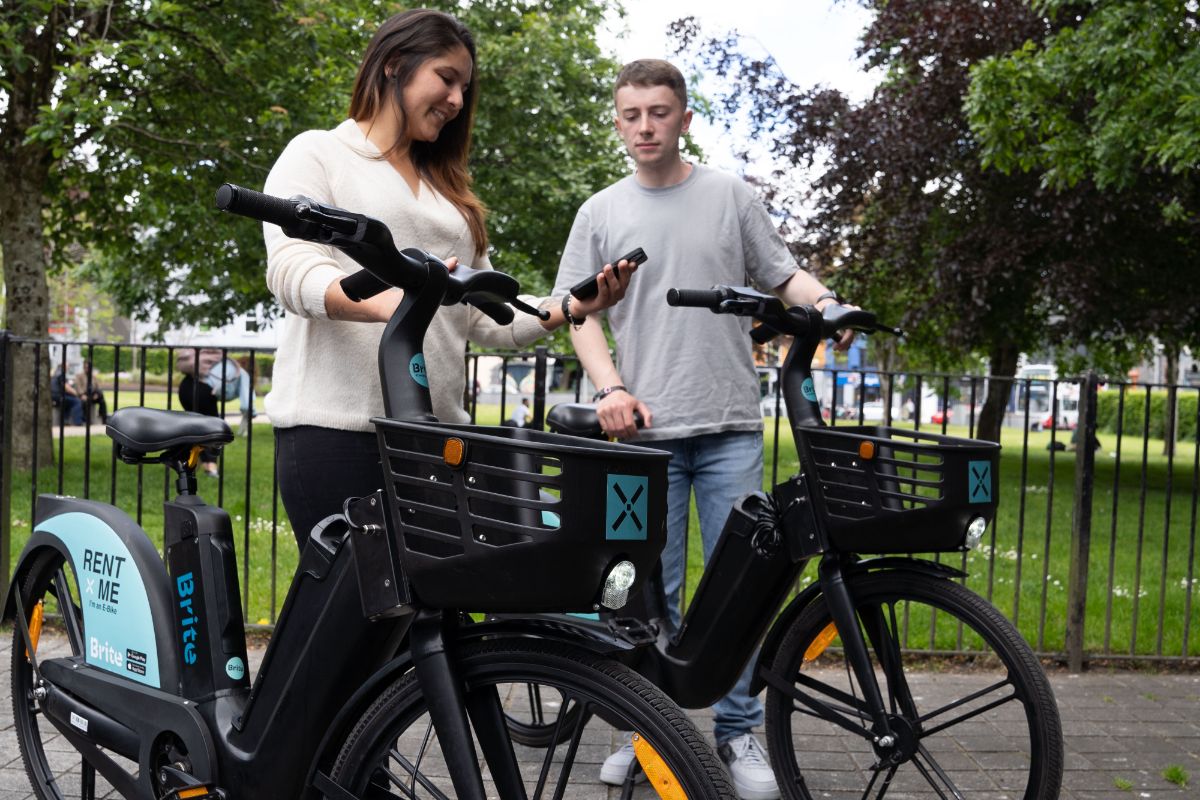 ON YOUR BIKE LOVEEN
Although there's more than enough to do right in the city centre, there are also some beautiful parts of Galway just on the outskirts. But never fear, rent an electric bike from Brite and you'll be able to explore these areas without a fuss. Follow the scenic cycle path around South Park, which will bring you from iconic Claddagh to seaside Salthill. Continue along the prom all the way out to Blackrock Diving Tower and soak up the sights and sounds of Galway Bay. Pick up a coffee and a treat from Ground & Co's takeaway hatch beside Atlantaquarium and you'll be ready for the return journey into the city, with the electric powered boost to help you when your legs get weary.
To discover Galway's greener side by bike, you can take a spin along the River Corrib and into the leafy campus of NUI Galway. With historic buildings, great picnic spots and loads of green space to chill out in, you'll be glad you got the electric bike to keep you feeling as relaxed and serene as the surrounding nature. It's also better for the environment, so win-win!
Rent your eBike or eMoped HERE.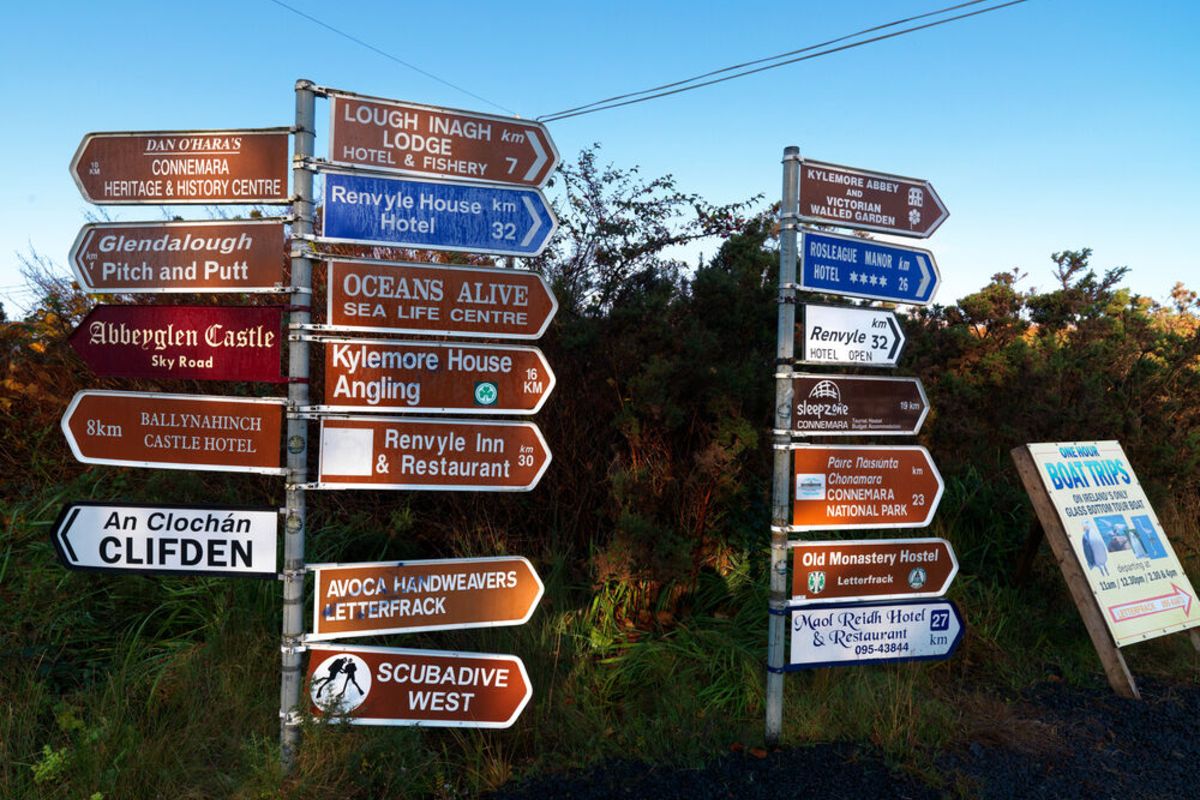 HOP ON THE BUS, GUS
Public Transport is another great option for getting around Galway. Eyre Square is the hub of Galway's bus network, with regular routes going to all parts of the city centre as well as places like Barna, Spiddal, Carraroe, Oranmore, Ballybrit, Terryland and more. The majority of buses run from 7am in the morning until 11.30pm meaning that a quick journey on an affordable, modern bus is a good transport option for Galway, no matter the time of day.
Check out the local bus timetables HERE.

TAKE OFF ON TOUR
For those staying in Galway City, a day-trip to Connemara, The Burren or the Aran Islands is always a very popular and easy option. With Aran Island Ferries you can get a very handy shuttle bus direct from the city centre out to their port in Rosaveel, then climb aboard their modern ferries for an exciting trip to ancient Aran. Discover Connemara, the largest native language area in Ireland, with Lally Tours. Their passionate tour guides will tell you all about local folklore, history and traditions as you visit places like An Spideál, Leenane, Kylemore Abbey, Killary Fjord with loads of iconic sights along the way. Lally Tours also operate similar tours of The Burren.
If you only have a short time in Galway and want to enjoy as many of the city's iconic attractions as possible, then you should consider booking a Hop-on Hop-off tour bus with CitySightseeing. This worldwide company can certainly be trusted, with so much experience in the world of city tours. This tour will bring you from Eyre Square to Spanish Arch, Salthill Promenade and Galway Cathedral - all essential stops for your Galway holiday!
All of these tours are exceptional, but sometimes there's nothing better than getting out in nature and experiencing the most scenic Galway sights up-close-and-personal. Fat Bike Galway (so called because of their 10cm wide wheels which afford the rider a more comfortable ride) provide exhilarating tours of Galway city and Connemara. The bikes are ideal for exploring all kinds of terrain and this tour will give you some great views of Galway at its very best! Fat Bike Galway will provide a personal experience with numbers limited to six guests, supplying helmets and safety equipment while every tour starts with a safety talk and a lesson on how to use the bike... although, it's very easy!
Book a bus tour of The City, Connemara or The Burren HERE // Book a trip to Aran Islands HERE // Book a Fat Bike Galway Tour HERE
CALL A CAB
Sometimes after a day of exciting activities and sightseeing, you just want to sit down and be brought directly from door-to-door. That's where Big O Taxis come in! They offer a highly professional taxi service, which is reliable and efficient. Their drivers endure a rigorous vetting procedure to ensure they meet Big O Taxis standards in safety, professionalism, hygiene and efficiency. For customers with specific needs, they offer a number of wheelchair-friendly taxis as well as numerous six and eight seater buses
Book a Taxi HERE.
GALWAY ACCESSIBILITY
Galway is becoming more and more accessible for anybody who wishes to spend some time in this beautiful city. Our main thoroughfare has been resurfaced with flat tarmac and all of the canal walks are wheelchair accessible. You'll also find loads of hotels, cafés and restaurants that are wheelchair accessible too. Various streets around Galway have been pedestrianised, to make it easier and safer to walk through the city as well as giving more space for outdoor dining. Read more about Galway's accessible public walk ways HERE.
GETTING TO GALWAY
It's never been easier to get to Galway! Well serviced by motorways from North, South and East and with train tracks bringing you right into the heart of Eyre Square, your journey to the City of the Tribes promises to be a breeze.
Plan your journey HERE.
Published on Updated on