If the Oscar nominated 'The Banshees of Inisherin' is giving you serious motivation to experience island life, Aran Island Ferries can make that dream a reality. Offering both year-round travel to the Aran Islands from Connemara's Rossaveel and to Inis Mór & the Cliffs of Moher from Galway City Docks from the start of April to September, your dream island holiday destination is only a few clicks away..
This year Aran Island Ferries celebrates 40 years in business. In that time they've welcomed thousands of eager adventurers, and continue to be the first step for people visiting the world famous Aran Islands. Speaking on this, Sales and Marketing Manager, Áine McLoughlin says; "We welcomed lots of Galwegians on their first trip to the Aran Islands last year and they were blown away by the amount of attractions to see and experiences to try. The feeling of sailing away from it all and enjoying Island life is an unforgettable adventure for our passengers."
All-Aboard!
Step 1. Visit the Aran Island Ferries website at https://www.aranislandferries.com/ and get booking. Opt for the Galway City Docks departure at 9.30am and prepare yourself for the amazing adventure that awaits. Onboard, enjoy a warm Irish welcome and avail of tea, coffee, snacks and full bar facilities during the 40-minute journey. Use your time onboard to chat with staff and fellow voyagers, admire the views of Galway Bay and plan out your day ahead..
A Day's Itinerary on Inis Mór
The largest of the Aran Islands, Inis Mór offers an authentic Irish island experience. Where the locals chat as Gaeilge and the landscape's unspoilt beauty is breathtaking beyond belief. Whether you're taking the island by foot, bicycle or pony and trap, there are plenty of sights to be explored, a warm welcome to be received and plenty of craic to be had.
Upon arrival, pay a visit to Man of Aran Fudge and get yourself some delicious necessities for the road. Once the snacks have been acquired, hop straight on a rented bike from Aran Island Bike Hire and experience the island life at your own pace. Alternatively, Thomas Faherty's Pony & Trap Tours offers an unforgettable guided tour, ensuring you get the most out of your time on the island. Thomas knows all the ins and outs of the island so these tours are the ultimate insiders guide.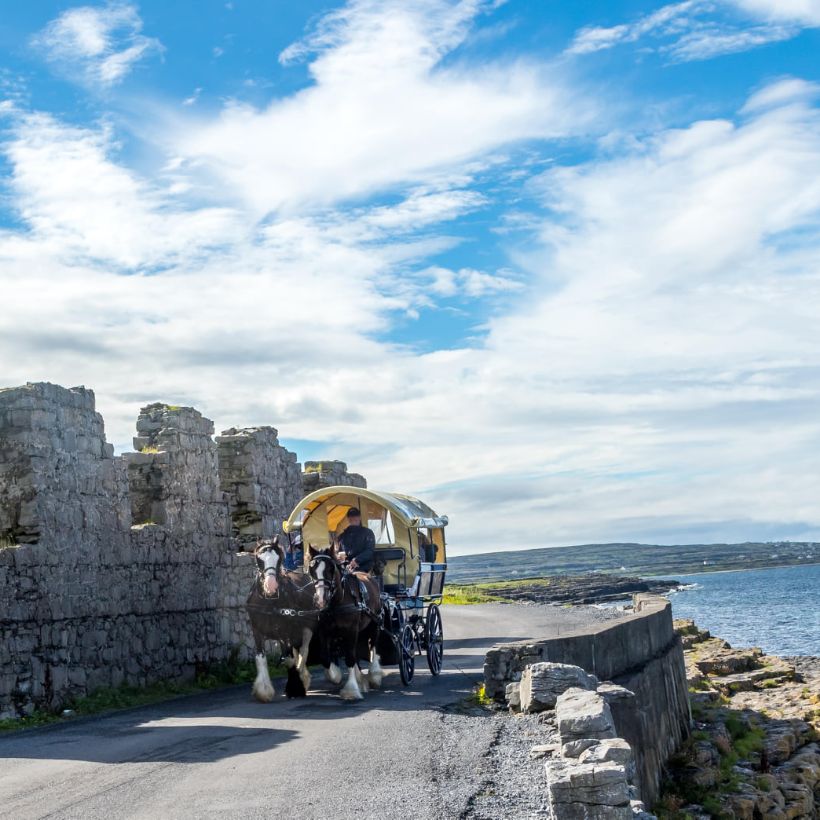 Dún Aonghasa
This prehistoric World Heritage site should be on every island visitors' to-see list. Poised atop the cliff's edge just about 300 feet above the Atlantic, the site consists of a series of semi-circular stone walls enclosing an area of 50 metres. Not only will you enjoy an eclectic array of sights along the way, your end destination is like nothing you've ever seen before and we can assure you that the view from the top will fill your soul.

Poll na bPeist/The Wormhole
About 1.6km south of Dún Aonghasa, you'll come across another spectacular attraction. Inis Mór's Wormhole is a naturally formed rectangular limestone pool into which the sea splashes, creating quite the scene. We recommend waiting to see the waves crash directly into the Wormhole so that you can watch the mesmerising tiny waterfalls effect it creates.
Tí Joe Watty's Bar & Restaurant
A visit to Inis Mór wouldn't be complete without visiting the welcoming traditional Irish pub -Tí Joe Watty's. Relax by the open fire with an Irish coffee or sit out with a pint of Guinness in their beer garden and bask in the island's natural beauty. Featuring delicious food menus, a fully stocked bar, amazing hospitality and traditional live music sessions that are the stuff of legend, you are covered for ceoil, ól, bia agus craic!

Aran Island Camping & Glamping
If the option of staying the night appeals to you, Aran Island Camping & Glamping is an accommodation experience like no other. The luxury seaside site and eco-friendly campground is ideal for campers wanting to reconnect with nature and their premium solar-powered glamping lodges are perfect for groups, families or couples. Picture yourself waking up to the sunrise over the idyllic Frenchman's beach and you'll be booking your stay asap.
Homeward bound via The Cliffs of Moher
When your island meanderings have come to an end, the return journey will introduce you to the Cliffs of Moher from another level. From aboard the ferry, take in the scale of the cliff's magnificent beauty and keep your eyes peeled and camera ready to snap shots of Ireland's largest seabird colony, 'An Branán Mór Sea Stack' and the sea cave used in filming 'Harry Potter & the Half Blood Prince'. Topping it all off you might also catch a glimpse of dolphins, seals and basking sharks along the route.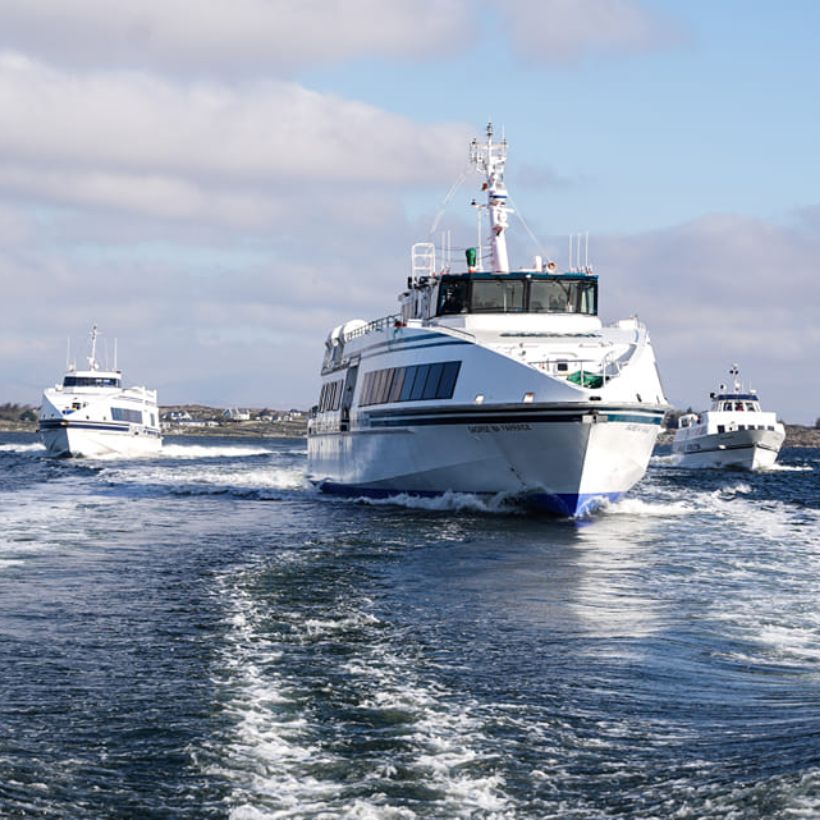 For all queries contact them at +353 (0) 91 568903 or email info@aranislandferries.com
Published on Updated on