Galway's beautiful Connemara landscape is finally getting a Greenway, but which route is up to you!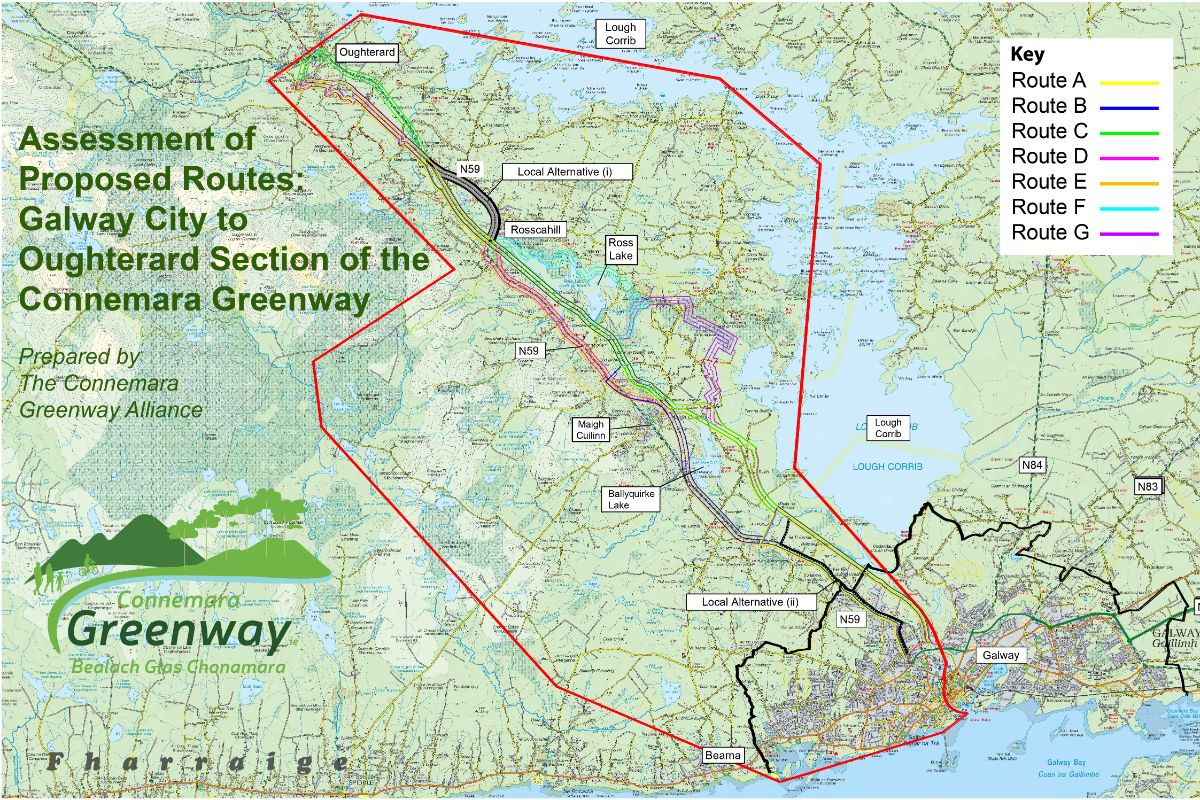 The Connemara Greenway Alliance (CGA) has been actively campaigning for the completion of a circa 76km dedicated off-road cycling and walking connection across the world-renowned Connemara landscape since 2012. In the first few years, the role of the CGA was to promote awareness of and to encourage support for a Greenway. Thereafter it was to give voice to what became an overwhelming pro-Greenway public opinion towards having in place this vital piece of infrastructure and to prompt supportive action from our local and national government representatives. So now, after many false starts the second round of public consultation has opened and a route for the greenway is to be selected. The CGA gives due praise to Galway City Council and Galway County Council, along with Transport Infrastructure Ireland and consultants AECOM for getting us to this stage. The list of potential routes are available to view here. As an organisation the CGA has reviewed all seven options and believe Route A would be preferable as (i) it connects Oughterard and Moycullen more directly to Galway and (ii) it avoids running the greenway alongside the N59 at any point. They are asking members of the public to submit their views before the deadline of July 15th at the above web address or by clicking on this form.

The CGA state; "Our starting point has always been to adhere to the universally subscribed definition of a greenway. According to UNESCO a greenway is an off-road dedicated walking and cycling route. The Irish government goes further and defines it as "a recreational or pedestrian corridor for non-motorised journeys, developed in an integrated manner which enhances both the environment and quality of life of the surrounding area". We see the potential of greenways as much greater. Our vision is that the Connemara Greenway offers a viable alternative to car transport for the 70,000+ people that live within the study area. We see it as contributing to the physical and mental well-being of the people of Galway and in helping to forge stronger community ties for places along the route. We also recognise the highly 'instragrammable' nature of the landscape and consider this greenway adding lustre to an existing jewel in the crown of the West's tourism offerings."
Watch this video by the Connemara Greenway Alliance to find out more

Published on Updated on