The man behind some of the most exceptional cocktails we've ever had the pleasure of sipping on, Dennis O'Neill has been shaking up a storm behind the bar of Rúibín since day one. Having spent the past four months perfecting his autumn drinks menu, we stopped by to pick his brains about his creative process and believe us, it's thirsty work!

Beloved for their exquisite contemporary cuisine, signature cocktails and ambient luxury, Rúibín quickly became a firm favourite since they opened their doors back in 2019. This dockside bar and restaurant specialise in outside the box thinking, always endeavouring to elevate their dining experience with seasonal menus and unique approaches to classic and contemporary dishes.
The creativity on display in the kitchen is mirrored behind the bar, where Dennis turns mixing drinks into an artform. There's something very special about listening to someone get excited about their work and as Dennis talks us through his menu, his passion is palpable.
"A lot of time went into this menu and it requires a lot of work. We use the highest quality spirits, I make all of the ingredients from scratch and it's probably the most autumnal menu in town!"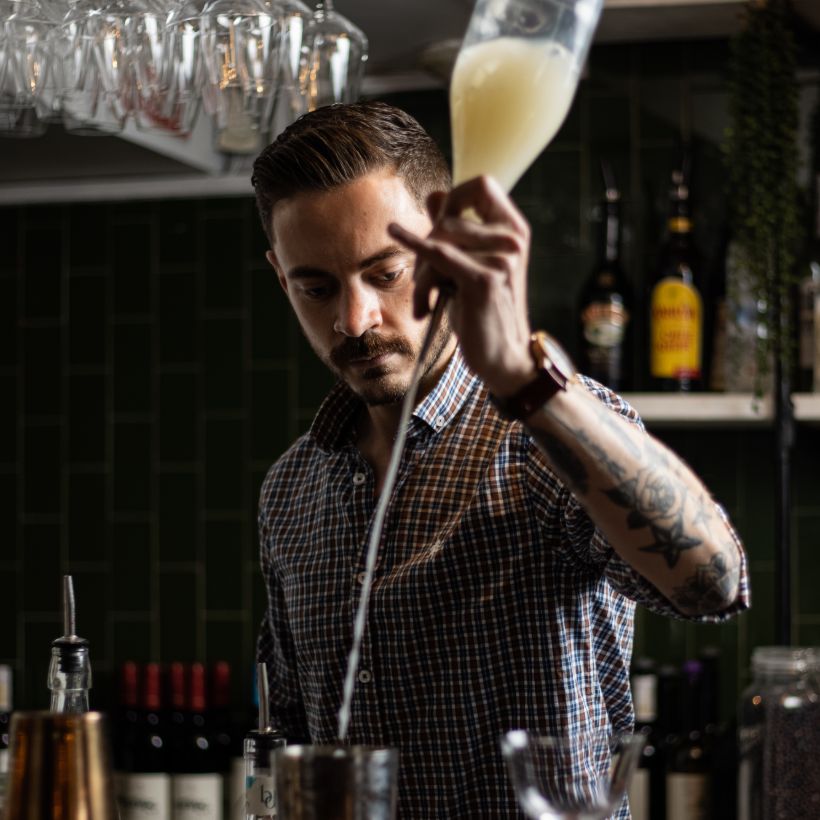 Starting his journey into the realm of cocktail making five years ago as a glass collector in Electric before moving downstairs to the bar at Bite Club, the process piqued his interest instantly. "Over the course of a few months I started making my own drinks, throwing out ideas and eventually I got the opportunity to add a few drinks to the menu," Dennis tells me. "That quickly turned into me rewriting their whole menu from scratch and suddenly I was the main cocktail guy there for two and a half years."
After moving to New Zealand and landing himself a job in Wellington's busiest cocktail bar, Dennis brought that same initiative to the table and a couple of weeks later, the menu was his. As fate would have it, the expiration of his visa coincided nicely with the opening of Rúibín and the rest, as they say, is history.
Starting out with a small menu of five drinks, Dennis works collaboratively with owners Alice and Richard to create well-balanced boozy beverages that make your tastebuds sing. Equipped with an incredibly sophisticated palate, finding subtle ways to incorporate niche flavours has become second nature to this mixologist.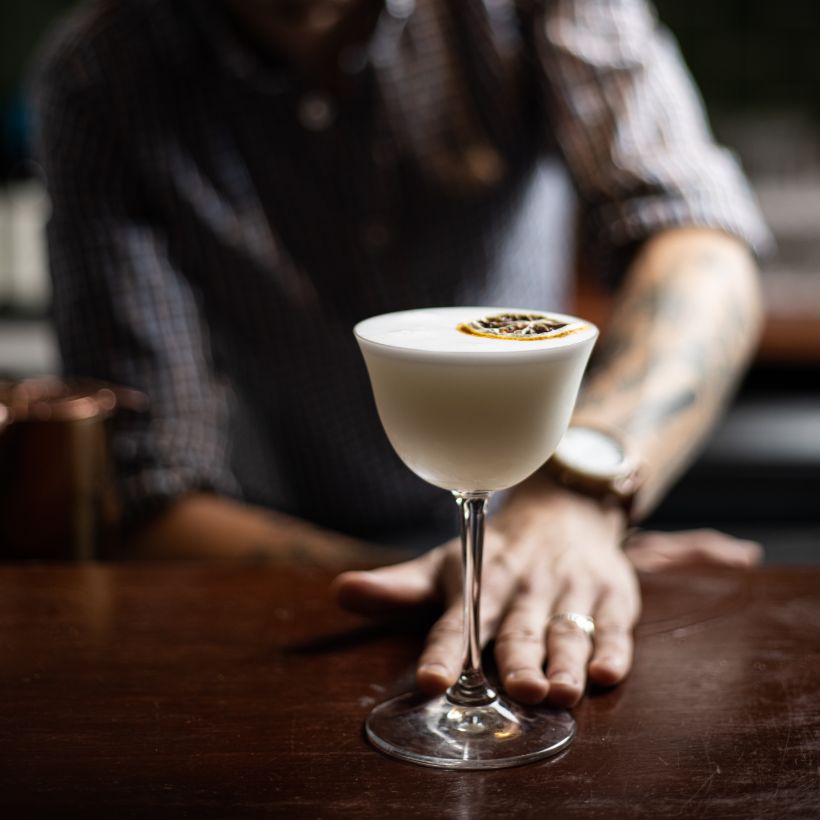 "I always want to have something that will suit certain people; there's a sweet drink, there's a sour, there's something a bit earthy," Dennis explains. Emphasising local ingredients and handcrafted infusions that will compliment the food menu, these cocktails are a testament to his killer instincts.

Speaking on his creative process, Dennis says "how I work is, I'll take a classic cocktail and twist it around a little. I start off with a spirit and work the flavours around it", but this bar manager is oftentimes put to the test by both colleagues and customers to find ways to make ingredients work. "I ended up working backwards for The Cloudy Orchard when [his colleague] Phelim brought in a big bag of apples from a tree in his garden. I chopped them all up, popped them into the dehydrator and made them a nice little garnish for a fizzy apple drink with vodka."
Similarly, their famous Salted Caramel Rum, Harbourside and Peruvian Old Fashioned were each born from a challenge to recreate some familiar flavours or do something different with unconventional ingredients. The concept for their salty gin and infused peppermint tea Lady in Lavender was born while Dennis was walking home one evening, spotted a big old lavender bush and thought to himself, yeah, I'll make that into a syrup. Call it mixologist's intuition!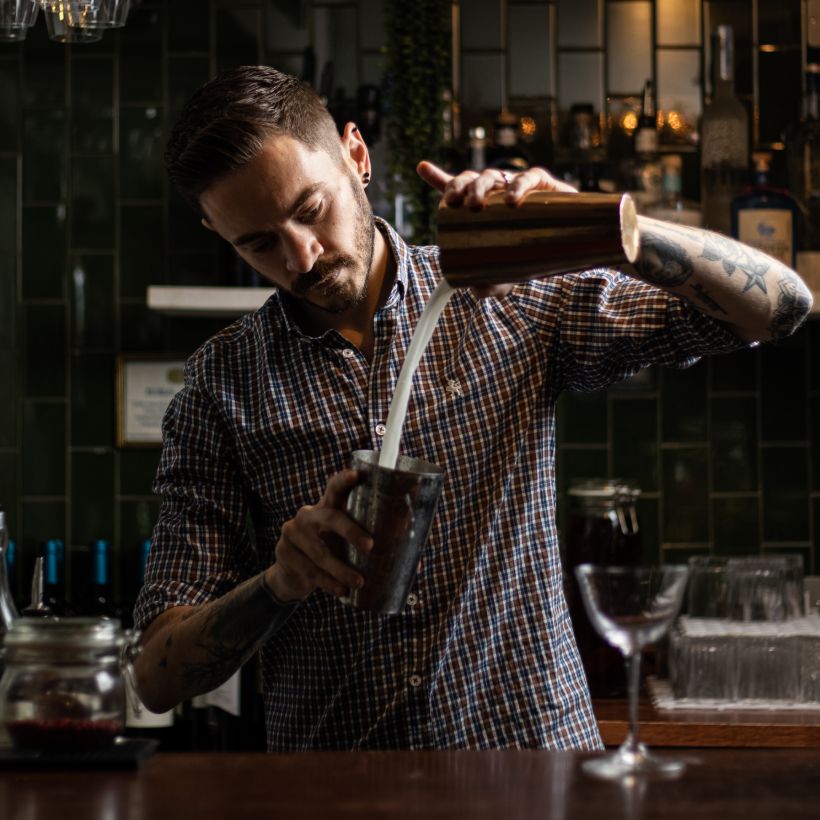 Skillfully incorporating all the flavours of autumn into his menu, across the ten drinks you'll find pear and plum, rosemary and sage, espresso and chocolate. The current fan favourite is the Notorious F.I.G., which combines silver patron with grand marnier and because salt on the rim would be too easy, a mixture of dehydrated orange skins, cane sugar and rock salt meet your lips with every sip.
"If I was an artist, the After Dinner Cigar would be my Mona Lisa," Dennis says. "It's my favourite drink that I've ever made and the best thing I have my name on. I had never been able to get a drink right with benedictine because I don't like the flavour - it's too herbally, very strong and an acquired taste." Counteracting it with a really high quality brandy and adding Alice's recommendation of smoke essence, they created the perfect drink.
From his first apple sour on the Bite Club cocktail menu to an ever-evolving list of mixed drinks in Rúibín, Dennis O'Neill is a true alchemist. Having brewed up many magic potions for the Halloween season, he's already trialing out some brand new flavours for Christmas and we cannot wait to sample the goods. Anyone else absolutely gasping for a cocktail?
Find out more about Rúibín right HERE, or to book your table, click HERE.
Images courtesy of Julia Dunin.
Published on Updated on