Life as a Head Chef began and has progressed, as a thing that is as natural as breathing. Award-winning Head Chef Alice Jary followed her love for delicious food from her family home right into the locally and nationally adored Rúibín, which she co-owns with her partner Richie Kennan.
The doors of Rúibín opened 4 years ago this July. While many things have changed and have had to change during this time, Alice and Richie are both still madly in love with the space. Adapting and improving all the time, Rúibín is a reflection of its team's creativity and passion for great food. Required to accommodate restrictions and open a wine shop and deli, serve takeaway and outdoor seating. Whatever challenges the years brought, with Alice and Richie at the helm, they ensured that Rúibín overcame them all.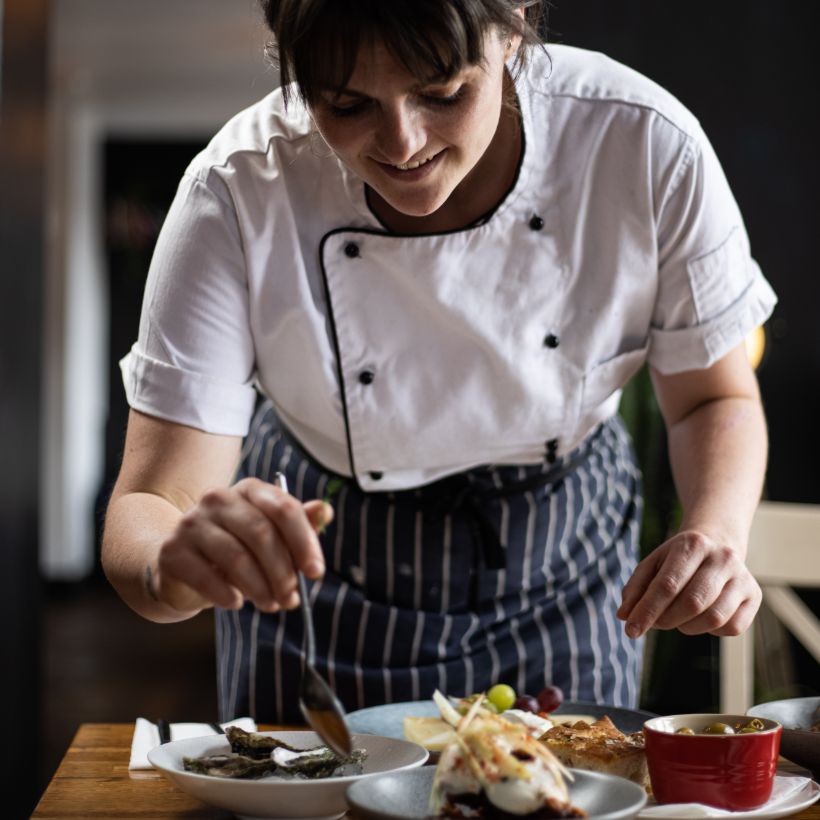 As Head Chef, Rúibín has provided an opportunity for Alice to try out new dishes, and introduce guests to her favourite flavours; "It's complete creative control," Alice explains. This freedom and her enjoyment in creating the daily menus has resulted in outstanding reviews. "It's amazing. We have had more good reviews than I ever thought," Alice says; "I just go to work everyday, enjoy my job, cook things I like to cook, work with people that I like to work with and then reviews come in on top of being that happy at work it's a dream." To ensure a balance of dishes across the appetising menu, Alice and her team in the kitchen considers all vegan and dietary requirements. This guarantees that everyone who visits Rúibín is well looked after and gets to enjoy the finest meals in Galway.
An integral part of Rúibín is, of course, the team that work behind the scenes and front of house. When it's time for a new menu - food, cocktail or wine - the whole gang gets involved to give their opinion and partake in some crucial tastings. Allowing everyone a chance to have an influence on the menu is one of Alice's favourite things about Rúibín; "Everyone has their little stamp on the menu so it's really nice. It is like a whole team project."
The fun that comes from working alongside fellow culinary enthusiasts offers Alice another outlet for her creative juices. Alice explains it simply; "It's nice to be able to work with other people who are really passionate about doing something different." In recent years we've seen her teamed up with former colleague and good friend Tony Carelli of 'Pasta a Casa' for a special pop up evening, which sold out at an incredible speed. As well as this, through a local collaboration with Bierhaus in Galway's Westend, they've created an annual tradition here in Galway with Stouthaus, pairing a classic Sunday Roast with a huge range of porter on tap. Taking place in December we highly recommend experiencing this at least once in your lifetime.
Alice's love for her job and passion for cooking is recognised in every one of her achievements. A highlight of the last year was waking up to see herself named joint Chef of the Year alongside Christine Walsh by Katy McGuinness at Independent.ie. This recognition came as a surprise (that still hasn't fully sunk in), and means the world to Alice, who has always done in her career what felt natural; "To be recognised to be someone nice to work for and someone who is trying to make a bit of a change in the industry is pretty good."
The food at Rúibín also draws inspiration from flavours Alice and Richie have enjoyed on their travels across the world. Experiencing how other chefs create different dishes, evokes a desire to introduce similar great tastes to Galway. This is why you'll always find the team here, cooking up something new and delicious. With both the summer festival season and their fourth birthday on the horizon and many more culinary projects ahead, life at Rúibín never stands still. There is plenty to look forward to with Alice, Richie and their talented team of creatives and if you want a taste of it all when it happens, be sure to stay tuned.
To book a table at Rúibín, head over to their website at; https://ruibin.ie/. You can also contact them via email at info@ruibin.ie or by calling them at 091 399 200.
All photos by Julia Dunin, courtesy of Rúibín
Published on Updated on