Though the dockside bar and restaurant was only opened back in the summer of 2019, the concept for the place existed in the minds of Alice and Richard for quite some time. What started out as a playful idea that gradually grew legs, Rúibín is the result of years' spent travelling, gaining experience and honing their individual crafts. A tribute to contemporary cuisine served up with that quintessential Irish warmth, when you venture into Rúibín, you're not a customer - you're a guest.

We knew we wanted to get to know the faces behind the façade a little better from the minute we set foot inside the door. Serving up the kind of food that stays on your mind for weeks on end and a cocktail selection that would bring a tear to your eye, Rúibín is one of our favourite spots in the city for a reason. So, we thought it only fitting that we stop by to chat with owners Richard Kennan and Alice Jary about their journey thus far and what's gone into creating such a special space. If we know one thing for certain, it's that this couple radiate an intense passion for every single element of their business, right down to those amber light bulbs.
While many may claim to be born to work in hospitality, few can trace it back quite as far as Richard. Growing up in a hotel, 'Shh! Guests sleeping' were the first words to pass his lips and, now taking good care of the front of house at Rúibín, his guests have been well minded ever since. "It's literally been in my blood since day one," Richard recalls. "I've always wanted to end up in hospitality. I've taken something from every job I've ever had, and have been building on that the whole way through. It's a learned set of behaviours that takes time to develop." Likewise, Alice has been gravitating towards the kitchen for most of her life. "As long as I can remember, I've been cooking," she says. "I would help my granny in the kitchen, peeling potatoes and in our family, we had a home cooked meal every day."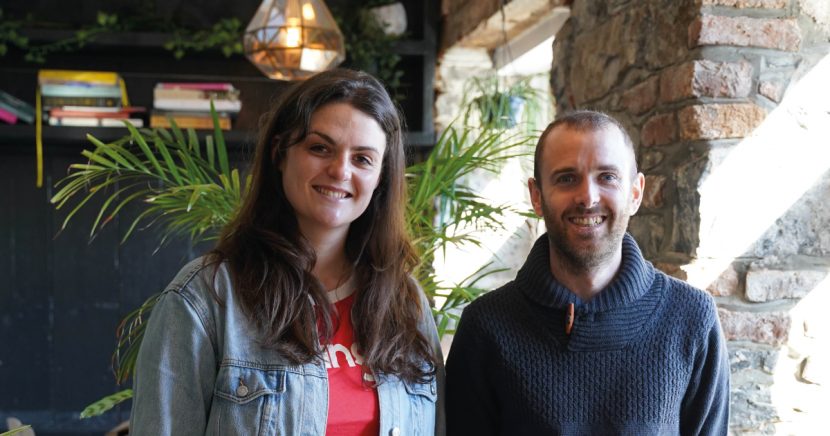 Originally crossing paths in il Vicolo as head chef and manager respectively, the pair began what would go on to become a lifetime of working together unbeknownst to themselves. Moving in together as friends at first, their relationship grew over a shared love for travel and a privately-held dream to someday open up a place all their own. Believe it or not, they would gaze across at that little stone building on the corner of Dock Road even then, blissfully unaware that one day it would be theirs. Moving from il Vicolo to Biteclub and from Biteclub to the southern hemisphere, Alice and Richard set off on their overseas adventure.
Though he has spent the vast majority of his life in restaurants, Richard's severe anaphylaxis has rendered dining in them an impossibility… or just a life-threatening risk! So, while Alice ate her way around New Zealand and beyond, she would weigh out the flavours in her mind and figure out ways to recreate the magic at home using ingredients gathered from street markets to ensure maximum authenticity. In between immersing themselves in the food culture and seeing the sights, the pair somehow found the time to run a café together before parting ways as Alice set off for Melbourne, where much of the influence for Rúibín's menu can be traced back to.
"Melbourne is probably one of the food capitals of the world," Richard says. "There's so much good produce. Every second day, Alice would have tried something new, something mind blowingly good. I think when you get to Alice's level of skill and talent, you don't necessarily need to work in these places, you just need the creativity and flow. So many ideas come from Melbourne, just from places that she ate brunch in or drank coffee in and they still inspire her now."
Linking up once again to take on Mexico and Columbia, the pair returned to Ireland with hearts full of passion, heads full of ideas and stomachs full of food. Rúibín had developed from an ambitious inkling to a fully actualised endeavour and once they knew what they wanted to do, they just needed to decide who they wanted to be. "We never wanted to be any one thing," Richard says. "We only work with local, organic and free range produce where we can, but when it comes to spices and vinegars, we use whatever we want. That's where you can push the boat out with flavour, while your key ingredients are all local."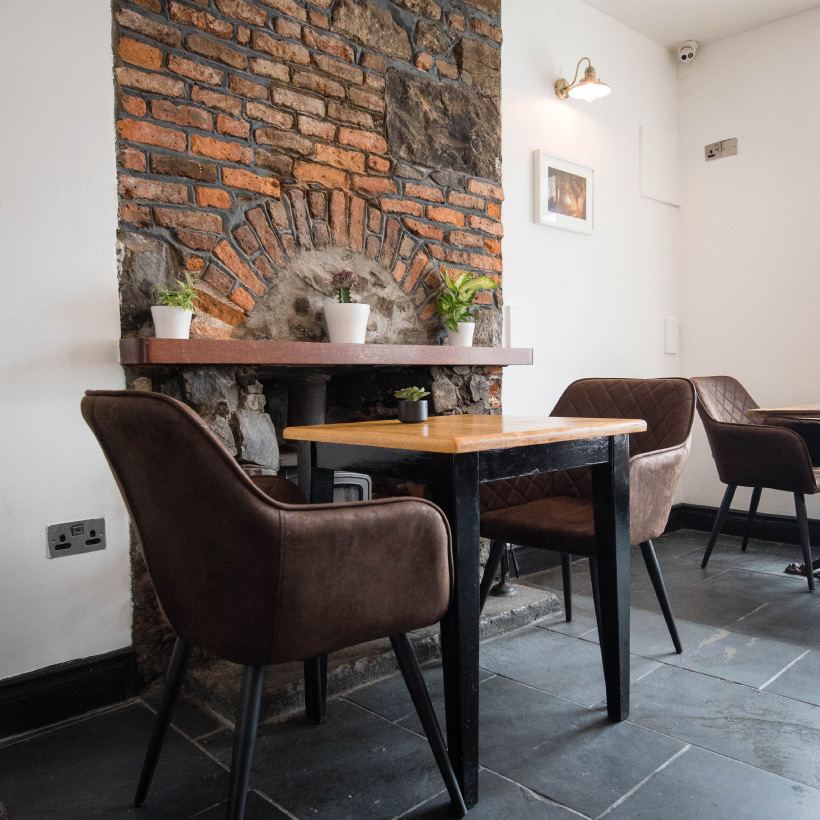 Carving out their own little niche with skill and precision since they first opened their doors, Alice and Richard are - like any young couple - having the absolute craic in the process. With no one to answer to and the same goal to work towards, they've naturally grown closer and closer so that by now, it's like one mind. "Our whole relationship has been in the same job and it's worked really well," Alice says. "It's stressful, but it's worth it. We don't mind the everyday stresses because we love it."
Having fought tooth and nail for a premises that ticked all their boxes - bright, by the water and equipped with a pub license - their dreams took on physical form in this gorgeous building. "Once we found the space, we realised we didn't want to do the same thing across two floors," Richard remembers. "We had the pub, so we wanted to do something different downstairs." Elegant and refined with a charm and familiarity that's hard to come by, Rúibín exists where fine dining and casual comforts meet. Upstairs, a flavour-forward menu of contemporary Irish food is served to the highest possible standard and you can really taste every element that's gone into its creation.
The downstairs menu gives Alice space to have fun with it and get creative, tweaking an ever-evolving menu to comprise an elevated selection of bar snacks that work perfectly alongside that awfully sexy, alcohol heavy cocktail list. Exposed brick, ambient lighting and a signature soundtrack all help to enhance the feel of the restaurant and transform any old visit into an experience in itself. From the comfortable chairs that you seem to sink into right across the board to the napkins, glasses and ice cubes, nothing is there by chance. As Richard puts it, the devil is in the detail the whole way through.
No matter what time of the day you're venturing in, you'll be greeted by a sense of contentment and luxurious comfort. The front of house team set you at ease instantly, keeping you well minded while giving you space to unwind and enjoy the experience. Lavish lunches, nighttime tipples or a meal to remember overlooking the water, Rúibín just gets it right. Ever so slightly off the beaten track, stress seems to dissipate on arrival. Alice and Richard have seamlessly married all the elements of a successful business while making it entirely unique to them.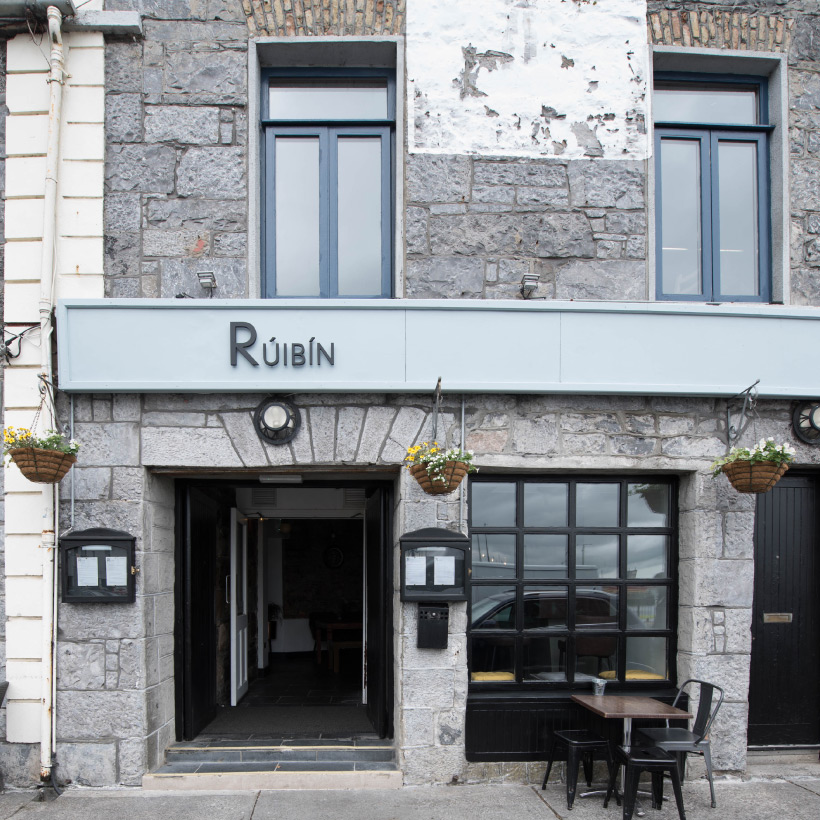 Feature image courtesy of Avril Kennan.