Over the past couple of years, we've watched the humble cup of coffee evolve far beyond our morning energy boost and into a number of different guises. Flat whites, vanilla lattes, frothy cappuccinos and cold brews are just some of the beverages that keep us going throughout the day and with a number of forward-thinking establishments throughout Galway going that little step further, there's always something new to sample.
Whether you fancy yours made with oat, almond, soy or cow's milk, decaf or full of beans (literally) - these spots will make sure it's made just to your liking…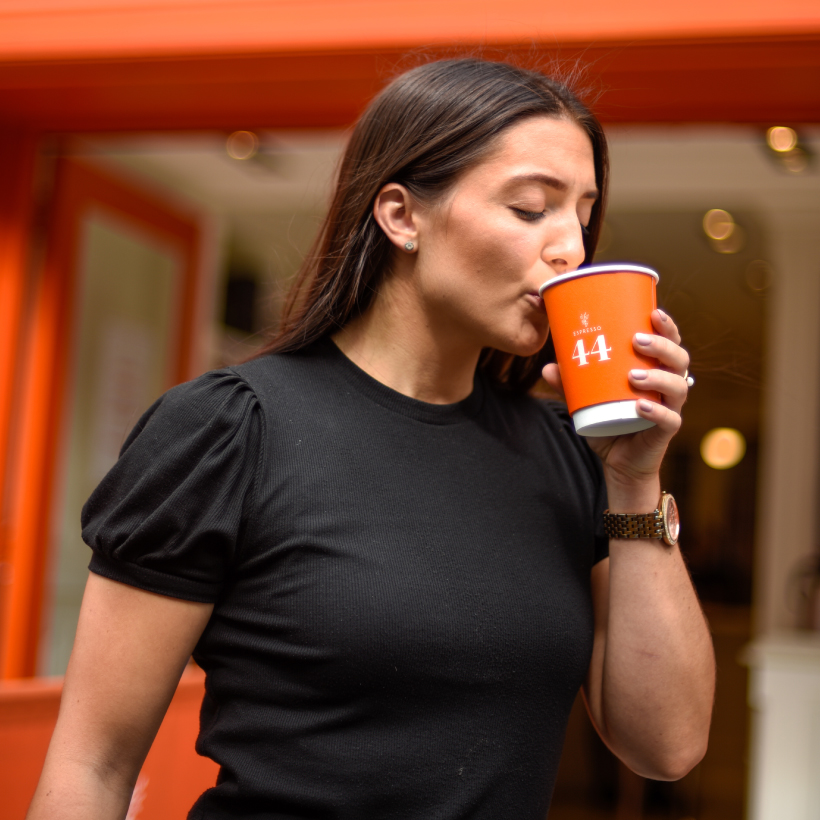 Espresso 44
Between the vibrant orange exterior and the intoxicating aroma of coffee wafting from within, it's next to impossible to walk past Espresso 44. Serving up exclusive coffee brand Fixx Coffee and a bespoke menu of wholesome food and sweet treats galore, they've even got bags of the good stuff so that you can take it home and brew some of your own.
44 William Street // more here
Coffeewerk + Press
From the little yellow door to the charmingly illustrated cups, Coffeewerk+Press is one of the city's most popular spots for a dose of caffeine and it's no wonder why. Marrying speciality coffee with art and design, this is a socially aware space that's made us all a little bit obsessed with our daily brew. They've also got all the materials you need to recreate the taste at home, so make sure to check them out.
4 Quay St, City Centre // more here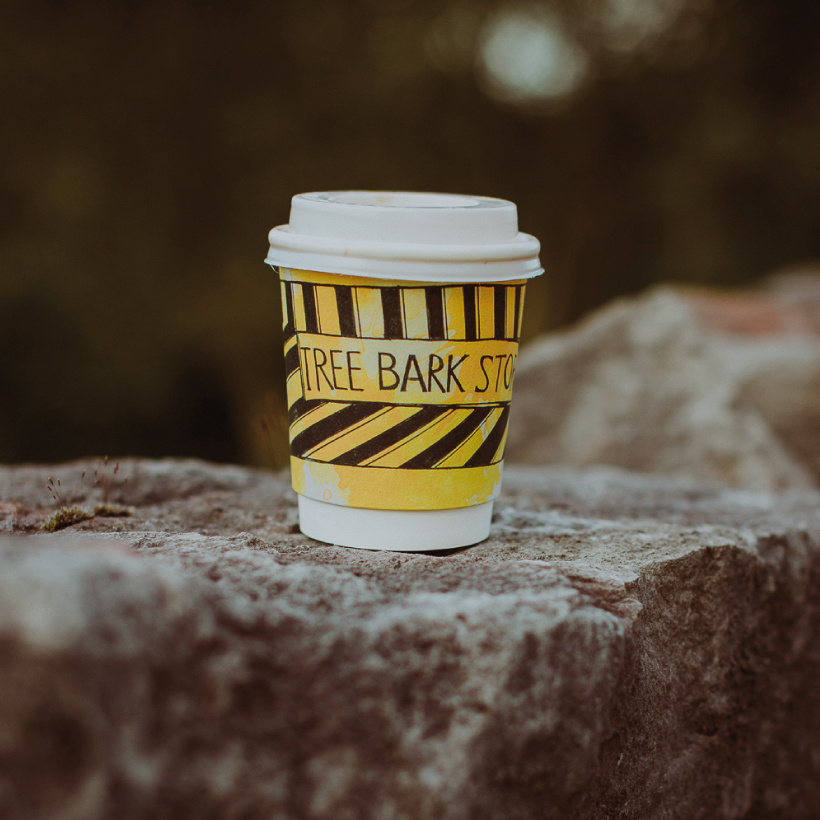 Tree Bark Store
This beautiful shop in Moycullen is the perfect spot for lovers of coffee and art alike. Tree Bark Store is a brand new concept that combines speciality coffee shop, lifestyle store, art gallery and print studio all in one calming space. They champion local and Irish producers in everything they do, so it's no surprise that they stock Calendar Coffee from just over the hills in Barna, as well as Soma and Stone Valley from Cork! The team at Tree Bark Store really know their coffee, releasing a weekly Coffee Coarse during lockdown to give you hints and tips on how to make the perfect cup. So pop in to this awesome coffeeshop today and pick up a little cup of pure joy alongside a cute piece of art!
Kilrainey Shopping Centre, Moycullen // more here
Ground + Co
Whether you need to be thawed out after a brisk walk on the prom, or you need that extra bit of energy to give you the courage to dive off Blackrock, a coffee from Salthill's Ground & Co will sort you out. With the smell of fresh-baked bread and pastry all around and top notch breakfast and lunch offerings - you already know you'll be getting a slice of cake on the side.
Salthill Prom // more here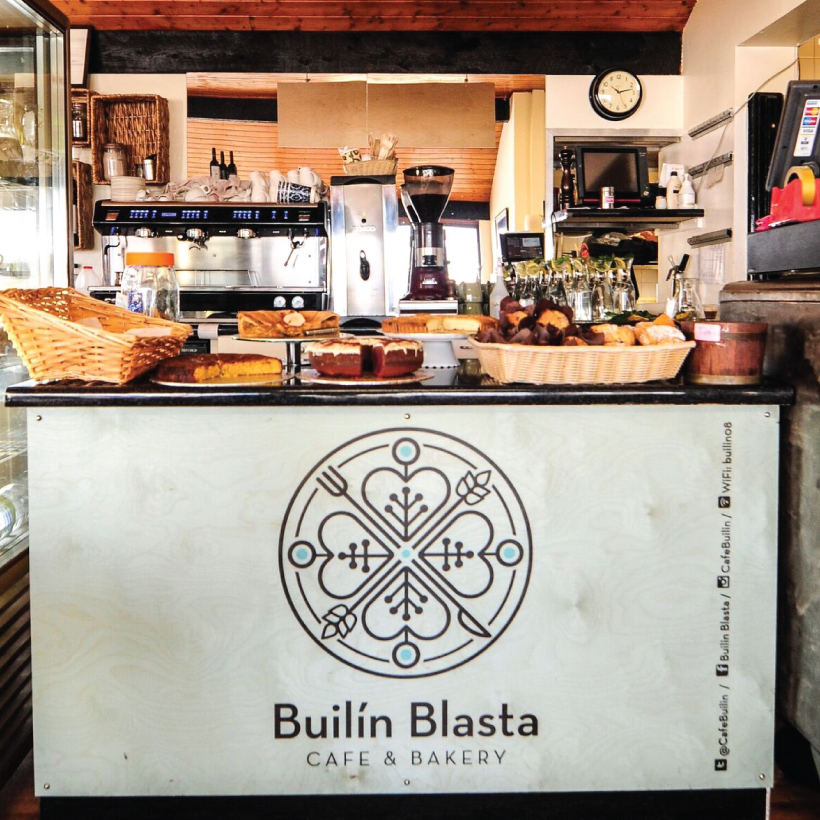 Builín Blasta
This charming little café is based in the Gaeltacht village of Spiddal, in the surrounds of the beloved Craft Village, and the whole place feels like a home away from home. Everything they serve is homemade and locally sourced, making expert use of high quality ingredients and - while the coffee speaks for itself - it really is best enjoyed next to an oatmeal cookie or two.
16, Ceardlann Design Centre, Spiddal // more here 
Temple Café
Within the walls of the Cornstore, you'll find Temple Café. A perfect place to unwind over a cup of coffee and a healthy lunch and the fact that all profits go towards supporting local charities make the food taste all the sweeter. They've also got iced coffee on offer, which is always tempting.
The Cornstore, Middle Street // more here
Gerona Deli & Cafe
Ruled by a love and respect for the environment, Gerona Deli has all the salad, sambo and soup options you need to set you up for the day. Amidst all the curries, quiches and other healthy options, you'll be glad to hear there are sweet treats galore. Donuts, muffins, scones and home-baked bread - they're all best enjoyed alongside a steaming cuppa.
1 St Augustine Street // more here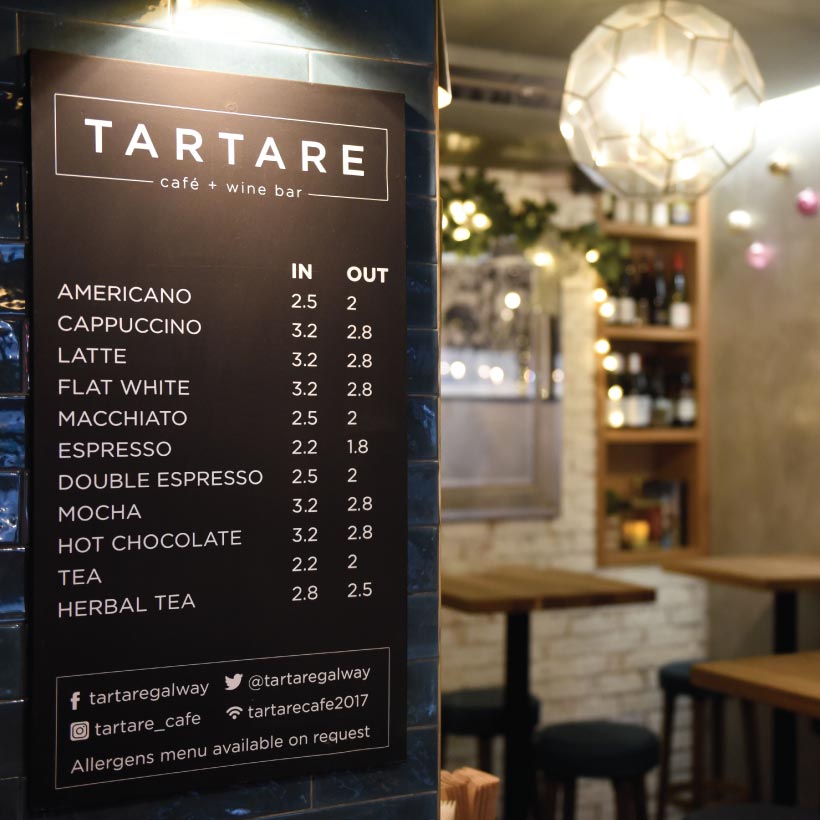 Tartare Café + Wine Bar
By day, Tartare put a firm focus on coffee, specialty pastries and bakes, alongside an inventive, locally-sourced menu. The warm lighting and window seats are the perfect place for some afternoon musings over a cup of artisan coffee and - if you fancy it - you can call back in the evening time for some wine and cheese.
56 Lower Dominick Street, Galway's Westend // more here  
Renzo Gallery Café
The walls here are full of second-hand books and exhibitions from local artists, since the café doubles as a fantastic gallery space. It's a very artistic space to hide away in on those particularly chilly days and savour a quality cuppa before you have to venture out into the real world once again.
32 Eyre Street, Galway // more here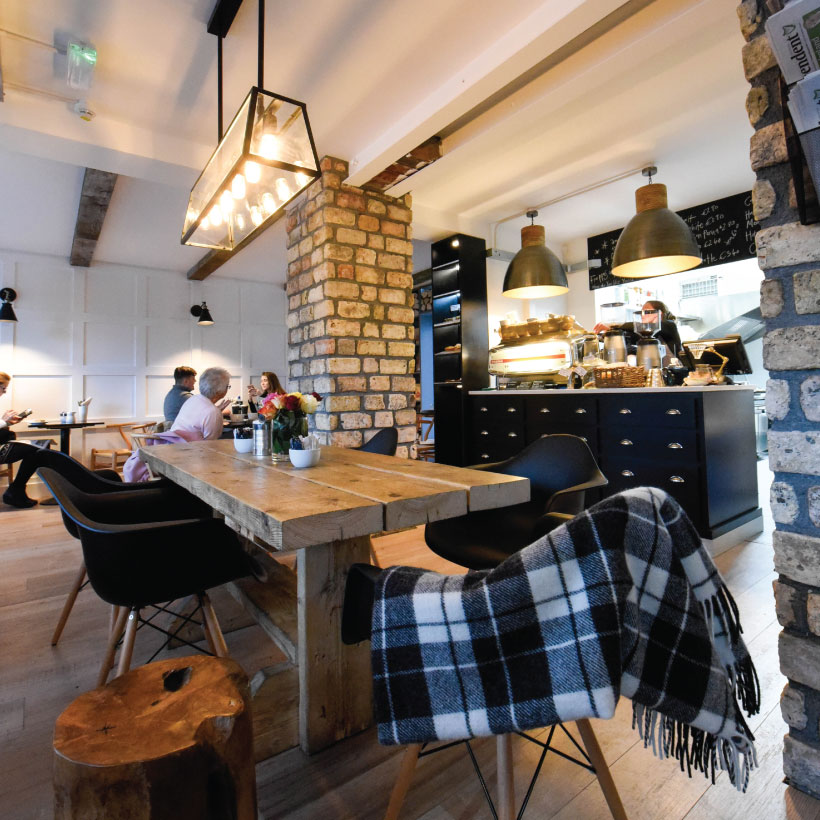 Mocha Beans
Leather couches, wool throws and exposed brickwork make Mocha Beans in Newcastle the picture-perfect cosy café for cold weather. They roast all their coffee beans in house, so it smells absolutely wonderful all through the day. Sit down to a power breakfast or a filling, wholesome lunch and while away a couple hours reading or studying!
25 Lower Newcastle Road, Galway // more here 
Brazco Coffee Academy
This local favourite in Oranmore is a perfect stop-off for a coffee-loving bookworm. They have bookshelves filled with new and secondhand books from Charlie Byrne's Bookshop if you've forgotten to take your own along, or just feel like having a peruse while you wait for your coffee.
Carraig Láir, Oranhill, Oranmore, Co. Galway // more here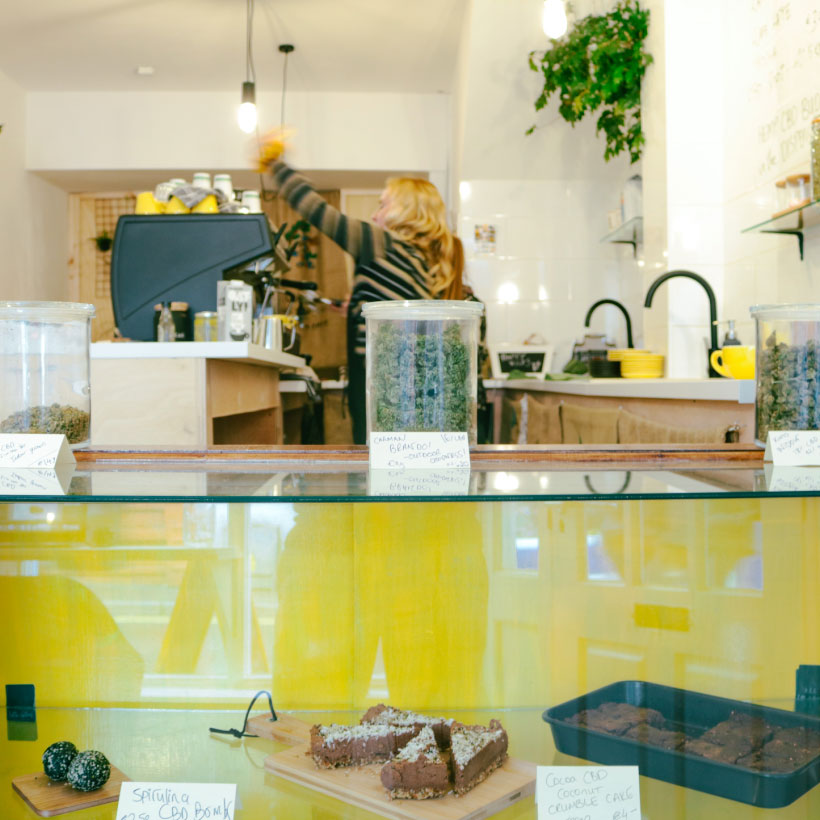 Little Collins CBD Dispensary
If you're in the mood for high-quality CBD hemp flowers, house-made tea and 'Melbourne' coffee, Little Collins is the place for you. Their plant-based menu includes some CBD edibles and they specialise in CBD tea and coffee on the run! Spend your afternoon unwinding and chilling out in this cosy little spot.
25 Abbeygate Street Upper, Galway // more here