Everyone knows that breakfast is the most important meal of the day and that's why we have put together a list of the top Galway spots to enjoy some seriously delicious breakfast dishes before the rest of your day begins. Discover where you should be heading in the morning below..
Capones
The latest addition to the early morning dining scene, Capones is one of Galway's best spots for cocktails, pizza, sports and more, which is why we are only too delighted to inform you that they have just launched a breakfast menu. Available Mon-Fri from 9am to 12pm, the menu features all of your favourites as well as some not so classic new ones. Options include, mini crepes, organic oats, 3 egg omelettes and loads more! With so much to choose from, you can enjoy a different breakfast every morning at Capones, and you know what we just might go and do that. One thing is certain however and that is we know where we're headed for breakfast tomorrow...
1 Kingston Rd, Knocknacarra / more here 
Blackrock Cottage
With a style of cooking that focuses on local and seasonal produce, Blackrock Cottage works with a variety of local suppliers to bring you delicious contemporary modern Irish cuisine. Open from 8am this is the ideal spot for sea-swimmers, prom walkers and locals to sit, chat and enjoy a delicious brekkie. They have also collaborated with Álainn to bring their guests the popular Álainn bowls, meaning that you get to enjoy the ultimate breakfast experience at Blackrock Cottage.
The Promenade, Salthill / more here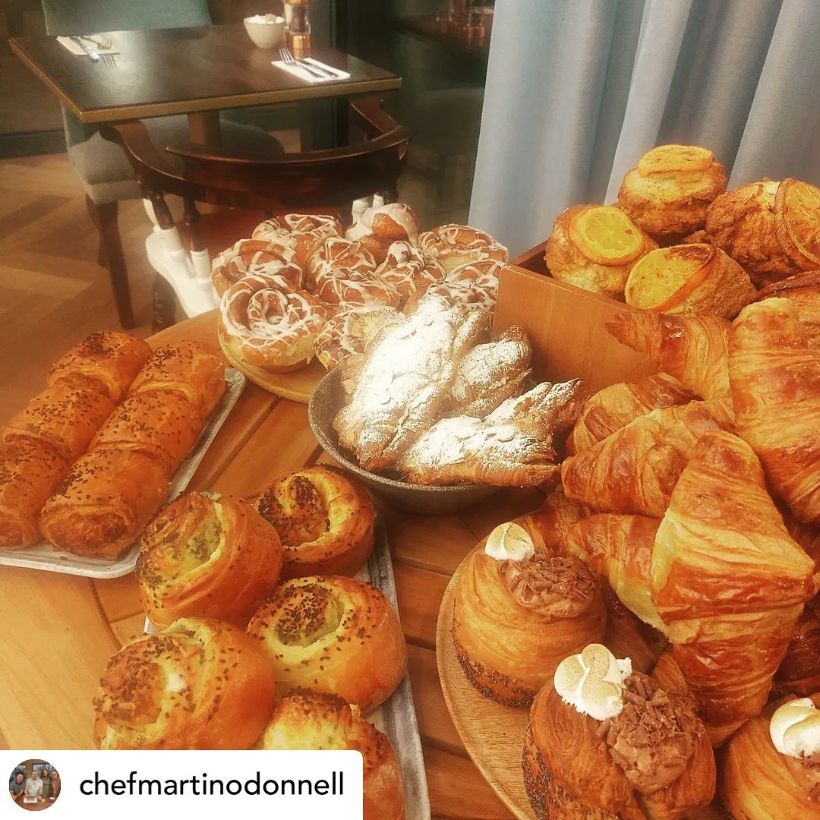 Delight
For an early morning power breakfast, look no further than Renmore's Delight. If you're the type of person who loves to be up and out in the early hours, you'll be delighted to know that Delight café is open from 8am, six days a week. Specialising in healthy, wholesome foods, Delight works with local producers, suppliers and coffee roasters to bring you a menu that is both good for you and super delicious. Delight also has a full juice bar with freshly squeezed juices and smoothies, so if you're trying to cut back on the ol 'caffeine this might just be the spot for you.
Renmore Avenue, Renmore / more here 
The Huntsman Inn
For a delicious breakfast on the shore of Lough Atalia, it has to be the award winning The Huntsman Inn. From the grill, enjoy a comfortably filling Huntsman breakfast skillet (vegetarian options available), Irish breakfast, wild mushroom on toast, eggs Florentine and more! Alternatively, they offer a delicious acai parfait, organic oat porridge and healthy granola. Whatever you fancy, Then Huntsman have just want to you need to take on your day ahead!
164 College Road / more here 
Tom Sheridan's Bar
Serving up a hearty brekkie 7 days a week, Tom Sheridan's Bar offers a late morning fix with all your favourites on the menu. Order everything from the full Galway breakfast with all the classics from local suppliers included. Alternatively, the good old, scrambled eggs and bacon is always a popular choice. If you're looking for more of a brunch bite, the quiche and wedges is the perfect dish. Craving a sweet treat? Try the warm Belgian Waffles topped with cream and chocolate sauce, or maybe a fruit scone fresh from the oven. The team here know how difficult it can be to shake off tiredness which is why you'll receive a complimentary tea or an americano with every breakfast order.
Clybaun Rd, Knocknacarra / more here 
McHugh's Traditional Pub & Restaurant
We can't talk about breakfast without mentioning the winner of our coveted Best Full Irish Fry Up title, McHugh's Traditional Pub & Restaurant. Their multi-award-winning breakfast range includes delights such as a traditional full-Irish, pancakes, gluten-free options, vegan options and good old-fashioned omelettes. Serving up their amazing breakfast menu seven days a week, McHugh's are always a good choice when it comes to enjoying a hearty traditional Irish breakfast to start your day.
Tuam Rd, Killeen, Castlegar / more here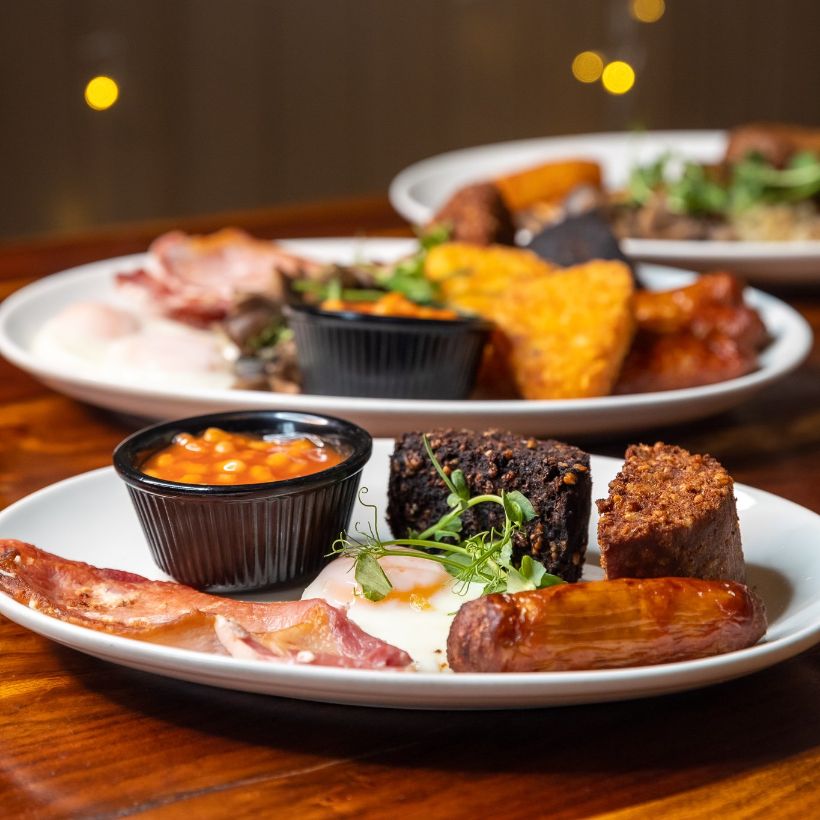 Ground & Co.
There's no better way to end a brisk morning walk along Salthill's promenade than calling into Ground & Co for breakfast. Early mornings in Salthill really aren't complete without enjoying a few of their pastries and breads that are fresh out of the oven. If you've got a busy day ahead of you, kickstart your day at Ground & Co with a power breakfast fuelled by creamy oats, eggs your way and freshly squeezed juices, herbal teas or the badly needed morning coffee.
Atlantaquaria Toft Park, Salthill / more here
Taaffes Bar
This popular Irish trad music bar is a favourite when it comes to enjoying a traditional Irish brekkie. Conveniently located on Galway's Shop Street, Taaffes Bar is the perfect place to stop by for a bite to eat before heading off to work. With a variety of traditional Irish breakfast options to choose from you, you won't want to leave this spot once you start tucking into their array of delicious foods. Who knows you might even be able to sneak in a quick pint of their famously good Guinness before you have to go..
19 Shop Street, City Centre / more here
Merchant Bar & Restaurant
Ideally located just a short wander from Galway city's train and bus station, Merchant Bar & Restaurant is the perfect location to enjoy a warming breakfast before catching your train or bus into work or college. Their focus is to create simple, honest, and fresh dishes sourced locally from farms and the sea to create a menu bursting with amazing flavor. Available all day, every day, if you're looking for something filling, we recommend their full Irish with all the trimmings or if something light is more appealing the Merchant eggs benedict and granola bowls hit the spot every time.

Eyre Square Hotel, 6 Forster St, East Village / more here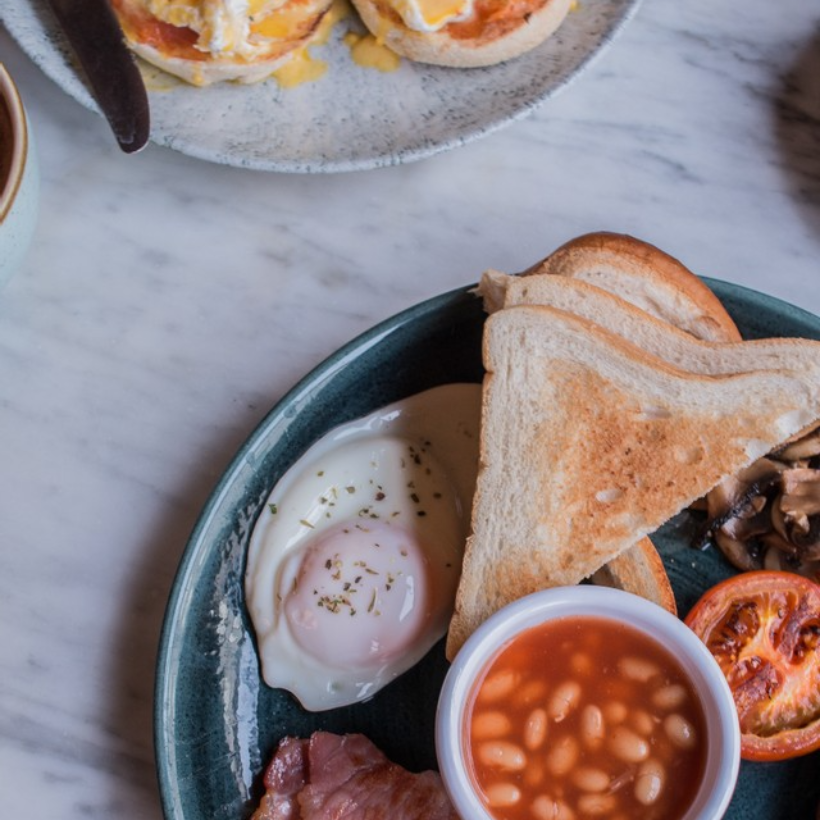 The Old Barracks
Breakfasts at The Old Barracks serves everything you could possibly want before taking on the rest of a busy day in Athenry. Served seven days a week until 12pm, what better way to start your day than enjoying platters of deliciousness? All their pastries and baked goods are made made fresh each morning at their onsite bakery, so you get to enjoy warm delights straight from the oven. And don't worry if you're running late because all their dishes are available for takeaway - talk about a win-win!
Cross St, Gorteenacra, Athenry / more here 
Chef Laura Rosso
If you would like to try something new for breakfast, take yourself out for an early morning treat at Chef Laura Rosso. Serving a range of yummy goodies with the touch of an authentic Brazilian chef, you can begin your day enjoying a selection of tasty dishes such as pancakes, porridge and pastries or opt for a more filling brekkie of sourdough sandwiches, wraps and snacks. Open for breakfast from 8am to 12pm, once you experience the relaxing atmosphere of this Brazilian restaurant you really won't want to leave.
Grattan Rd (at GCI Building), Salthill / more here 
The Red Gap Bar & Restaurant
There's something for everyone on the breakfast menu at The Red Gap Bar & Restaurant. From the classic options of fry ups and Belgian waffles to smoked salmon with poached eggs and potato cakes, your taste buds are definitely in for a treat when you choose The Red Gap Bar & Restaurant as your breakfast spot. Be sure to pay them a visit and taste these delicious dishes for yourself.
Barnaderg, Tuam / more here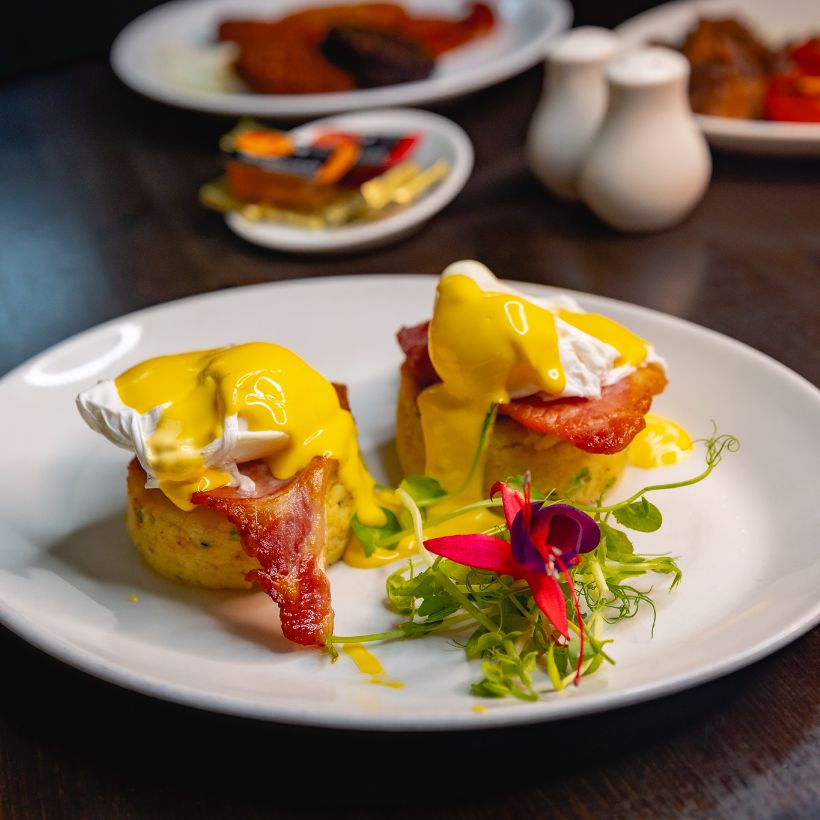 Porterhouse
In the heart of Oranmore town, Porterhouse is busy serving breakfast right up until noon to ensure that Oranmore's locals and visitors get to start their day with an amazing breakfast. Porterhouse offers a menu filled with all the morning essentials so you can enjoy a feast of gourmet omelettes, French toast, and fry ups before taking on your day of work or gallivanting. Seriously, their menus have pretty much everything you could want for brekkie, the hardest part is choosing only one.
Main St, Oranmore / more here 
The Pins Gastropub at The Twelve
Before heading off on a day trip into the stunning Connemara countryside, treating yourself to a morning filled with yummy fresh out of the oven baked goods, great breakfast options, coffee and organic teas is a must. At The Pins Gastropub you can enjoy all this and more thanks to the incredible team who make each of their breads and pastries fresh each morning from the onsite bakery. It's no wonder The Twelve Hotel is delighted to have been the runner up and 'Highly Commended' for the Best Breakfast Menu in Ireland by The Georgina Campbell Awards in conjunction with Failte Ireland 2020 - the breakfast here is really that good!
The Twelve Hotel, Barna / more here
Seven Bar
Who says breakfast has to be restricted to the morning time? At Seven Bar you can be savouring all the tastiness of a full Irish fry up all day long. Their famous full Irish breakfast is the perfect hangover cure so if you wake up and your head is in bits, a trip to Seven is highly recommended. Available all day, every day there's nothing like a famous Seven fry to get you feeling as good as new after a night out in Galway.
5-7 Bridgestreet, Latin Quarter / more here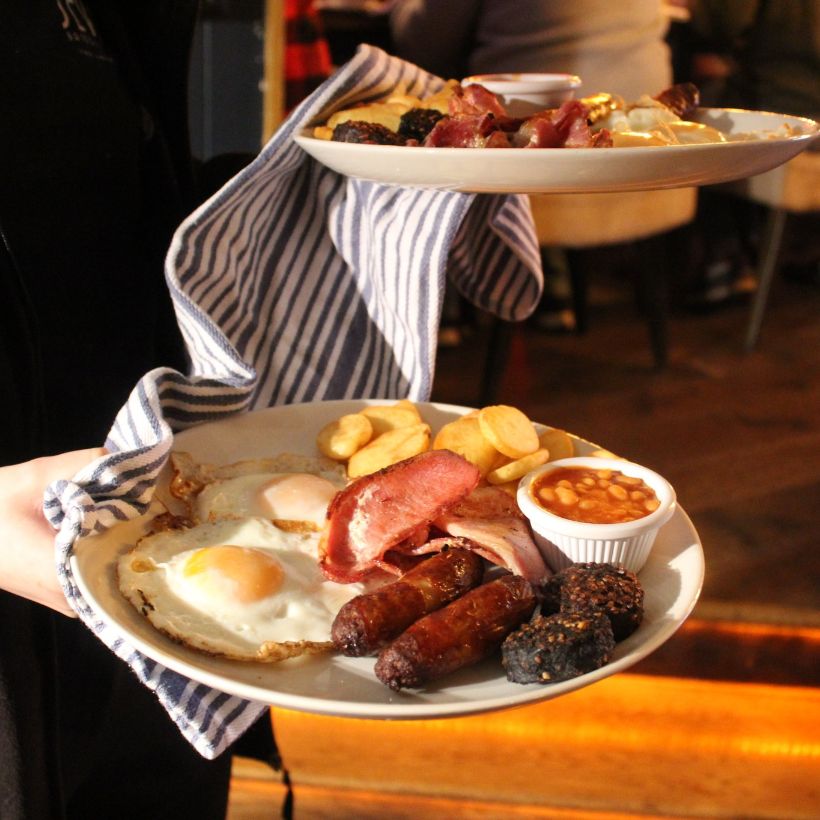 Published on Updated on