You should know by now that we're a team of huge foodies at This Is Galway. Only natural, then, that we wanted to work with local restaurants to share some of their great recipes on our platform. For Fork's Sake is the outcome of this - an article series helping you to make Galway grub, at home.
Focaccia from Rúibín
We love this delicious Focaccia recipe from Rúibín in Galway, it's super easy to make, is perfect for sharing and tastes just as good as it looks. If you're bored at home in self-isolation this is the perfect way to pass some time... the smell of freshly made focaccia bread wafting through the house is nearly reason enough to give it a go!!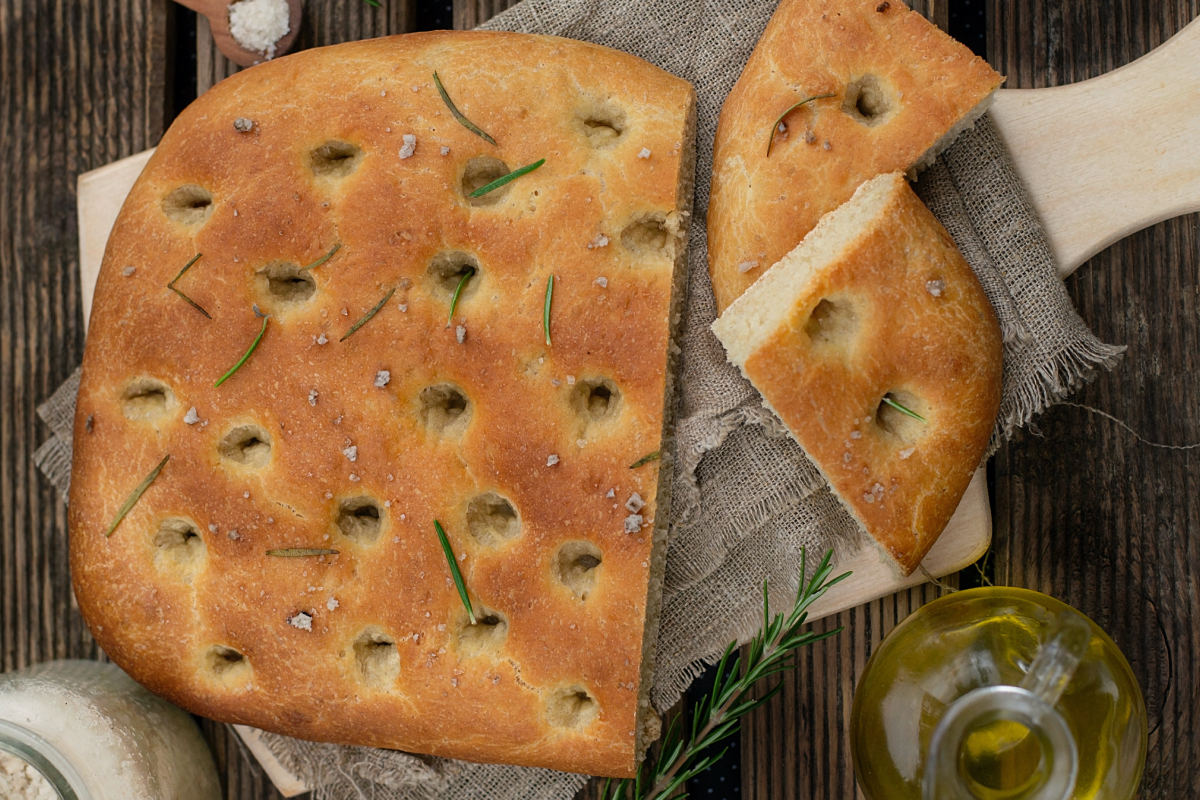 Ingredients
600g strong flour
10g fresh yeast or 3g dried yeast
10g salt
450ml warm water
Pinch sugar
Method
1. Mix the flour with the salt.
2. In a separate bowl, mix the yeast, warm water, and sugar and whisk to incorporate.
3. After 10 min (to let the yeast activate), make a well in the flour mix and pour in the yeast mix.
4. Mix well in the bowl and then turn out onto a floured surface. Knead for around 20 min, adding more flour to your table if the dough starts to stick. *The dough should be smooth and soft, but not sticky.
5. Leave on top of the oven to prove (1 to 2 hours). When it has doubled in size, tip back onto the table and knead for about 3 minutes, to knock out any big air bubbles.
6. Spread onto an oiled tray, and stretch into the corners of the tray.
7. Rub a generous amount of oil onto the top of the dough.
8. Prove again until doubled in size.
9. Using your fingertips, make 'holes' in the focaccia, sprinkle with rosemary and sea salt flakes, bake in the oven at 200c for around 20-25 min, and brown and crispy on all sides. Remove and put straight onto a cooling rack.

Overlooking Galway's breath-taking historic harbour, Rúibín are known for their warm and ambient dining experience and their Christmas offerings are no different. Toasty turf fires and the aroma of mulled wine will radiate from within and the high-quality food certainly won't disappoint. The bar at Rúibín, which opened prior to the restaurant, serves lunch from 12-3pm and bar grub with a twist from 4pm. The restaurant is situated upstairs and is well worth a visit.
For more info on Rúibín, click here