If you've been planning a visit to Galway and are looking for lodgings that'll suit you and yours, look no further.
Whether you're travelling with your other half or escaping solo, Galway's many hotels, hostels and B&Bs will be here to greet you, no matter what your budget. Here are some of the very best places for a good night's stay...
AFFORDABLE ACCOMMODATION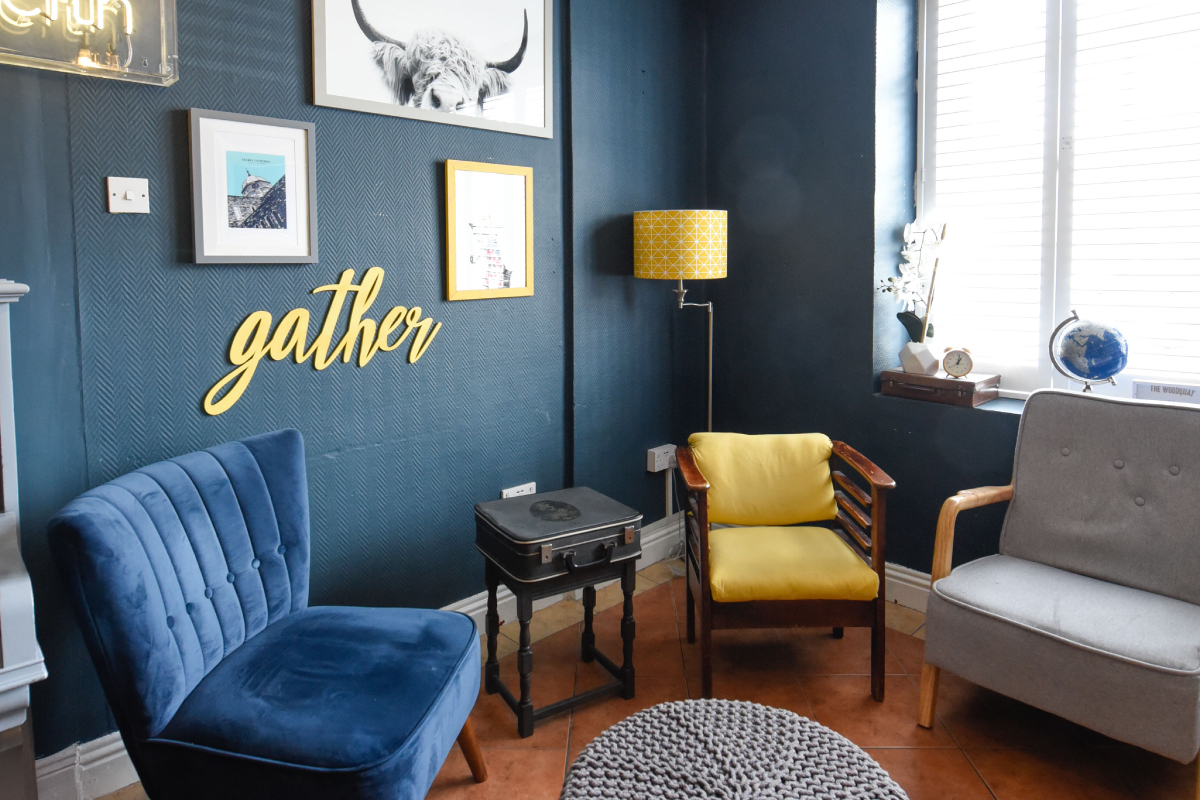 WOODQUAY HOSTEL
An oldie but a goldie, Woodquay Hostel was a hostel before hostels were even a thing. Offering both private en suites and mixed dorms, it's an ideal spot to stay with a group of mates or to mingle with some fellow visitors. Always extending a warm Irish welcome, this is one hostel that will have you feeling right at home.
23/24 Woodquay // MORE HERE
SNOOZLES HOSTEL GALWAY
One of the city's most popular hostels, Snoozles have two locations in the city and each provide a clean and comfortable place to lay your head after a day of exploring. A spacious, purpose built hostel with plenty of rooms and a relaxing common space equipped with a television and internet kiosks, this is a great base for a Galway getaway.
Forster Street // MORE HERE
KINLAY HOSTEL
If you're on the prowl for a high-quality, great value hostel that's right in the centre of the action, Kinlay Hostel is an ideal base for exploring. Each bed has its own all-round curtain that ensures maximum privacy, as well as charging sockets, USB and lights. From City Centre and Connemara to Clifden and the Islands, the team will help you arrange tours to some of the county's best attractions - nice one!
Merchants Road, Eyre Square // MORE HERE 
GALWAY BAY SEA VIEW APARTMENTS
For larger groups or longer stays, Galway Bay Sea View Apartments cater to groups of up to six people and offer a spectacular view of Galway Bay and Clare Mountains from their Salthill location. Each apartment is bright and spacious, with a fully-equipped kitchen and a touch of luxury that doesn't go amiss. Allowing visitors to bring the comforts of home with them on their stay, there's a reason these apartments are so very popular.
The Promenade // MORE HERE
SEACREST BED & BREAKFAST
For those planning a trip to the Aran Islands, the warm welcome and inviting beds of Seacrest Bed & Breakfast will truly call your name. Run by husband and wife dua Geraldine and Thomas for over 17 years, this B&B is a real family affair. You can even avail of a legendary guided pony and trap tour around the island - it's an ideal way to take in all the sights! Spotless rooms, tasty brekkie and a laid back atmosphere await...
Kilronan, Aran Islands // MORE HERE
THE NEST
If you like a good night's sleep with a personal touch, this boutique hostel will be right up your alley. With a range of private ensuite rooms and dorms to share, they've even got kitchen and laundry facilities and free parking to boot. A short stroll from both the seaside and the city centre, you'll be close to all the action!
107-109 Upper Salthill // MORE HERE
GREAT GETAWAYS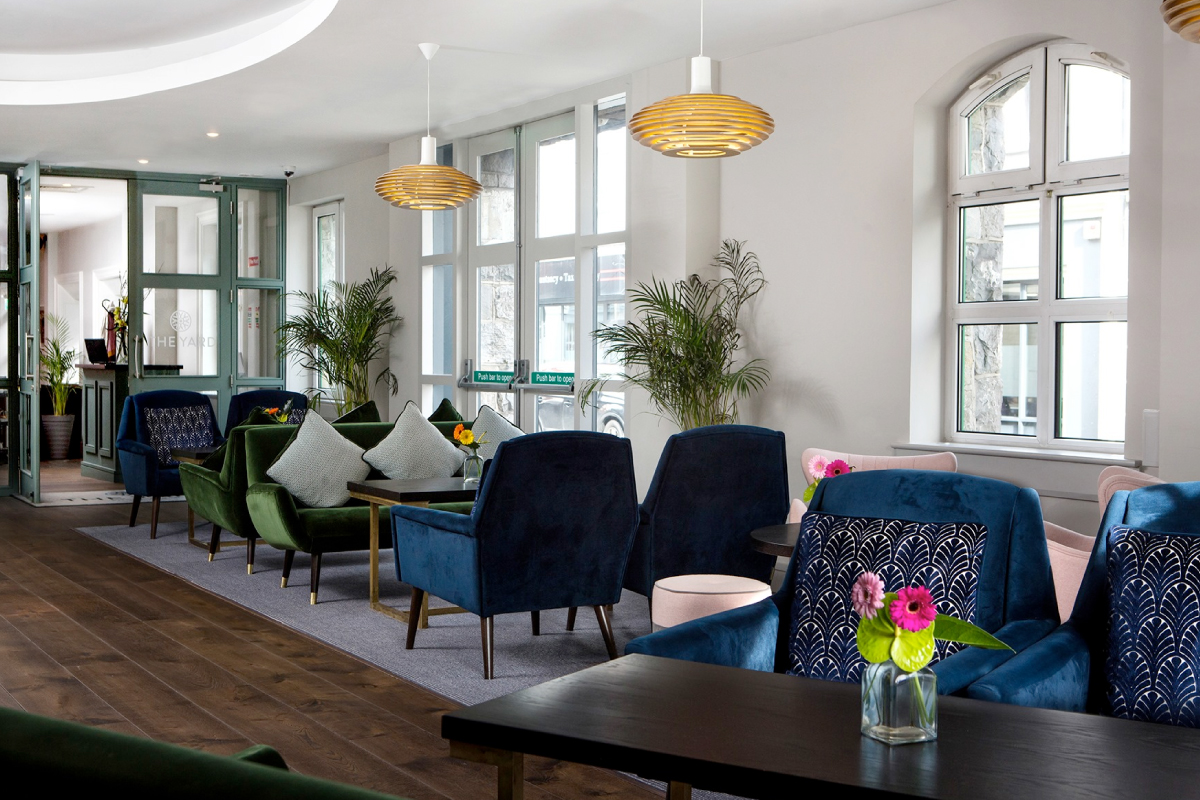 THE HOUSE HOTEL
This stylish, city centre four-star hotel somehow offers peace and quiet while being right in the middle of the action. Whether you want to spend the evening lapping up cocktails in their trendy bar or relaxing in the comfort of your room, The House Hotel will suit all your needs but it's hard to resist the call of the city when it's right around the corner!
Merchants Road Lower // MORE HERE
SALTHILL HOTEL
For breathtaking views of the Galway Bay and a spacious stay, Salthill Hotel will exceed all your expectations. With two exclusive restaurants, a leisure facility and fitness centre, you could spend your whole holiday within the walls of this four-star spot. Whether it's a family affair or a business trip, you'll be well taken care of.
Promenade // MORE HERE
THE ARDILAUN HOTEL
Spend your getaway in the leafy suburbs of Taylor's Hill, where The Ardilaun Hotel's tranquil gardens, award-winning dining and homely atmosphere will draw you into a comforting embrace. With a range of rooms to accommodate your needs, you can choose from cosy single to superior rooms and they've always got great deals on offer.
Taylor's Hill // MORE HERE 
MALDRON HOTEL GALWAY
Whether you're visiting Galway for business or pleasure, the four-star Maldron Hotel will tick all the boxes. With comfortable bedrooms, delicious food, a great bar and a complimentary fitness suite, located just a hop, skip and jump from the city centre, the Maldron Hotel manages to have it all, while remaining great value for money.
Headford Point, Sandy Road // MORE HERE 
LUXURY LODGINGS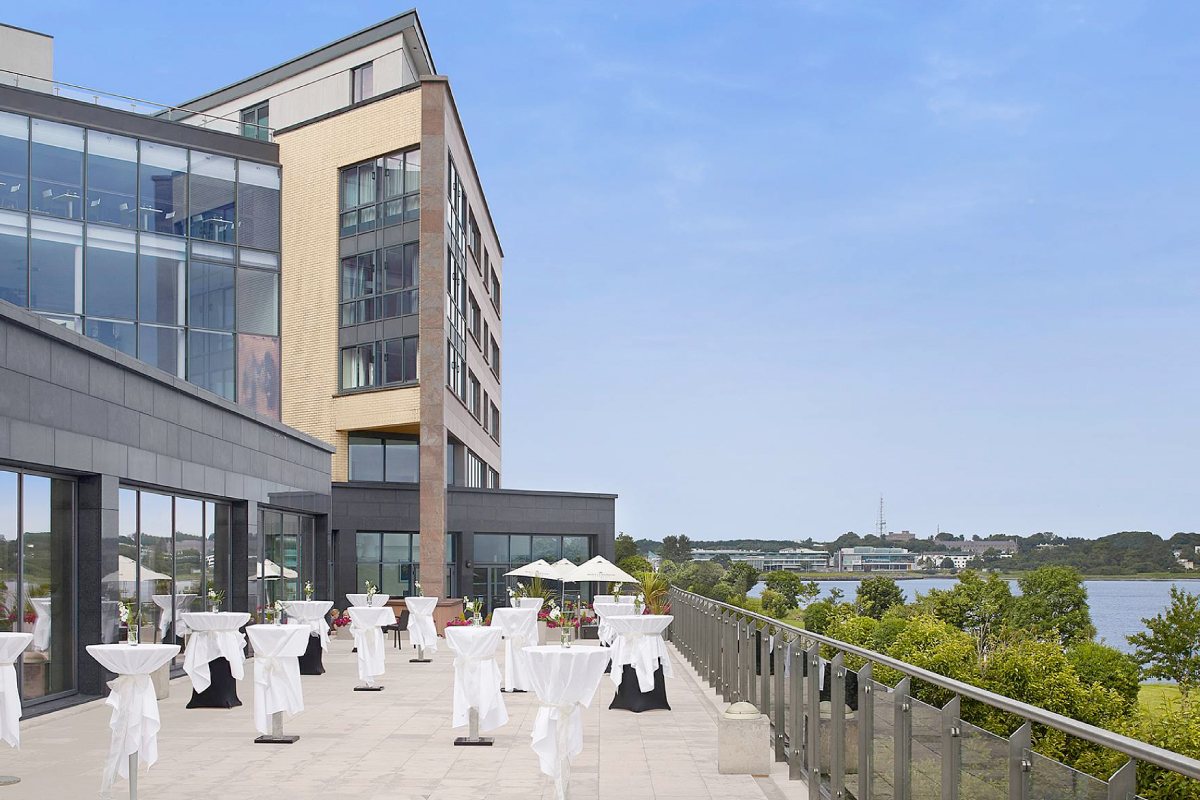 THE GALMONT HOTEL & SPA
Close to the bus and train stations, as well as nearby all of the city's main attractions, The Galmont offers an incredibly impressive four-star stay. Their rooms range from business class to penthouse suites, with each providing cosy beds and all the facilities you could hope for. Whether it's dinner and drinks in Coopers Bar & Lounge or a trip to the spa, they've got what you're after.
Lough Atalia Road // MORE HERE
THE G HOTEL & SPA
It's always a stylish stay at the five-star g Hotel. From the modern interiors and award-winning spa to the restful bedrooms and magnificent suites, a trip to this hotel is a treat for all the senses. Stunning décor, delicious food and just a three minute drive to Eyre Square, what more could you want?
Wellpark, Dublin Road // MORE HERE
THE HARDIMAN
Standing tall over the city's beating heart, this building has been threaded through the history of Galway since 1852. Four-stars and as opulent as you might imagine, The Hardiman radiates elegance from the lobby to the bedrooms. With spectacular on-site dining, drinks and facilities, a trip to the Treatment Rooms is a must!
Eyre Square // MORE HERE
GLENLO ABBEY HOTEL & ESTATE
Offering five-star luxury on a 138 acre estate, Glenlo Abbey is truly enchanting. Dating back to 1740, the hotel and estate provide personable service and an ideal location within reaching distance of the city and beautiful Connemara. Whether you choose to spend your day lounging in your plush bed, teeing up on their golf course or or dining in their restored Orient Express carriages, you're guaranteed a top-notch time.
Kentfield Bushy Park // MORE HERE
SOMETHING A LITTLE DIFFERENT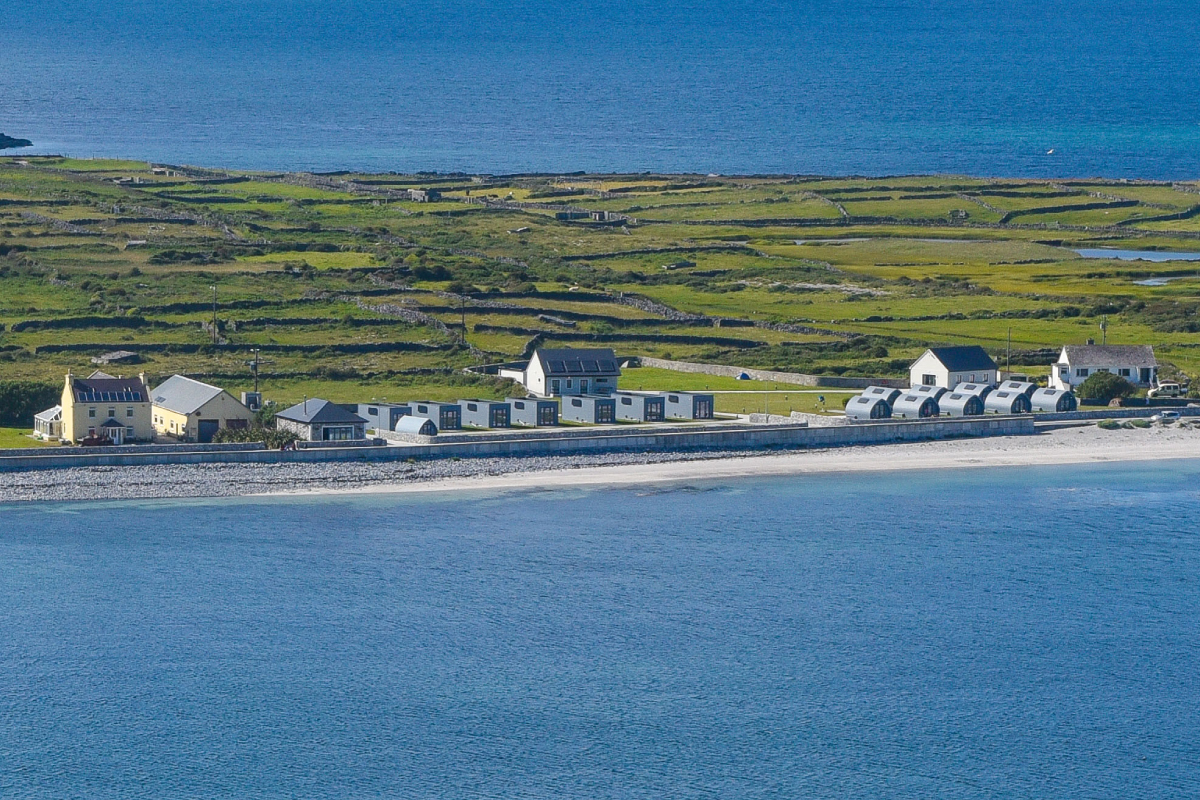 ARAN ISLANDS CAMPING AND GLAMPING
For the more adventurous folk, a premium beachside escape might just do the trick. Their solar powered lodges are ideal for couples and families alike, with pods to suit groups of up to six people. Reconnect with nature as you talk into twilight, enjoy a cosy night's sleep and gaze out at the sunrise over the bay. They've got showers, laundry facilities and camper kitchens, so you've got everything you could need. Digital detox anyone?
Frenchman's Beach, Kilronan, Inishmore // MORE HERE 
THE THREE TOWERS ECO HOUSE AND ORGANIC KITCHEN
Get out of the city and into Slieve Aughty Centre, where you'll discover an awesome 9-bed eco house that is the ideal setting for any celebration. There are also two eco-lodges that provide the perfect setting for a romantic getaway or a family holiday. Dine on delicious organic food and drinks, take part in activities such as horse riding, walking or cycling or simply laze the day away on the deck. They've even got a hot tub!
Slieve Aughty Centre, Loughrea // MORE HERE
THE CONNACHT HOTEL
As if the comforts of The Connacht Hotel weren't already appealing enough, they've gone the extra mile by adding the Connacht Cruiser to their offerings. This luxury mobile home has all the freedom of a self-catering apartment including six flat screens, a master bedroom, two sleep pods and a fully equipped kitchen, all while being stationed on the grounds of the hotel so that you can pop into to avail of their fantastic facilities. Sleeping up to eight people, this is a great escape for anything from two nights or a fortnight.
Old Dublin Road // MORE HERE
CORRIB HOUSE GUEST ACCOMMODATION
A night's stay in a beautifully restored 1830's Georgian townhouse is just as stunning as it sounds. The historic building sits at the edge of the River Corrib and offers dramatic views of the Salmon Weir and its surrounding wildlife, while inside you'll find traditionally styled rooms with modern facilities. It was listed among the McKennas' top 100 spots to stay in 2020, so you know it's going to be great. King sized beds, luxurious mattresses and the smell of freshly baked scones await...
3 Waterside, Woodquay // MORE HERE
GET OUT OF TOWN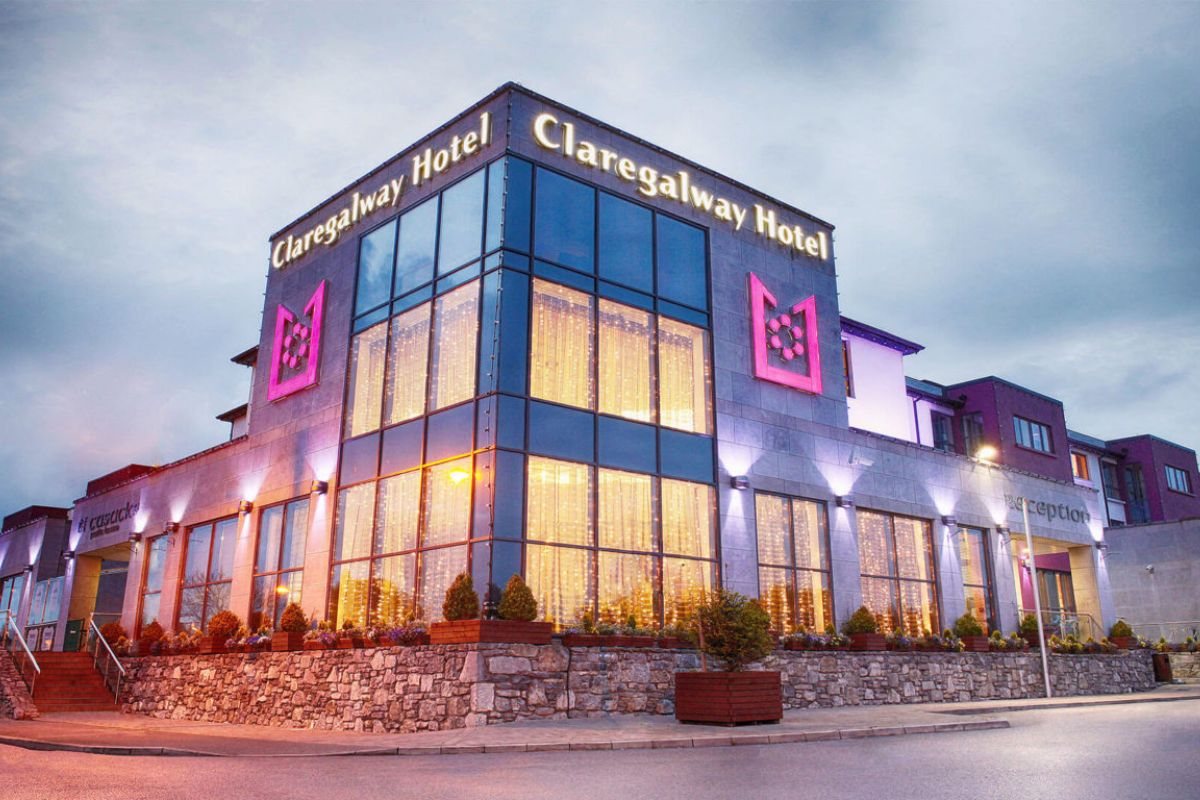 Claregalway Hotel
The beautiful village of Claregalway is about 20 minutes from Galway city, making this hotel the perfect spot for those who want to be close to the city without being directly in the middle of all the madness. The Bia & Co restaurant serves up some gorgeous food, and you can follow it all up with a drink at the bar or a cocktail in their stunning outdoor terrace for the ultimate night away.
Claregalway // MORE HERE
Clifden Station House Hotel
Located in the  town of Clifden surrounded by the majestic beauty of Connemara, this hotel is ideal for your Wild Atlantic Way stay. For you more adventurous folks, the Twelve Bens, The Sky Road, Inishbofin, Omey Island and Killary Fjord are just a few of the experiences Connemara has to offer and all are just a stone's throw away from the hotel. Clifden Station House Hotel has so much to offer from an indoor pool and spa to an award-winning bar and restaurant. For the big families out there, they offer self catering apartments which would be perfect for an active staycation.
Galway Rd, Clifden // MORE HERE
Abbeyglen Castle Hotel
This stunning getaway is located just outside Clifden, Conamara. The beautiful castle is perfect for you foodies out there as it offers exquisite dining in their Castle Restaurant. Afterwards you can head to the bar for a drink, a bit of craic and entertainment - all of which you'll find plenty of at Abbeyglen!. For those of you seeking some pampering Abbeyglen Castle Hotel has a state of the art spa with a variety of treatments for you to chose from. It really has something for everyone!
Sky Rd., Chruch Hill, Clifden // MORE HERE
Oranmore Lodge
A 4* family-run hotel situated in Oranmore, a small village bursting with life and character,. A gateway to Galway City, whether you are here for business,  a romantic breakaway, or for a family holiday, you'll find everything you need at Oranmore Lodge. The perfect place to relax and wind down, their exclusive leisure and health facilities include an indoor swimming pool, jacuzzi, steam room and sauna! They also offer various spa treatments, and for the fitness fans out there, their state of the art gym has everything you'd need for a good workout sesh. The hotel also offers a wide range of services including private dining, conference centre as well as being a popular wedding venue.
Carrowmoneash, Oranmore // MORE HERE