Surrounded by the ruins of a monastery long since ravaged by the tests of time, Kilmacduagh Round Tower continues to stand tall all these years later. Somehow maintaining its impressive form and original condition since its establishment in the 7th century, this round tower comes in at 34.5 metres - making it the tallest in Ireland! Let's take a glimpse into the incredibly vast history of this ancient site, which sits at the very edge of the Burren, close by Gort.

Endowed with the land's foundations by the then King of Connacht, Colmán mac Duach established the monastery in the seventh century. Legend has it that while he was walking through the woods, his girdle suddenly fell to the ground and - taking this as a sign from above - built the monastery on that very spot. According to the Catholic Encyclopedia, Saint Colmán lived in solitude for religious discipline in Arranmore before going on to seek greater seclusion in the woods of the Burren.
Passing away on 29 October 632, ownership of St. Colmán's land was handed over to the O'Heyne clan, while his relics were placed into the care of the O'Shaughnessy family. This included the prophetic girdle - which was later lost - and the ornate crozier, which has since been put on display at the National Museum of Ireland. Upon reorganisation of the site in the twelfth century, Kilmacduagh was established as the seat of a bishopric, of which St Colmán became the patron and protector.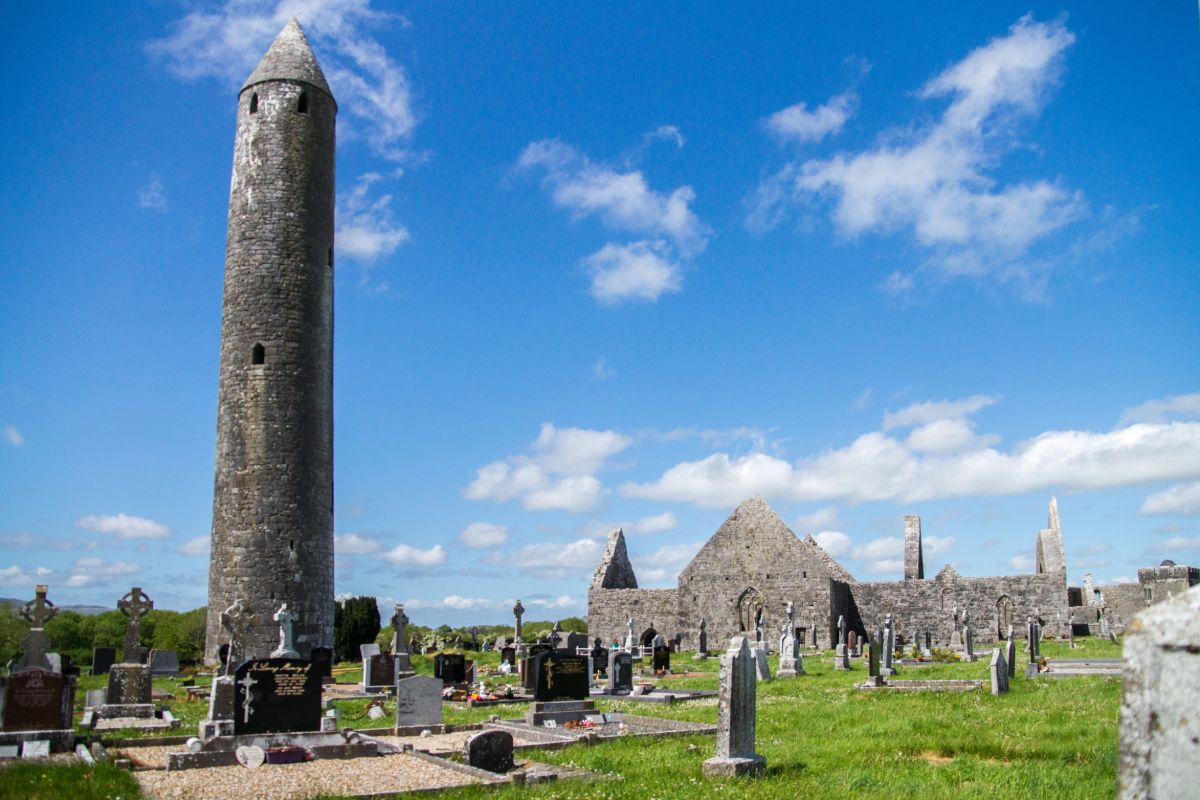 With the dawn of the thirteenth century came a period of great strife for the people of the settlement. Despite military battles, political warfare and an eventual Anglo-Normal conquest, the O'Heyne and O'Shaughnessy families clung onto the land with all their might. Having become an Augustinian abbey, Kilmacduagh was eventually officially suppressed and granted to the 2nd Earl of Clanricarde, Richard Sassanach. Released to James Naylande in 1569, the site and lands of Kilmacduagh were later handed over to the mayor, bailiffs and citizens of Galway in 1578.
Long after the settlement was abandoned, the people of the area continued to honour the memory of St Colmán with an annual pilgrimage to his church and holy well taking place on his feast day - 29 October - until the twentieth century. Nowadays, visitors are attracted to Kilmacduagh for its eye-catching round tower. Solidly withstanding the tests of time, the 111 foot tower is ever so slightly askew - but the Leaning Tower of Gort doesn't sound quite so appealing.
To find out more about Kilmacduagh Round Tower or plan your visit, click HERE.
Published on Updated on