This week, The Connacht Hotel announced that it had raised almost €6,000 for Irish tree-planting charity Hometree!
The grand sum of money raised amounted to €5,778, of which €199 was generously donated by guests to the hotel throughout 2022. The funds raised will be used to contribute to Hometree's Wild Atlantic Rainforest project which will allow Hometree to restore and protect an acre of new rainforest. All of the trees planted as part of Hometree's Wild Atlantic Rainforest project will remain planted to live out their natural lives.
Hometree is an Irish organisation that is dedicated to adding more trees to the Irish landscape, allowing them to positively impact Ireland's biodiversity while also creating a strengthened connect between people and nature. Hometree was founded in late 2014 and has grown from strength to strength over the years, as have the trees they have planted. Many of them are now well over three metres in height. Just one tree can draw down almost 4.5kg of CO2 each year – to date, Hometree has planted more than 150,000 trees which tells its own story about how much carbon their initiative has so far removed.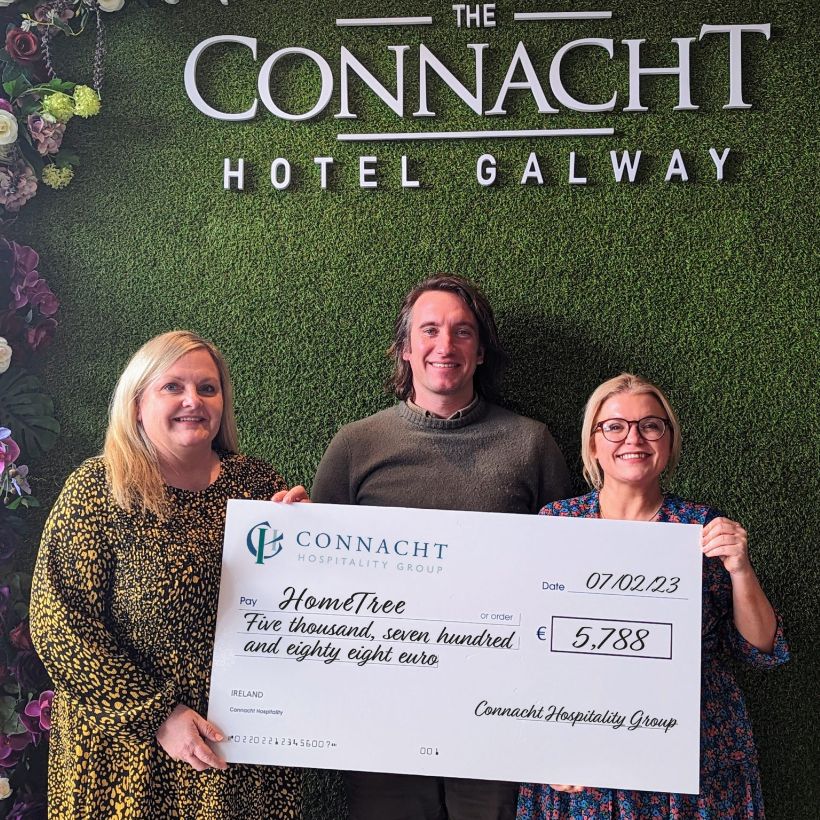 To raise the funds for Hometree, The Connacht Hotel ran a campaign last year which saw them take an allocation from the sale of every corporate room night. These were then donated to Hometree to help offset the ecological impact of those stays.
"We're delighted at The Connacht Hotel to have raised such a sizeable sum for Hometree," said Sarah Comer, Group Commercial Manager. "Sustainability is a huge part of our focus and a journey we have been on for a number of years. Working with Hometree allows us to give back in a meaningful way and we look forward to our continued work with Matt and the team at Hometree in the coming years."
"The folk behind the charity are a very dedicated team whose mission is a very noble one – to put trees back into the land! The money raised will mean an acre of forest will be restored and protected, which is a big positive for so many reasons. We're doing more and more to help offset the ecological impact of guests' stays, and this is the latest step on that journey," Sarah added.

Hometree's CEO, Matt Smith spoke about their partnership with The Connacht Hotel and what it means to have large businesses involved in contributing to the Hometree cause; "It's been great to be on a three-year journey with the hotel, and we are excited to be continuing the partnership into 2023. The hotel joined and supported a large-scale rainforest protection and implementation project."
"This project is the first of its kind and the largest in the country, and having businesses support the work is critical to its success. It's also reassuring that the hotel are happy to keep learning and diving deeper into understanding landscape restoration at this scale," he added.
To find out more about Hometree's mission, visit their website here and visit The Connacht Hotels' homepage to read more on their mission and latest news
Published on Updated on