Did you know that Galway is full of food trucks offering a diverse range of tasty takeaway treats? Falafel, burgers, pizzas and more, whatever you're after, there's a Galway food truck offering just the thing for you. Find some of our favourite food trucks below and hop in the car for a Galway foodie road trip..
The Dough Bro's Wood Fired Pizza
Frequently voted as the best of the best, The Dough Bro's Wood Fired Pizza needs no introduction. Renowned for serving up seriously delicious authentic Neapolitan pizza if you haven't already had some you need to ASAP. Aside from their restaurant on Middle Street you'll find The Dough Bros team serving up all their pizza goodness in the midst of the buzzing beer garden at O'Connell's Bar. Enjoying one of their delicious pizzas paired with one of their own brews, enjoyed in their upbeat, one of a kind beer garden — it's a night out that just can't be beat!
In the beer garden at O'Connell's Bar, Eyre Square / open seven days a week / find them here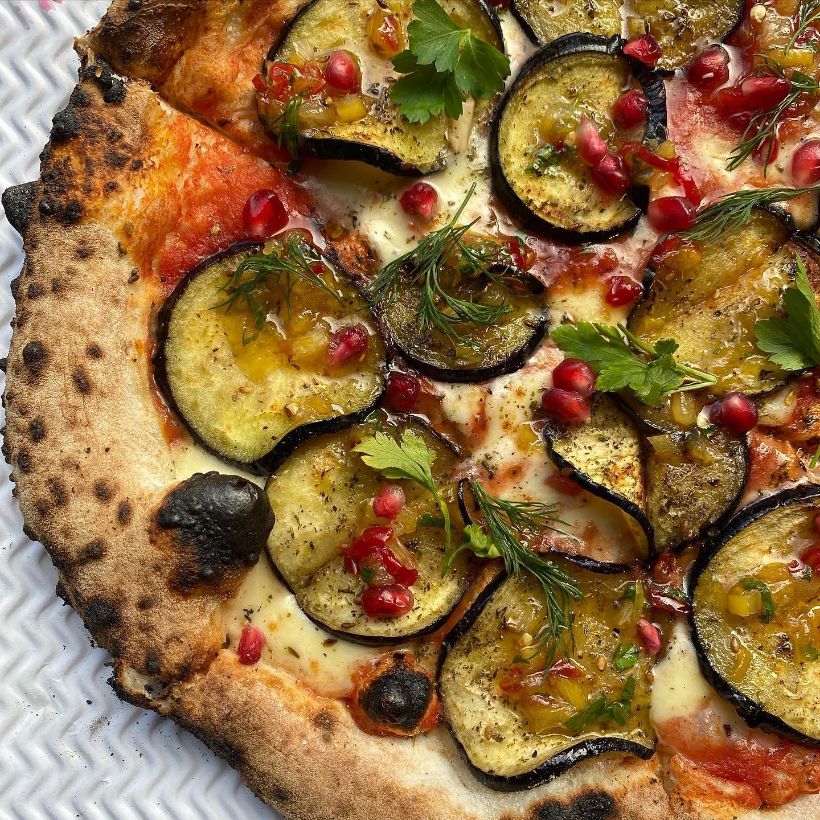 Little Fish Food Truck Letterfrack
A brand new addition to the food scene out West, Little Fish Food Truck deserves your attention. Under the ownership and care of Eva and Tom from Clifden's Báidín this is one Galway food truck that is well worth a visit. Using local produce in each of their dishes, their menu includes a range of seafood favourites including fresh fish and chips along with specials such as calamari spice bags, buffalo prawns and hake tempura fish sambos. Located outside the 12 Pins Café at Letterfrack Pier, this might just be one of the nicest spots for a picnic in the sunshine while enjoying tons of delicious dishes from Little Fish Food Truck.
12 Pins Market, Porto Santa, Rosleague, Letterfrack / open Thurs-Mon from 1pm / find them here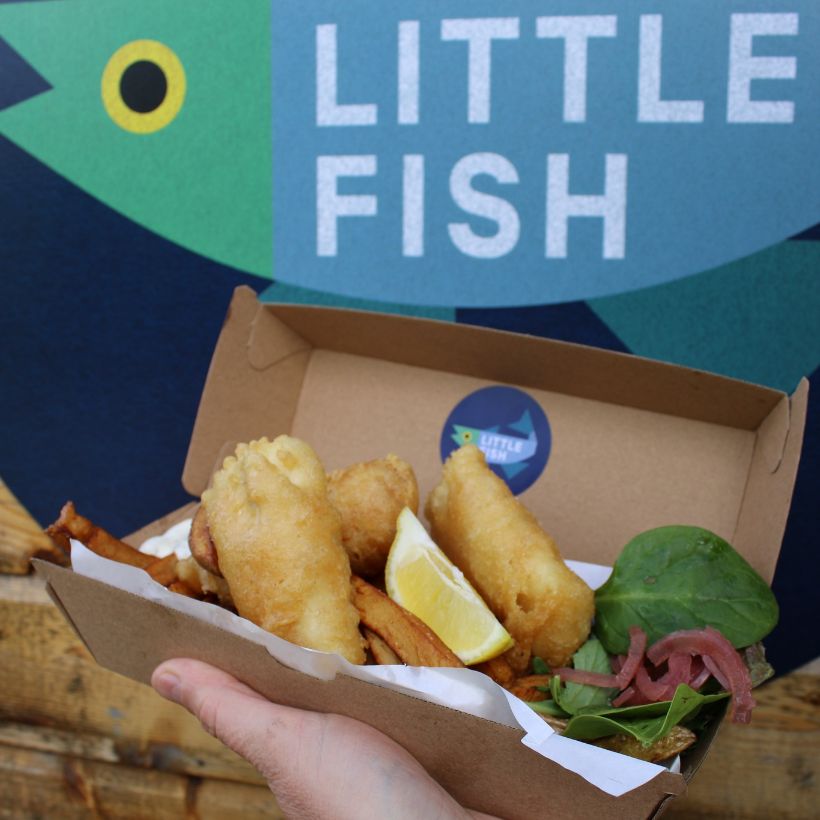 Prátaí
When those cravings for crispy Irish chips kick in, there's only one spot in town for you - Prátaí. Proper chip cones served with delicious locally made sauces and toppings make up the menu at this standout Galway food truck. Open in various locations all across Galway, including at the Moycullen Market on Fridays, Kilcornan Woods on Saturdays and the Galway Market on Sundays. Or, find them serving up their chips all week in O'Connell's Bar beer garden alongside The Dough Bros, and treat yourself to some yummy potato goodness as you drink the evening away with your pals.
In the beer garden at O'Connell's Bar, Eyre Square / open seven days a week / find them here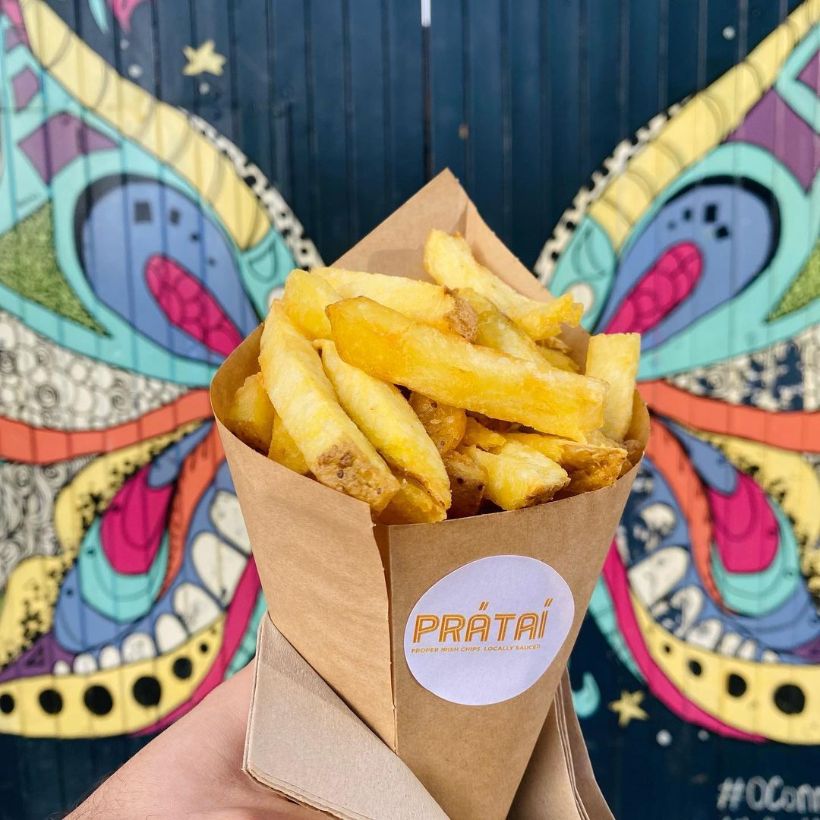 The Pink Wagon
If you're busy exploring the Wild Atlantic Way or simply enjoying a day out in Clifden, calling by The Pink Wagon is a must! Located by the famous landing site of Alcock and Brown's first transatlantic flight, this food truck has everything you need to keep you fueled on your adventures - all day breakfast, burgers and chicken specials, and takeaway food are just a few of the delicious options you can find on The Pink Wagon menu. Not to mention that the people running it are absolutely lovely, so when in the area remember to pop by and say hi.
At the Marconi Site in Derrigimlagh, Clifden / open Wed-Mon from 11.30am until 4.30pm / find them here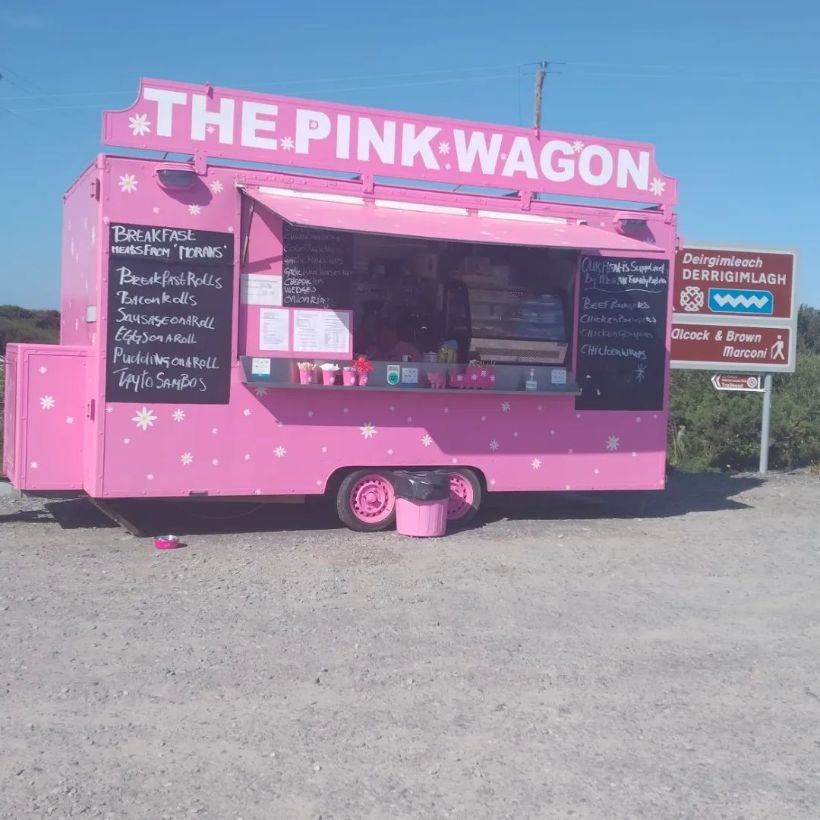 Handsome Burger
One of Galway's most beloved burger joints, Handsome Burger can be also enjoyed on the go from their Knocknacarra food truck location. After an adrenaline racing day of putting your talents to the test at Pure Skill, call by Handsome Burger and get some badly needed refreshment foods. You'll also find them parked out the back of Áras na nGael in Galway's Westend on their events days, so if you are heading off to a gig, dinner is sorted thanks to the incredible Handsome Burger team.
Outside Pure Skill, Knocknacarra  / open Mon - Thur: 4-9pm Fri-Sun: 12:30-9:30pm  / find them here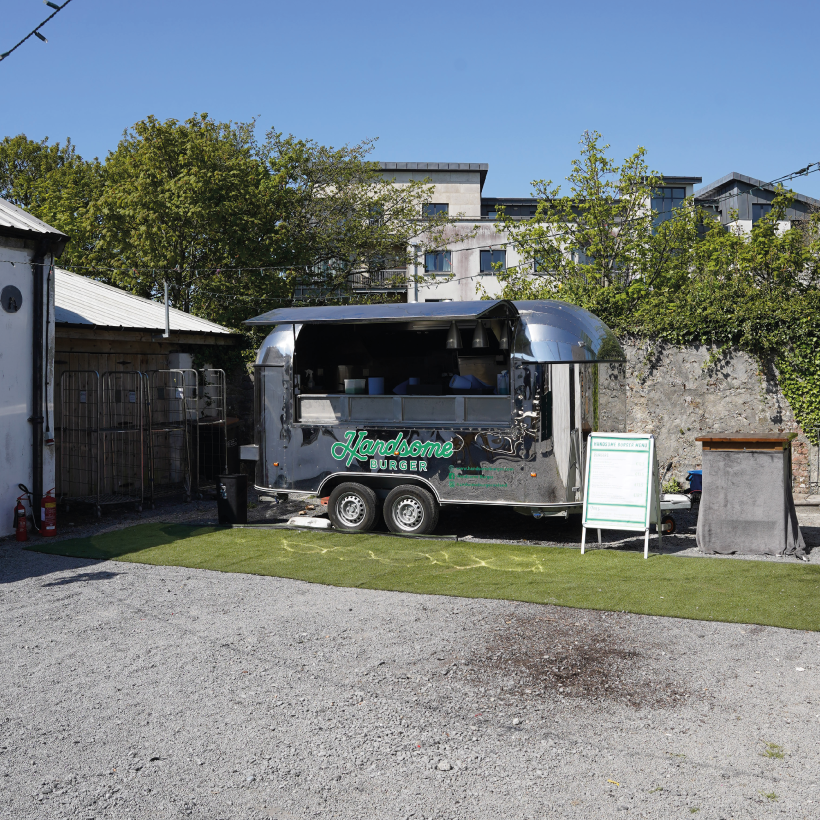 Inishwallah
The one of a kind food truck or should we say bus.. Inishwallah offers visitors superb food inside a lovely double decker bus setting. All their ingredients are locally produced and with its stunning island location you won't get a better taste for the Irish West Coast anywhere else. We highly recommend the fish tacos and bean burger, so the next time you're planning a trip out to Inishbofin be sure to keep your eyes peeled for the bright red bus for a chance to indulge on unparalleled tastiness.
Westquarter, Inishbofin / open during the Summer Season / find them here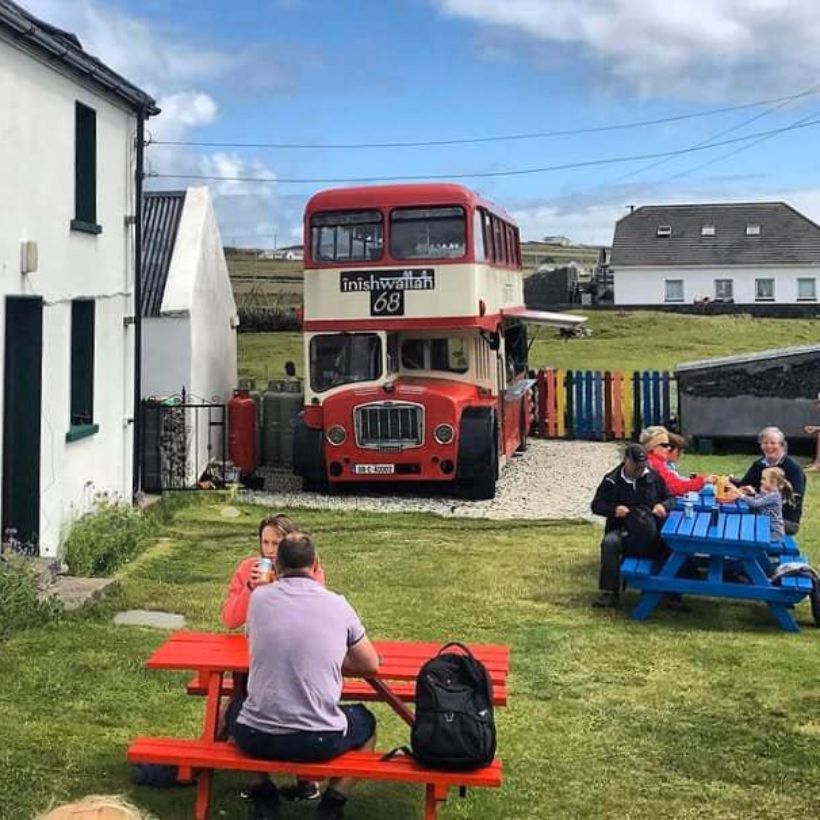 Wildlands Wagon
When you're not flying through the skies at Wildlands you can be tucking into delicious takeaway treats from their Wildlands Wagon food truck. Operating out of a 1974 German postal van the Wildlands Wagon offers visitors a chance to enjoy sandwiches, freshly baked sweet and savoury treats, ice-cream, cold drinks, tea, and coffee from Fixx, an award-winning Irish coffee supplier. It's just the thing to keep you going while you are on your Wildlands adventure.
Wildlands, Ballyquirke, Moycullen / open during Wildlands opening hours / find them here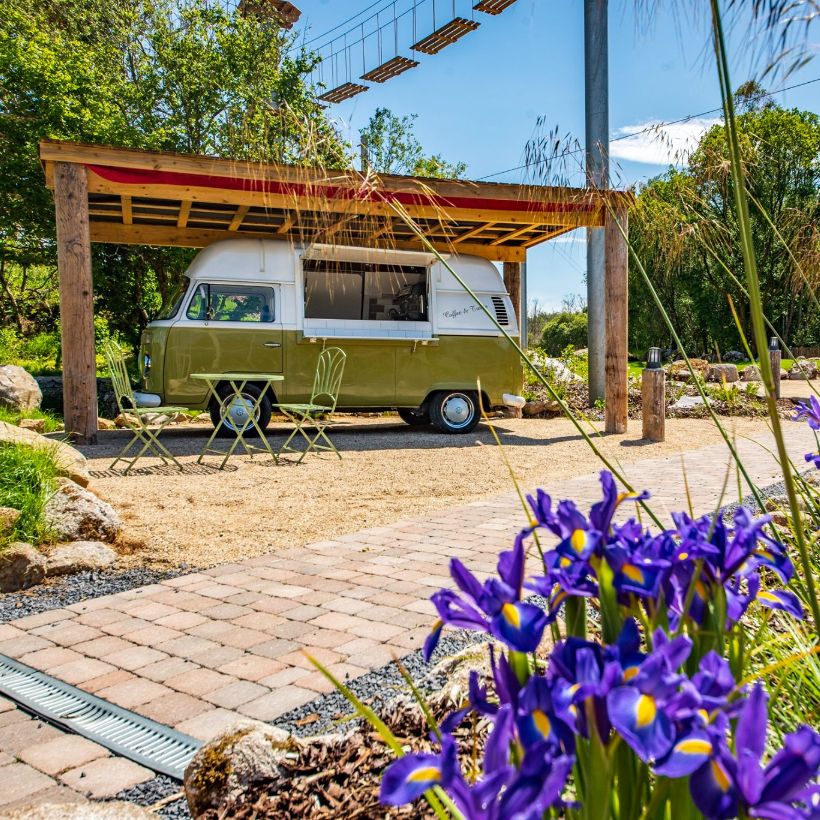 Misunderstood Heron
This award-winning food truck sits on the banks of Killary Fjord and serves up one of the finest al fresco dining experiences in the West. Enjoy all the flavours of creative Irish food and top quality Irish roasted coffee at Misunderstood Heron while you immerse yourself in the stunning surroundings of Connemara. This unparalleled dining experience regularly lands them spots in world lists so if that doesn't convince you that they are worth paying a visit to, nothing will!  So, do yourself a favour and stop in for a cuppa and a chat. You can thank us later.
Derrynacleigh, Leenane / open Wed-Sun 11am to 5pm / find them here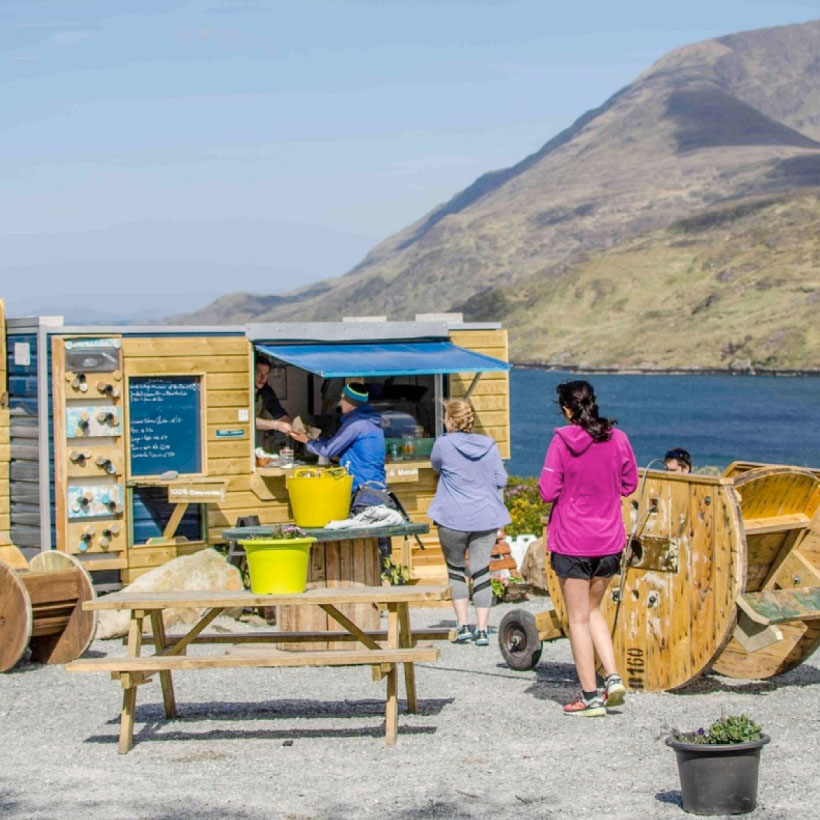 Wildfire Gourmet Food Truck
Find them at the best gigs and events in Galway, if it is worth seeing you can beat that Wildfire Gourmet Food Truck is going to be there. No matter the weather, you can be sure that you'll be able to spot the sound heads of Wildfire Gourmet Food Truck out and about providing customers with their delicious menu of steak sandwiches, burgers, chicken tenders and more. Regularly seen in the Oranmore Farmers Market and at the Athenry Castlegar Carpark, head over to their Facebook here to find out where they'll be popping up next. Operating out of a retired fire engine, this is one food truck that will be hard to miss!
Here there and everywhere / open from 12pm / find them here
The Saltbox
For a proper taste of the best Wild Atlantic Way produce, the newly opened The Saltbox on Inishbofin sells fresh fish caught by their own boat, the Ceol na Mara. They also offer visitors delicious fish plates and other baked treats to takeaway while they head off to explore the island. They've got covered picnic tables situated in front of their food truck so you can enjoy your meal sitting out under the shade with some pretty impressive sea views to match.
Inishbofin / open weather permitting / find them here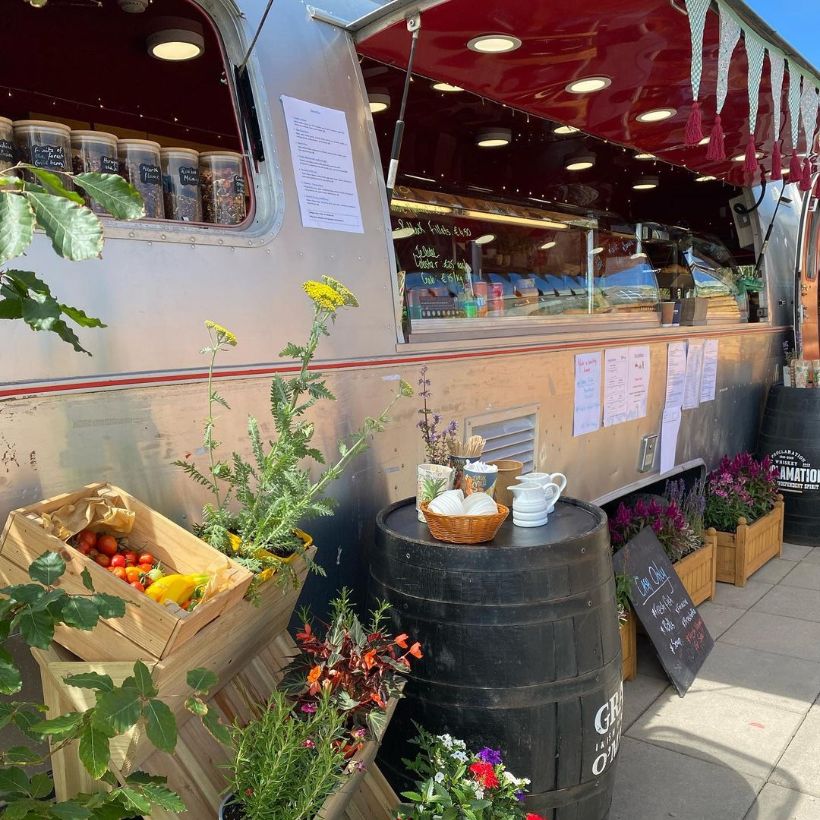 Weirdough Pizza
Treat yourself to a stone baked pizza this weekend from Weirdough Pizza. Homemade dough and fresh ingredients is key to every delicious pizza from this Galway food truck. If you are hosting a private party or event and looking for someone to do the catering, look no further. With something for everyone, - vegetarians, vegans, meat eaters and those of you with sweet tooths, a visit to this pizzeria on the go is always a rewarding experience. They also make up pizzas that can be reheated later so you can enjoy all this pizza goodness from home.
St. Nicholas Market, Galway City Centre / open during market hours / find them here 
The Gourmet Offensive
A vegan and vegetarian food favourite, if you haven't visited the The Gourmet Offensive food truck during your weekend gallivanting be sure to take note now! Serving their famous Falafel and more plant based fast foods, everything is 100% vegan and made in-house fresh each day. They also cater to private functions and weddings and you might even spot them out and about at some of Galway's many festivals. There is so much on their menu to choose from, so remember to call by and check them out for yourself while you're in town.
St. Nicholas Market, Galway City Centre / open during market hours at the weekend / find them here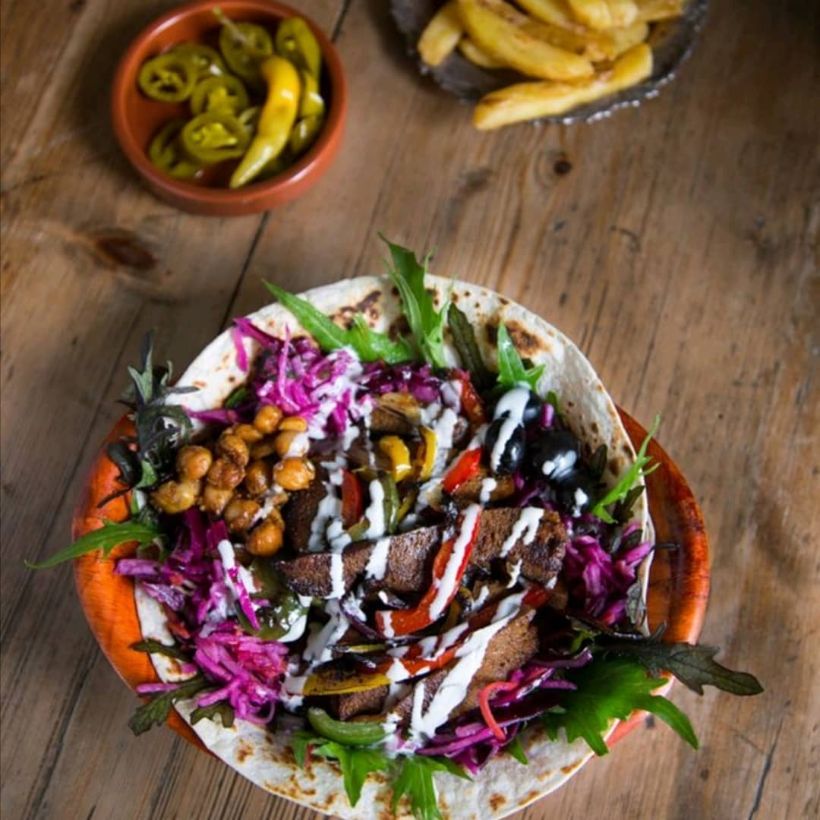 Published on Updated on