There are couple of things we are very passionate about here at This is Galway...1) Galway 2) Sausage Rolls!
This Is Galway has been on the go for nearly a decade now. In that time we have published dozens of magazines, written thousands of online articles and reached millions of people on social media in that time. Yet, there is one particular piece of ground-breaking journalism that captured the hearts and minds of our readers like no other… The Galway Sausage Roll Review!! So, in anticipation of National Sausage Roll Day on June 5th, we decided it was time to update this guide and give it a well-deserved moment in the spotlight of our This is Galway magazine. These updates followed extensive research and many tastings around Galway in order to ensure we were able to pick the very best - the sacrifices we make in the name of journalistic integrity…
We can understand why this one is famous! Leroy's Sausage Rolls have been served up to thousands of people all around Galway for more than five years, yet Leroy STILL gets neighbours and friends asking for the recipe or a few samples. While the exact recipe is still a secret, every element of this gorgeous creation has been tried and tested to ensure it is of the highest quality and tastes perfect. This Leroy lad definitely doesn't cheat with the meat and provides one of the best seasoned sausage rolls in town with plenty of filling and not too much pastry. Originally from London, Leroy spotted a small trend of gourmet sausage rolls starting up in his hometown, and a potential gap in the market across the Irish Sea. The results of this experiment are now available in all the Ground & Co locations, Mr Waffle in Newcastle and Delight in Renmore which means, wherever you are in Galway, there's a sausage roll nearby to curb your cravings.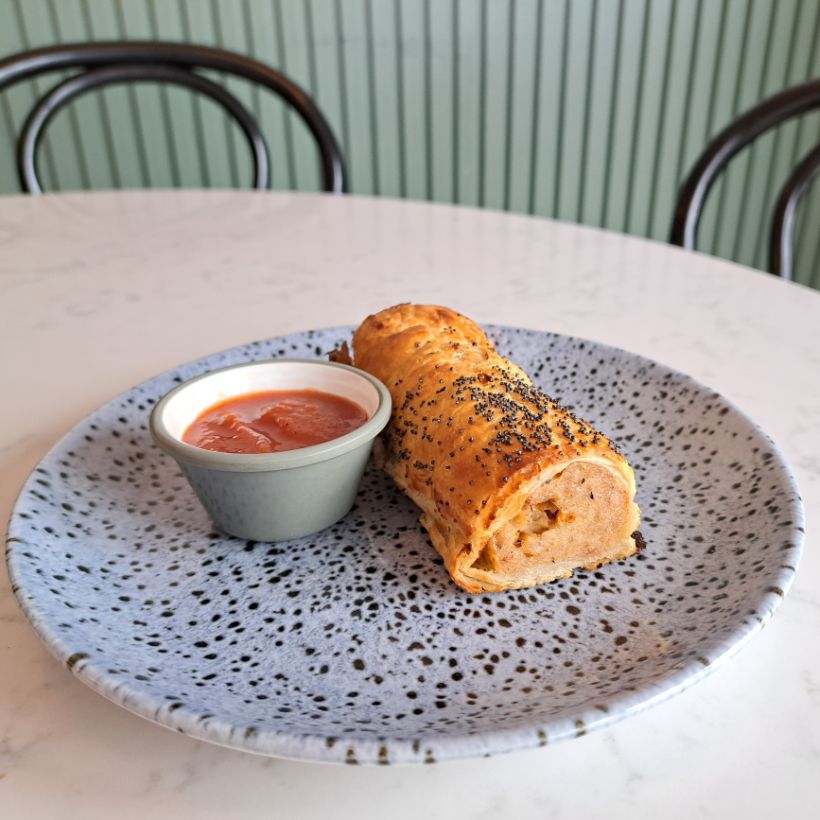 The newest roll on the block, but one that has already had a huge impact on our lives here at This Is Galway. You've probably heard about Blackrock Cottage's breath-taking views, delicious pancakes, refreshing açaí bowls and more but we reckon the sight of these savoury delights coming out fresh from the oven could rival the iconic vista across Galway Bay. What makes the sausage roll at Blackrock Cottage really stand out is the layer of crumb across the top, resulting in a delicious medley of textures from the juicy meat, flaky pastry and crispy topping.
When you think of Wildlands adventure centre, just outside Moycullen, you can imagine the adrenaline rush of the various zip lines, high wires, climbing walls and obstacle courses. We get this same feeling every time we bite into their thrilling sausage rolls. Created and homemade by Mary in their stunning Olive Tree Kitchen, they are beautifully caramelised and sticky on the ends, with slightly spicy mustard oozing between the meat and the delightfully golden pastry. Mary tested out dozens of different mustards before landing on this particular one, so you know it's going to be the best it can be. Mary is a veritable expert when it comes to all things baked and she told us that the secret to a beautifully golden crust is to egg wash twice, letting the first one soak in and applying a second right before they go into the oven. A genius at work!

This vegan roll is one of our favourites because it doesn't try to imitate a traditional sausage roll; it champions plant-based ingredients, celebrating their unique flavour and texture. The "meat", which is more like a paté, is an unctuous blend of mushroom and herbs that is just packed with umami flavour. Soft, smooth and moreish in the middle - charred and flavoursome on the outside - there's a whole lot of flavour in the roll itself, and that's before we even get to the sauce. The relish is a bright mixture of zingy fruit and tomato, perfectly cutting through the rich filling. Everybody should pop into The Lighthouse Café to try one of these, at least once!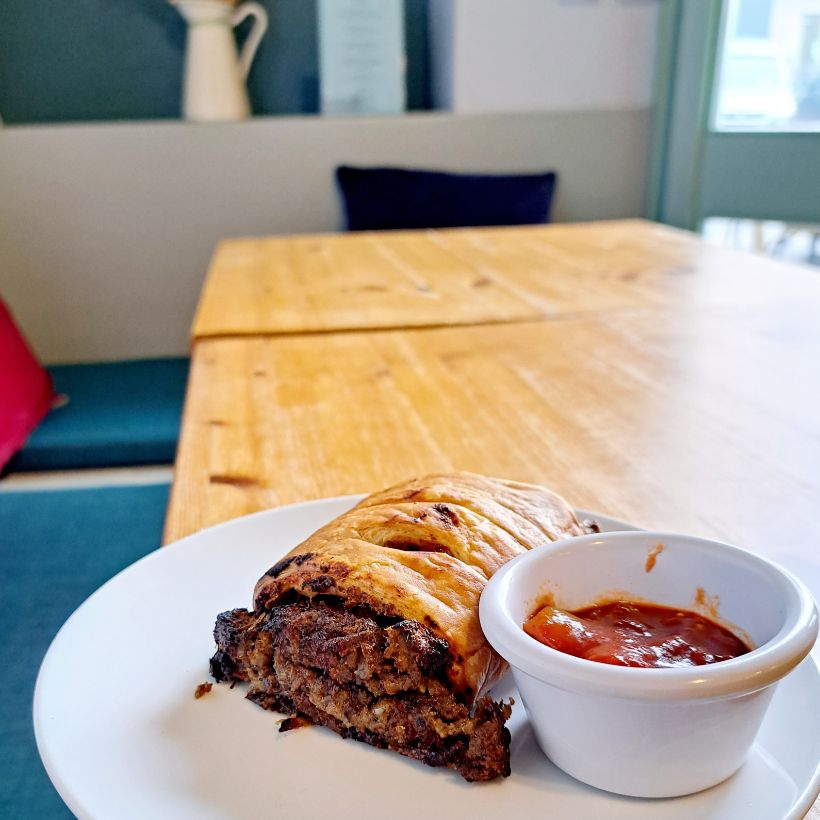 The seaside village of Spiddal may be best known for its beaches and linguistic culture but, if you ask us, sausage rolls are Spiddal's most treasured commodity! Builín Blasta's Vegan Sausage Roll is an utter joy; a meat-less filling that is perfectly seasoned with a fruit hint of curry, wrapped in delicately crispy filo pastry. This masterpiece has definitely taken some inspiration from Indian samosas, and there's nothing wrong with that! They've got classic meaty sausage rolls too which are just as yum. It would border on negligence if we were to talk about the sausie rolls and not acknowledge its equally delicious cousin, the jambon. At Builín Blasta you'll find a jambon like no other; Black Pudding and Blue Cheese! Yes, it is as good as it sounds.
In Memoriam… Gone but not Forgotten
In the time since we first wrote our Galway Sausage Roll Review, the sausage roll landscape has changed and some of our favourite places have sadly disappeared. We felt it only right to honour their memory, as they laid the foundations for the stunning sausage scene we have today.
The beloved Marmalade Bakery on Middle Street used to make a behemoth of a sausage roll that was more akin to a meatloaf - perhaps our friends at Meltd, who now occupy this space, could attempt to bring this fallen hero back to life?
Gerona Deli & Café on Abbeygate was home to a very unique meatball-based sausage roll before it sadly closed down. You can now find Ger behind the counter at The Lane Wine & Cheese on Kirwan's Lane, treating you to some of the finer things in life. Wait, finer than sausage rolls?! Not possible!
Published on Updated on