COMHRÁ is a series of chats with the people of Galway. Our city is full of creatives, makers and storytellers, our aim is to highlight some of those talented people.
From market stalls to Mary Street, Floris Wagemakers has helped shape Galway's street food scene for over fifteen years. Back in 2005, Flo introduced the good people of Galway to the Middle Eastern delicacy, falafel, with his new business venture, The Gourmet Offensive (TGO). Since then, business has flourished from a weekly market favourite to one of the cities best plant-based havens. We caught up with Flo, right there in No.11 Mary St, where the idea began over 4 years ago.
From the tender age of 14, Dutch-born Flo was always involved in the food industry. Growing up, he formed a strong passion for sustainable living, stemming from his parents' orchards and greenhouses. After travelling around Central America in the 90's, Flo decided to take the leap to the Emerald Isle. While working in account management in Shannon, Flo took a spontaneous trip to Galway, where he instantly fell in love with the city and its culture.
"We stayed in a hostel on Dominick Street and that was enough to set my mind... Galway had something other cities didn't have"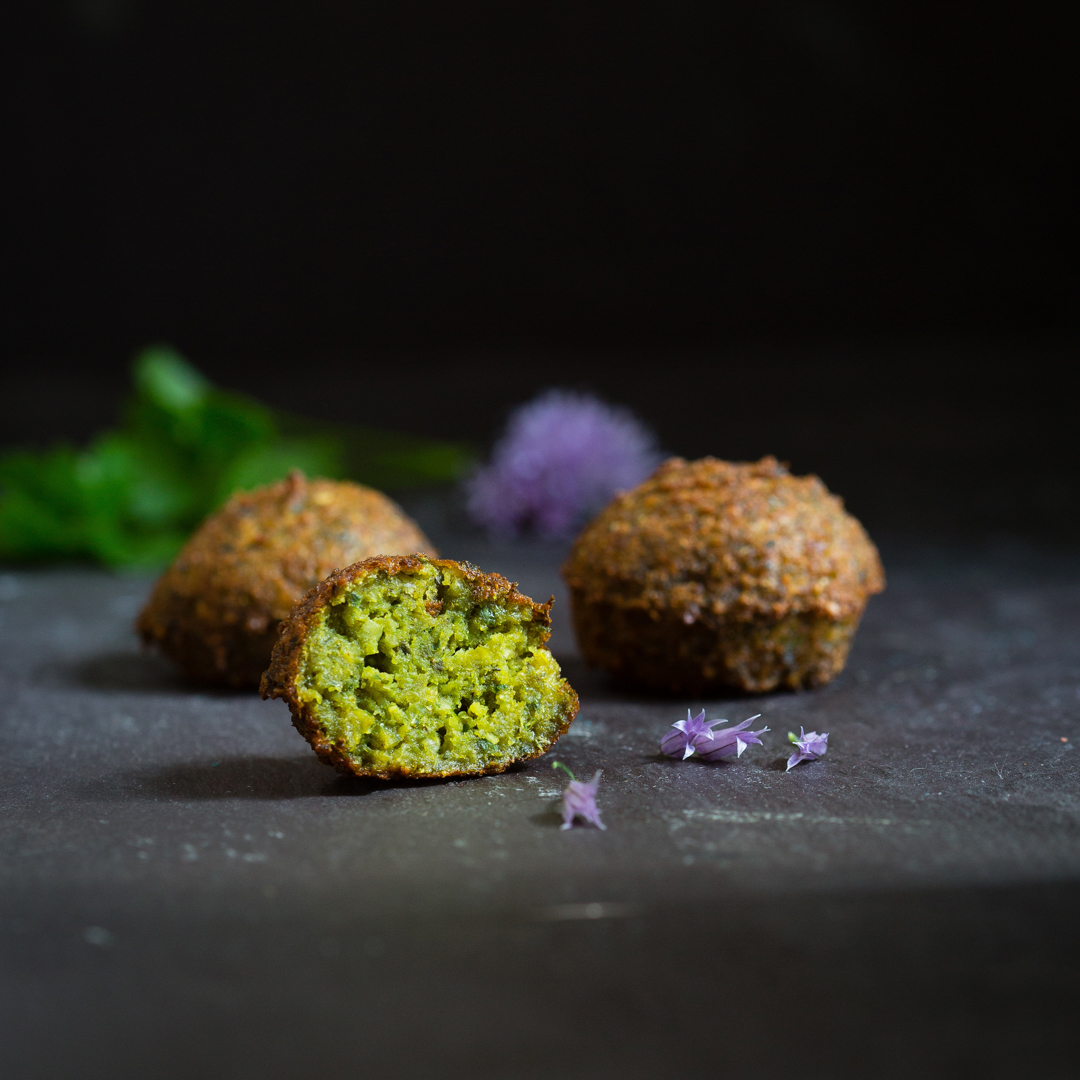 And from that moment, Flo decided to make Galway his new home. Like many, he found something magical in Gaillimh, but couldn't quite grasp it. After three attempts to leave Ireland, Flo gravitated back towards the city of Tribes where he began to work with a new Mexican eatery, La Salsa. Intrigued by the idea of broadening Galway's food scene, Flo sparked an idea and thus, the falafel stall dream was born.
After the birth of his first son, Flo decided to buy himself a market licence and with 500 quid he made his first market stall. Ahead of his time, Flo landed in St Nicholas' Market one Saturday morning with his street food and stall in tow, all new to the Galway Market scene. Although Galway had never seen a falafel stall grace the weekly market before, it wasn't long until TGO became one of the busiest stalls on Market Street. Flo became part of a new community and TGO was quickly ingrained in many market-goers weekend rituals. Hail, rain or snow, TGO's clientele continued to support and encourage Flo and his business.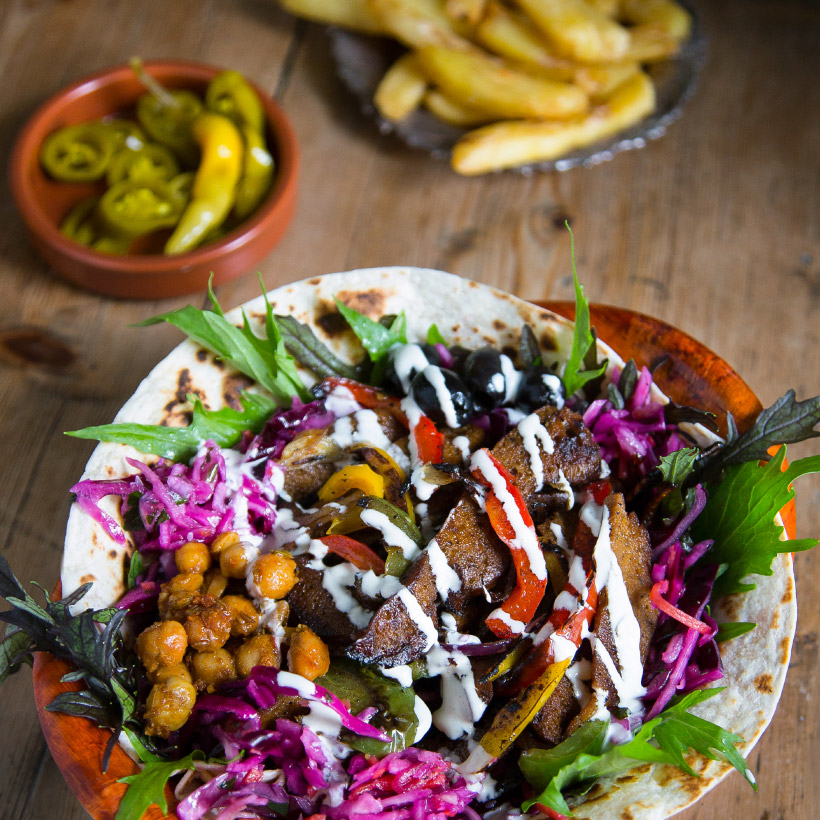 "What's interesting about Galway, you have that direct bond with your customers… they've been amazing like - always supportive, always encouraging, always there every week"
With the support and encouragement from his new tribe, Flo decided it was time to hit the road for some new business opportunities. Festivals and catering events, you name it, TGO were there! But as the recession crept across the country, Flo made the move to rescale and focus solely on his market stall.
With a turn of faith, Flo found the perfect site in Tuam, where he began to build his very own vegetable farm. Growing everything from salads, herbs potatoes and cabbages, Flo began to live and work more efficiently, as he always aspired to. As his family grew, teaching his children how to live self sufficiently was something that Flo was very passionate about.
"I feel like a lot of people have lost touch with how our food is produced… I wanted to teach my kids where food comes from"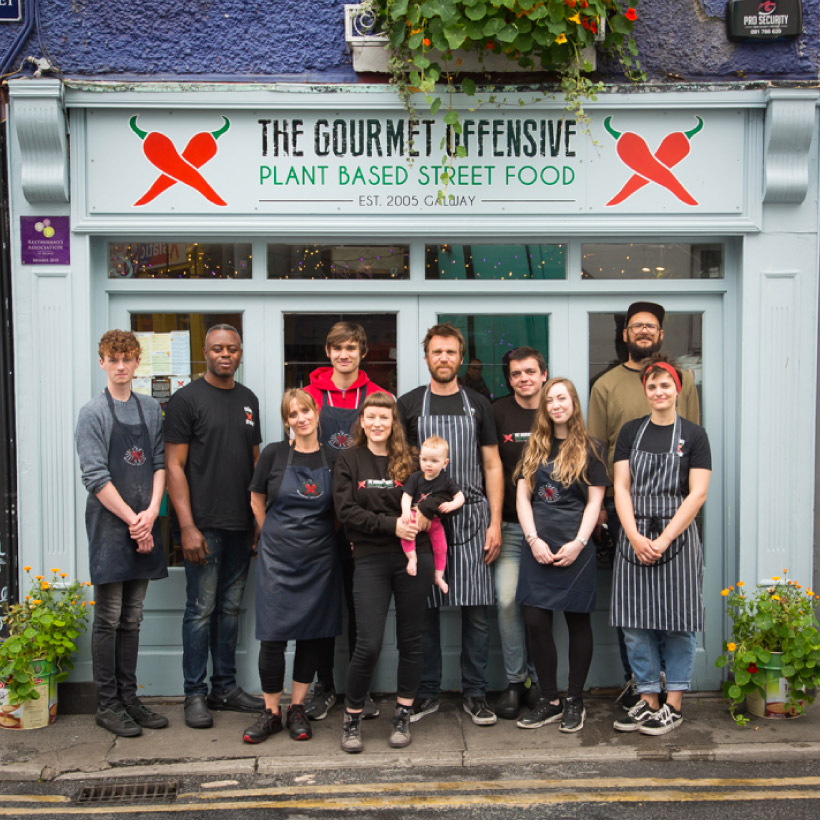 Empowered by his self-sufficient way of living, Flo was approached by his former employers about their premises on Mary Street and six weeks later, Flo was standing in the new home of TGO. With Street Food on the rise in Galway, it was TGO's time to make their market magic a permanent fixture. Like all new businesses, Flo was faced with many hurdles in his first few years.
As Flo broadened the menu from falafel, the business began to take off. Embracing his passion for food, Flo began experimenting with different dishes and developing new vegan takes on well-known meat feasts. With business thriving, Flo had to take a step back from his farm work and began working with four fantastic farms based in Galway.
Four years on the go, Flo (also known as Mr.Falafel) has curated a menu, team and space that resembles his ethos; compassion, community, nutritious and affordability.
With four years behind them on Mary Street, TGO has a lot to celebrate; from countless awards to developing their menu as well as their very own tasty tofu... is there anything TGO can't do? For Flo, the key to living a rich life comes from the simplest things - sustainable eating and sustainable living.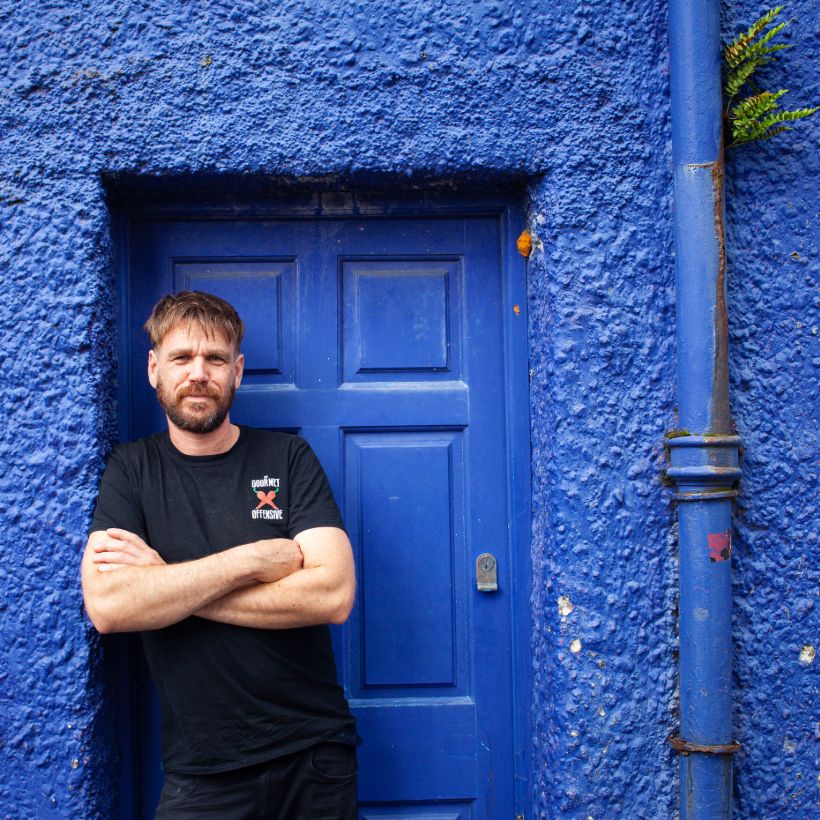 Food Photography - Anita Murphy
Flo portraits - Lisa O'Brien
Words - Lisa O'Brien