The City of Tribes has tons of creative restaurants putting their own spin on one of our favourite meals: Burgers! Some late evening cravings can only be satisfied by a huge burger packed with thick patties and delicious ingredients, be it meat or vegetarian, and luckily for us Galway has some seriously great options to choose from.
Take a look at our guide to some of the best restaurants to check out when you're craving a juicy burger and chips!
Handsome Burger
A juicy thick beef patty tucked in between two fresh brioche buns with crispy onions, Herterich's finest bacon, melted double cheddar and homemade Handsome sauce. The B.O.B from Handsome Burger almost sounds too good to be true. If you want to try something a bit different try their Indian-inspired vegetarian Bad N' Bhaji burger, it's honestly divine, or indulge on the hot n' spicy The Handsome Roost burger which is always a firm favourite! With their incredible selection of delicious burgers, choosing what to order first from their selection of gourmet, locally-sourced, award-winning burgers is no easy task!
49 Dominick Street Lower, Galway // order here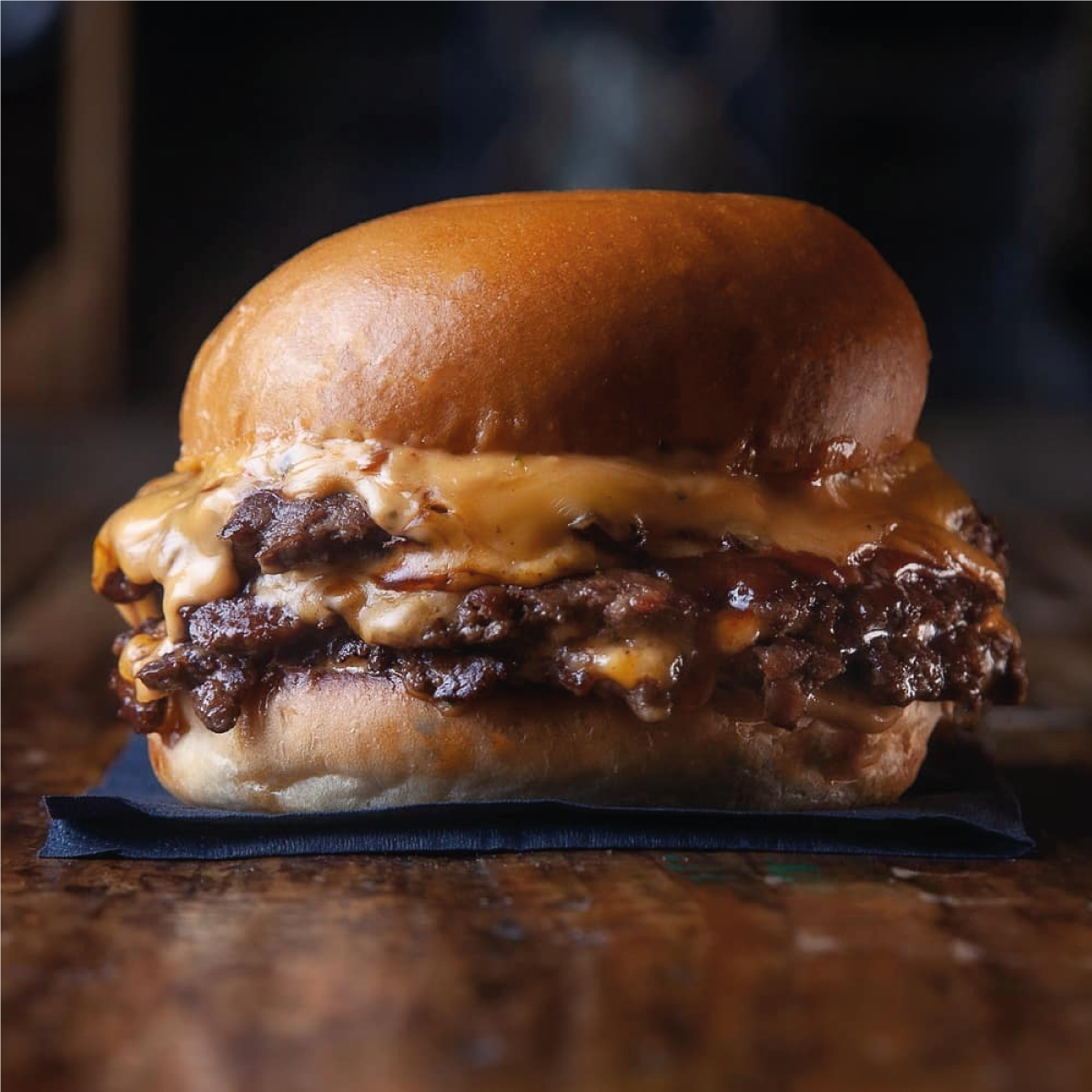 Harry's Bar
Three juicy smashed beef patties oozing with American cheese, Chipotle honey mayo, fresh lettuce and garlic mayo, The Smash Harry burger from Harry's Bar contains a mouth-watering array of goodies that are sure to curb those burger cravings. If that's not quite for you, try The Filthy Animal burger is packed with buttermilk fried chicken, crispy bacon, fresh stuffing and relish, all dripping in garlic mayo and Harry's gravy.  Whatever you decide to order, you can be certain that any grub from Harry's Bar is always a good time.
77 Bohermore, Galway // order here
BóTOWN
When it comes to bótiful burgers BóTOWN serve some of the best in town... sure, it's even in their names. We absolutely adore The Boss burger and the Smoky Bó will always close to our heart. It's not all things bó here however as they also offer chicken burger and veggie burgers or the No Bó's as they are also known. All their burgers are served with a side of fries which can be upgraded to include some pretty mouthwatering toppings and if you want to add another layer of deliciousness to your meal, the BóTOWN sides are divine.
57 Dominick Street Lower // order here
Capone's Diner
Smokey streaky bacon, caramelized onion, melted pepper jack cheese, juicy tomatoes and a succulent beef patty. All snugly packed between two light buns that drip with BBQ sauce. Capone's Diner's Smokey BBQ Burger is an ideal addition to your evening out. Capones offer their homemade top quality foods at the best possible prices, all there burgers are under €8! Pair your meal with their scrumptious curry and cheese chips and a pint and you're in complete foodie bliss.
1 Kingston Rd, Knocknacarra, Galway // order here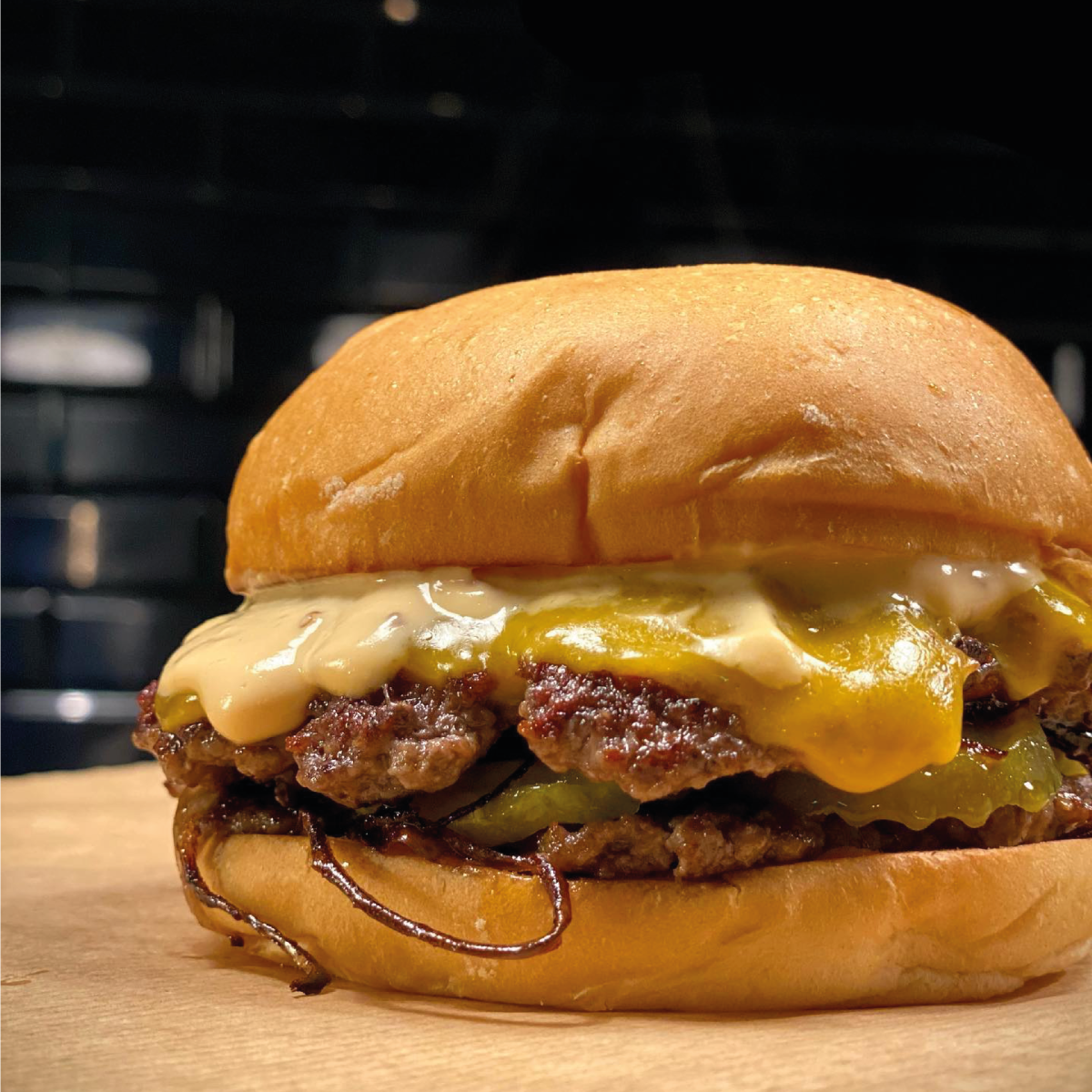 McGettigan's
When you're on a night out and drinking the night away you are really going to want to tuck into one of McGettigan's signature burgers. With chuck and brisket beef and Galway Hooker battered onion rings, this is a classic Galway night out feed like no other! For all you vegans out there, their premium beetroot vegan burger is the stuff of dreams, we can't recommend it enough so be sure to try it for yourself the next time you're passing by their Eyre Square spot.
Eyre Square, Galway // order here
The Cellar
With something for everyone, The Cellar's menu features some seriously good pub grub. The array of burgers on the burger bar menu are sure to quench all your burger cravings. From the 8oz prime Irish beef burger to the southern style fried chicken burger, these burgers are crammed with deliciousness. For a late lunch get together or an after work feed, these classic burger options will never disappoint!
12 Eglinton St, Galway // order here 

Chef Laura Rosso
For a delicious burger with a Brazilian twist, Chef Laura Rosso is the place to be. Her special plant based burgers are by far some of the best in Galway. Using fresh locally produced ingredients in all her dishes, you can taste the quality goodness in every bite. The menu also includes traditional beef burgers and chicken & goats cheese burgers if you'd prefer something a bit meaty. Accompany your meal with some finger food to share and you'll find yourself coming back again and again.
Coast Rd (at GCI building), Salthill, Galway // order here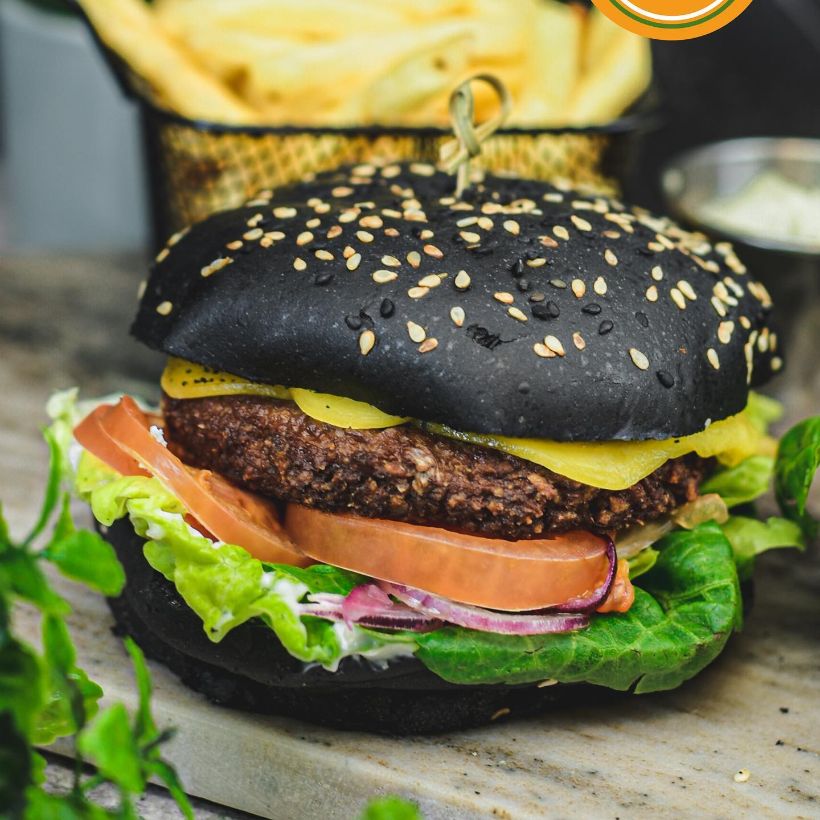 The Skeff
For those looking for great burgers, made fresh to order and at exceptionally good value The Skeff was made for you! Using the best in local produce to make all your favourites, the team at The Skeff know how to serve up heavenly foods in a bun. And if you're looking for a meat-free option, try their delicious vegetarian burger. A soya pattie covered in melted Dubliner cheese, crispy fried onion, fresh tomato and relish. It's all really too good to miss out on!
27 Eyre Square, Galway // order here  
Hush? Burger
Handmade by expert chefs, Hush? Burger's mouthwatering smashed burgers are a treat for your taste buds! These burgers are served on light potato buns with melted American cheese, homemade pickles, crispy onions and their specialty Hush? sauce and paired with their hand cut Hush? Get yourself some beer cheese fries as a side and it is a match made in heaven. Each smashed burger is made up of gorgeous taste, texture and juiciness! The second you finish your first burger you'll already be planning your next order.
Galway city // order here
Sophie's Rooftop Restaurant  at The Dean
The team at Sophie's Restaurant & Terrace know how to serve up some serious grub that are bound to satisfy all your burger cravings. If you have a serious love for cheese be sure to give their American bacon and cheese burger a go! They also have the panko fried chicken burger available which includes crispy bacon, avocado, tomato and onion marmalade. Whatever you choose to order, dining out on their rooftop terrace with delicious food and a few cocktails is one of the best ways to spend an evening in Galway.
The Dean, 78 Prospect Hill, Bohermore  // order here 
Porterhouse
The cozy Oranmore bar Porterhouse is a great spot to while away the day with some gorgeous grub, delicious drinks and plenty of craic. Porterhouse steak burger, buttermilk fried chicken burger and the vegetarian halloumi burger make up the burger offerings at Porterhouse. Each one is as good as they last so choosing what to order is no simple task. They've got regular live music and their bar offers a tasty range of handcrafted cocktails as well as wine and plenty of beer on tap, it's really no wonder that Porterhouse has become such a popular venue for parties amongst friends. So, if you're looking to catch up with some old friends and make some new ones, book yourself into Porterhouse, where a good night out is guaranteed.
Main St, Oranmore // order here 
Scotty's Famous Burgers & Wings
Serving over 58 burger combinations, Scotty's has possibly the best and most expansive menu around. From spicy Mexican-style burgers to barbecue chicken and pretty much anything else you could imagine! Try their Spanish Arch Burger with Galway Hooker BBQ sauce to enjoy a classic taste of Galway. Scotty's also have a very tempting selection of crispy fried chicken wings, and BBQ slow-roasted pork ribs, so if you're looking to burst some buttons, this is the place.
Cúirt na Coiribe, Headford Rd, Galway // order here 
Feature image by Julia Dunin courtesy of Handsome Burger
Published on Updated on