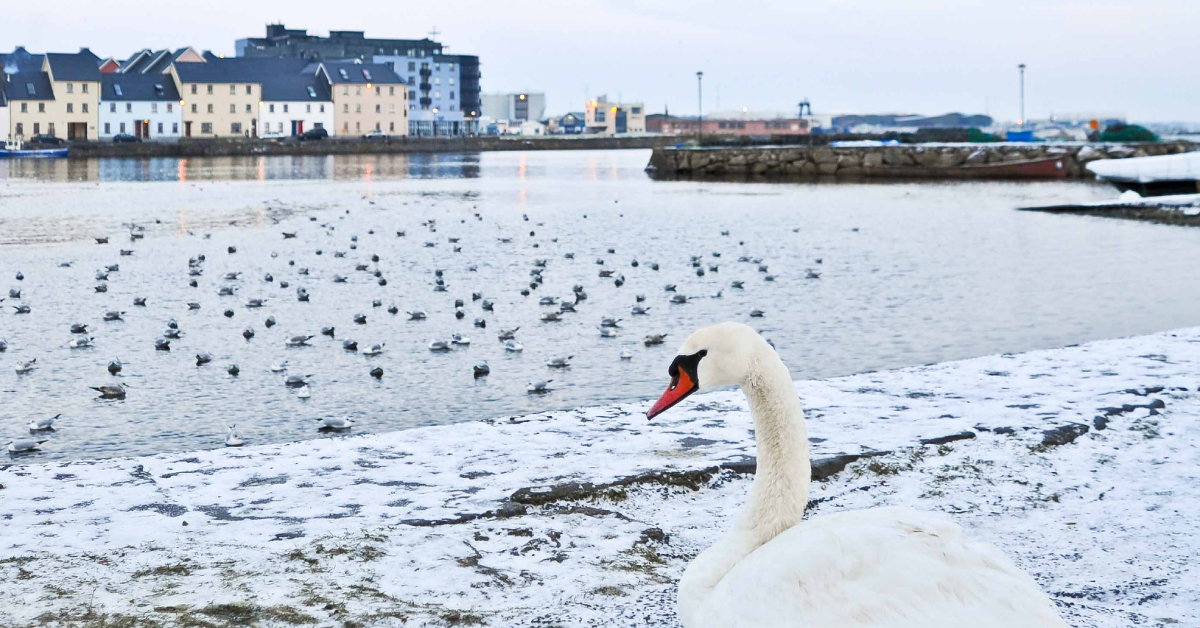 WINTER IN GALWAY
It's fair to say that Galway is a picturesque city all year round, but during the Winter period it's like something straight out of a fairytale. Twinkling lights and festive cheer aplenty, the whole place seems to reverberate with the energy supplied by visitors and locals alike.
If you've been planning a trip to the City of Tribes, it's definitely best enjoyed while it's adorned in all its Christmas glory. Eat, drink and be merry no matter what the budget with this helpful little guide to winter in Gaillimh…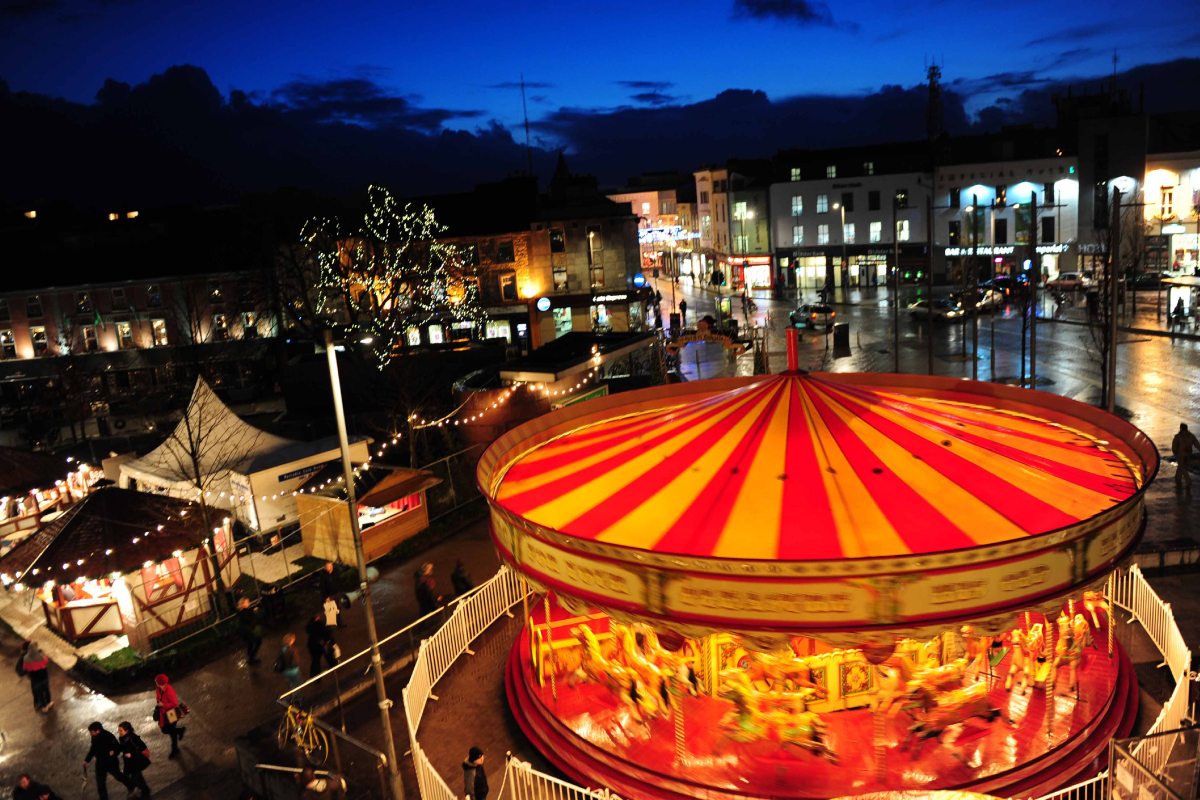 DISCOVER SOME FESTIVE FAVOURITES
Once you arrive in the city, the festive feel will smack you right in the face and it won't be long until you're unintentionally humming Jingle Bells into the small hours. Whether you're travelling solo, with a special someone or you've got the whole family in tow, the Christmas offerings can be enjoyed by one and all. The legendary Galway Christmas Market in Eyre Square should be your top priority. A stein at the Bier Keller, a browse through the continental stalls or a tasty hot chocolate – you'll definitely be aglow with the spirit of Christmas. Speaking of markets, Galway's famous market by St Nicholas' Church will be running their Traditional Christmas Market from December 14-24, where you'll find homemade foodstuffs, a lovely atmosphere and stalls clad in festive lights.
If wandering through market stalls isn't for you, there's plenty of other avenues to get some festive cheer. Lace up your ice skates and glide to the ever-enchanting Galway Skates ice rink from November 16 – January 5. Located in the main hall at Leisureland overlooking Galway Bay, it's something the whole family will enjoy.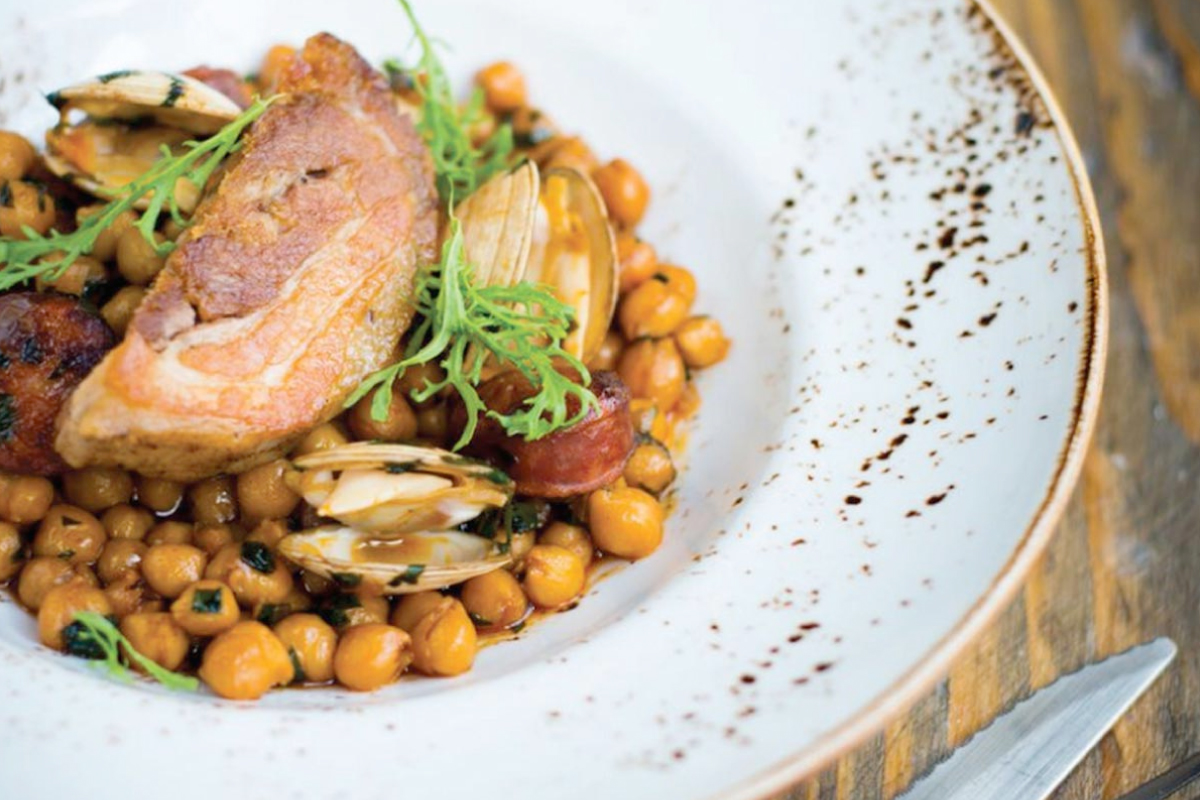 WARM YOUR BELLIES
If you haven't already snacked yourself into oblivion at the markets, Galway is absolutely flushed with culinary delights to keep the wolf from the door. Whether it's a hearty feast for a few bob or a more fancy affair, there's something to suit every budget. For lunch, swing by McCambridge's of Galway where you'll find an array of delicious dishes and great hot drinks to keep you warm. If it's coffee and a slice of cake you're after, it's gotta be Kai. A stalwart of Galway's Westend, a cosy corner in Kai is the height of relaxation.
For a hearty Irish meal to feed the soul, a seat beside the roaring fire in Murty Rabbitt's is a must. From Murty's famous steak sandwich to a good old traditional stew, they've even got a Winter Warmers drinks menu for the festive season. For those amongst us who can't resist a bitta pizza, Dough Bro's is where it's at. Enjoy some of the best pizza in the city with one of their very own brews, you won't regret it.
For some fancy fair, there's no place like Loam. Choose from their small a la carte menu or a 7 or 9 course tasting menu to experience seasonal, local produce prepared in a traditional, sustainable manner. While Galway have an array of sensational Irish cuisine offerings, you'll find food from just about everywhere in the world right here in the West. For tapas, it's gotta be Cava Bodega; one of the most authentic Spanish dining experiences in Ireland, based on sharing and gastronomic interaction. If you've got a hankering for Italian excellence, Il Vicolo is top class. It goes without saying that a meal in any one of these places is best enjoyed with a glass of wine in hand!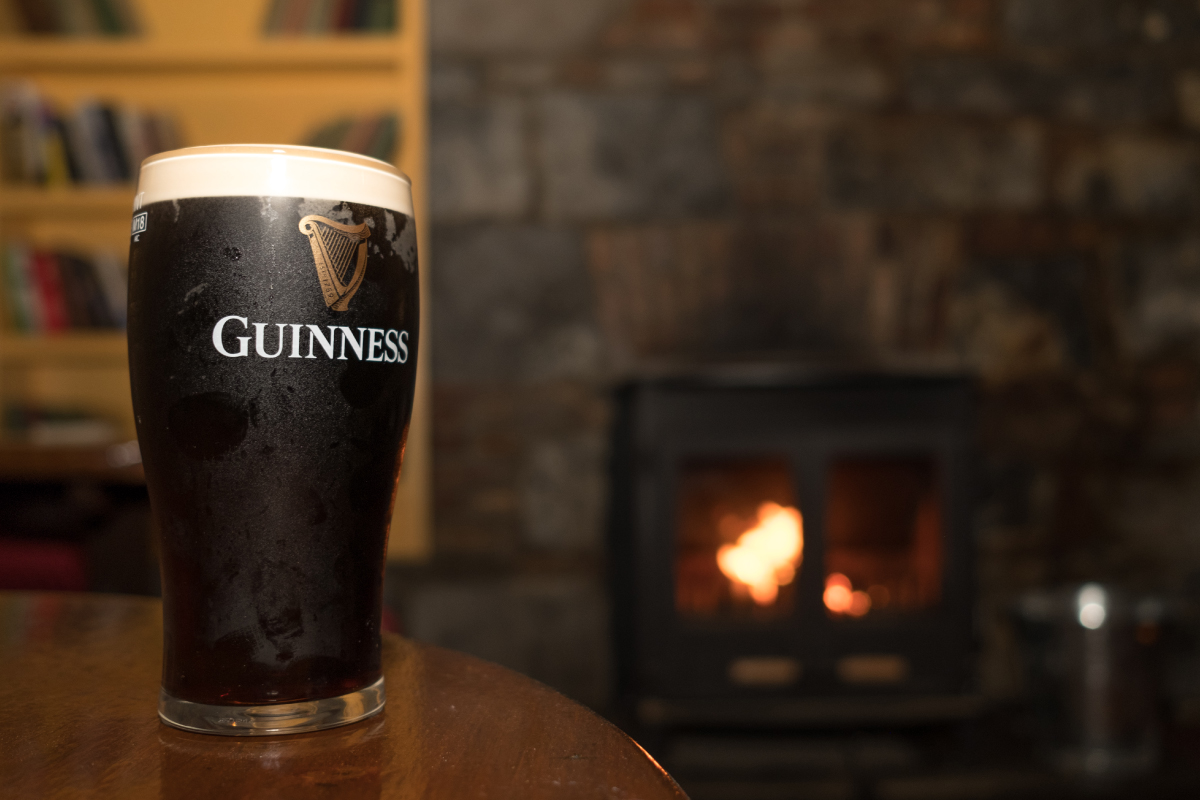 PINTS APLENTY
In Galway, drinking pints is an occupation we hold very dear and, thankfully, we're blessed with a number of fine establishments from which to procure said pints. Salthill's famous O'Connors Bar and the Westend's legendary Blue Note are both steeped in tradition and revered by those who frequent them. While Irish music seems to echo from each and every watering hole, Taaffes Bar and Tig Cóilí are our favourites for some trad tunes.
This festive period, the Westend has its own personal winter wonderland in the form of Massimo, where you'll find craft workshops and plenty of table quizzes to keep you entertained. If you can nab yourself a seat by the fire in Tigh Neachtain's, be warned: you may very well never want to leave. However, a trip to Galway would be incomplete without a visit to the Róisín Dubh, where you'll find performances from some of the city's best musical talent as well as some international stars. Naturally, any good night out in Galway is rounded off with a dance (or a cheeky shift) in Electric, where the tunes are always thumping.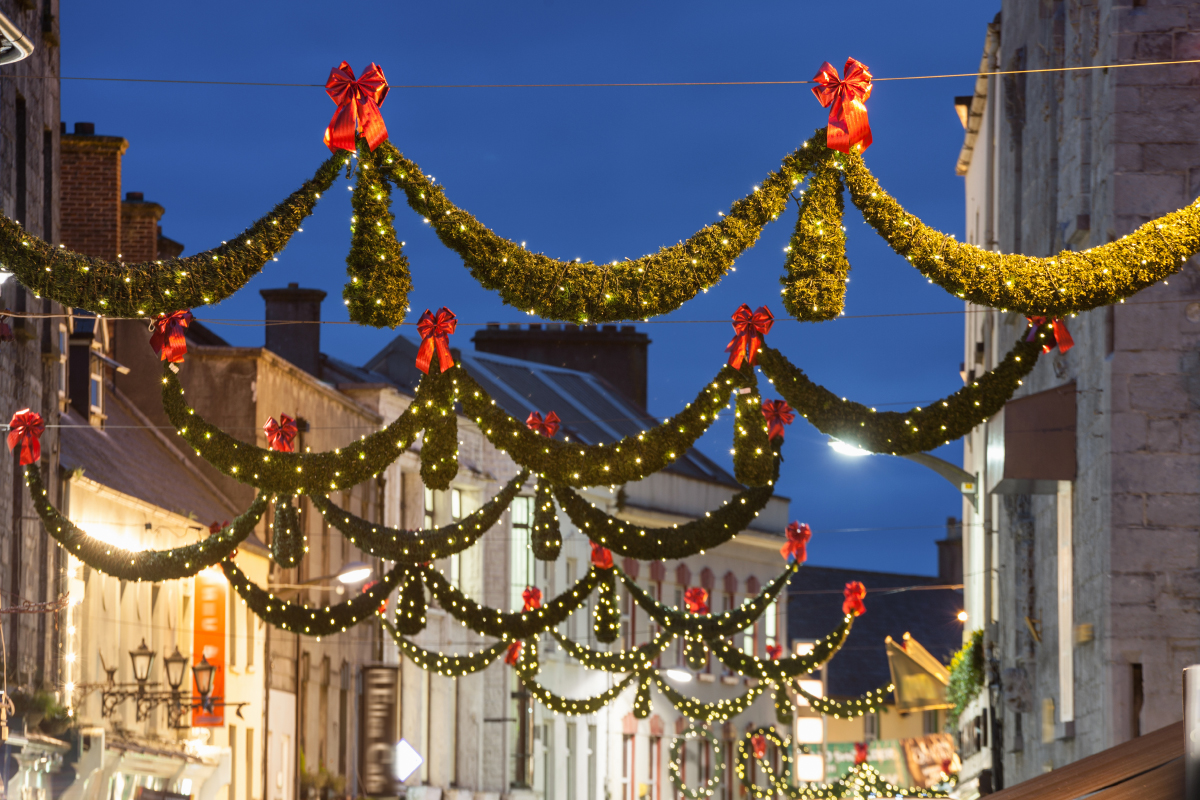 SKIP AROUND THE CITY'S SIGNATURE SHOPS
While a visit to Galway will remain in your memory for years to come, there's no harm in picking up a little memento or souvenir to remind you of us here in the West. Since it's blooming freezing in Galway during the Winter months, you're going to want to pick up an authentic Aran knit from Aran Sweater Market to keep you nice and cosy. Keeping up with the times, Story Tailors have all the local, organic and sustainable clothing pieces you could ever want.
Moving away from fashion and towards keepsakes, 2 Wild Geese is an emporium of Irish design, giving local designers and craftspeople a well-deserved platform to showcase their work. From ceramics and jewellery to sculptures and books, there's plenty to browse through. Living up to its name, Treasure Chest quite literally have it all. Fashion, jewellery, giftware and plenty of festive bits and pieces – it's all under one roof at 31 William Street.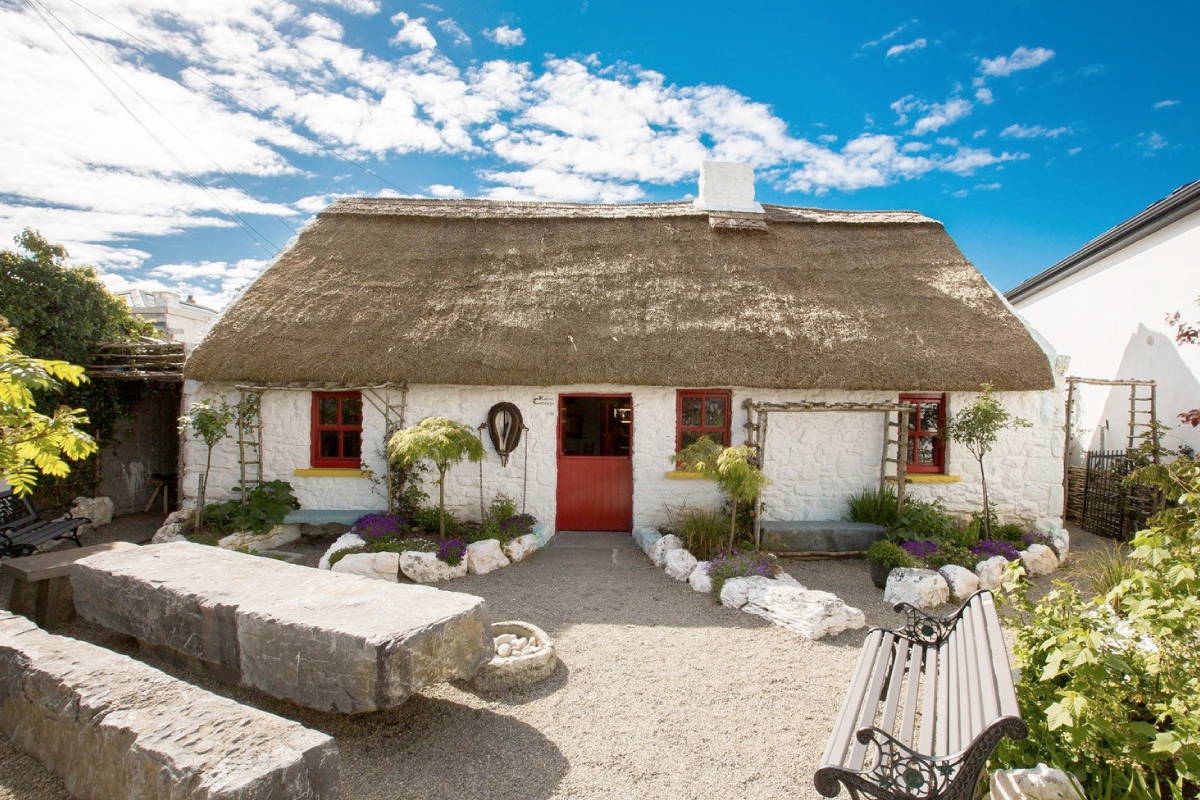 EXPERIENCE THE CULTURE ALONGSIDE THE CRAIC
Since Galway is proudly bearing the title of European Capital of Culture 2020, there's certainly no shortage of locations to soak up the city's heritage, culture and all-important craic. Naturally, Galway City Museum is a great starting point. Engage with the city, past and present, as you interact with exhibitions representing Galway's rich archaeology, heritage and history. If you're on the hunt for award-winning theatre, Druid has been delighting audiences from far and wide since 1975.
It would be impossible to speak about culture without mentioning The Black Gate Cultural Centre, a venue which prides itself on being home to the arts in Galway. Welcoming new artists and musicians each week, they're also a home for book readings, gallery-style displays from local artists, and film screenings. It's a great spot for some wine and cheese – if you're lookin'! Take a trip back in time at Katie's Claddagh Cottage, one of Galway's most popular event venues and heritage centres. Discover some of Ireland's best contemporary and vintage home accessories and unique Irish gifts within the walls of this beautifully restored thatched cottage.
Galway is unique in the sense that as you wander through the city's streets, you're simultaneously soaking up our culture with every step. Enjoying the tunes of the many buskers, exchanging smiles with a passerby and wrapping yourself up that little bit tighter, it's all part and parcel of Galway's rich culture.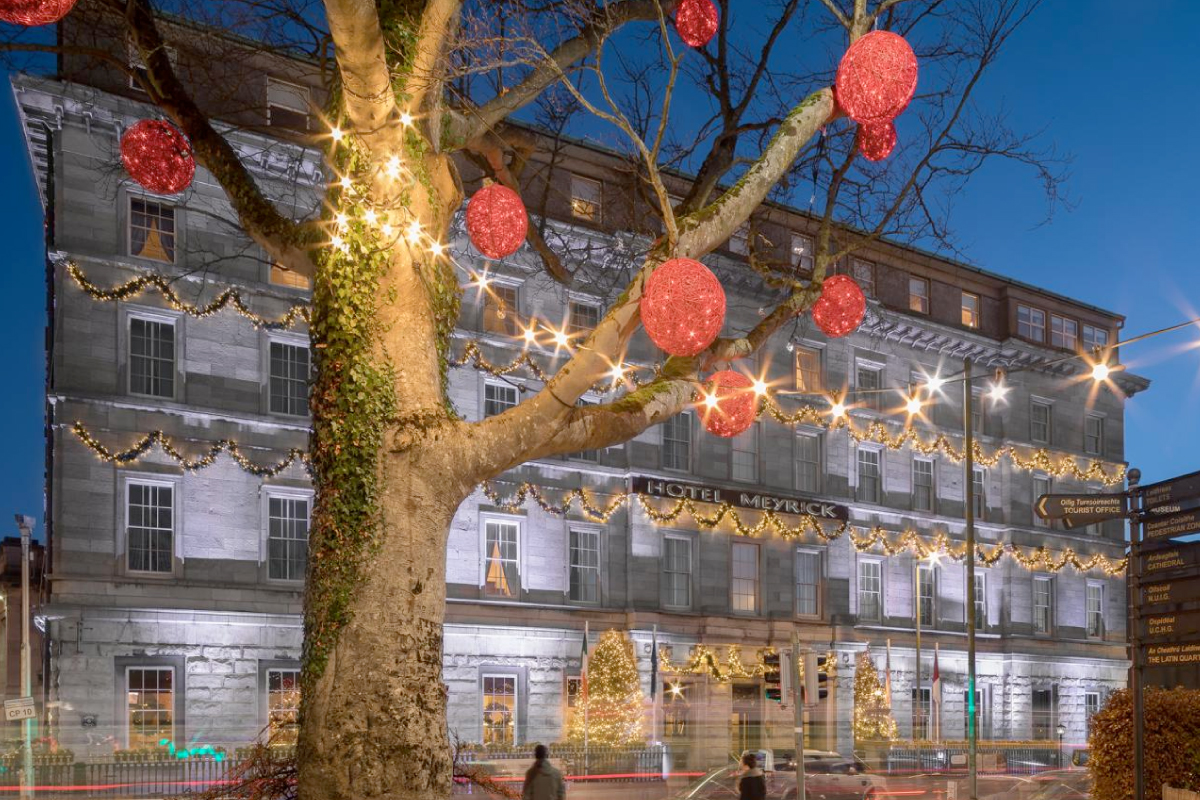 REST YOUR HEAD
After all that gallivanting, you'll be just about ready to collapse. Thankfully, Galway's got accommodation offerings that will have you feeling right at home as soon as you step foot inside the door. Salthill is home to The NEST Boutique Hostel, where you can choose from a range of private rooms, en suite or dorm rooms to share with fellow travellers alongside chill out spaces, a fully equipped guest kitchen, laundry facilities, free car parking and a complimentary brekkie all while fitting any budget. Moving closer to the city centre, the four star House Hotel is located just a stone's throw from the buzzing Quay Street, boasting one of Galway's premiere cocktail bars and an extremely trendy lounge.
If you want to escape from the chaos of the city, Slieve Aughty Centre in Loughrea offer a fabulous overnight experience. Whether you choose from the Eco Lodge, camping or glamping facilities, you're sure to enjoy maximum comfort. Moving from the outskirts to the very epicentre of it all, The Hardiman Hotel is right in the middle of the madness. Facing onto Eyre Square, which will be a sea of festive delights, all the action of the city is on your doorstep. This four star hotel is the height of elegance, combining Victorian grace with that good old Irish hospitality – you'll feel just like royalty.