They're salty, spicy and a little bit crispy... Spice Bags have become a Galway phenomenon - and with good reason! They are full of flavour, filling and just overall delicious, but where can you find the best Spice Bags in Galway?
Here are just some of our favourite places to get your hands on this Asian-inspired delicacy...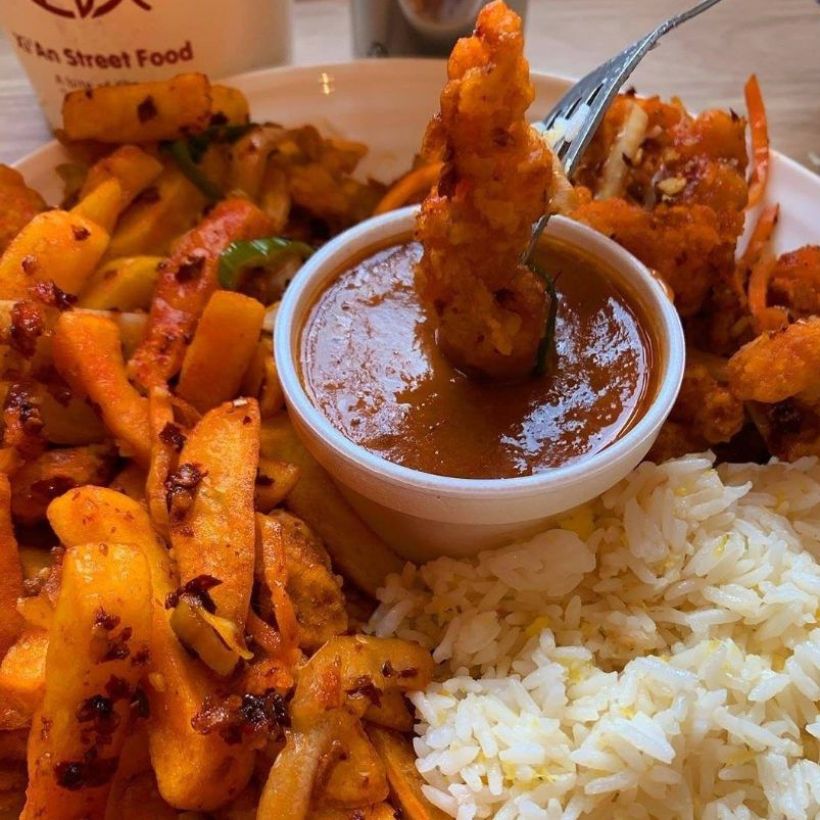 Xian Street Food
We have no choice but to start out with Galway's most famous spice bag! Located on Quay Street and with more locations in Tuam and Claregalway, Xian Street Food has been providing Galway with tasty, flavorful food for the best part of a decade. Deliveroo recently revealed that their Spice Bag is the most ordered Chinese dish in the entire country, and better yet it's only €8.50. Made with 38 spices from China, there is just so much flavour packed inside these bags so if you haven't tried one yet, you simply have to!
Multiple Locations // more here
Roost
Quickly becoming Galway's chicken connoisseurs, we almost cried tears of joy when the team at Roost announced they would start putting their chicken know-how to good use with the Roost Spice Bag. Consisting of free-range, deep-fried buttermilk chicken with their own blend of spices, hand-cut fries, stir-fried veg and some pickles thrown in for an extra pop of flavour, this is a thing of beauty. The fun starts when you add one of their 12 signature sauces for dunking, dipping or pouring over. We highly recommend the hot sauce... sure it's meant to be spicy after all!
Food Truck in Bohermore // more here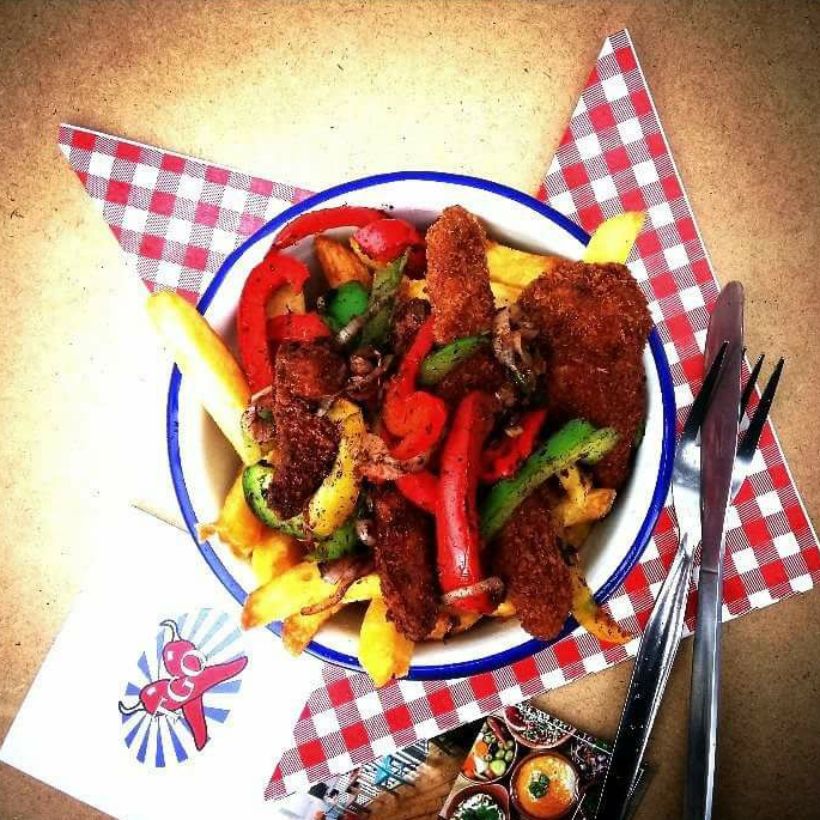 The Gourmet Offensive
A renowned spot for the vegan community, TGO's spice bag is not to be overlooked. A massive portion loaded with plenty of fresh veg and chili, it's super delicious and filling. The meat substitute, seitan, has the perfect balance of crispy and chewy, not to mention the salt and chili flavours that take it all to the next level - it's unreal!
Galway City Market // more here
Lana Asian Street Food
Following on from the success of their Salthill restaurant with the recent opening of a Galway City Centre location, Lana always serves up super fresh and tasty Asian cuisine - and their spice bag is no exception! With the perfect ratio of veg and chicken to fries, and a heap of flavour, it will not disappoint your spice bag dreams. They also offer a veggie option that switches out the chicken for crispy, deep-fried tofu which is just so satisfying. The cherry on top is adding their unreal satay sauce into the mix, it's absolutely class.

Salthill & Mary St // more here
Londis Newcastle Foodhall
For you spice bag mega fans out there, you have to try the imaginative and incredibly interesting Spice Bag Roll from Londis Foodhall in Newcastle. A white roll loaded up with Chinese chicken, chips, spice bag seasoning, curry sauce and cheese, this monster of a roll is an absolute cure. It's a must try for any spice bag enthusiasts or deli-food lovers who want to try something different.
Newcastle Road // more here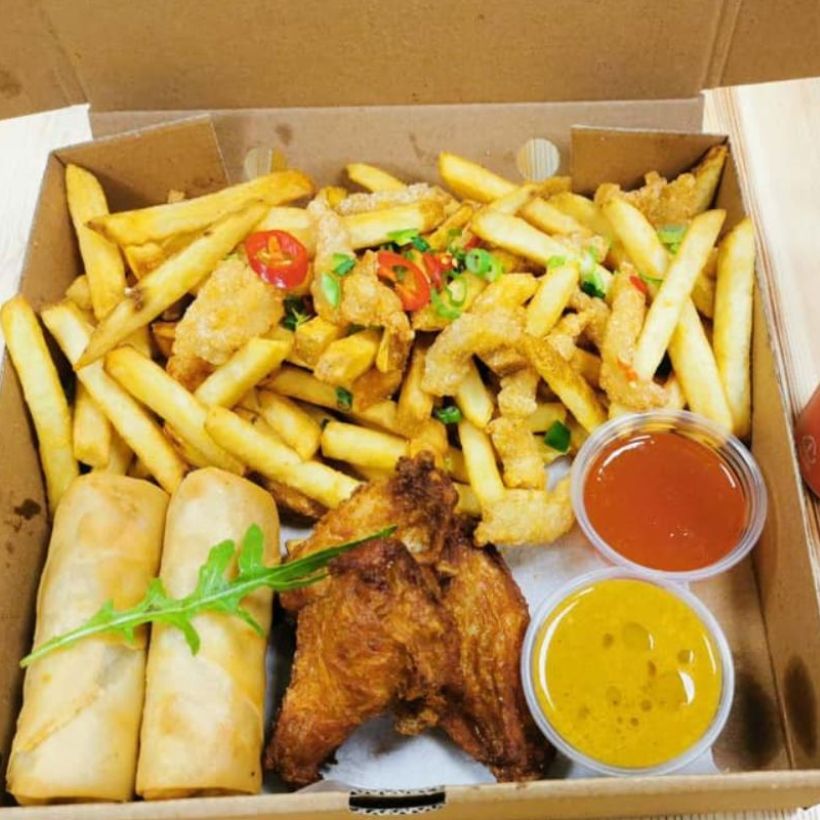 The Captain's Cabin
Galway wouldn't be Galway without seafood and this particular spice bag celebrates that tradition! Hidden away in Shantalla, their fish spice bag is the perfect dish for seafood lovers who like a bit of fire in their meal. With all the goodness of a regular bag o' spice, the battered fish pieces add a fresh and tasty twist. If you want a cosy night in, get it delivered straight to your door on all your favourite food delivery sites.
Old Sheamus Quirke Rd // more here
Samyo Asian Food
Salthill's newest Asian restaurant, Samyo should definitely be on your spice bag bucket list. With crispy fries and chicken, alongside delicious sweet and salty flavours, it's to die for! Pair it with curry sauce or satay sauce or take it to the next level. When you order their spice box you can make it mega or medium size, both are a delicious feast.
Salthill // more here
Random Fact: The Irish for Spice Bag is mála spíosrach and, since this Asian-inspired dish is incredibly popular in Ireland, maybe we should all start using the Gaeilge?
Published on Updated on