Survivalist thriller, Jericho Ridge, has the potential to be one of the stand-out films at this year's Galway Film Fleadh and it has a strong Galway and Irish connection also with producer Mark O'Sullivan's father and grandfather originally from Distillery Road in Newcastle while he himself hails from Buncranna in Inishowen in Donegal! Find out more about this film ahead of its premiere in Pálás Cinema at 10.30pm on Friday...
Jericho Ridge is an action-packed thriller, set in a remote mountain town in North Washington state which has been ravaged by unemployment and drug addiction. The survival thriller follows a small-town Deputy Sheriff Tabitha 'Tabby' Temple played by Nikki Amuka-Bird (The Outfit, Old, Luther) who is called back from injury leave to cover the dispatch radio for the night. Alone in the station, Tabby witnesses a deadly gunfight break out between The Sheriff, the Chief Deputy and attackers via the police dash cams. A suspicious locksmith appears at the front door and is not who he says he is. Tabby's nightmare begins as the Sheriff's Office is besieged by murderous attackers. Tabby repels the initial attacks, locks the doors and calls for backup... but the closest State Police units are thirty minutes away. Things become more complicated when her teenage son, Monty shows up to finish an argument which leaves Tabby to defend herself and her son. Isolated and outgunned, mother and son will have to do whatever it takes to survive. Monty is played by Eastenders star Zack Morris who played Keegan Butcher-Baker in the hit soap opera which is widely watched in Ireland. This is Zack Morris's first entry to movie acting following his term with the long-running BBC drama.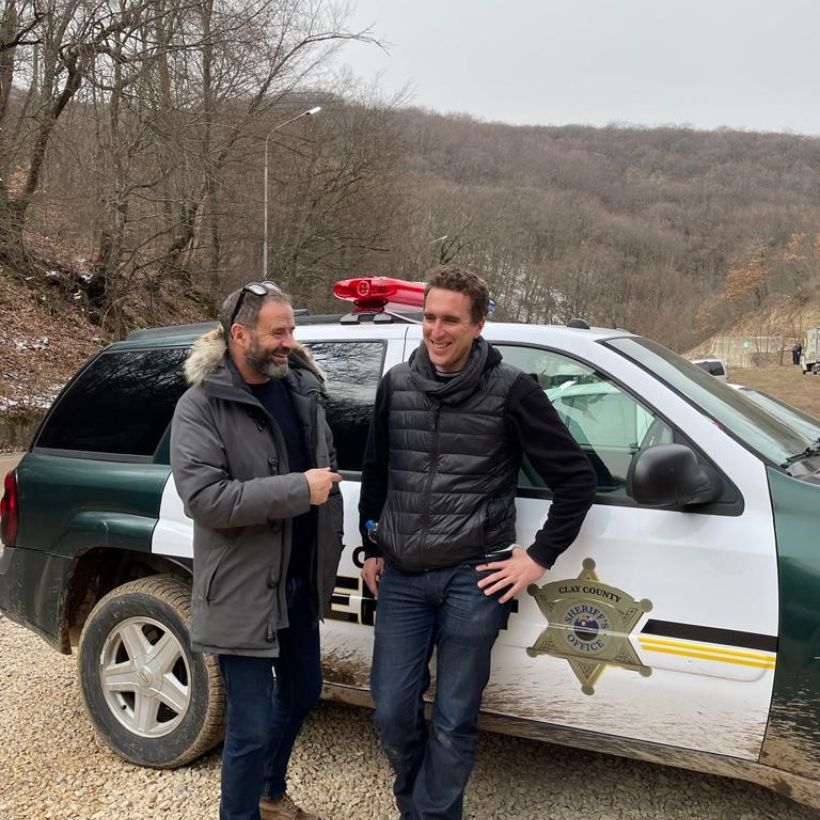 While set in North Washington State in North America, Jericho Ridge is uniquely filmed in Prishtina in Kosovo and also stars Michael Socha (The Gallows Pole, This is England, Chernobyl), Chris Reilly (Wrath of Man, Devils) Philipp Christopher (Origin, the Liberator) along with rising star Solly McLeod (Boxing Day, Boy in the Corner) and singer-songwriter Capital T.
Produced by London-based DLNQNT's Alex Tate (Hope Gap, Blood Orange, Skin Walker) and Harvey Ascott (Shok, Field of Blackbirds, Absent) Jericho Ridge is co-produced and financed by Silver Lining Productions and DLNQNT. Executive Producer, Mark O'Sullivan (God's Spy, Dead of Winter and Mystics) of In Plain Sight Group has strong Irish connections, hailing from Buncranna in Inishowen in Donegal and also has Galway connections. Besnik Krapi (Looking for Venera, Field of Blackbirds) acted as Kosovan co-producer.
Another Irish connection to Jericho Ridge is award-winning Director of Photography Ruairí O'Brien, from Dublin. A member of the Irish Society of Cinematographers, O'Brien is best known for his work on high-end television dramas such as Vigil, The Fall, and Line of Duty, to name a few.

Lead actor, Nikki Amuka-Bird commented to the Hollywood Reporter; "I loved this character from the moment I read the script. Tabby is a powerful and uncompromisingly honest woman – above all she is a mother willing to do whatever it takes to protect her son. It's an honour to play this challenging, complex lead role alongside such a talented team."
"Jericho Ridge is a claustrophobic, action-packed thriller with a strong, three-dimensional female protagonist. Thematically it's a highly emotional story about parenthood, trust, isolation and our inability to communicate with the people we love the most. I've always loved contained thrillers," says Will Gilbey, Writer and Director of Jericho Ridge. "It's brilliant to premiere at the 35th Galway Film Fleadh and for Jericho Ridge to be part of such a diverse and brilliant film programme amongst 6 European Premiers, 21 World Premiers, and 60 Irish Premieres!"
In Galway for the premier will be Writer and Director Will Gilbey along with Producers Alex Tate, Harvey Ascott and Mark O'Sullivan and Director of Photography Ruairi O'Brien ISC BSC. They will be joined by Zack Morris making his film acting debut following his success in Eastenders along with actors, Aidan Kelly, Zachary Hart, Solly McLeod, and Christopher Reilly.
The Jericho Ridge premier at the 35th Galway Film Fleadh at Pálás Cinema will be followed by an audience-led Q&A session which will feature all of the above.
Check out www.galwayfilmfleadh.com and www.palas.ie for more information and details on Jericho Ridge.
Published on Updated on