Galway Based Visual Artist, Shane O'Malley, has launched a new website and online store which brings Galway's leading graffiti and street art into your home!
Born in Navan in 1985, Shane has been based in Galway City for almost ten years! His work explores colour and forms through painting. It is the meeting point of studio practice and mural art painted in public spaces. His work is displayed around many areas in Galway, most notably in Galway's West End (around the corner from Taylor's Bar and Róisín Dubh) and a breath-taking ground mural near South Park beach in the Claddagh.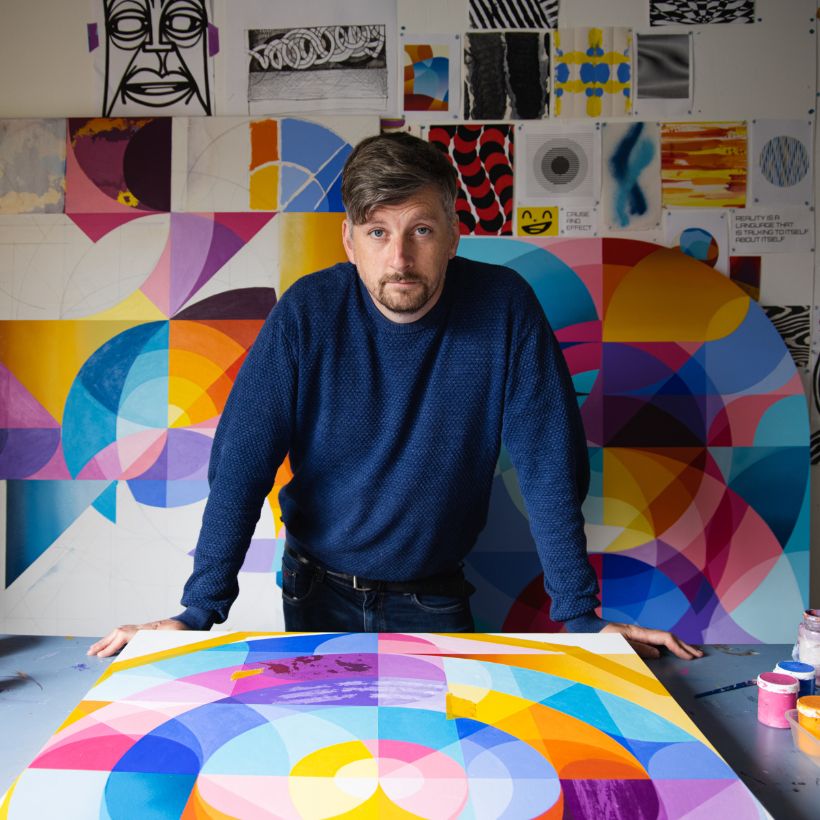 Shane's online store went live last month, featuring murals, original paintings on paper and prints, which will be added to the store on an ongoing basis. Shane's paintings are experiments with colour and explore different forms that include geometry, silhouettes, graphic masks, and faces arranged in a way that form a Kaleidoscope of colour and shape.
The website will also showcase some of Shane's larger public works and commissions such as a painting he created for No. 12 Dawson Street in Dublin. The painting was developed into a building wrap that will be displayed on the front of the building during the construction phase

Shane's strong use of colour stems from his origins in graffiti culture. Shane began painting graffiti in 2001, drawn to the act of "tagging" or writing his name. Shane's artwork has explored personal themes that developed into bodies of work; "Madness vs Reality" in 2014, "Duality" in 2017 and "Order and Chaos" in 2018. Through his work, Shane seeks out the tension found in contrasting colours, the order found in complementary colours and harmonious tints.
Shane is drawn to both the meditative slow process of painting with a brush in the studio and the more instinctual, fast action of spray painting and making art in public spaces. Shane has painted graffiti and murals around Ireland and Europe. His artwork is now held in private collections in Ireland, the UK, Norway and the US.
Be sure to check out Shane's new online store at www.shaneomalleyart.com
Published on Updated on