Cruising around Galway's most Instagrammable worthy spots just got so much better thanks to Brite's hot new ebikes.
A holiday in Galway deserves its place in the spotlight on your Instagram page and with the help of Brite Mobility's class leading ebikes, you can get around to capture all the beauty that Galway has to offer that bit easier! Find a nearby bike by heading to the maps screen on the Brite app, typically located near Spanish Arch, Salthill, Knocknacarra, Galway's Westend and all over the city and its surrounds. These ebikes are the ideal way to get around the City of Tribes, no traffic, the boost of an electric motor, full insurance cover and a quick sign-up and ID verification process. Ready to go? Scan the QR code on the bike to start and get going!
Check out our recommended cycling routes on Brite's ebikes to get the prettiest Instagram photos below. It's a two hour, 16km trip which we've done ourselves and it's totally worth it!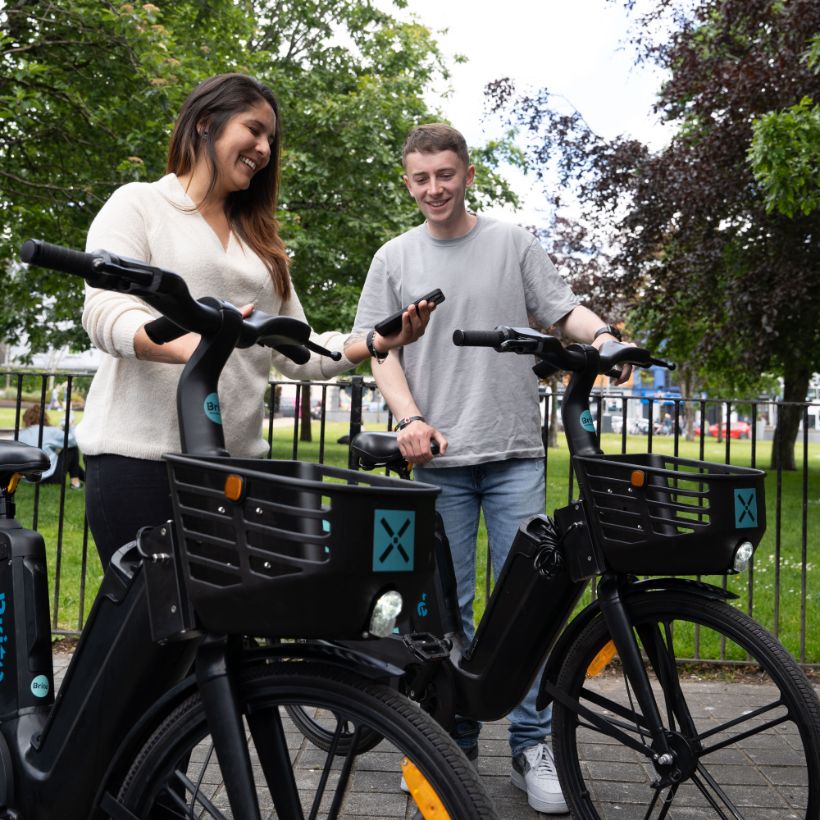 The Brite City to Beach Western Way
Starting off at the famous Galway landmark that is Eyre Square, there are loads of photo opportunities straight from the off! From the beautiful floral gardens to the historic statutes, one of which is a bust of US President JFK which was erected in 1965 to commemorate his speech made at that spot on 23rd June 1963 to a crowd of tens of thousands of Galwegians. We love this famous quote from his speech on that day; "I must say that though other days may not be so bright, as we look toward the future, that the brightest days will continue to be those we spent with you here in Ireland!"
We leave our beautiful historical starting point and make the short spin to the Galway Docks where you can check out the latest luxury yachts from Dock Road and check the amazing ships that are in visiting our state-of-the-art sea port. While here, pop into Rúibín for some seasonal Irish food and coffee with a great view over the harbour.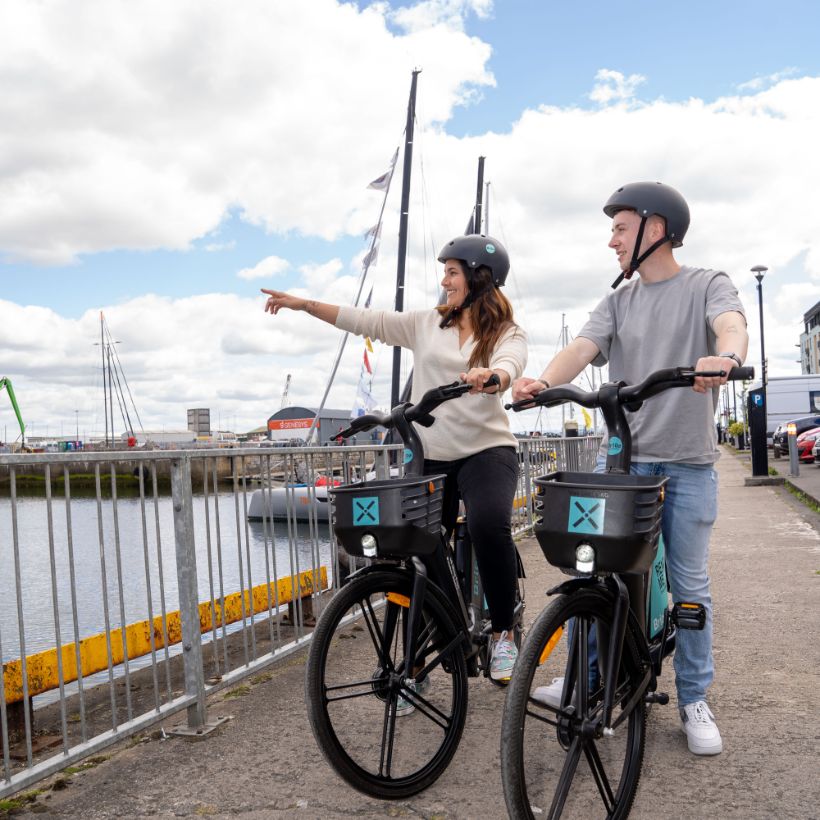 When your coffee is finished and all your photos are taken, hop back on your Brite ebike and off you go for the next leg of your journey up to Salthill and the much-loved Blackrock Diving Tower. To get here, you'll cycle down along Spanish Arch and, if you're lucky, you might catch a glimpse of the traditional, hand-built Galway Hooker sailing boats gliding through Galway Bay. Onwards then, passed the colloquially named "Middle Arch", over the picturesque lock gate bridge and onto Nimmo's Pier, where you'll be greeted with picture-perfect views of Galway's famous coloured houses on The Long Walk. The trail follows the coast then, out along the bike lane at South Park. From here you can admire expansive views of Galway Bay and the Clare Hills.
Cruising up through the bustling Salthill village and along The Prom, you will soon arrive at what is now seen as one of Galway's most 'Instagrammable' locations - Blackrock Diving Tower. Originating as a local bathing spot in 1885, it's now a fun place for you brave sea swimmers to dive into Galway Bay all year round. Bring your togs, because there is no feeling as exhilarating as jumping off the top and into the Wild Atlantic below! Grab a healthy granola bowl and a warming cuppa from famous foodie spot Álainn then sit back and watch the crowds come and go.

After your energising swim, your next stop is the ancient forest of Barna Woods. We cannot over state the importance of Barna Woods as one of the main attractions in Galway City. These woods are of hugely significant ecological value to the city, covering over 21 hectares as well as containing over 100 different species of plant. Within these woods you'll also find important archaeological sites such as Tobhair Eanna (pronounced "Tubar AY NA"), a well that was meant to have been the resting place of Catholic Saint Enda of the Aran Islands in the 5th Century before he settled on the islands. This site can be found on your way to your next stop: the stunning Silver Strand.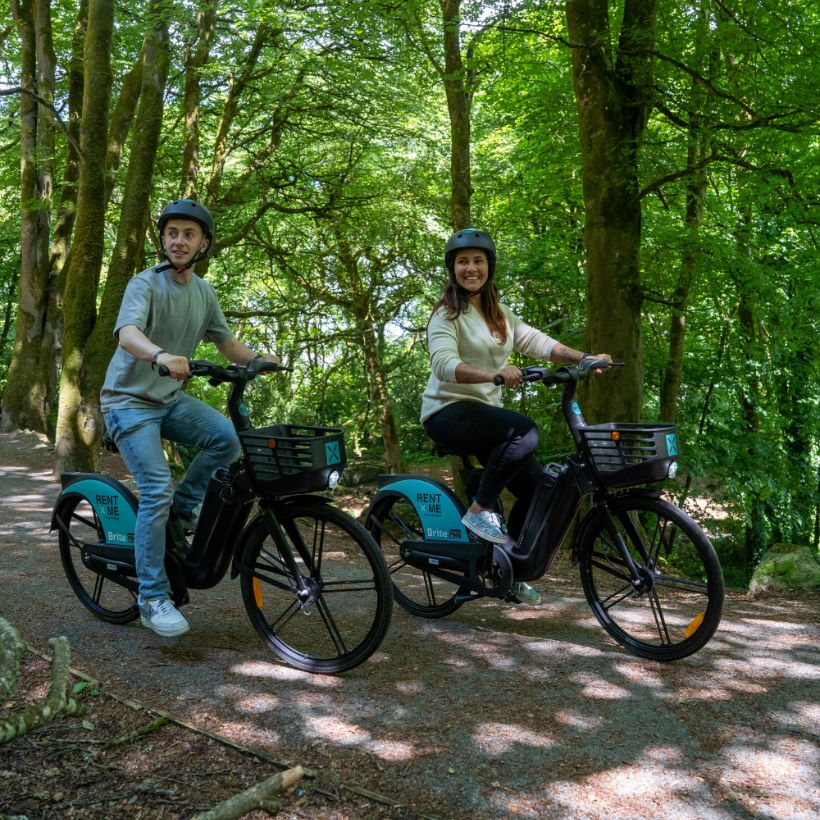 Down the hill from Barna Woods, passed long grass and stone walls, lies the splendour of Silver Strand. This amazing beach has been used recently by Instagram's favourite Irish dancing group, Cáirde, as the backdrop to one of their videos. It has a safe, shallow and sandy beach with dramatic cliffs on the side. It faces directly into Galway Bay giving spectacular panoramic views. This Caribbean-like beach has held a National Blue Flag since 2006, with crystal clear water all year round. Put your Brite ebike on pause here to avail of a cheaper rental rate when not moving, then go for a stroll, a swim or build a giant sandcastle!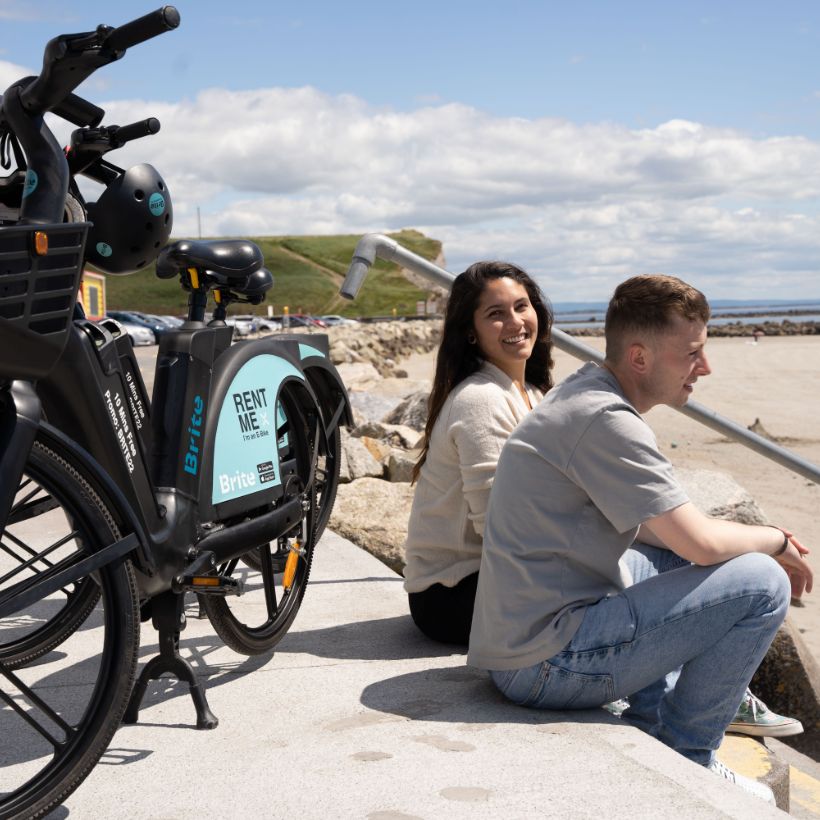 Jump back on your bikes and leave them at any of the parking zones available in the Brite app! Your trip is priced 20c per minute, with a €1 fee to unlock the bike. A two hour spin should cover you for time spent taking pics and taking a break. If you want to stop for a walk at each spot, allow 2.5 hours for the trip. This would be around about €30 per bike.
All you have to do now is open the app (download it for Apple or Android), search for the nearest Brite ebike and then off you go! Get outdoors and see stunning Galway sights with the help of Brite... and don't forget to tag them in your beautiful photos!
Published on Updated on