DJ Danny Moodymanc may reside in Manchester but he very much belongs to Galway's Westend. Now he's throwing back to those epic nights with a playlist of banging tunes..
Adopted by husband & wife team, Malachy Duggan & Jimmy Mac in 2017, Moodymanc's incredible DJ sets in The Blue Note have become the stuff of legend. Now he has shared, with This is Galway, a Cookin' Playlist that will quickly become the soundtrack to your extended time in the kitchen! So read on to see what Danny has to say, have a dance and get cookin' up something good...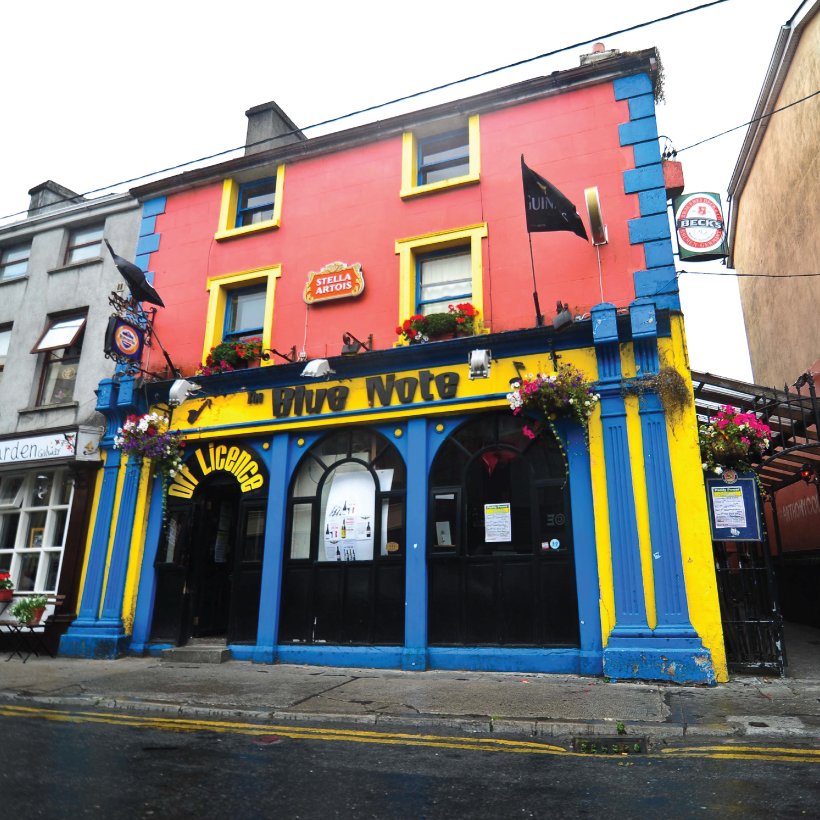 Most of my favourite records are in reach of the cooker, and whenever we hang out at ours it's usually foodcentric and around the table. So here's a few tunes that you might hear around at ours next time you drop in for food! They're all from brilliant albums too so I'd urge you to check the full releases, and the artists on them if they tickle your fancy!
....in no particular order...
Uptown Sop - The Gene Harris Trio & Stanley Turrentine
Recorded live in New York in front of an ecstatic audience, it doesn't swing harder than this! Ridiculous vibe, and amazing groove! Sheer joy! I'm grinning from ear to ear as I type!
Agoniza Mas Nao Morre - Beth Carvalho
Known as the godmother of samba in Brazil, Beth unfortunately died earlier this year. This is the closing track of her 1978 De Pé No Chão album. We made a pilgrimage to Rio when I went to Brazil to gig a few years ago and this album really captures the vibe of some of the tiny shop front clubs we went to in Lapa
Inner City Blues - The Monty Alexander Trio
I have this on a 70s album as 'Blue Alexander' but he must've been nabbed by the publishers to give Marvin due credit for the re-release. This has such a great groove and vibe, I think I love it everybit as much as the original. Super BAD! I can't stop noddin'!
On the Red Clay - Mark Murphy
Beyond hip. I recently re-discovered this record and it's on heavy rotation again! It's his interpretation of Freddie Hubbard's 'Red Clay' to which he wrote lyrics and sings with such amazing energy and beautiful tone. He did this with quite a few groovier jazz "standards". Check him out. This, again, has such a fantastic groove and vibe!

Ain't No Sunshine - Sivuca
If you aren't swaying your hips after 4 bars and whooping with sheer joy when the piano solo hits then you better call the paramedics out because you might just be dead! This was such a massive club tune in Manchester when I first started going to clubs and brings back so many memories which also leads me to.....
Stormy - Duke Pearson
...another jazz dance biggie featuring the sublime vocals of Flora Purim. A personal hero with whom I was lucky enough to write and record a track for my first album as Dubble D. Whilst we're on the plug it's being re-worked by my old friend and musical partner Ashley Beedle who, end of lockdown permitting, I'll be spending the August bank holiday DJing alongside in The Blue Note!
My Kinda Girl - Frank Sinatra and Count Basie
This is from the album Sinatra and Swingin' Brass and holds memories of waking up on a Sunday morning as a kid to the smell of breakfast cooking. The Basie band are on fire with a brilliant arrangement and inimitable swing. I love the way the drums, then the horns punctuate and answer the lyrics. Perfection. Massive grins groove!
Rum and Coconut Water - Hubert Porter and The Jamaican Calypsonians
Ok, time for a drink! Again, such a great vibe. This is one that would have the old pork pie hat Jamaicans dancing and laughing in the local here, in the pre-gentrification days. It's a standard which I get to play now and again when I sit in on drums with some of the Calypso guys here.
La Guerra De Los Callados - Joe Arroya
Hardcore Colombian salsa! Such a voice and what a groove. Joe often sings on Cumbia tracks but this is a rare straight salsa track. The piano montuno is SO infectious! Juli Sanza, who I played with in 2020 Soundsystem, used to bring me piles of Salsa records back from Colombia when he was staying with us in between our tours. This is one of the most prized...
Smile - Nat King Cole
All the more poignant at a time like this, absolutely beautiful. Nat King Cole singing Charlie Chaplin's 'Smile' (I think I prefer his songwriting to his films tbh - is that allowed?). Anyway, take it as a love letter to you and I look forward to seeing you all in sunnier times x Craic ON!
Published on Updated on