You may not believe us, but we are here to prove to you that with just a bit of searching you will discover plenty of fantastic clothing stores right here in Galway. We here at This is Galway want to help you embrace a style that works best for you and thanks to the help and guidance of these fashion experts, we can finally do just that.

While this article focuses on permanent clothes stores we know too well about the fabulous pop-up markets and small designers who can be found at the marketplaces around Galway. We have given them their own article and space for promotion so tap here to read all about them. 
The Sustainable Studio // Dominick St Lower // shop here
A new store bringing you the best pre-owned authentic designer and luxury handbags and accessories. Featuring bespoke designer jewellery, and Louis Vuitton, YSL, Gucci and Chanel bags, you really never know what unique finds you will make when you pay them a visit.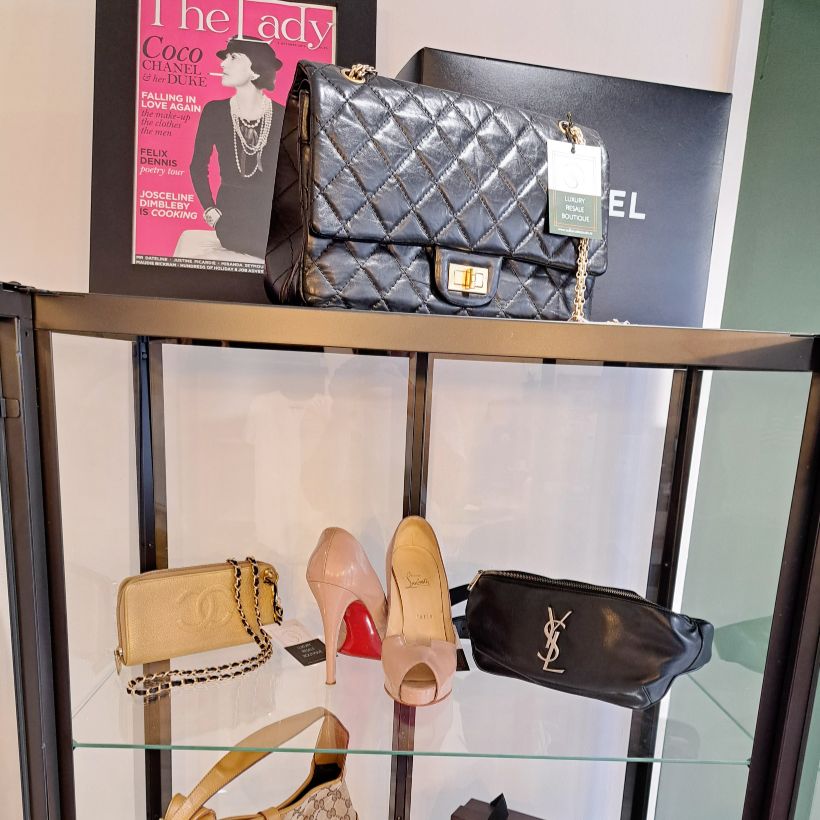 above: photo of The Sustainable Studio, photo by Ado Lyons
Public Romance // 52 Abbeygate St Upper // shop here 
We are sure this spot needs no introductions. Fashion-forward and sustainable, here you'll find a blend of new, vintage and reworked pieces. They stock all types and sizes of clothing, hats, jewellery, and socks. Getting in some retail therapy here is always a good experience.
Sweaty Betty // 2-3 Middle St // shop here
There's no reason why you can't look good while working out especially when you have the help of Galway's newest sportwear store. They have everything your workout fit needs including sports' bras, leggings, tops and jumpers and hoodies.
Aplomb // 23 William St West // shop here
Offering both sustainable fashion from brands across Europe, and styles from closer to home such as Galway's own Grey & Ginger. Thanks to them building your wardrobe of stunning, high-quality staples has never been easier and we can guarantee you'll love every piece.
No. 8 // The Cornstore, 8a, Cross St // shop here
This is a trendy boutique which stocks a diverse mix of timeless wardrobe staples. From designer goods to items from smaller labels, preloved is the name of the game and this boutique has been doing it longer than anyone else in Galway.
Kilkenny Design // 6-7 High St // shop here
Accessories, mens, womens, kids, - all are accounted for at this famous Irish shopping and retail store. For over 60 years they have made it their mission to support Irish designers and be a platform that showcases the best of Irish fashion wear.
Irish Socksciety // Online & In-stores around Ireland // shop here
Leave behind your days of black and white socks, because with the help of these sustainable sock enthusiasts your colourless outfit days are over. Showing off the best of Irish-humour and beloved references in all their sock designs, whoever said that socks had to be boring?!
Louis Copeland & Sons // Lismoyle House, Merchants Rd // shop here
Synonymous with fine tailoring and high-end men styles, this should be your go to for men's fashion offering everything from knitwear to jerseys and suits. Their made to measure services will also ensure that you enjoy the comfort of a perfect fit every time you visit them.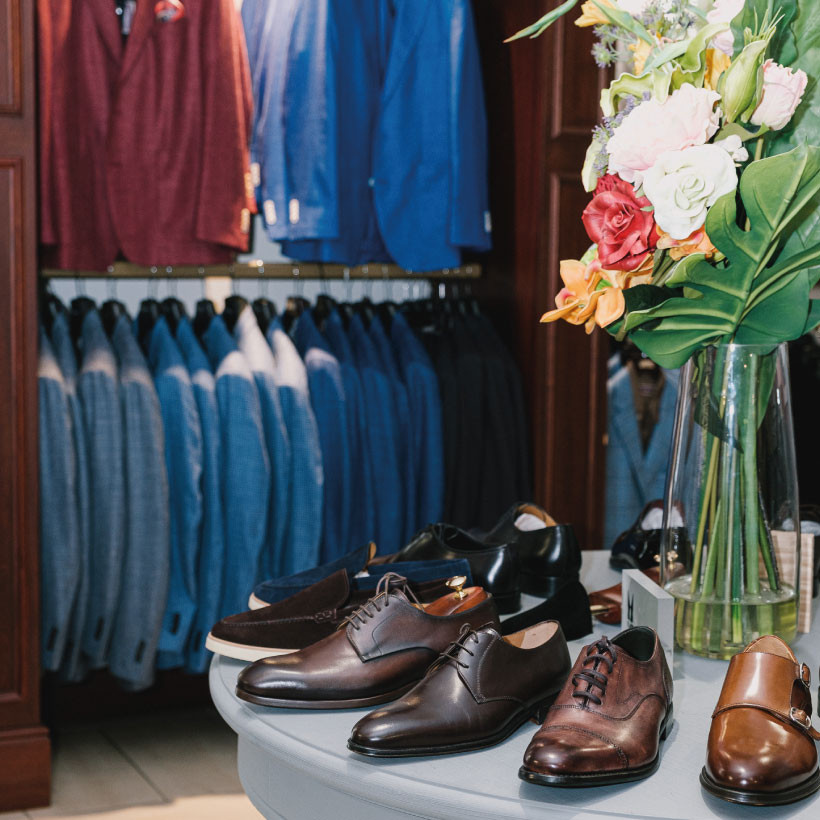 above: photo of Louis Copeland and Sons, photo by Ciarán MacChoncarraige
Brown Thomas // 18-21 Eglinton Buildings // shop here
The epitome of luxury, its home to the world's most desirable Irish and international brands so when you want to treat yourself to a timeless piece of clothing that you can wear again and again this is where you should be visiting.
Mega Catchy // Unit 9, Level 1, Corbett Court Shopping Centre // shop here 
This incredibly cute and fashionable accessory store stocks unique items you won't find anywhere else. Pretty handbags and purses adorned with caricatures, fascinators, jewellery and headwear, if you want some eye-catching accessories they have exactly what you need.
Evita Studio // Clifden // shop here
A women-led independent fashion studio which showcases the gorgeous designs of three women designers - Süel Knitwear, EYCIIR, & AudryAnne. Here you will find colourful knitwear, designer dresses, and jewellery pieces with sophisticated craftsmanship and more.
Design House Barna // Barna Village // shop here
Passionate about fashion, comfort and great service, this design house has led the way for womenswear for over 15 years. Each season they welcome in new styles and fabrics to flatter all shapes and sizes, helping you always be the best dressed no matter the occasion.
Harper // 17 Mainguard St // shop here
With the aim to provide all the very best labels to their shoppers, this retail space has something to suit everyone regardless of occasion or season. They even offer a personal shopping experience if you feel as though you would like some extra guidance and advice.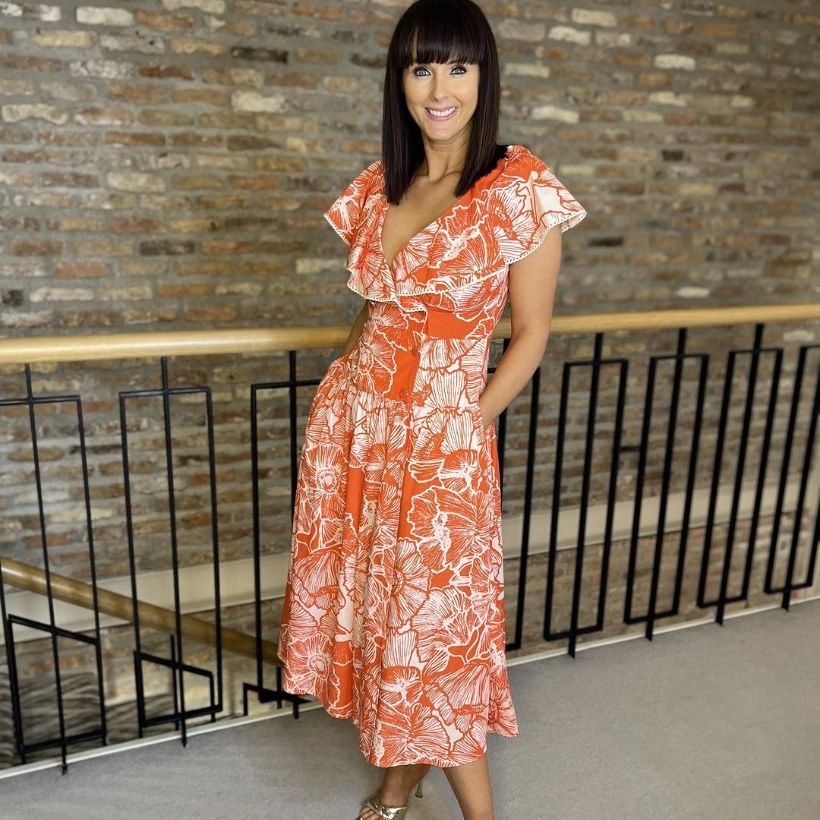 above: photo courtesy of Harper 
Wolf and West Menswear // Unit 4 Howley Sq, Main St, Oranmore // shop here
Stocking contemporary casual styles, formal attire and everything in between. Here, style is encouraged down to the last detail because the fashion options don't stop with your typical jeans, suits and shoes, as they also stock accessories, including belts, wallets and cufflinks.
Planet Retro // Merchants Rd // shop here
Specialists in all things vintage clothing, there really is no telling what quirky, retro and damn right cool pieces you'll find here. A thrifters dream store, this spot is a treasure trove of one off pieces and eye catching fits and accessories.
Ro & Vee // Barna Village // shop here
Along the Wild Atlantic Way, you'll discover a cute little retail space that stocks the stylish clothing designs of owner Virtue Shine. Emerald & Wax offers beautiful clothes and accessories handmade from vibrant African print fabrics and delightful Irish tweed.
Love It Fashion // Loughrea, Oranmore, Tuam // shop here
This women-led store has stores in three locations across Galway county. Offering affordable, yet fashionable and trendy styles, these ladies pride themselves in helping to find the perfect style for every woman that walks into one of their stores.
Colette Latchford Fashion // Bóthar Irwin, Eyre Sq // shop here
If you are on the hunt to give your style a revamp, these fashion and styling experts can guide you to your most flattering fits and colours. From bold pops of colours to more subdued tones, this is the spot to visit in order to give your style a fresh new feel.
Just Kidz // Unit 6, Athenry Shopping Centre // shop here 
We couldn't just forget about the younger members of our family so here's something for the kids. Stocking all types of kids clothes, this retail store is a beloved destination for comfortable and fashionable clothing and footwear for all babies, toddlers and kids.
My First Steps Ireland // Liosbán Industrial Estate // shop here
Helping your kids to always put their best foot forward, this is a children's shoe specialist superstore that offers a huge range of children's shoes with diverse sizes. You can book a shoe fitting appointment with them online or simply call into them in stores.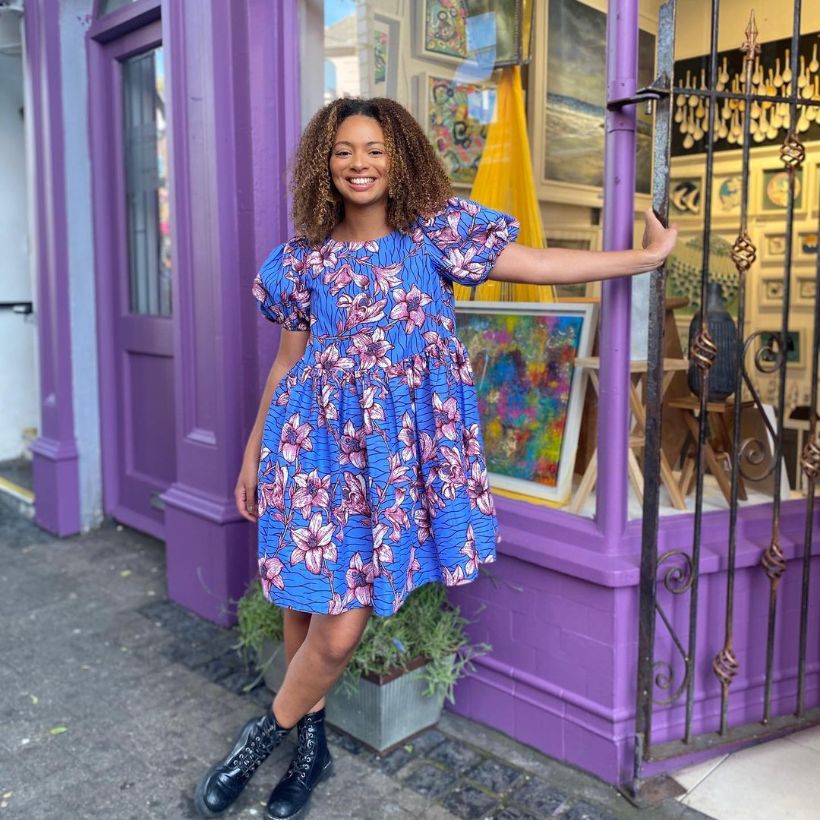 above: photo courtesy Emerald and Wax
Feature photo courtesy of Emerald and Wax.
Published on Updated on