Keeping traditions alive, the Galway Hooker Sailing Club have built up an inclusive group of people whose passion for the sea and for the history wrapped up in these traditional sailing vessels have created a valuable community sharing a great grá for the iconic Galway Hookers.
We were fortunate to be able to chat with club member Collette Furey in order to gain a glimpse inside this incredible club.
Based in the Claddagh and the Docks area, this sailing club was founded in late 2017 in order to preserve the rich traditions surrounding the Galway Hookers. The club runs a Hooker Crew Skills course and hosts a variety of programmes for youth development in local primary and secondary schools. The crew also work with disadvantaged youths with a focus on giving them access to a range of skills that will help them further their training and education. The club actively supports local business and are continuously building strong links within the community with the aim to ensure that this vital part of our history is not lost. Collette explains, "I feel if we don't pass this onto people and get people interested, particularly younger people, that it will just get lost and they're such a beautiful scene, sailing up and down the river."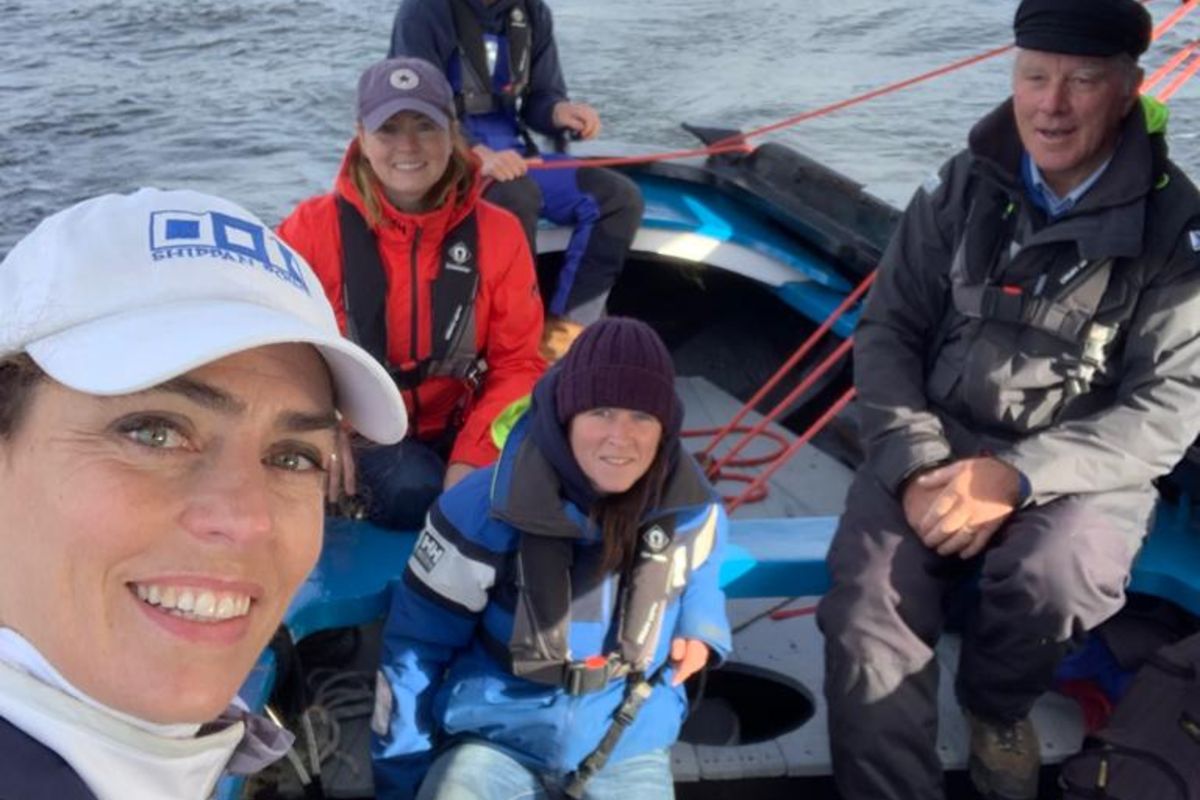 These iconic boats were originally used for fishing and as a means to transport turf across Galway Bay from Connemara and County Mayo to the Aran Islands and the Burren for centuries. The Hooker's clever design makes them ideal for Galway's rough sea and strong winds, and now their bright ruby sails make for a gorgeous addition to the summer landscape surrounding the Bay.
The opportunity to be able to get out onto water to see the City of Tribes from a new angle offers a rare outlook on the city you hold dear. It's an unique chance to witness the colourful wildlife that live along the coastline and take in Galway's breath-taking scenery from a new point of view. Collette captures this moment beautifully; "It's a magical kind of feeling when you're on the sea, whether you're on the helm or just on one of the lines, just sitting back and listening to the creaking of the wood under the wind and the sails flapping and you're just skimming along through the water in a wooden boat in your home city. Just seeing Galway from that perspective is just amazing and I'm always trying to share it with people."
The Sailing Club offers an endless amount of benefits to its members. It's open to people from all walks of life who have been brought together by a shared love for these boats. While volunteering in the club, your interactions with the other members will motivate and inspire you.  Reminiscing on her earlier days in the club Collette tells me, "It doesn't matter who you are, what age you are, where you're from or what's going on, you just show up and you have to all work together to sail the Hooker." The crew is packed with people who adore adventure and have a piqued interest for all things Galway Hooker related, with every session on the water with these incredible people bringing new challenges and memorable experiences.

In order to enable everyone to join their club regardless of having a background in sailing, the club offers their Hooker Crew Skills course. This practical course takes place across four weeks, teaching a range of basic sailing skills. The first session is an introduction to the club and will give you an insight into the unique maritime history of these exceptionally beautiful traditional sailboats. The second session is a visit to their workshops where you can watch the boats being restored and learn about the restoration process. Session three deals with basics on water safety, tides, charts, weather and sea regulation. The final session takes place on the water, where you'll be shown how to correctly board the boat and how to tie a boat. Once you are feeling confident you will get the chance to drive the boat and go for a spin. While this course is aimed at beginners, it also appeals to seasoned sailors who wish to learn about Galway's traditional sail/workboats. Due to the difficulties presented this year by the virus the club were unable to fully run their course as normal, so they are aiming to begin the courses again as soon as possible. Apply for the course here.
For those of you who live overseas and share their passion towards these gorgeous traditional boats, you can be a part of this community and follow along on all the latest updates and join in on their meetings with the club's inclusive membership options. They also have sailing and non-sailing memberships. With the sailing membership you are eligible for all their sailing sessions and can help out in the workshop. The non-sailing membership is for those who don't want to go out onto the water but want to help with the restoration in the workshop and take some photographs. The club "appeals to people because they don't need experience and you're on a volunteer basis so you can help out everyday or once a month, there's no obligation on you." Apply for club memberships here.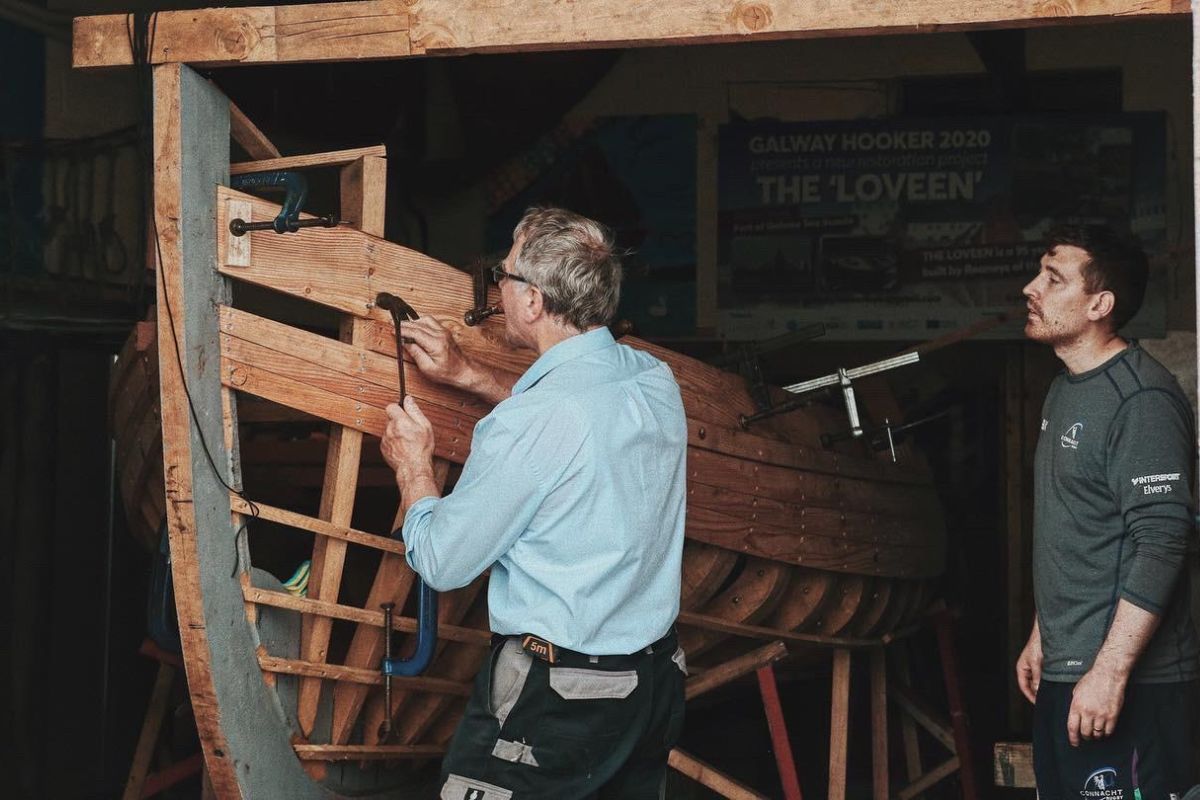 Currently the club is working to restore the 98 year old Galway Hooker Loveen on behalf of the Sea Scouts. Using a combination of traditional and modern methods, the crew are working to transform the boat into its former glory and give it a new life on the water. The painstaking process involves the crew taking a template of every rib and plank on the boat and remaking every new part as an exact replica of its original part, "we firmly believe in the history of the boats and tradition and we're all about the stories behind them and sharing that history and the culture of them, instead of just coming in and building new boats." You can follow all of their restoration projects here or across their socials.
These iconic boats are an important part of our Irish heritage and thanks to the hard work and dedication of these incredible people the Hookers are now a regular sight at the Claddagh and Galway Bay. It's a credit to everyone who keeps this wonderful tradition alive.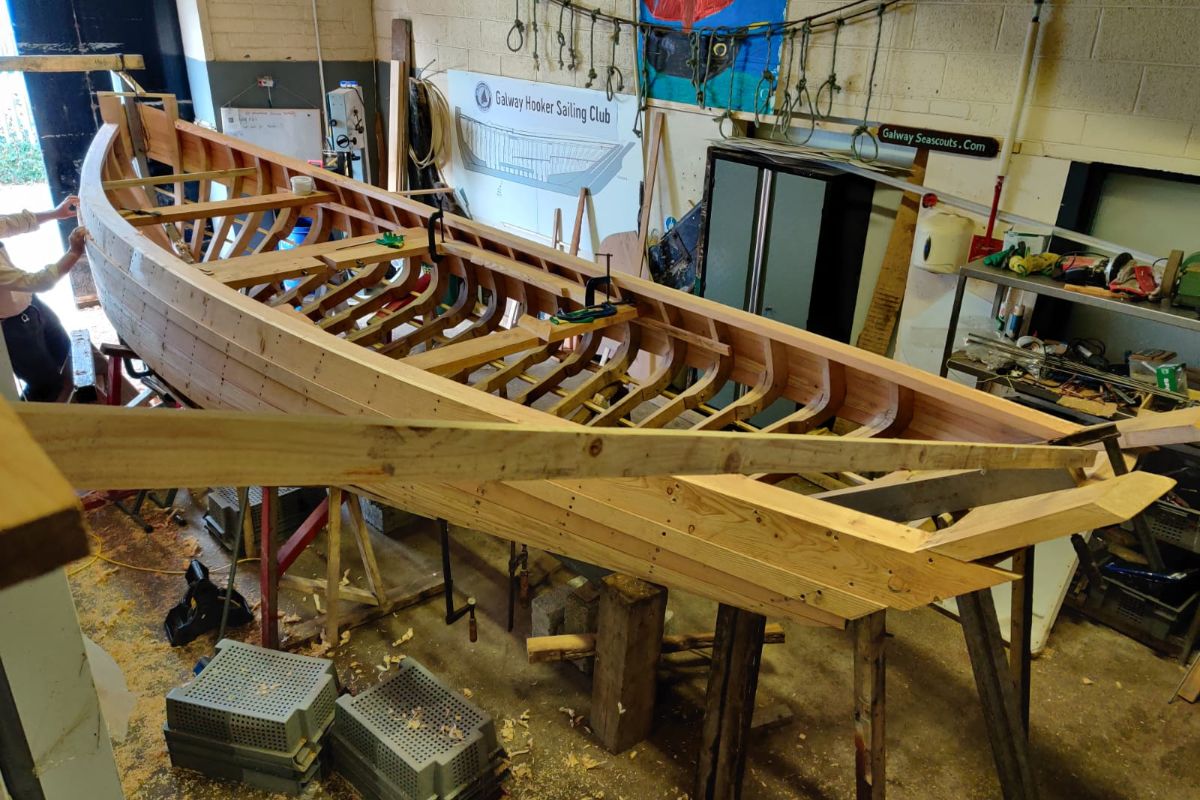 Published on Updated on