With Cúirt International Festival of Literature taking place from April 21-25, we thought it only fitting that we catch up with Cúirt Director Sasha de Buyl to gain a little insight into this year's programme, her grá for contemporary Irish literature and how joining the digital dots has allowed us to experience a very different type of human connection.

Entering into its 36th year of festivities, Cúirt has become an intrinsic part of Galway's character. Reflecting that same spirit of creativity, cultural progressiveness and artistic flair the city has become known for, this festival makes it its business to support artists, celebrate good writing and embrace new ideas. The two are indelibly linked and constantly evolving, which can be seen in Cúirt's speedy pivot to virtual events just last year. Ahead of the game then and refining that ingenuity now, 2021's programme is shaping up to be one of their finest yet.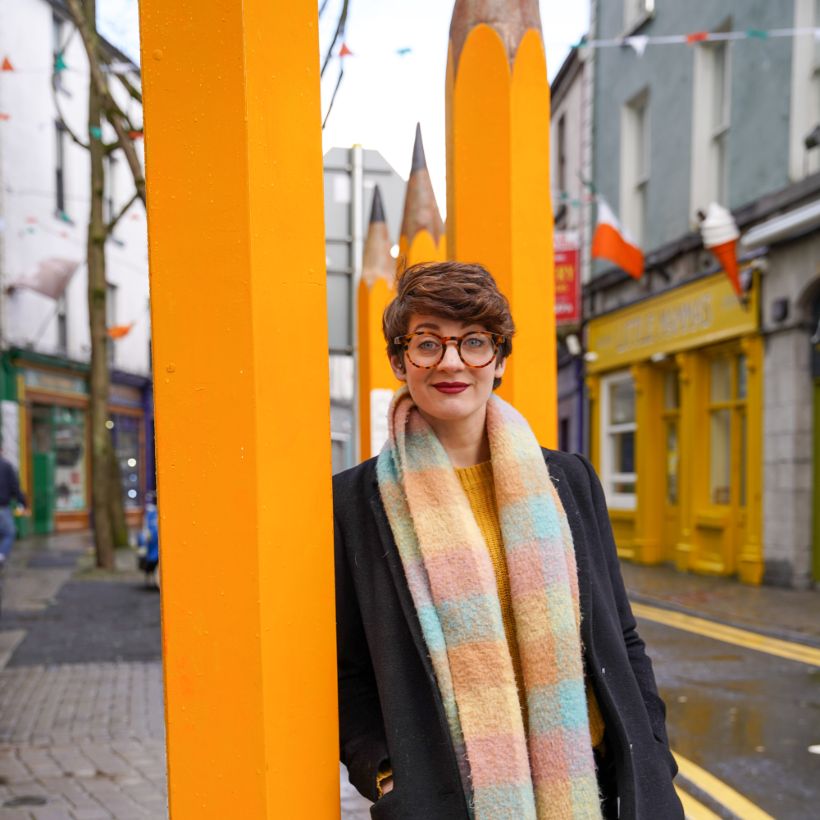 Mirroring many of the festival's finest attributes, Cúirt Director Sasha de Buyl is forward-thinking, articulate and passionately dedicated to - as she puts it - "celebrating the abundance of brilliant contemporary writers while reflecting the world around us". When speaking on what Cúirt has up its sleeve this year, Sasha's excitement is infectious. Since beginning her journey with this stalwart Galway festival in January of last year, Sasha's initiation into the Cúirt clan came at quite the challenging time.
"We started planning for 2021 the second that 2020's festival finished and at that point we had high hopes that things would be back to a place where we could welcome audiences into our spaces, but everything that has happened has just immeasurably changed the landscape. It took monumental effort to transition everything online last year and although I knew we could do it, I was keen to avoid as many of those curve balls as possible; we wanted to create a programme that regardless of the level of restrictions, we'll be able to function."
Born in Belgium and growing up as an avid reader in her West Cork home filled with books, Sasha's fate was sealed from an early age but it wasn't until she set off for the University of St Andrews, Scotland in 2005 and began to volunteer for StAnza International Poetry Festival that she truly found her calling. "It's an exceptional festival with an international reputation for showcasing the best poets and writers in the world and it's so tiny," Sasha tells me. "It's run by such a small team and a group of really dedicated volunteers. Getting to be part of that community was my first professional experience with the arts and I realised that it was something I wanted to explore and it all grew from there."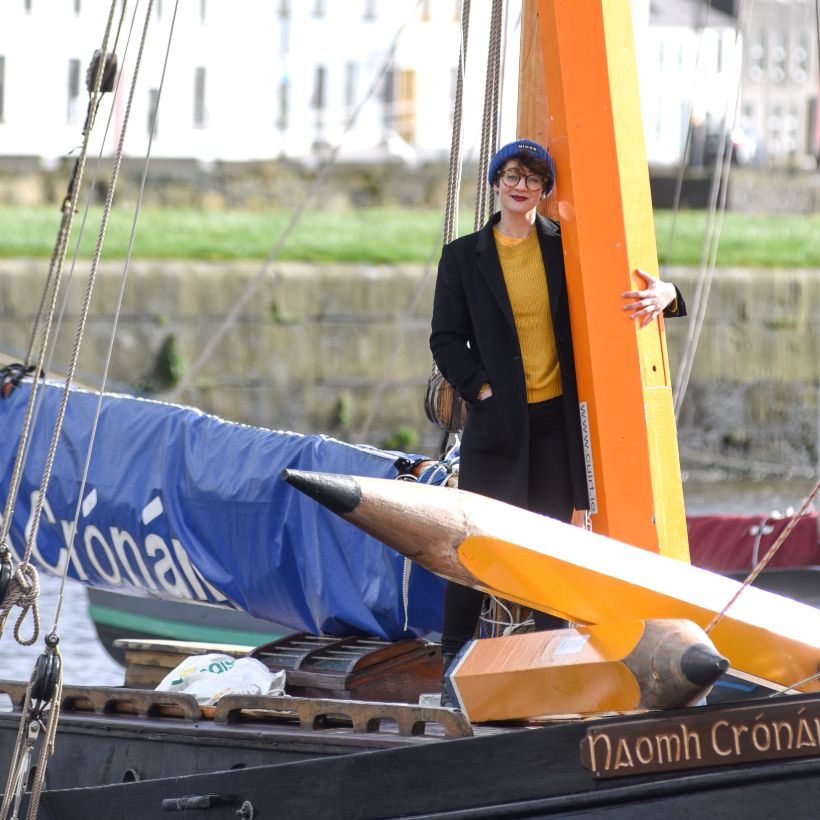 Once graduated, Sasha held roles within a spectrum of creative organisations including The Audience Business, Scottish Books International, Creative Scotland, and was part of the inaugural team on Book Week Scotland. Primarily working behind the scenes, on the more managerial side of the arts, Sasha moonlights as quite the talented illustrator and comic maker. "It's been a burning passion of mine, but like many trying to make a career in the arts, I was completely guided by financial parameters. I graduated into a recession and there was absolutely no work. The first role that became available, I went for it and I started at the very, very bottom."
Having made her way up the ranks through positions as programmer, creative producer and literature development professional to becoming the Director of Cúirt, I was eager to hear whether Sasha felt the weight of the festival's lengthy legacy on her shoulders. "That combined with the fact that one could argue that my status as an Irish person is questionable; not only am I a blow-in, but for the past 14 years I've been living in Scotland! Galway is such a fundamental part of the festival and I was very keen to do right by that."
"Cúirt is a festival with a strong legacy and a storied tradition. What really excites me is seeing it through for future generations of readers to enjoy. The best kind of literature out there right now is coming from the most diverse writers and I feel like our programme really reflects that. My hope is that through that we can empower our readers and our audiences to find that connection and understanding and solace. Books have been such a tonic to so many this past year; people have been turning to literature."

Sasha de Buyl is certainly making her mark on this year's festivities, building on their virtual advancements of 2020 and broadening accessibility to an even wider audience all while supporting the arts in spite of lockdown. Mixing up the setting with pre-recorded and live broadcasts from locations around Ireland, rolling out a tiered system of 'Pay What You Can' ticketing and providing closed captions and transcriptions where possible, Sasha was keen to make 2021 Cúirt's most accessible festival yet.
"I come from a literature background but effectively a not-for-profit literature background, so I tend to be very aware of barriers for audiences. All of this has allowed us to explore what it looks like to create a festival that is more accessible to a broader audience… I wouldn't work in the arts if I didn't think that art and cultural experiences - especially literature - were incredibly powerful tools for the creation of empathy, connection, solace, entertainment and joy. I think that absolutely everyone should be able to benefit from that."
Committed to bringing new perspectives and diverse voices to the attention of the masses, Sasha explains how the overall theme became apparent when piecing it all together; "I think that the theme of human connection and how we connect to each other has emerged as a theme for the programme this year. It's the one thing that has really changed this past year; the way that we connect to one another is different now." Conversely, Sasha notes that literature is the one arts experience that has remained unchanged throughout the past year - the written word has transported us far beyond our 5km, has educated us on social issues and has acted as a source of comfort when we need it most.
Exploring our connection with place, history and community, the 2021 Cúirt programme encompasses commission based projects, essential conversations for Ireland, developmental opportunities and a whole lot more. The much anticipated Opening Night event, entitled The times were grand in size and we were small will see MC Louise Bruton join six writers and artists to explore the ideas and experiences of finding, losing and maintaining connection in 2020. Bringing the character of Galway back to the festival, Inland Radius will bring people on a self-guided audio visual walking tour from the city to Mutton Island Lighthouse while The State of Her will see Louise O'Neill and Caelainn Hogan look and how far we've come and the future of feminism in Ireland.
Other notable events include Emma Dabiri on her upcoming release What White People Can Do Next, Irish Queer Archive poet-in-residence Seán Hewitt, writers Chandrika Narayanan-Mohan, Kit Fryatt and Llaura McGee in Finding Ourselves: Writing through the Queer Archive and Doomsday Books on why imaging the worst possible future helps us get through the present. The entire programme serves to open up important conversations, give incredible voices a platform and introduce us to the wealth of literary and artistic talent that exists in Ireland and internationally. Peruse the lengthy list of events right HERE - we're pretty sure you'll want to virtually attend each and every one.
Constantly listening, learning and evolving while staying true to their core values, Cúirt International Festival of Literature has found its perfect match in Sasha de Buyl. A woman who grew up reading, cut her teeth volunteering and has devoted her career to supporting the arts, Sasha exudes a love for literature and a passion for fostering creativity. With the programme for 2021 just announced, we're already looking forward to seeing what lies ahead for the Cúirt team in 2022.
Photos by Boyd Challenger courtesy of Cúirt International Festival of Literature. Check out their website for more information.
Published on Updated on