A little city in its own right, Tuam is always buzzing with excitement no matter the time of year. Home to some incredible foodie spots and an even better music scene as the birthplace of the legendary Saw Doctor, Tuam really has it all. In order to help you make the most of your stay here, we've gathered as much inside information as possible. Take a trip down the N17 and discover our favourite places to visit while in town.
Food & Drink
Niche
One of our favourite spots in North Galway, Niche serves up some seriously delicious options on their menus. From heavenly toasties and savoury sambos to floury breakfast muffins and satisfyingly filling burgers, Niche has successfully created a divine menu packed with unbeatable flavours. Topping it all off, their hot chocolate, refreshing smoothies and cooling ice coffees are all absolutely gorgeous; one sip and you'll be in love, we promise.
Old Barracks, Vicar St / more here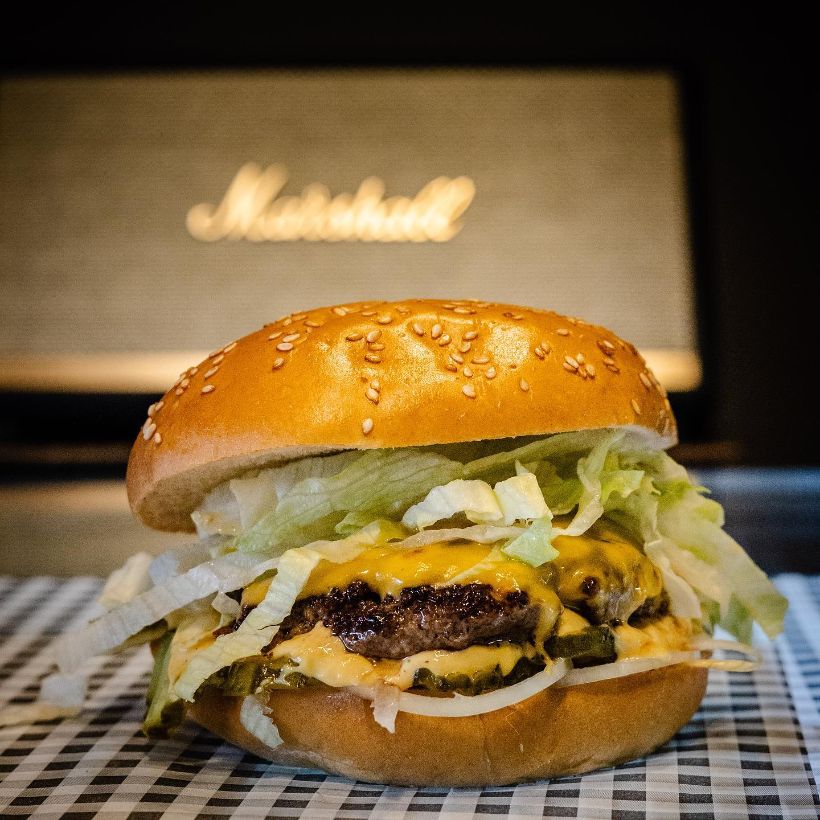 above: photo courtesy of Niche 
Gather Restaurant
A gorgeous dining experience can be enjoyed in the inviting atmosphere of Gather Restaurant. Here, the team follows the seasons to create a menu that places an emphasis on seasonal and organic produce that supports farms and producers. To compliment the delicious food options their wine and beer lists showcase the finest independent producers. This community based restaurant is the perfect place to enjoy a taste of the west coast while traveling around Galway.
Varden House, High St / more here
Xian Street Food
Renowned for their delicious food and authentic flavours, you simply must visit Xian Street Food when you are in Galway. Of course, if you're a frequent visitor to their famous restaurant in Galway city or Dublin, you'll be delighted to hear they have a spot in Tuam too! Xian Street Food expertly creates popular traditional Chinese dishes that are packed with exquisite taste and a bit of spice. It is the perfect place to chill with your family and friends, sharing authentic Asian food and drink.
High St / more here
Leaf and Bean Café
Leaf and Bean Café are passionate about serving healthy natural foods and great coffee to all their visitors. Their freshly made and delicious ranges of platters, lunch items and treats, can also be specially prepared for office lunches or events. They also have tons of vegan and vegetarian options available so be sure to check it out while you are in the area. The menus include; homemade brown bread, buckwheat granola pots, buttermilk pancakes, sandwich and wraps selection and more.
Bellview, Unit 1, Bishop St / more here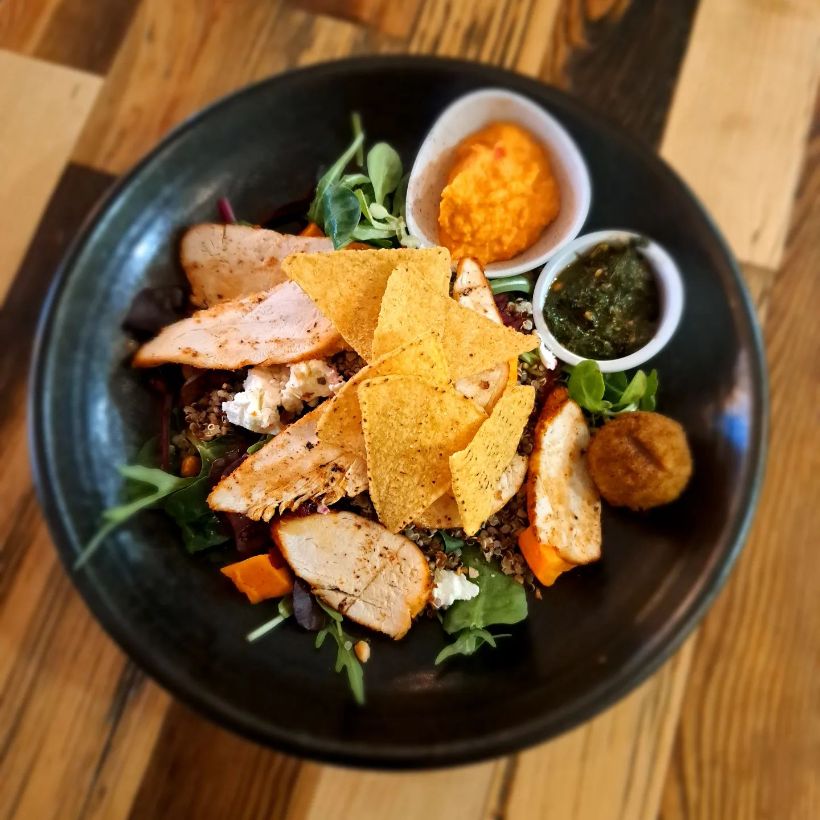 above: photo courtesy of Leaf and Bean Café
Roots Café and Bistro
Did you know that Roots Café & Bistro has spread its roots all the way out to Tuam?! This location is just another one of their amazing cafés for you to visit here in Galway. Whether you are after breakfast, lunch or dinner, Roots Café won't let you down for choice of delectable offerings available throughout the day. Ideally located in the shopping centre, the café is in the perfect spot for a post shopping pick me up. Be sure you call in the next time you are in the area.
Unit 10, Tuam Shopping Centre / more here 
Down The Lane
Brought to you by the creative foodies behind Mór Bakes, Down The Lane is a coffee shop and bakery specialising in homemade local bakes. This is a coffee pitstop at its finest, merging your daily dose of caffeine with freshly baked pastries of croissants, cookies, scones and more. They are also home to a lovely retail space stocking a range of products by local makers and creators so be sure to pop in and pay them a visit whilst you are in Tuam.
Church Lane / more here
The Thatch Bar
Tuam's The Thatch Bar is the place to be when on a night out with pals! It is a modern, vibrant pub serving a large selection of craft beers, an impressive collection of gins and a unique array of modern style cocktails. Showcasing all the top sporting events and a diverse showing of local and national musicians and DJs. The Thatch Bar is also home to a gorgeous rooftop patio and pool tables ensuring you and your friends get to enjoy the ultimate night out experience. Sláinte!
5 Fosters Place, Townspark (4th Division) / more here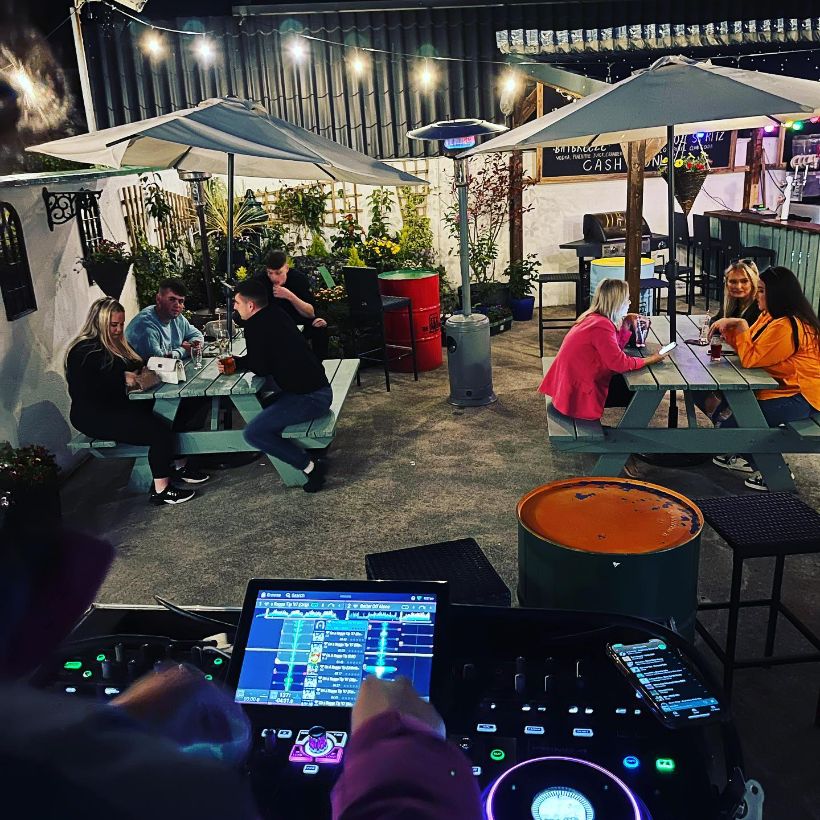 above: photo courtesy of The Thatch Bar
The Brogue
For top class food, all the latest big sport matches and live music, The Brogue Bar in Tuam comes highly recommended. Throughout the week its always buzzing with a mix of local and tourists so you never know who will be sitting on the high stool beside you when you pop in for a pint of plain. They have also got live music performances every weekend so if you want to immerse yourself in the local music scene you can't go wrong with The Brogue.
High St / more here 
The Galway Roast
After a day out exploring the town and its surrounding, a cup of coffee at The Galway Roast is an absolute must. All their coffee is freshly hand roasted in store and it tastes divine. As you enter the café you'll be met with the rich aroma of their heavenly coffee and paired with either their all day breakfast or one of their fresh daily specials. When you visit The Galway Roast you will always leave them feeling fully refreshed and ready to take on your next Tuam-related adventure.
Vicar St / more here
Stay
Ard Ri House Hotel
When you're ready to hit the hay, Tuam's family-run Ard Ri House Hotel is the perfect place for you. Located on the main N17 Road, right on the edge of the town, Ard Ri House Hotel has been designed with luxury and your comfort in mind. Home to the Dick Dowling's Bar and Kiltevna Room Restaurant, both provide guests with a variety of menu choices. Additionally, it is also Tuam's leading venue for conferences and business meetings, and be sure to check out their special offers ahead of your visit so you get maximum enjoyment from your stay here.
Miltown Rd / more here


above: photo courtesy of Ard Ri House Hotel 
Corralea Court Hotel
Over the years, Corralea Court Hotel has built up quite the stellar reputation and its easy to see why! This 24 bedroom hotel offers double, twin, triple and family rooms all en-suite with some great overnight rates for people booking party nights right in the heart of Tuam town. However, if you don't plan staying the night in Tuam, you can also make their Courtyard Bar your day drinking destination of choice. Spend your day in the large beer garden with incredible cocktails and lovely food options and you'll be in absolute bliss.
The Square / more here
Shop
Ahascragh Distillery
A short drive from Tuam town, you'll come across the state-of-the-art Ahascragh Distillery which creates the award-winning Clan Colla Irish Whiskey and Xin Gin. They have also recently launched their visitor centre which gives visitors the chance to experience the distillery through tours, tasting and workshops. As well as this, their Old Mill Shop & Café is now open seven days a week, and welcomes guests to enjoy good food and bring some tastes of Ahascragh Distillery home with them.
Ahascragh / more here 
Abbert Lifestyle Store and Grocery
This boutique store  and artisan grocery store really is a one-stop shop! Abbert Lifestyle Store & Grocery stocks a variety of fresh organic produce, tasty treats, local art, handy homewares and loads more. You could easily spend your day browsing the shelves, admiring all the stunning arts and crafts that are on display while sipping on a fresh brew of their takeaway coffee. We highly recommend treating yourself to a lovely gift from Abbert to remember you're time spent in Tuam.
Varden House, High St / more here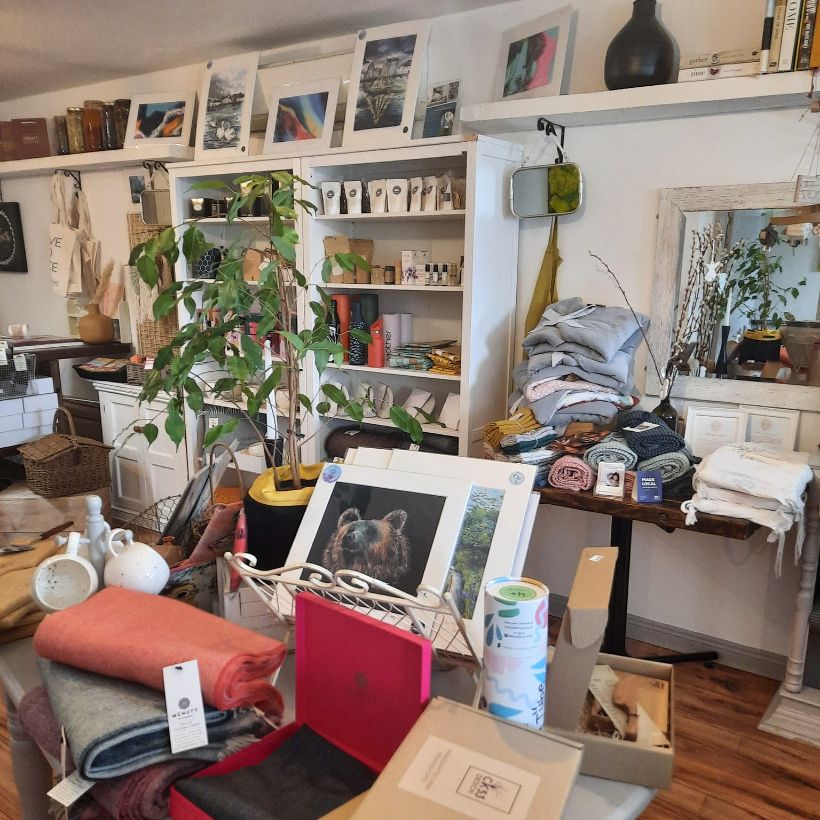 above: photo courtesy of Abbert Lifestyle and Grocery

Love it Fashions
The women led Love it Fashions, have something for ladies of all ages, and cater for all shapes and sizes and offer affordable, yet fashionable and trendy pieces. They stock fabulous clothing pieces across various occasions - casual wear, party wear, weddings, confirmations, you name it! As well as their location in Tuam they also have stores in Loughrea and Oranmore and they pride themselves in finding the perfect style for every woman that walks into one of their stores, or visit them online.
Shop St / more here 
J. Leufer & Sons Watchmaker & Jewellers
Watchmakers by trade, the legacy and expertise of J. Leufer Jewellers has lasted decades. It is one of the longest serving family businesses in Galway and one of the longest established jewellers in Ireland. They have a large selection of traditional and designer jewellery and stock an array of engagement and wedding rings. On top of the stunning jewellery pieces that they have available, they also offers a variety of jewellery and watch repair and upkeep services.
Bridge St + The Square / more here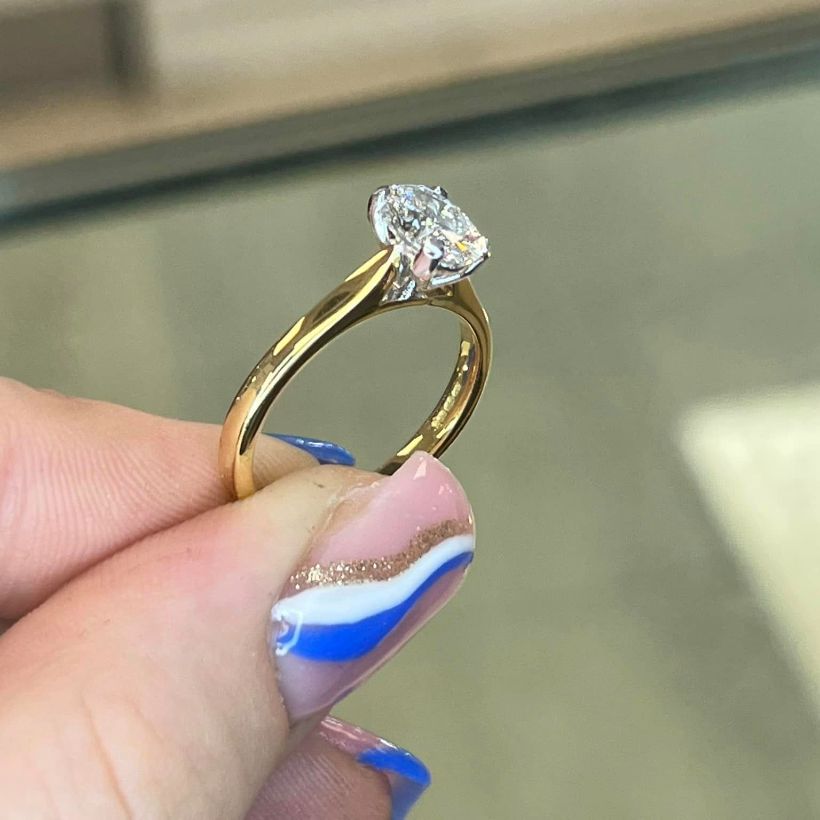 above: photo courtesy of J. Leufer & Sons Watchmaker & Jewellers
New Harmony Health Food Store
At New Harmony Health Food Store, browse through a large selection of natural goods, from organic and diet specific foods to traditional supplements and herbal remedies. Their aim is to provide each of their customers with everything you need to live a happy and healthy life - in the most natural way possible. You're in good hands at this health store so don't be afraid to ask the team for advice and discover which of their products will work best for you.
Bishop St / more here
Other spots to visit...
Knockma Hill & Forest Walk
The area surrounding Knockma Hill is full of myth and mystery, with many ties to local Irish folklore and legendary figures. Hiking up this hill on one of its many walking trails is worth the effort in order to visit the ancient cairns that remain at its peak, not to mention the stunning panoramic views of Galway from its summit!. Often referred to as Fairy Hill this location contains its fair share of historical intrigues and magical tales. Discover a little bit more about the history of this picturesque spot here.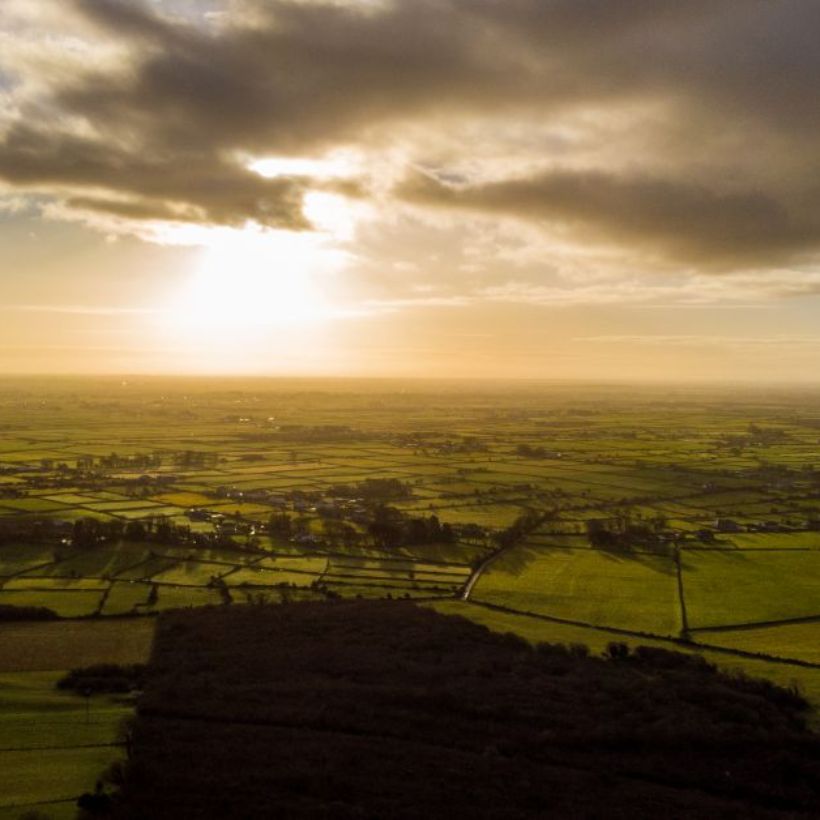 above: photo from the summit of Knockma Hill, photo by Martin Kalvaster
The Mall Theatre
If you're looking for a way to spend your evening and immserse yourself in a bit of culture, a trip to Tuam's Mall Theatre is always an unforgettable experience. This intimate venue has seen a number of big names perform here like the comedian Brendan Grace, and the singer and actress Rebecca Storm. Be sure to check who's performing while you're in town, The Mall Theatre hosts all sorts of performances so you are guaranteed to find something you'll love.
Palace Grounds Park
Escape into nature at Tuam's Palace Grounds, this unique public park offers a tranquil getaway away from the noise of the town. Home to many walkways, a playground, Coral Leisure centre and more we recommend spending an afternoon introducing yourself to all the gorgeous flora and fauna around this park. While you are walking along the Archbishop Synge Walk near the leisure center, keep your eyes peeled for the ancient beech trees that are over 300 years old. When the design of the grounds were being laid out, designer Capability Browne, also known as England's greatest gardener, set out to create perfect nature with the Palace Grounds, hence why the park contains so many gorgeous varieties of native flowers and trees.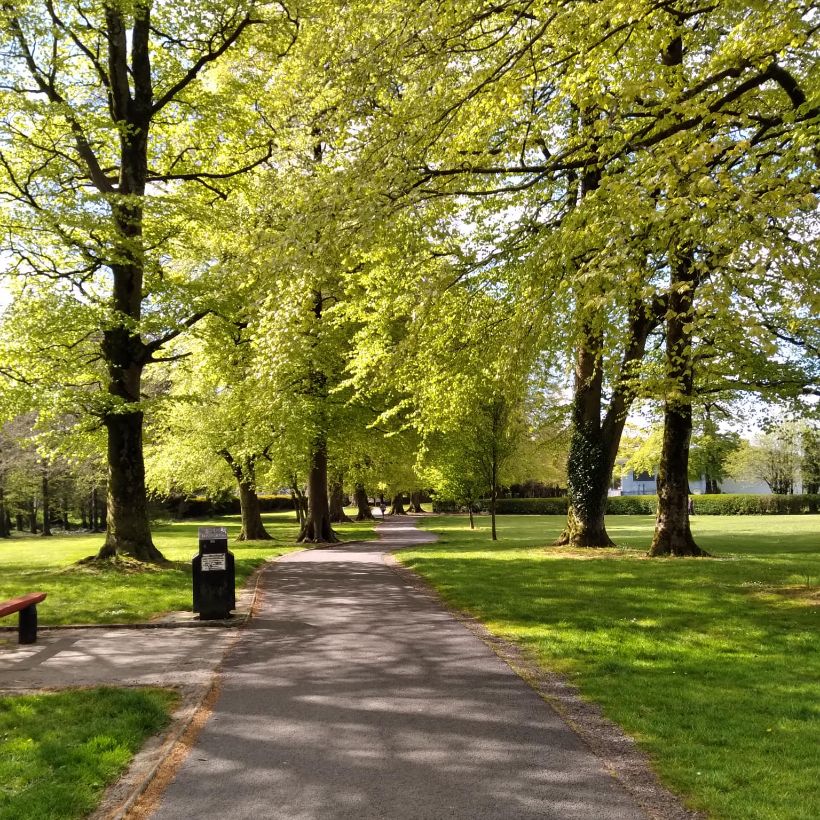 above: photo courtesy of Palace Grounds
Coral Leisure
If the weather's making things a bit tricky to enjoy outdoor activities, bring the whole family out to Coral Leisure. Located on the Palace Grounds, this Leisure Centre is made up of a pool area, spacious gym and aerobics studio. Their large 25m swimming pool is ideal for both learner and more advanced swimmers. The pool area also contains a health suite with a sauna, jacuzzi and steam room so you can make the most of your restorative break away.
Historical Interests
Chair of Tuam
Located in the O'Tooles car park, the Chair of Tuam is a marker for the castle built by Ruaidrí Ua Conchobair, the last High KIng of Ireland. Built in 1164, there are no remains of the great castle that once existed there. The monument was unveiled in 1980 by Cardinal Tomás O'Fiaich.
Tuaha Tuama Statue
Erected in 1994, this bronze sculpture depicts a modern Tuam as a community looking outward at the world but embracing its past. The sculpture has Jarlath's wheel at its centre. At the base of Tuaha Tuama are three motifs from Tuam's coat of arms. Find it in front of Tuam's town hall, on Market Square. To learn more about this iconic piece of Tuam's history, please tap here.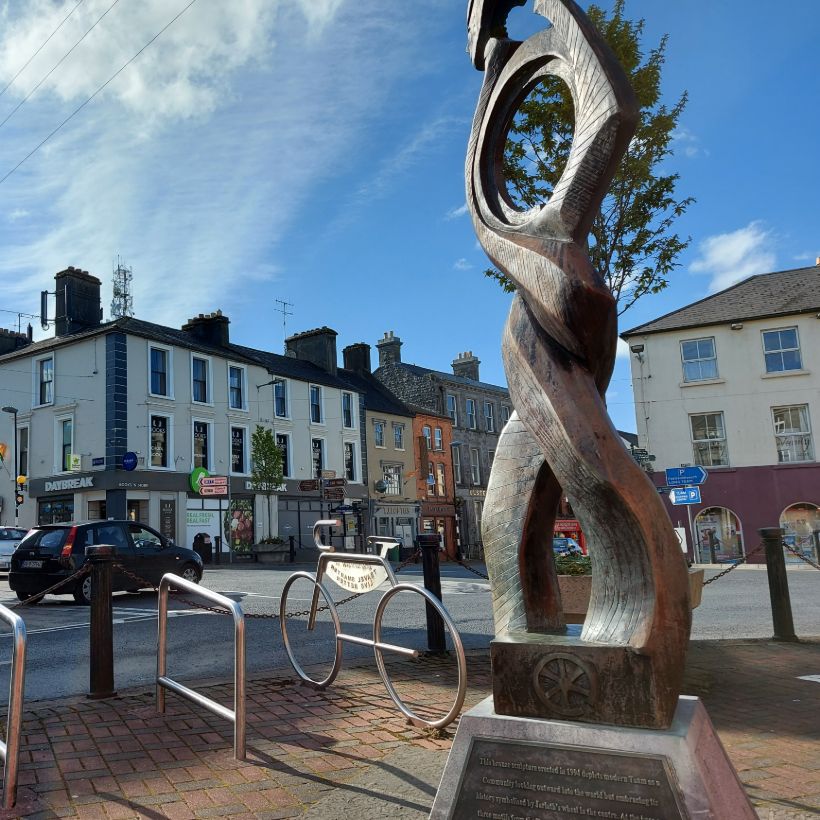 above: photo of Tuaha Tuama Statue 
Mill Museum containing Tuam's old mill
Opened to the public in 1974, the Mill Museum is a restored corn mill with an operating water wheel. It is the only water-powered preserved mill in the West of Ireland and the structure dates back to the 17th century. From the museum visitors can go on a guided tour of Tuam and rediscover the history behind the town.
Temple Jarlath
At the place of Jarlath you can see the remains of the earliest monastic settlement from which Tuam town was established. Legend states that Jarlath was a member of a religious community at Cloonfush and Kilbannon. Jarlath had the desire to set up his own monastery, and so his abbot instructed him to leave and wherever his chariot wheel breaks, that should be the site of his new monastery. His wheel broke and he established his monastery, known as the School of Tuam and the town of Tuam grew out around that site.
St. Mary's Cathedral
The first cathedral on this site dates from the 12th century during the reign of Turlough O'Connor. It marked the establishment of Tuam as the seat of an archbishop following the Synod of Kells. The cathedral was destroyed in a fire and the site was then abandoned for nearly 100 years. In the 14th Century another Cathedral was built on the site by the DeBurgo family but only the construction of what is now known as Synod Hall was ever completed. The cathedral that people can visit nowadays was built between 1861 and 1878, and is still in use today. This cathedral also contains relics of the Tuam of old, including Tuam's High Cross. For more information about its history please tap here.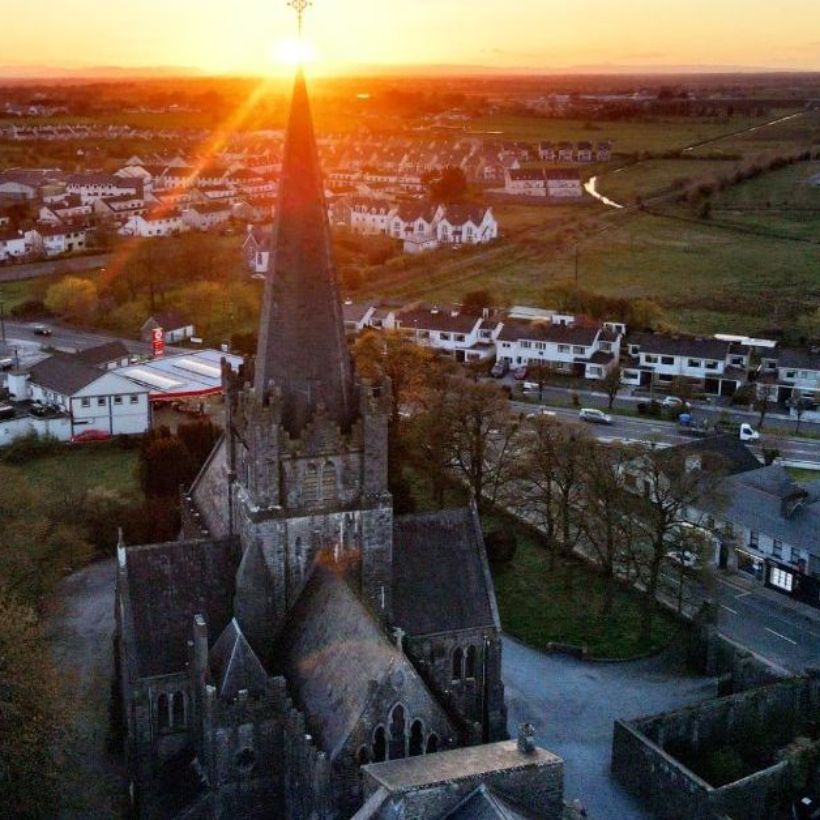 above: photo of St. Mary's Cathedral, photo by Keith Crisham of Sky Pics Media Aerial photography.
Published on Updated on