When it comes to enjoying a taste of Italy in Galway, no one is doing it like Osteria Da Simone. Recently awarded Best Italian Restaurant in Ireland at The Food Awards Ireland 2023, Simone, Alice and the rest of the team have brought their love for authentic Italian cuisine to the table of Galway's famous food scene and you can taste the difference in every bite. 
If you want to taste delicious Italian food that has been made with a great love and passion for the world of Italian cuisine, Osteria Da Simone is the place for you. Speaking about their recent achievement of being named Best Italian Restaurant in Ireland, Owner and Head Chef Simone, tells us; "I was surprised. There's lots of Italian restaurants in Galway so there is a lot of competition. I still don't know how they gave it to us.. but there must be something we are doing better than anyone else."
Simone's passion for cooking is undeniable. Talking about their food and the ingredients they use brings a joy to his face as he explains to us the process of selecting the right ingredients to create each dish on their extensive menu. Every dish is made using fresh ingredients imported from the best Italian suppliers ensuring a standard of high quality across the entire menu. The team at Osteria Da Simone have also taken special care to accommodate those with dietary requirements, so on your next visit here you'll notice a large variety of vegan, vegetarian and gluten free options. These dishes are so tasty that we would even recommend them to the most meat loving folk. Rich sauces with subtle flavours, freshly-baked and buttered garlic breads, and generously portioned homemade desserts are some more of the goodies they offer. And the secret to their award winning homemade tiramisu? 24 hours prep time and using cooked eggs - a true Italian recipe that tastes every bit as good as it looks! Check out their menus here.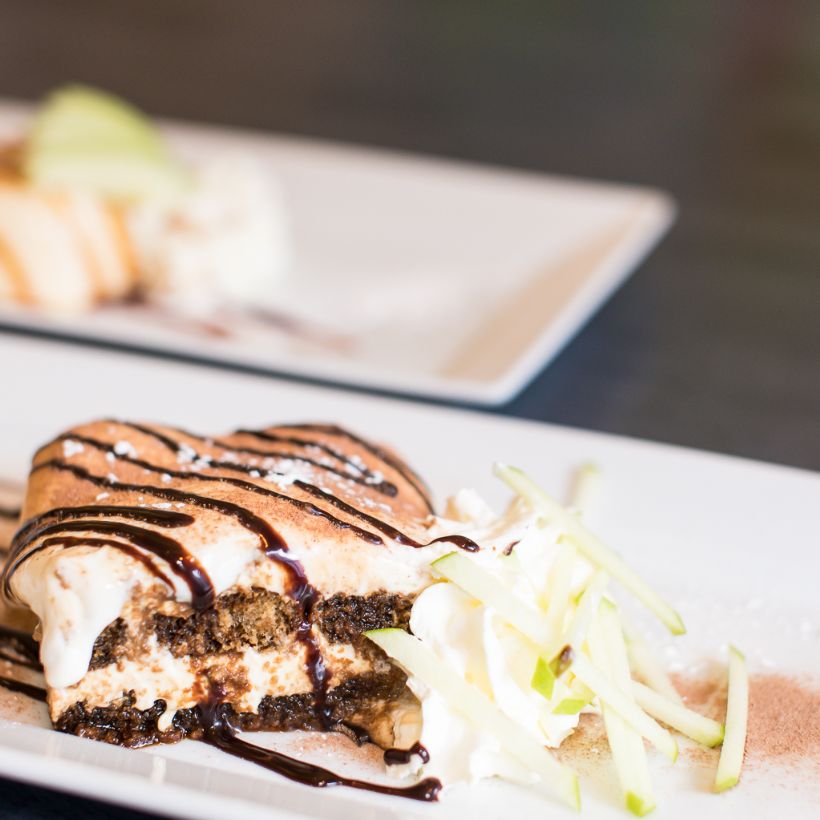 above: Osteria Da Simone's famous tiramisu, courtesy of Osteria Da Simone
Simone's love of cooking began at an early age in his hometown Tuscania in Italy; "I have a photo of when I was 6/7 years old and I was already making pasta, egg pasta, sheets for lasagne.. Now my daughter is 8, and she can squeeze lemons or oranges but that's all she can make." Simone pauses a moment before he explains; "I have something [a love for what he does] that I've had since I started. In every job you should do what you like otherwise you won't grow."

Upon moving to Galway in 2008, Simone worked his way around the Italian restaurants; "The longest I worked in a place was in Basilico in Oranmore. I was working there for 6 or 7 years right when they first opened." And, after years of hard work the day of reward arrived in 2017, with the opening of his own restaurant- Osteria Da Simone. Thinking back over the years since opening Simone tells us; "You have people helping as well, that's the good thing about it." He continues saying; "You have to listen to your staff. I think people who are successful with their restaurant it's because they are listening to their people. Everyone, even the worst employee, if you listen, you can learn something from them." 

above: Tortelli ai Porcini...a special of Chef Simone, courtesy of Osteria Da Simone
Open seven days a week from 5pm Monday to Saturday and from 1pm on Sunday, visit Osteria Da Simone at 3 Francis Street, Galway City to enjoy authentic Italian cuisine at its finest. Make your reservation online at; https://osteriaitalianagalway.com/, or contact them at (091) 564 850 or osteriaitalianagalway@gmail.com.
Feature photo by Evan O'Flatharta
Published on Updated on