There's something about an expertly crafted plateful of authentic Italian fare that evokes such feelings of bliss, one wonders how such flavours are even legal. Whether it's a bowl of scrumptious spaghetti or a crispy pizza, there's not a dish we wouldn't devour on the menu at some of Galway's greatest Italian restaurants...

MONA LISA CAFE RESTAURANT
Unlike the Mona Lisa herself, you'll be leaving this Italian restaurant with a big old smile plastered across your face. Serving up a taste of Italy in the heart of the Westend, the team provide a warm welcome and can guarantee you a top quality dining experience every time. From the rustic interiors and relaxing atmosphere right down to the authentic flavours and perfect presentation, you'll be well taken care of. The seafood lovers among us will go wild for the spaghetti allo scoglio - it's got king prawns, mussels and squid cooked together in white wine with cherry tomatoes, garlic and chilli. Throw in a bottle of Peroni and you're sorted!
17 William Street West // MORE HERE
BASILICO
Since opening their doors back in 2008, this award-winning Italian restaurant has become a firm favourite among Oranmore locals, visitors and city slickers willing to travel a little further afield for the high quality food on offer. Their menu has a wide range of delicious Italian food, from pasta and risotto to their gourmet pizza and classic mains and we would strongly recommend starting things off with an order of Bruschetta Basilico - the basil salsa is insanely tasty. The bistro offers a more casual dining experience, with breakfast and lunch menus just as delectable as the dinnertime offerings and no matter what time of the day you venture in, it never disappoints.
Main Street, Oranmore // MORE HERE
OSTERIA ITALIANA DA SIMONE
When wandering down Francis Street, it's impossible to ignore the mouthwatering aroma wafting out of Osteria Italiana da Simone. With rich sauces and subtle flavours, there's a taste of Italy in every bite and the quality is always top notch. From freshly baked breads to generously portioned desserts, there are plenty of tasty dishes to choose from but our personal favourite is the Agnolotti di Carne alongside a glass of Italian merlot. The owner was born and raised in a small medieval Italian town, making his own pizzas from the tender age of seven, so it's safe to say he knows what he's at when it comes to creating an entirely authentic Italian dining experience.
3 St Francis Street // MORE HERE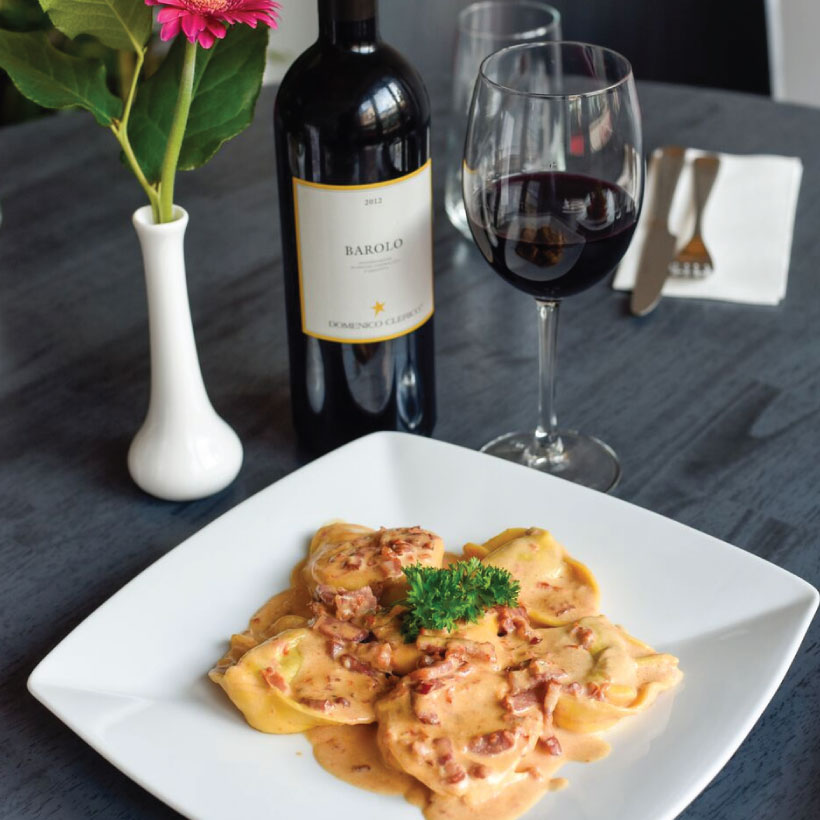 VENICE RESTAURANT
In true Italian tradition, an evening meal in Venice Restaurant has the feeling of a homely family dinner. You'll be welcomed in like an old friend and amazed by the sheer volume of tasty options to choose from. Their menu covers all the bases with pizzas, pastas, risottos, bakes, meat and fish dishes all making an appearance. While every item is extremely tempting, you can't beat a perfectly crafted classic and their spaghetti alla bolognese never fails to amaze. Their lunch and dessert menus also pack a punch, and with great kiddies options, it might just become your new go-to haunt.
11 Abbeygate Street Lower // MORE HERE
TRATTORIA MAGNETTI
Specialising in regional Italian dishes made with the finest ingredients, Trattoria Magnetti have been preparing fresh pasta each morning since the business was first opened back in 1989 and you can really taste the difference when enjoying a pasta dish. Having evolved their menu expertly over the years while still offering recipes that featured on their menu board way back when, our personal favourite has to be the strozzapreti con salsiccia - there's Italian sausage, radicchio sun-dried tomatoes and chilli in a cream sauce that's just out of this world. They've also got an exclusive range of regional wines that perfectly compliment their menu - so don't be afraid to ask for some tips on what will go nicely with your main.
12 Quay Street // MORE HERE
IL VICOLO
From the moment you walk down the stairs and into the basement of the Bridgemills building, you'll feel as though you've stepped straight into Italy. The warm interiors and inviting ambiance will draw you in and once you take a look at their contemporary Italian menu, you know you'll be staying for all three courses. Pouring passion, heart and soul into each dish they prepare, there's a strong southern influence across their seasonal cicchetti, pasta, risotto, fish and meat offerings. Their Melanzane alla Parmigiana has all the rich tomato sauce and mozzarella goodness you could hope for, and pairs perfectly with any one of their 75 Italian wines spanning from the north tip of Alto Adige to the boot of Puglia and the island of Sicily.

Bridgemills, O'Brien's Bridge // MORE HERE
DA ROBERTA'S RISTORANTE
The perfect place to celebrate all your special occasions or to simply drop into when hunger strikes, Da Roberta's is a family-friendly destination out in Salthill has set the scene for many memories over the years. Their menu has plenty of options to choose from and if you can somehow resist their linguine alla carbonara, their tagliatelle al pesto calabrese will keep your taste buds satisfied. Diced chicken, broccoli, spring onion and chillies in a pesto cream sauce? Yes please. They've also got a top notch selection of wines to choose from and great options for the little ones, so it's safe to say that this Italian restaurant will be a family favourite in no time.
161 Upper Salthill Road // MORE HERE
U LIOTRU SICILIAN STREET FOOD
Taking their name from the ancient legend of the enigmatic and mysterious elephant of Catania, this street food restaurant has brought recipes from distant Sicily right into the heart of Galway and does them justice every time. Proving that you don't have to travel 2600km to experience Italy at its best, their authentic Sicilian cannoli ricottas are truly sensational. Paired with a shot of real Italian coffee, it's a treat that you'll be coming back for again and again. While their dessert options are always good, their homemade lasagne and arancini are quickly becoming renowned around the city's streets!
20 Abbeygate Street Lower // MORE HERE
PIZZA AMORE
That's amore! Whether it's a lunchtime snack or a post-night out feed, it's more than likely that we've all had a slice of pizza from Napoli - but have you tried out their sister restaurant right across the street? The crew of Italian chefs at Pizza Amore specialise in Neapolitan style pizza and have created a little slice of heaven right there on Cross Street. Utilising the finest ingredients imported straight from Naples and serving up a real Italian experience from the moment you set foot inside the door, bring your appetite to Pizza Amore.
4 Cross Street // MORE HERE
BAR ITALIA CIARLANTINI
Beloved for their pastries and desserts, it's next to impossible to walk by Ciarlantini without popping in for a boxful of Italian treats and a big old cup of coffee. An afternoon cannoli alongside a shot of espresso has become a weekly ritual among many, so if you haven't already tried it out - put it on your to-do list. Friendly and efficient, the staff will help make the experience all the more enjoyable so that whether you're tucking into a freshly made sandwich or sitting back soaking up the atmosphere, you'll have a good time doing it.
Daly's Place, 7 Woodquay // MORE HERE
PASTA FACTORY
As the name would suggest, this place specialises in out of this world handmade pasta that's as comforting as it is flavourful. You can choose from a variety of pastas - including spaghetti, rigatoni, pappardelle, ravioli, small shells and fusilli - and then pick what kind of sauce you're after from a seriously mouth-watering selection. They've got the likes of bolognese, classic meatballs and spicy cajun chicken in a creamy sauce, but their vegan mac and cheese really is irresistible. If you've still got some room left after your feed, their plates are actually edible - waste not, want not!
13 Mary Street // MORE HERE