When the weather is high there's nothing better than finding yourself in one of Galway's top beer garden, surrounded by good company and sipping away on delicious booze. Discover Galway's best beer gardens below and get busy pinting the day away..

You won't find the hours flying by and the sun slipping away as you soak in all the good tunes, great people and an unbeatable atmospheres. There isn't anything better than Galway on a sunny day, so make the most of it and get out to the best beer gardens in the Wesht!
O'Connell's Bar
If you haven't experienced the magic that is O'Connell's beer garden, you better get yourself over to Eyre Square as soon as possible! Inside the bar's stunning décor maintains most of its original fixtures and fittings, including antique lighting and stained glass windows but their outdoor offerings are well and truly where it's at! Consisting of two outdoor bars and an old Victorian street known as Gin Lane, this hidden gem is one of Galway's best beer gardens. The team recently renovated the entire outdoor area to ensure you get the to enjoy all the energy and warmth that this bar is famous for. They've got plenty of covered seating and heating so that even on those rainy days, you are in the clear. If that wasn't enough to convince you to pop in, the local and international pizza heroes The Dough Bros are set up inside, so you can treat yourself to one of their famous pizzas while you drink the night away. With resident DJs playing every weekend, O'Connell's have you covered whether you're after a pint, a pizza or a boogie.
8 Eyre Square, Galway // more here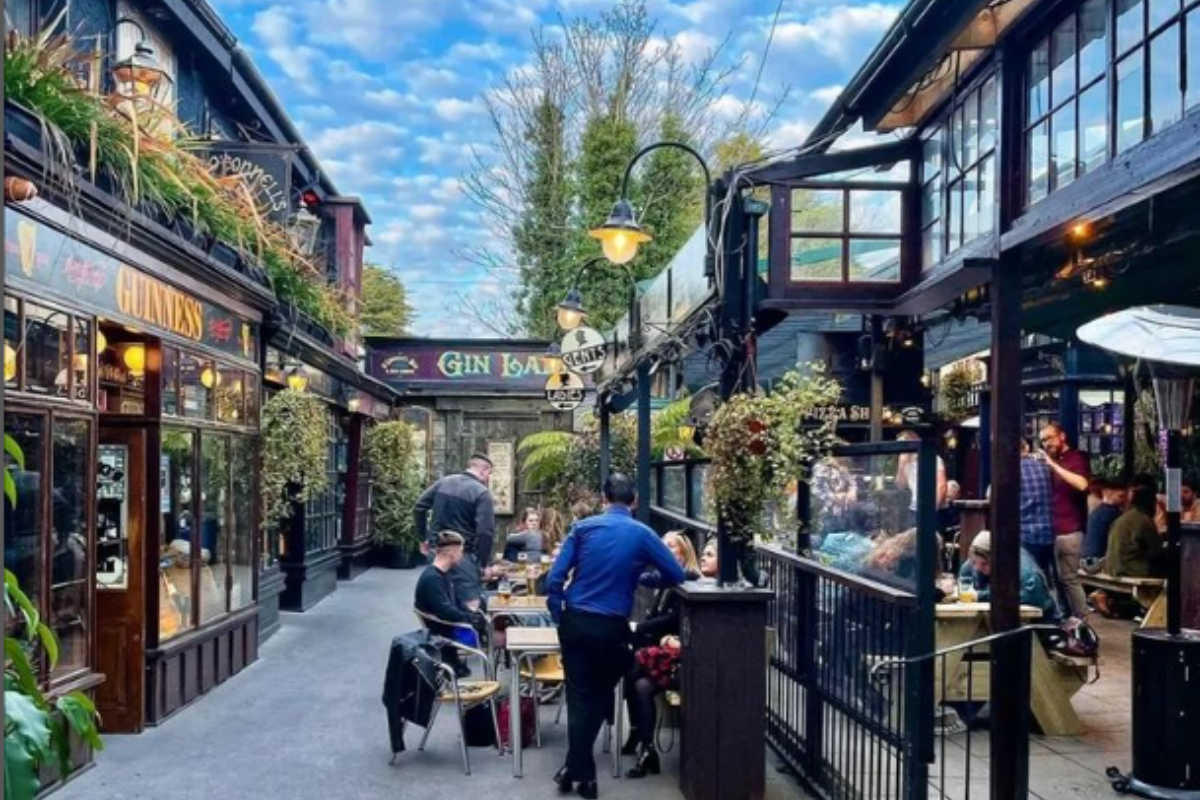 photo by vtanz84 on Instagram
The Skeff
Ideally located in the gateway to Galway City, looking out into Galway's nicest "garden", The Skeff Late Bar is a monument of the city's social scene. Those who love spending their afternoon people-watching with a creamy pint or chilled glass of wine will favour a covered outdoor terrace. Soak up the atmosphere of the city over after-work cocktails or make the most of the weather on the warmer days in this social sun-trap. Whether you're visiting the city in-search for a place to enjoy a nice coffee and hearty meal, or you're gathering your mates for a few beverages, The Skeff is a hot-spot for all occasions. Food is served daily, with iced and barista style fresh coffees, superb cocktails, monthly drink specials, delicious mid-week food specials, live music, live sport and a late bar until 2am, this Galway beer garden really has it all.
27 Eyre Square, Galway // more here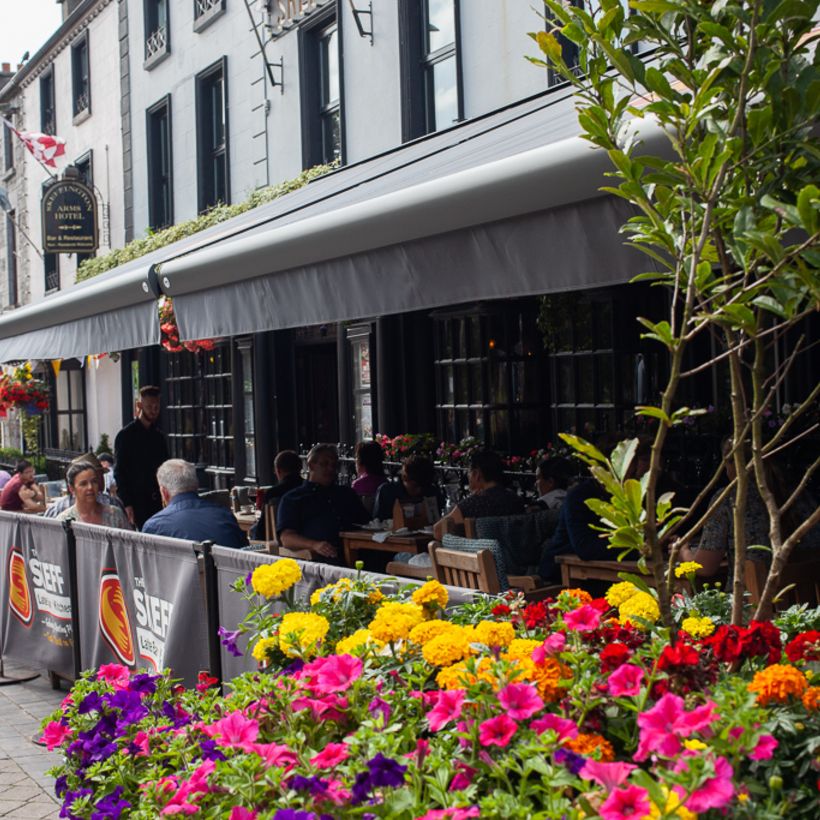 Massimo
The site where Massimo beer garden lies has had a varied and chequered past. Once upon a time it was an open air heated swimming pool, many years after it served as the stables to crew members of a Spanish Armada that sunk off the shore at Black Rock. These days it is a haven tucked away at the rear of the bar where you can enjoy a glass of wine from Ken's carefully curated wine and whiskey menu and plan your next party, its suitable for all occasions. During the day, Massimo is a great place to have a catch up with friends, or a delicious meal in a relaxing setting, but under the cover of darkness Massimo comes alive, keeping the Westend hopping with live music and DJ sets across the weekend. Perfectly suited to both a quiet chat on a sunny day and a boisterous bop on a night out, Massimo's is one of Galway's best beer gardens for a reason is there for its loyal visitors come wind, rain or shine.
10 William St West, Galway // more here
Murty Rabbitt's
Tucked away just off Forster St, The Garden @ Murty Rabbitts is one of the top beer gardens that the City of Tribes has to offer. Their retractable roof takes Galway's changeable weather into consideration, so you'll be nice and cosy with the help of some heated seats and heated areas. If you're looking for a great spot to watch the match, Murty Rabbitts show all the major events on their big screens, and with an outdoor bar and live DJ playing Friday and Saturday from 9pm, why would you go inside at all? They've even got al fresco dining from 12:30-9pm seven days a week and the option of an alternative menu for private events throughout the year. For a proper Galwegian pub experience, Murty Rabbitt's beer garden offers one of the best!
23 Forster St, Galway // more here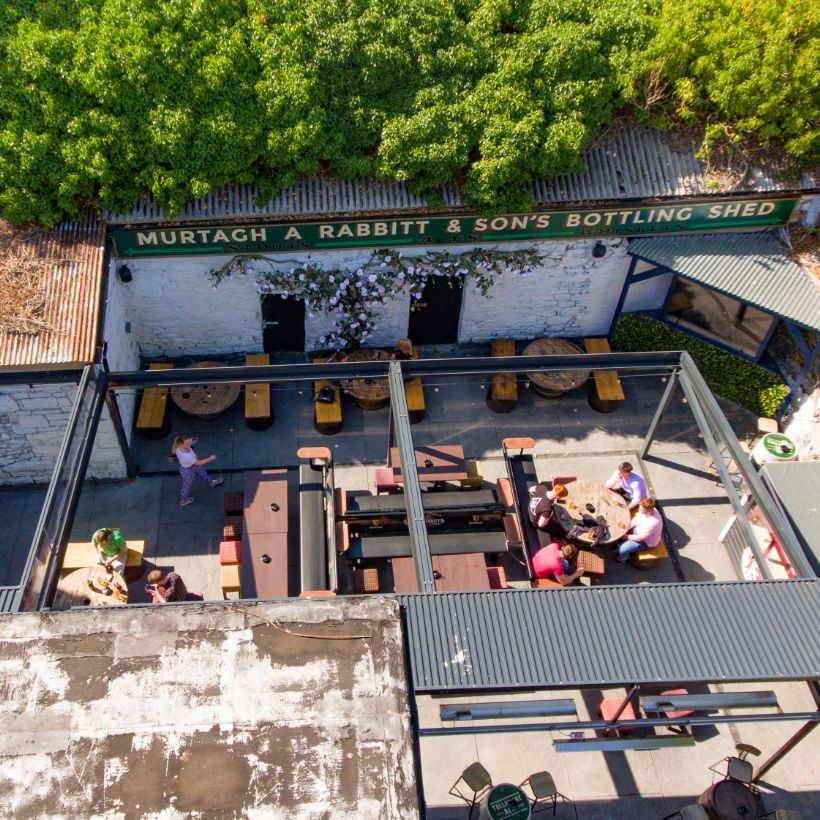 Taylor's Bar & Beer Garden
Taylor's Bar: Small at the front. Big at the back! Drinking the night away in the Beer Garden at Taylor's Bar is an experience to be had in Galway's Westend. Freshly renovated, the beer garden has an authentic party look and feel for all events, and a atmosphere that really comes alive on the weekends. Equipped with two outdoor screens and another five inside the pub, Taylor's is a live sports hotspot, catering for GAA, soccer, rugby and more! Sun trapped and heated, their beer garden is a perfect venue for a few after work pints and with live music seven nights a week and brilliant DJs looking after the late bar on Friday and Saturday night, there really is something for everyone. A member of the Galway Whiskey Trail, Taylor's has an extensive drinks selection with a superb collection of whiskey, gin, wine and delicious cocktails. Taylor's also offer BBQ and alternative menu options for corporate events, family occasions, day after wedding parties throughout the year. When in Galway head west to spend a night in one of the city's best beer gardens on Dominick Street Upper. Credit to Up in the Éire for capturing this fantastic photograph.

7 Dominick Street Upper, Galway // more here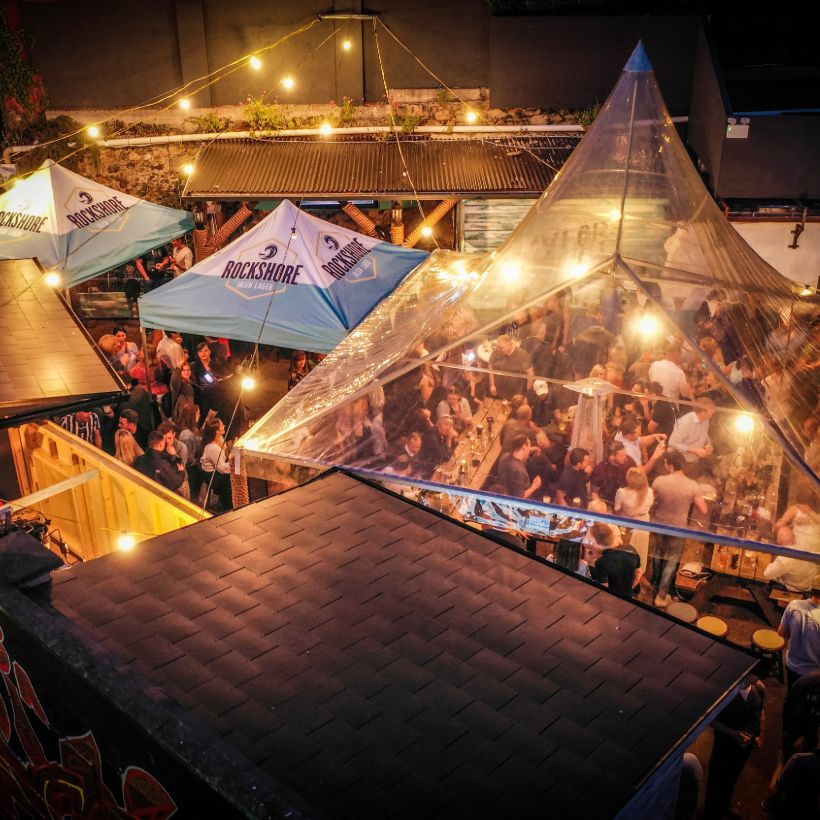 An Púcán
Born out of a love of both gin and Galway, An Púcán's multi-award winning outdoor area is a treat for the eyes, ears and taste buds. After one visit you'll see why it this Galway beer garden was named as the most photographed bar in Ireland outside Dublin. From the wall art to the fresh floral displays, it's no wonder this picturesque garden is captured all over social media. They've got a lot of heaters and provide enough shelter so that you can always enjoy the great outdoors, no matter the weather. Serving up delicious food and an unbeatable drinks selection, An Púcán have their fair share of both drink and meal deals to enjoy while you soak up the sunshine, music and good vibes. There's always the option of lapping up some of their salads, steak or seafood offerings in the comfort of their indoor bars, where there's always some great local musicians performing and a trad session is never far from kicking off. From the bar's facade you would never guess that An Púcán would stretch back so far and include one of the city's very best beer gardens, but once you experience the sun trap once, you'll soon become a regular.
11 Forster St, Galway //  more here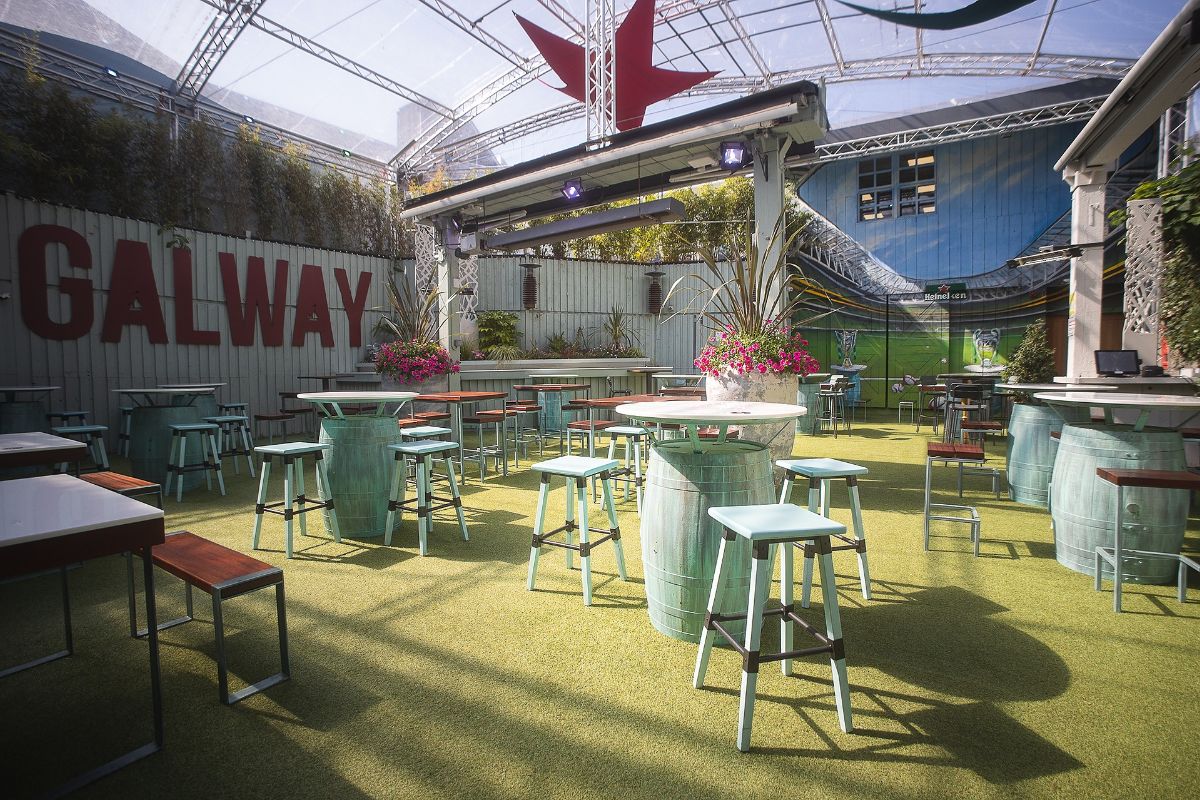 Carroll's on Dominick Street
Having won the title of Best Outdoor Space at the 2018 Irish Pub Awards, it comes as no surprise that Carroll's on Dominick Street have one of the best beer gardens in Galway city. Equipped with Birdhouse - a double decker bus that dishes out some seriously tasty chicken wings - you can be sure that your stomach will be well lined before a feed of pints! As well as the great food, the outdoor area is also extremely easy on the eye. Their new caravan club pops with colour and provides plenty of seating to ensure maximum comfort while you sip your pint. Good tunes echo throughout the garden, with regular live music performances and DJ sets from great local talents. Constantly growing and expanding their clientele, Carroll's love nothing more than seeing their loyal local regulars with a smile on their faces and welcoming new people into their fold. From the modest pub front you would never expect such a vibrant exterior out back, but once you experience its laid back atmosphere, you'll be telling all your friends about it.
39 Dominick Street Lower, Galway // more here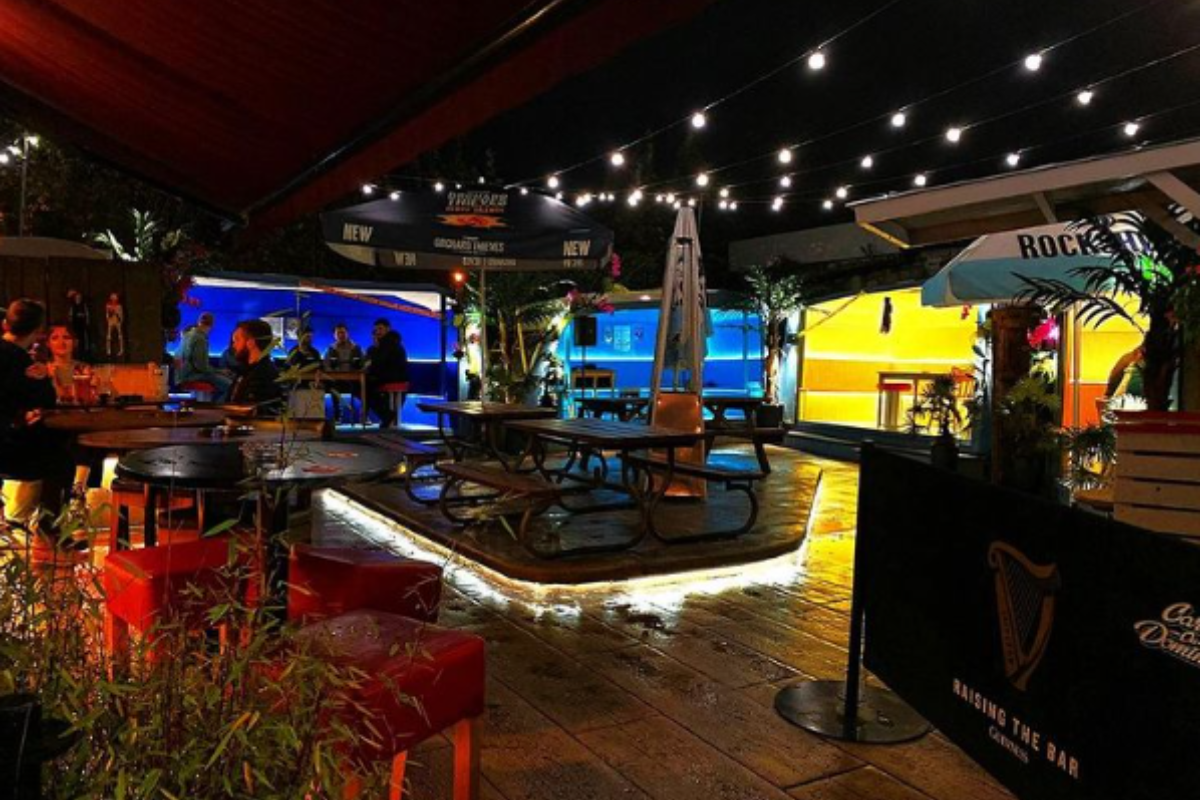 Charlie's Bar Loughrea
For all your beer garden needs, Charlie's Bar in Loughrea is your one stop shop. Opening up at  6pm during the week and early afternoon over the weekend, Charlie's Bar has got all the drinking, dining and dancing spaces you could possibly need. Equipped with live music, your favourite drinks, all the matches you could possibly want live on screen, and friendly service. This venue has also catered to numerous events and parties through the years, they have plenty of space for functions of every kind, with a beautifully designed venue upstairs and a variety of party packages to offer.  So, whether you want to dance to the tunes or chat to your mates all night long, Charlie's Bar offer the perfect setting for both. Loved by tourists and locals alike, Charlie's is a Galway beer garden gem, good booze, great tunes and brilliant people, the craic is always non-stop.
51 Main Street, Loughrea, Galway // more here