Wáltsáil Abhaile is a surreal play about the life of the great Irish actor, director and theatre impresario, Micheál Mac Liammoir, presented as a theatrical multimedia fantasia. It opens in Galway's Irish Language theatre, An Taibhdhearc, on Thursday March 23rd. Find out more and book your tickets here...
A world premiere written by award-winning writer, Antoine Ó Flatharta, directed by Stephen Darcy and designed by world-class Lulu Tam, will kick-start a new season of theatre in Fíbín sa Taibhdhearc. In Wáltsáil Abhaile, "Mac" is in the autumn of his years and goes on a dreamlike journey that weaves in and out of time and place, reality and fantasy. On a dark night, an aging Mac Liammoir stops for a "small pleasure". He is denied by a young Garda who safeguards him home... but there's a storm coming.
Tickets for the Opening Night on Thursday March 23rd are available here. Tickets for all other shows can be booked here.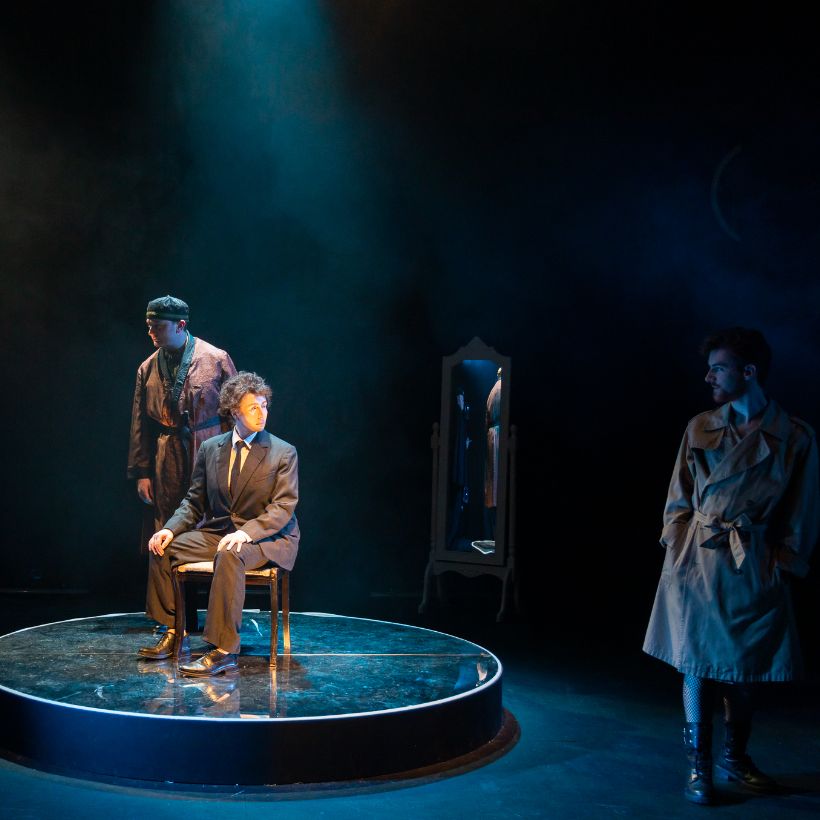 Written by one of Ireland's leading writers in the Irish language, this is an ode to theatre, and a heartfelt love song to one of Ireland's theatre legends. This production is also a spiritual home-coming for Mac Liammoir; the first artistic director of An Taibhdhearc.
Antoine Ó Flatharta, who devised the long running TG4 series, Ros na Rún commented; "Although this play is about Mícheál Mac Liammoir, it's also about me. I started out writing a play about Mac Liammoir but I ended up slipping into the play in ways I didn't expect. This happens with any art that I think has merit. But it happened more with this play than any other play I've ever written. Why? The content and the stroke of chance, they come from the heart. And age too. It has been a long six years since I wrote any stage play. I was young then and I'm not anymore. I'm not sure sense comes with age, but one thing that comes with age is freedom."

Director of Wáltsáil Abhaile, Stephen Darcy commented; "Micheál Mac Liammóir was one of the greatest actors, directors and theatre visionaries that Ireland has ever seen. He was the first Artistic Director of An Taibhdhearc. He wrote and acted in English and Irish. He founded the Gate Theatre in Dublin with his life partner and lover Hilton Edwards. Together they discovered Orson Welles and gave him his first jobs as an actor. Mac Liammóir's contribution to the fabric of Irish Theatre was fantastic and his own name and history was also a fantasy. He was born English with no ties to Ireland. Playwright Antoine Ó Flatharta explores the whys and what ifs of this extraordinary personality in his beautiful imagining of a night with Mac Liammoir."
This is a play that imagines a meeting between Micheál Mac Liammóir and a Garda. The apochryphal story tells us that the Garda escorts an old, frail and almost blind Mac Liammoir home after his night of cottaging in the public toilets of Dublin city. Antoine Ó Flatharta delves into this story and explores its possibilities... Is the Garda a guardian angel or a devil, we wonder, as Mac Liammoir is led on a dream-like journey though his past life and possibly his future. The play imagines what such a meeting might have been like; what stories told, what characters met, what memories shared and finally takes us to the home of Mac Liammoir and his partner, Hilton Edwards.
This elegant, dreamlike and touching play takes us on a theatrical and surprising journey as we explore the secret life of one of Ireland's national treasures.
Tickets for the Opening Night on Thursday March 23rd are available here. Tickets for all other shows can be booked here.
Wáltsáil Abhaile is written by Antoine Ó Flatharta. Directed by Stephen Darcy. Set design by Lulu Tam. Sound design Jay Burke. Cast: Ben Morris, Caitríona Ní Mhurchú, Caoimhghín Ó hEoghusa, & Dáithí O'Donnell.
Please note that surtitles will be used in this production.
PERFORMANCE SCHEDULE
23 March 8pm - Opening Night
24 March 8pm
25 March 8pm
29 March 8pm
30 March 8pm
31 March 8pm (all ticket sales will be contributed to a support fund for friend of the production, Pete Nelson.)
01 April 8pm
TICKETS: €18 & €16 concession
LOCATION: An Taibhdhearc, 19 Middle Street, Galway.
MORE INFO: www.antaibhdhearc.com
Tickets for the Opening Night on Thursday March 23rd are available here. Tickets for all other shows can be booked here.
Photos by Emilija Jefremova @emjcamera
Published on Updated on