These days, who doesn't need their day brightened up with a slice of cake?! Thankfully, Galway is home to many fantastic bakers who work magic creating some of the finest and tastiest cakes you'll ever enjoy. You know you deserve a little treat every now and then so here are our recommendations for enjoying a taste of Galway's best cakes.

Kai Restaurant
20 Sea Road, Galway's Westend / find them here 
The cakes at Kai Restaurant are the stuff of legend here in Galway. Tall, gorgeous looking cakes with loads of edible decorations are their specialty and they're always in high demand - so do the right thing and get down there early. Their little sister business Hapi Bakery is the master creator behind the cakes and not only are they available for taste in Kai but they also supply their neighbour Plámás café with loads of delicious tray bakes.
Our Order: Given the nature of their ever-changing menu, we like to mix up our order on every visit but we can say - hand on heart - we've never had a bad slice of cake at Kai.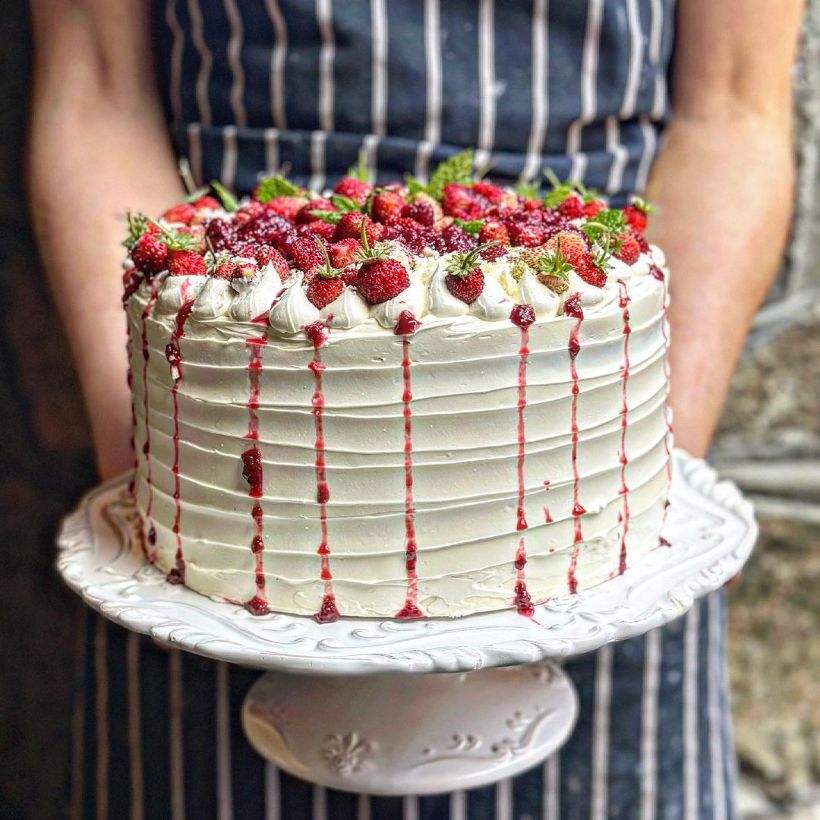 above: photo courtesy of Hapi Bakery
Walsh's Bakery
Market Street, Clifden / find them here
The family run Walsh's Bakery has been keeping Clifden, Connemara and beyond happy and full of cake for over 70 years so if that doesn't convince you to try their range of delicious goods for yourself nothing will.  All their baked goods are made fresh each day in their onsite bakery and since there are so many lovely pastries, cakes and treats for you to indulge on, we can guarantee you'll leave here with your arms full of boxes of cakes and a smile on your face. Custom cakes are available also.
Our Order: Getting a slice of their jam and cream sponge cake has become a tradition for us when visiting Clifden. We highly recommend it!

above: photo courtesy of Walsh's Bakery
Greens & Co.
4 Henry St, Galway's Westend / find them here 
When it comes to enjoying a delicious slice of cake, the vegan and vegetarian restaurant Greens & Co is doing it like no other. These cakes look almost too good to eat and the vast majority of their baked goods are also gluten free ensuring that no one is left behind. They regularly change up their dessert and cake offerings so that each time you visit them you get to enjoy a delicious new slice of cake with your coffee.
Our Order: We always opt for whatever cake they have new on the day, and it really does always taste as good as it looks. 

above: photo courtesy of Greens & Co
Gourmet Tart Co.
Multiple locations across Galway city and Salthill / find them here
Possibly one of the most well-known and well-loved pastry places in all of Galway thanks to their various locations across the city centre and Salthill. The displays at each Gourmet Tart Co. café is always filled with tasty looking mini cakes and tartlets that are every bit as yummy as their reputation suggests. Seriously we don't think we've ever had a birthday in Galway without the addition of some of their delicious handmade baked products.
Our Order: A slice of their heavenly bumblebee cake with a side of hot chocolate and marshmallows.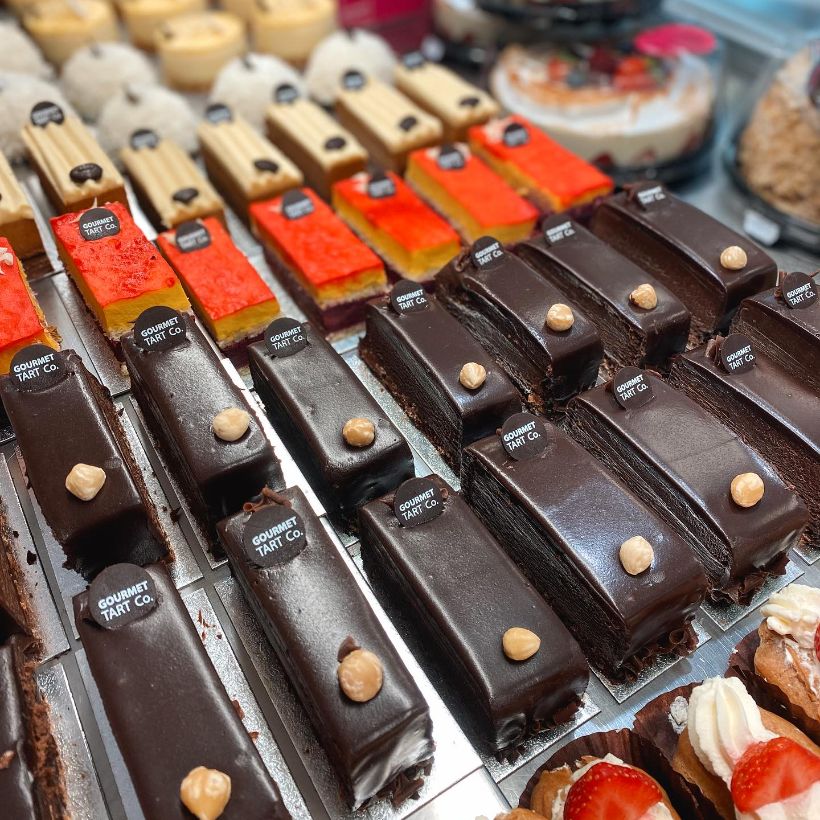 above: photo courtesy of Gourmet Tart Co
Truffle
15 Abbeygate Street Upper, City Centre / find them here 
If you are looking for somewhere whose speciality are delicious and beautiful little cakes, this is the place for you. Truffle is the only French chocolaterie in Galway city so it really needs to be on your to visit list because not only will you find rows upon rows of chocolates and cakes of all sizes, Truffle also have their own chocolate waterfall. To make things even better for you, these cake baking experts also make custom cakes for their visitors so if you have an even coming up and need a cake - look no further.
Our Order: Their pistachio and raspberry slices are really divine. You will never go wrong ordering one.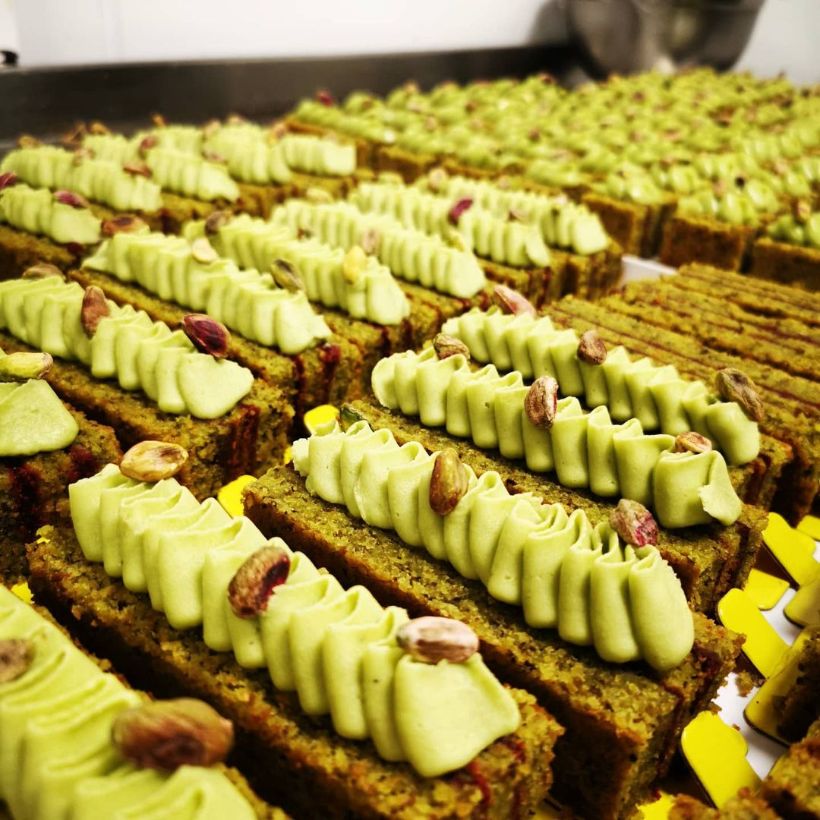 above: photo courtesy of Truffle
The Twelve Bakery Shop
The Twelve Hotel, Coast Rd, Barna / find them here 
Under the watch and guidance of Barbara and Jayne, the Bakery at The Twelve Hotel create gourmet cakes that feature exciting blends of flavours, incorporating the finest quality ingredients including Belgian chocolate, rich liqueurs and seasonal fruits. Every visit to their bakery shop is a sensory experience – an experience of delicious aromas, warm freshly baked breads, melt-in-the-mouth confectionery, scrumptious cakes, velvety coffees, grab and go snacks and other favourites.
Our order: We love everything they do, try it all!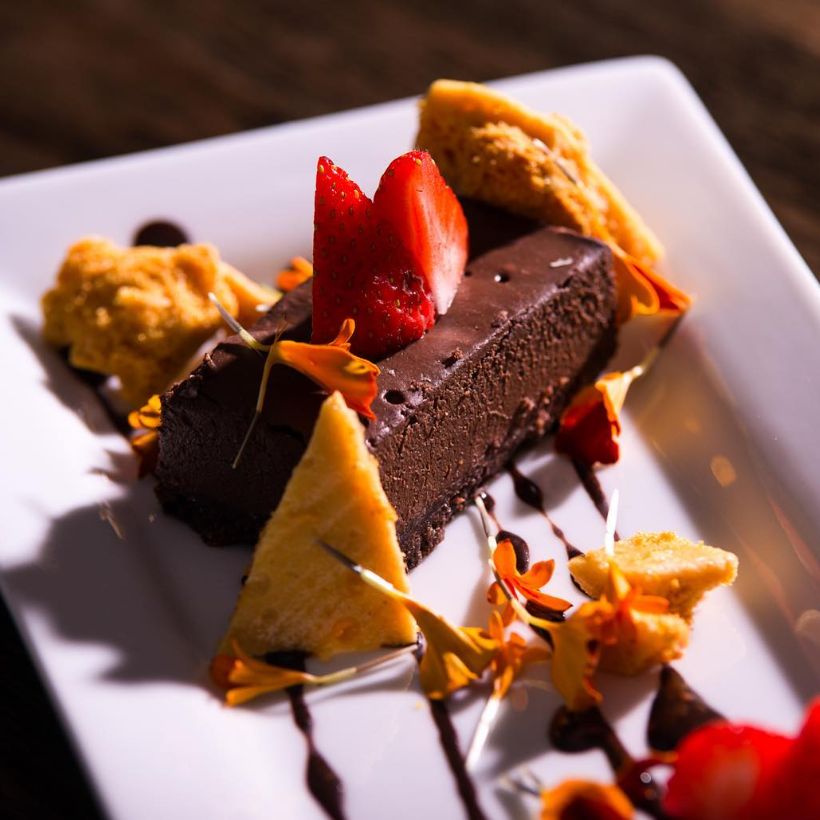 above: photo courtesy of The Twelve Bakery Shop
Corrib House Tea Rooms
3 Waterside, Woodquay / find them here
Corrib House Tea Rooms is popular amongst both tourists and local alike thanks to their sensational brunches and freshly baked cakes. One of the loveliness ways to start off a busy day in Galway is sitting by the windows in Corrib House Tea Rooms with a warm cup of coffee or tea and a slice of their homemade cakes.
Our Order: See what they have available on the day and go with the one that speaks to you.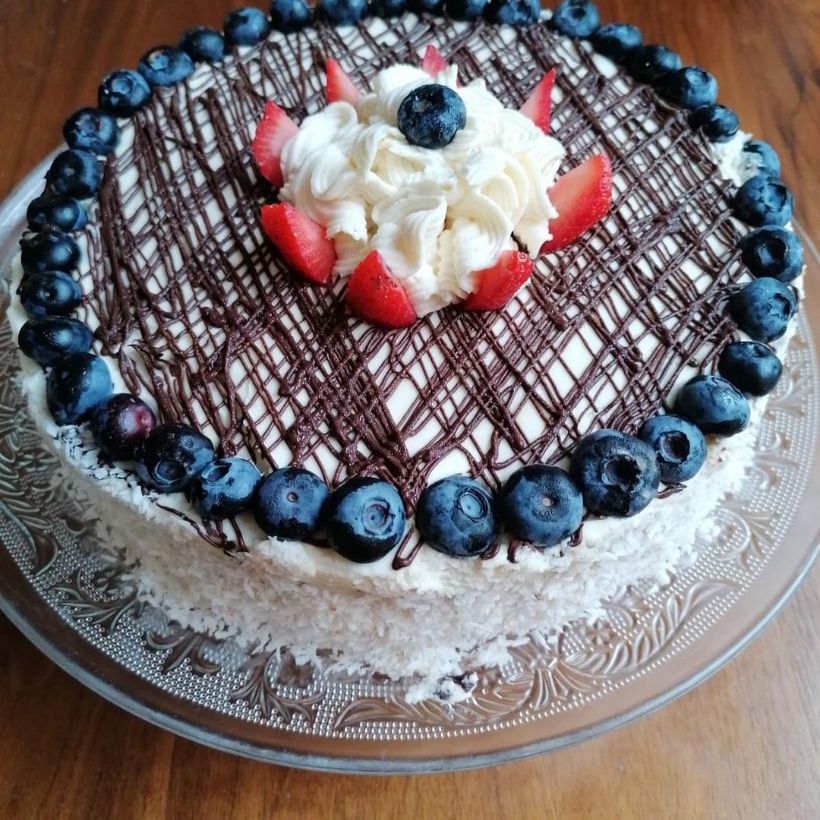 above: photo courtesy of Corrib House Tea Rooms
Goyas
Kirwans Lane, Latin Quarter / find them here
Everything at Goyas has been made fresh in-house each day and you can taste the quality in every bite. One of Galway's most well known places for a bit of cáca milis, if you have ever considered yourself a lover of cakes you need to call into this café ASAP!  From rich chocolates, luxurious coffee and walnuts to zesty lemon drizzle, they've got a cake that will appeal to everyone's sweet tooth.
Our Order: The red velvet cake at Goyas is one of their most popular cakes, and it's easy to see why. Try it for yourself and let us know if you love it as much as we do.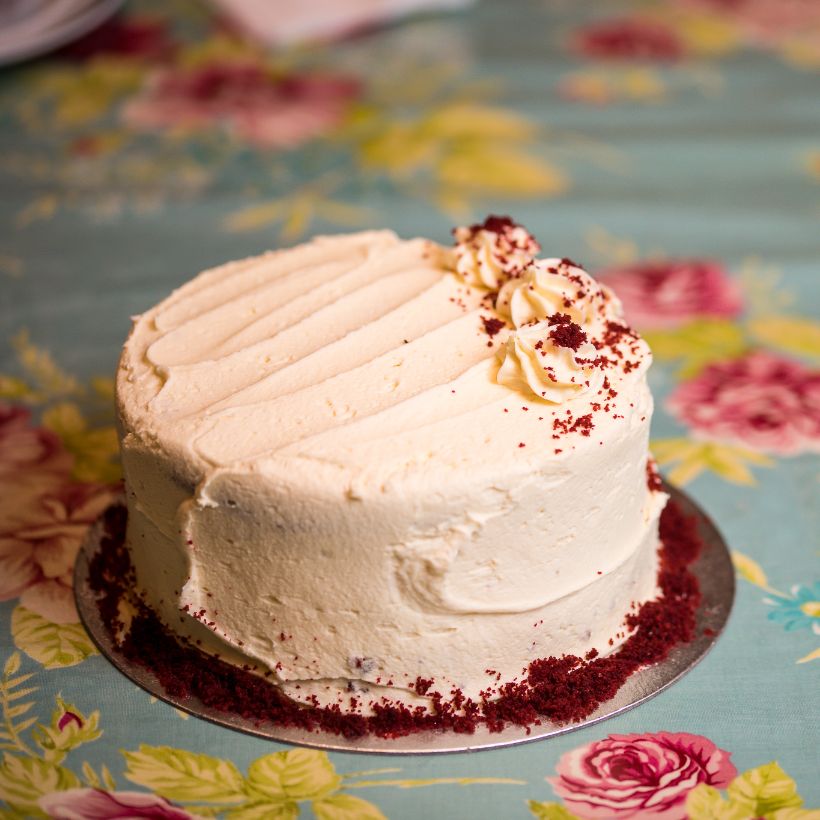 above: photo courtesy of Goyas
C'est la Vie Boulangerie
12A Terryland House, Terryland / find them here
Home to some of the best patisseries in Galway, C'est la Vie Boulangerie offers visitors a vast variety of baked goods to enjoy for takeaway or in their café area. With options such as strawberry and apple pies, chocolate eclairs, tartlets and more (depending on the seasonal produce available), this authentic French bakery really does have everything you need to spoil yourself to some freshly made goodies.
Our Order: A lemon meringue tart with a fresh latté - the perfect way to start your day.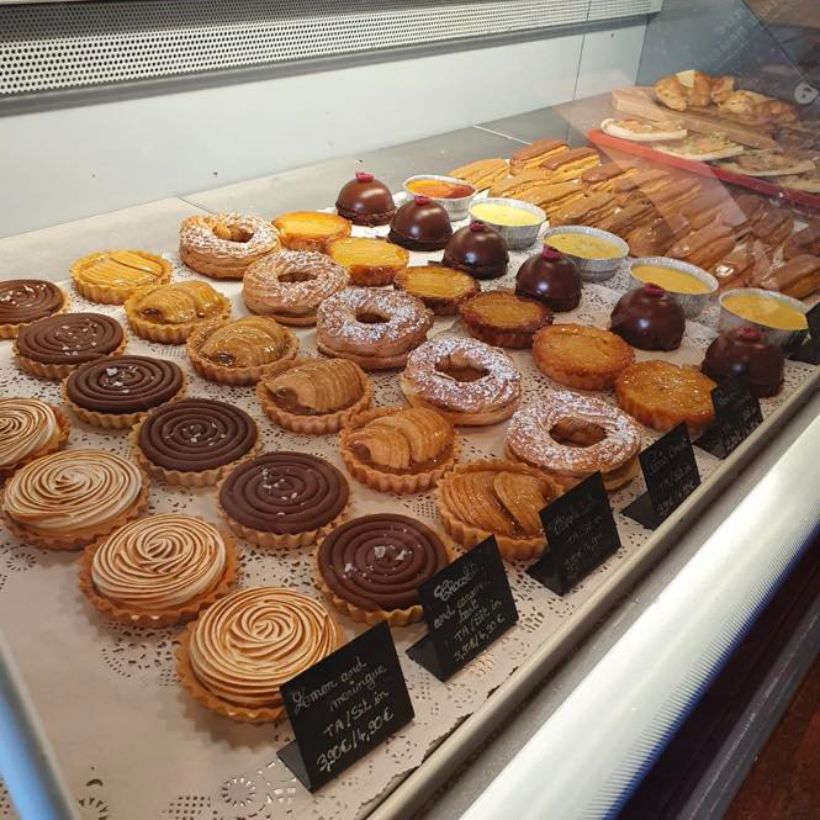 above: photo courtesy of C'est la Vie Boulangerie
Le Petit Délice
7 Mainguard St, City Centre / find them here
At Le Petit Délice it's all about enjoying the sweeter things in life. So, it's no wonder that this coffee shop is famous for their absolutely divine homemade cakes. Aside from all the cake options they have instore, the team here can create the ideal customised cake for all of your special occasions complete with personalised message and edible pictures.
Our Order: Their signature strawberry tart contains bursts of fresh flavours , you'll love it.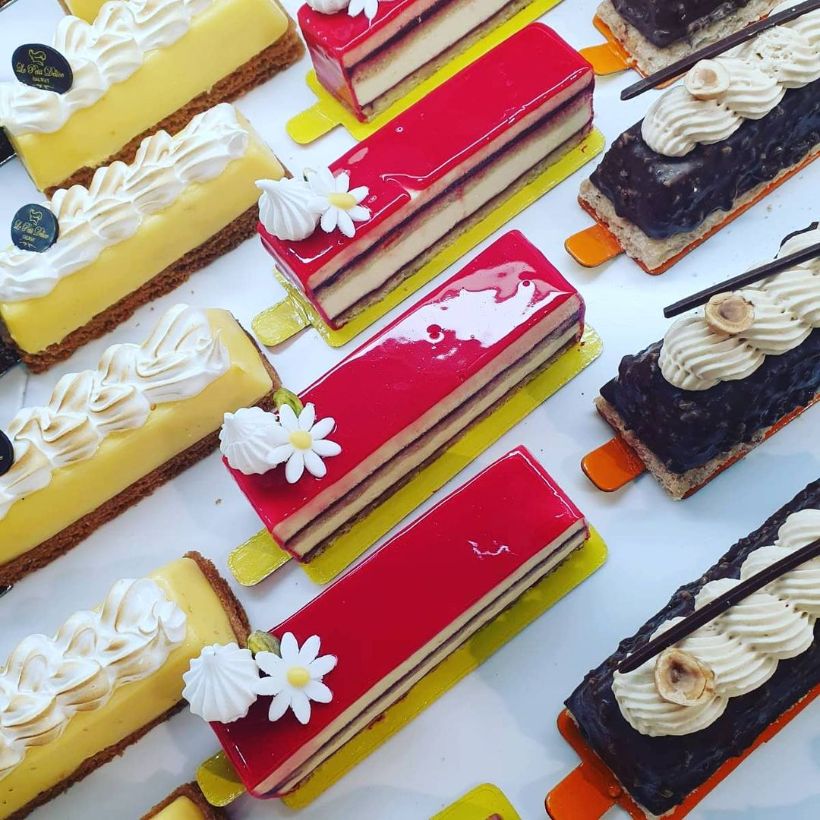 above: photo courtesy of Le Petit Délice 
Feature photo courtesy of Hapi Bakery
Published on Updated on