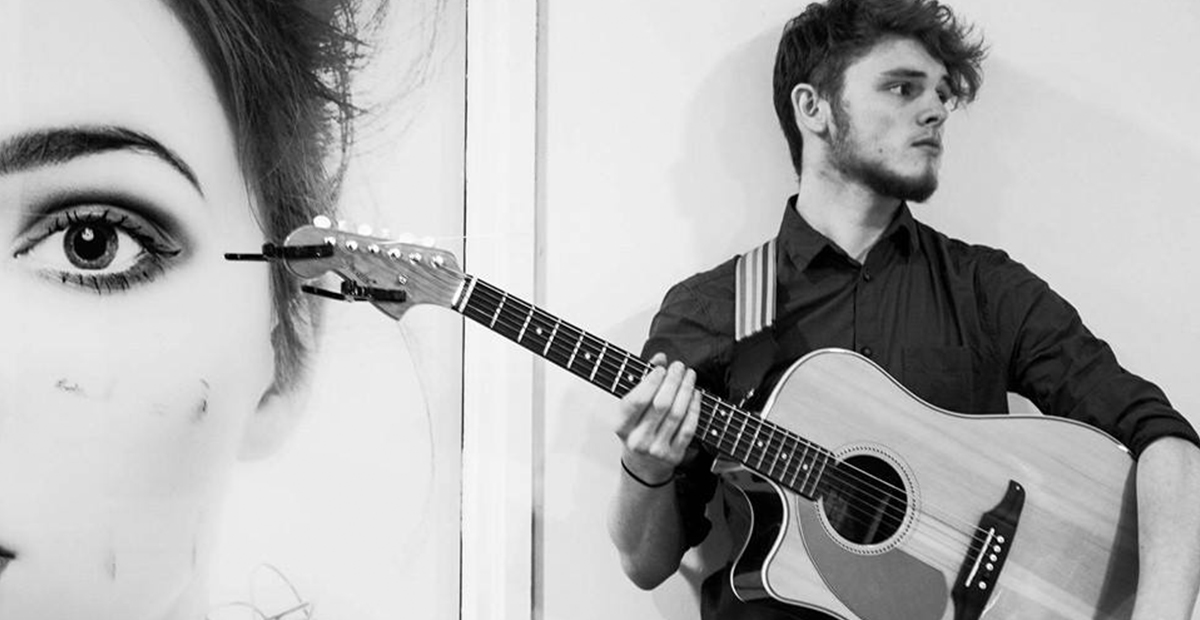 Jack Lee: The Low-Down
Here at This is Galway, we love to promote local! So we want to celebrate the committed musicians that keep this city singing and dancing the whole year round. In this edition of The Low-Down we are shining a well-deserved light on one of Galway's hardest working singer/songwriters: Jack Lee..
Jack Lee knows the importance of patience. After time spent writing with his brother, he travelled around to other cities in Ireland before settling back in Galway. Upon returning he has slowly, but steadily, earned a following with performances at The Open Mic Night in The Róisín Dubh. He has chalked up a string of very impressive support slots for the likes of Say Sue Me, Mik Pyro of Republic of Loose and, even, Aslan. Now, he brings his intricate guitar-playing and powerful voice to The Black Box Theatre on Thursday 27th of June for Club Gardenia. Get to know Jack Lee, below, then buy a ticket for the show. Some of Galway's best bands and DJs, a massive art installation and a chance to support local charities for just €10. Sounds like a good deal!
Who are you? Tell us a bit about yourself?
My name is Jack Lee, I'm a musician, from Galway, my birthday is May 8th, I can't see properly and my favourite word is floccinaucinihilipilification.
How would you describe your music to somebody who has never heard you?
It used to be pop-folk but in the last two or three years I've been told it's more like indie-pop or alternative rock. I'm always hesitant to give myself a genre because I feel like it changes from song to song. I certainly feel like I'm folk but folk has so many branches at the moment, it's hard to say which one I'm hanging from.
What are your plans for the near an distant future?
My plans for the near future are to play my first full band gig this Thursday and then hope that the band enjoys it enough to stick around for more. Long term plans include getting a drivers licence and living to see 64.
Who has been the biggest influence on your music?
In terms of established artists, the three big ones would be (early) Coldplay, Simon & Garfunkel and The Frames. I saw The Frames in Red Light Records back in the early 00's and they blew me away. I can still remember the feeling in my chest when they played Fitzcarraldo. The only other time I can remember a performance hitting me that hard was when I first saw David Keenan in The Spirit Store in Dundalk in 2015.
An important influence in my life would have to be my brother Sam. We played as a duo through most of my teenage years. He really made an impact on how I write. When you're writing for two voices you've really got to make sure your melodies stay interesting. He also helped my confidence when it came to performing new material. I always had him around to taste test my cheesy nonsense and make sure it wasn't heard until it was worth hearing. For that, I am eternal grateful. He's definitely still my favourite person to play with.
What's the best part about being a musician in Galway? What do you think could be changed?
Being a musician in Galway is like being an aspiring Formula 1 driver in a town where everybody else also wants to be a Formula 1 driver. It's great because you're constantly surrounded by people with similar interests and goals but it certainly stiffens the competition! It can sometimes be hard to find a free night to book a gig or choose who's gig you're going to go to. Which is a great complaint really!
How does it compare to other places you have been?
It's a far more creative city than anywhere else I've been. I spent a few years in Dundalk where I made some incredible friends and met some incredible musicians/producers but it eventually chewed me up and spat me out so I retreated back to the busking capital to gather my wits (some of which I think may still be scattered along the floor of the 100X bus).
Describe your dream gig?
My dream gig to play would definitely be in the Olympia Theatre, Dublin. Maybe opening for Matt Corby or somebody like that.
My dream gig to attend would have to be some sort of reunion of The Police.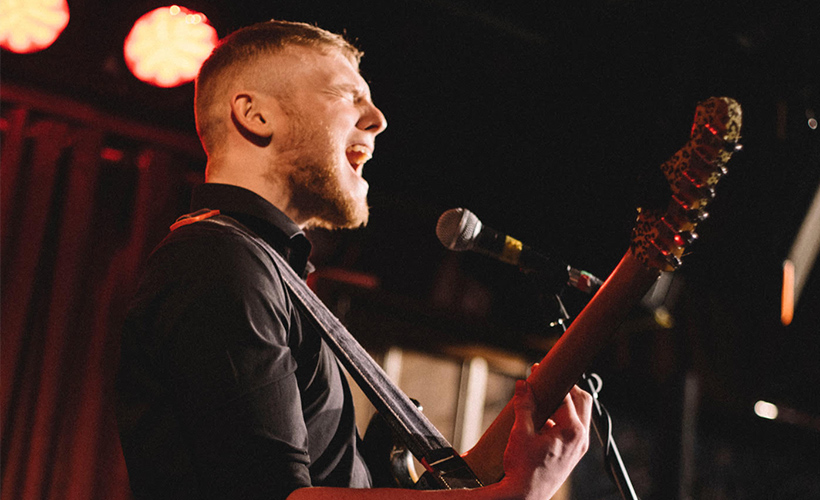 What's your favourite record of all time?
It's almost impossible to choose just one but on the spot I think I'd say my favourite complete record would be The Barenaked Ladies album, 'Stunt'. Every track has its own vibe but somehow the whole project still gels perfectly. The melodies they wrote for that album made a lasting impression on me as a kid and still effect the way I write today. I know these days they're just 'The Big Bang Theory tune guys' but their early lyrics were beautiful.
Any tracks that you are really digging at the moment?
Yes, loads! Grab a pen! Look up and listen to 'Pretty Woman' by Powpig, 'Run From Revelation' by Rival Sons, 'Nazareth House' by David Keenan, 'The Love You're Given' by Jack Garratt and as much Lemoncello as possible, their lyrics and harmonies are incredible. I've an endless list here but go with that for today. Make sure you do it all, I'll be checking your copies tomorrow.
Where is your favourite place to grab a coffee/snack/pint in Galway?
That might be the toughest question you've asked me so far. When it comes to coffee, I like anywhere with outdoor seating. For a snack/dinner I'm going for Zappi's. For pints I'd say Murty Rabbitt's, Róisín Dubh or Taylor's.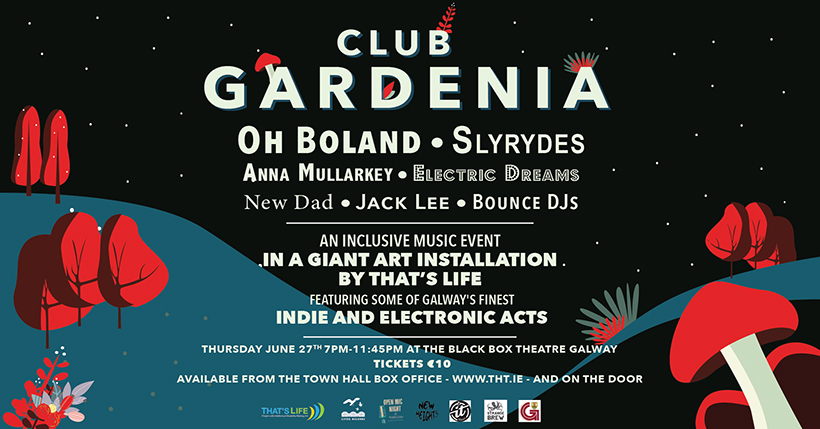 Club Gardenia is an inclusive music event in a giant art installation featuring some of Galway's finest indie and electronic acts. As part of a three day programme of workshops, installations and performances, That's Life are staging an inclusive music event in Black Box Theatre, Galway, on Thursday, June 27th. Club Gardenia will take place within a giant art installation created after months of prop making workshops by people with intellectual disabilities and music on the night will be provided by local record labels/ collectives Strange Brew, Citóg Records, New Heights Music Group and the Open Mic Night at Róisín Dubh. Acts performing include Oh Boland, Slyrydes, Anna Mullarkey, NewDad and Jack Lee. Club Gardenia will also feature performances from the mixed abilities group Electric Dreams and tunes from the Bounce DJ Crew. Club Gardenia aims to celebrate the high quality projects that are happening in disability arts and bring an awareness of this to the wider arts and music community. Buy tickets HERE

Cover photo by Fra Lucchesi Photography
Article photo by John C. Margetts Imagery