An Athenry native, Damien Ryan is attempting to break a Guinness World Record for most pubs visited in 24 hours by an individual. Damien, an avid Galway United, Celtic and Ireland fan who runs Lowrys Bar in Clifden is undertaking this mammoth event in aid of the Children's Health Foundation.
The record for most pubs visited in 24 hours currently stands at 78 and is held by a South African native, Heinrich de Villiers. Mr de Villiers set the individual record on February 10th & 11th, 2022, in Melbourne, Australia.
The marathon attempt is subject to strict rules. A minimum of 125ml must be drank in each pub, but luckily for Damien, the beverage does not need to contain any alcohol! While there is no time limit in each pub, a logbook must be signed by the barstaff of each bar confirming that he purchased and consumed a drink. No private transport is allowed but he is allowed to use public transport, taxis or travel by foot. Support Damien and help to raise funds for a vital cause by tapping here.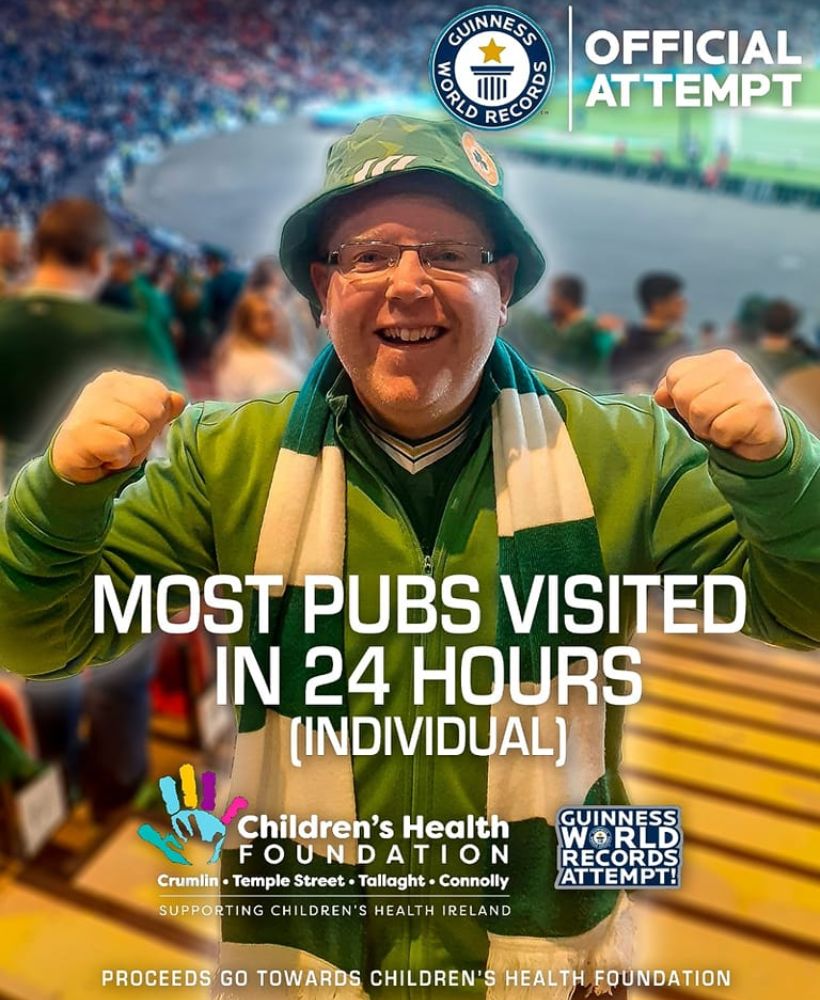 Damien will be attempting this on the weekend of Friday 31st March & 1st April. His route will include Galway City and Clifden. Speaking at the launch of this Guinness World Record Attempt, launch, Damien Ryan said; "I looked at various Guinness World Records before deciding on this one. At one point I was looking to do the largest gathering of leprechauns in one place on St Patrick's Day and planned on doing this in Clifden. But with Clifden being relatively small, it wasn't a viable option to set a world record, so I kept looking!"

"I came across the fact that the world record for the most number of pubs in 24 hours was 78, and I felt that it was doable and I am aiming to visit 83-85 pubs. We will give it a go anyways, it's all for a great cause. We are hoping that it takes off and that the pubs of Galway and Clifden row in behind us and we raise as much money as possible for the Children's Health Foundation. The CHF is close to many families but very close to two in Connemara in particular. The Keaney family had a son, Bernard Og (12), receive a kidney transplant and for years they had to travel from Roundstone to Temple Street Hospital for treatment. Recently, the Carey family had their daughter Emma (7) in Temple Street for neurosurgery and Emma's parents are beyond grateful to all of the staff in the CFH"
The Children's Health Foundation raises vital funds to support sick children and their families in CHI hospitals and urgent care centres – from funding vital life-saving equipment and providing essential patient and parental support to making ground-breaking, paediatric research possible.
Children's Health Foundation is the new name for CMRF Crumlin and Temple Street Foundation, which came together in January 2019 to become one foundation supporting all CHI sites to ensure every sick child has the very best chance. The National Children's Hospital Foundation in Tallaght will soon also join Children's Health Foundation to become a single, unified family supporting all of Ireland's sick children. They are committed to supporting the little patients and families who attend Children's Health Ireland (CHI) hospitals and urgent care centres in Temple Street, Crumlin, Connolly and Tallaght.
Anyone wishing to donate can do so via the GoFundMe page "Damien Ryan Guinness World Record Attempt" right HERE.
Published on Updated on