We're huge fans of Galway's foodie culture and, though we'd love to visit our favourite restaurants every single night, it's just not feasible! But you can still get a taste of Galway grub even when you're cooking from home! Teaming up with some of the best restaurants and cafes in town, For Fork Sake is an online recipe series for you to try and recreate your favourite dishes at home.
Langoustine Bruschetta
In the West of Ireland Langoustine's are in abundance, but are often hugely underrated by the public. We wanted to show that with a bit of extra love, they can be really versatile ingredients that you can use in your cooking at home, as well as in a Restaurant.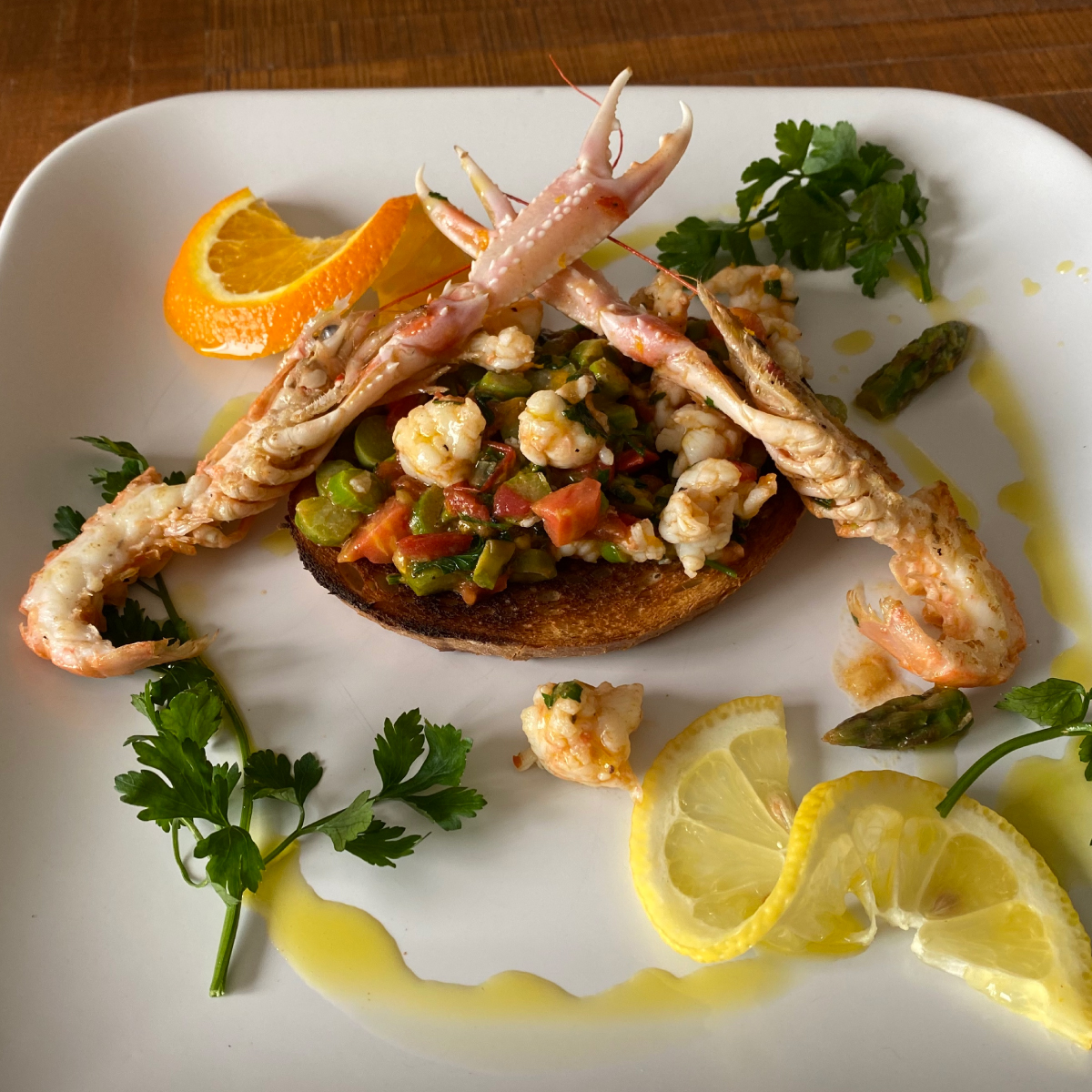 Ingredients
Serves 4 People
1 large shallot chopped
1 Bunch of Green Asparagus finely sliced or Julienne
2 large ripe vine tomatoes chopped
200g Irish Langoustine peeled
1 orange - zest only
Half Lemon juiced
Toasted bread of your choice
Olive oil
Seasoning
Method

1. Warm up a non-stick pan and add a couple of spoons of olive oil.
2. Gently cook the shallots until soft.
3. Increase the heat and add the Asparagus. Cook them for 1 minute until nice and crispy.
4. Add the prawns, tomato and orange zest (optional) and cook for 1 minute.
5. While the prawns are cooking grill your bread.
6. Finish with a little squeeze of lemon juice and season to taste with some sea salt and black pepper.
7. Put the bread on a warm plate, drizzle some olive oil and add a spoonful of the prawn mix.
With a number of accolades to their name, including an AA Rosette for Fine Dining, the Basilico Restaurant in Oranmore has been incredibly successful since opening in 2008. The á la carte menu has a wide variety of dishes to suit all tastes and budgets and a new menu is prepared every season so you'll never get bored of Basilico. Their stone-baked pizza and authentic Italian bread is hard to beat for both taste and price and it's prepared fresh every day by their Italian Pizzaiolo.
For more info on Basilico, click here