11 delicious hot chocolates to keep you warm in Galway
When the weather gets a bit nasty in Galway, there's one benefit: no excuses necessary for a tall cup of hot chocolate heaped with cream and marshmallows.
It doesn't get much better than hot, drinkable chocolate so without further ado, bow down to your sweet tooth and grab one today.



Left: Cupán Tae; Right: Mocha Beans Newcastle
Cupán Tae
Perfect for posh afternoon high tea, they also do a seriously indulgent and warming hot chocolate, piled generously with marshmallow goodness. The dainty café is full of doilies, mismatched tea sets and kitsch for a fun, atmospheric sit-down.
8 Quay Lane, Galway // more here
Mocha Beans
Their Newcastle location is super cosy, full of exposed brick and blankets. It's the perfect place to hide away on a cold, rainy day and relax. If hot chocolate isn't sweet enough for you, order a stack of pancakes because they're delicious.
25 Lower Newcastle, Galway // more here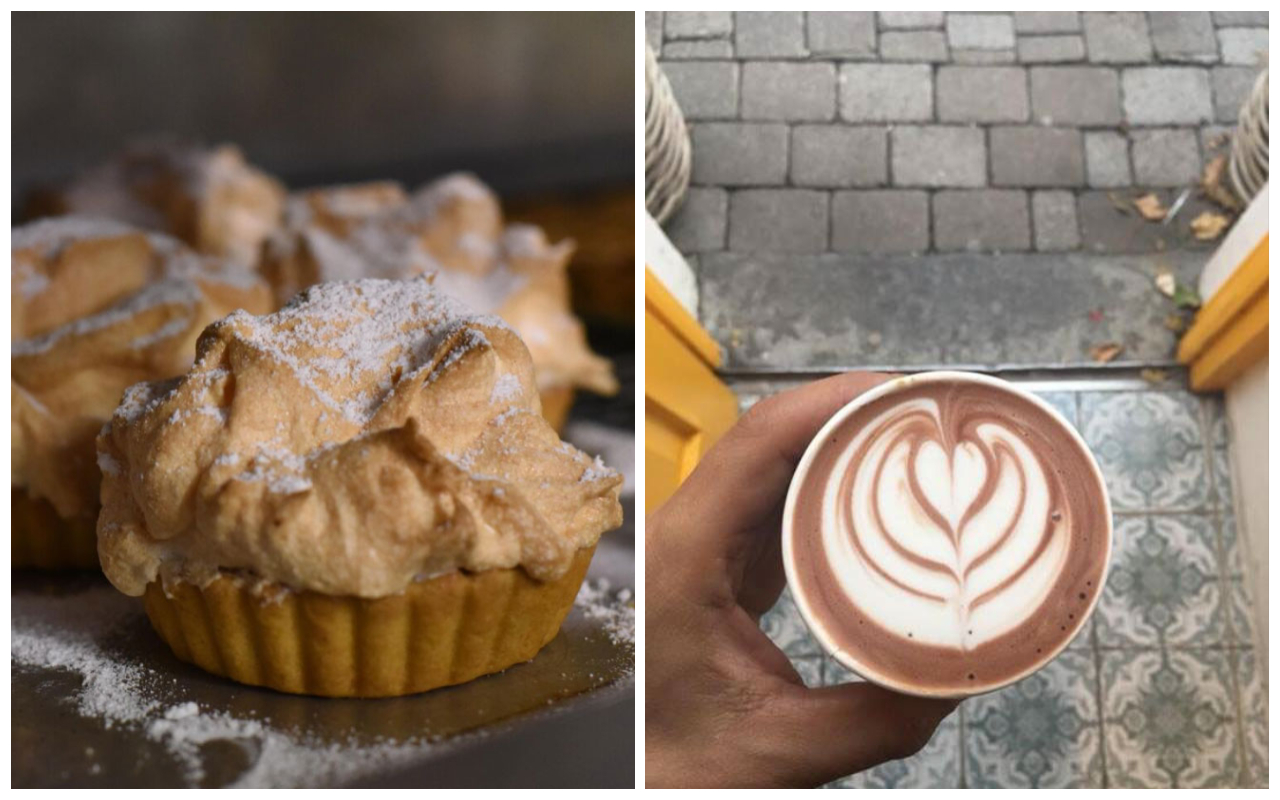 Left: Goya's; Right: Coffeewerk + Press
Goya's
This old-fashioned local bakery boasts hot chocolate made from real Belgian chocolate buttons. Choose from a dark, milk, or white chocolate cup which makes a perfect match with any of their delicious cakes and pastries.
3 Kirwan's Lane, Galway // more here
Coffeewerk + Press
You'd be hard-pressed to find a place cosier and more Instagram-friendly than Coffeewerk. If you can snag the windowseat upstairs overlooking Quay Street, it's the best place to enjoy their winter hot chocolate, made with 30% organic chocolate, dark chocolate, black pepper, cinnamon, sea salt, chili powder, and hazelnut syrup.
7 Mainguard Street, Galway // more here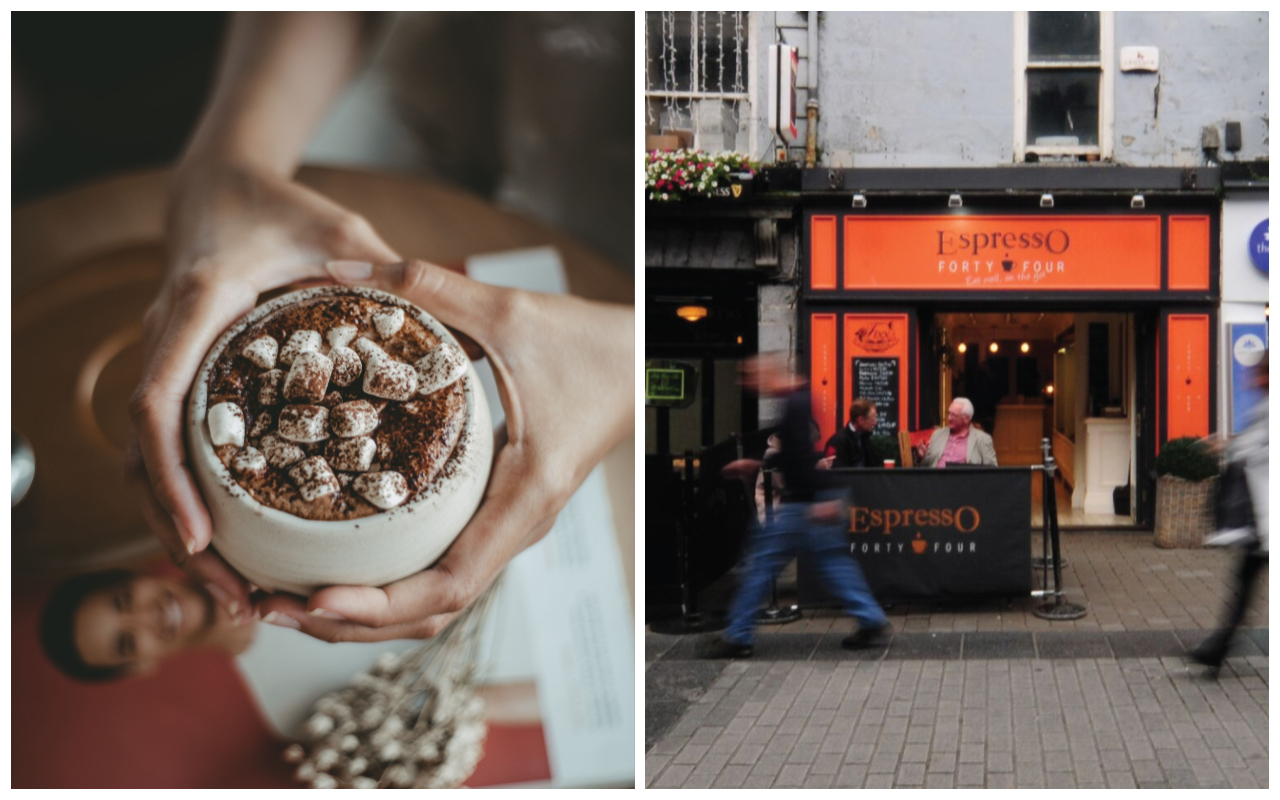 Right: Espresso 44
Café Temple
This non-for-profit cafe is cute and cosy, with delicious lunch specials — but more importantly, delicious hot chocolate! It's €2.50 for takeaway (sound) or €3 to sit in and enjoy the warm, friendly atmosphere. Grab a book from Charlie Byrne's next door, treat yourself to a vegan sweet treat and you're sorted for an afternoon.
St. Augustine Street, Galway // more here
Espresso 44
Hug-in-a-cup goodness, with chocolate powder and marshmallows for an extra sweet kick. They offer a range of milks to suit any dietary requirements or connoisseur tastes; almond, rice and soya milk are available, and their hot chocolate can be made with a splash of vanilla or dusting of cinnamon.
44 William St, Galway // more here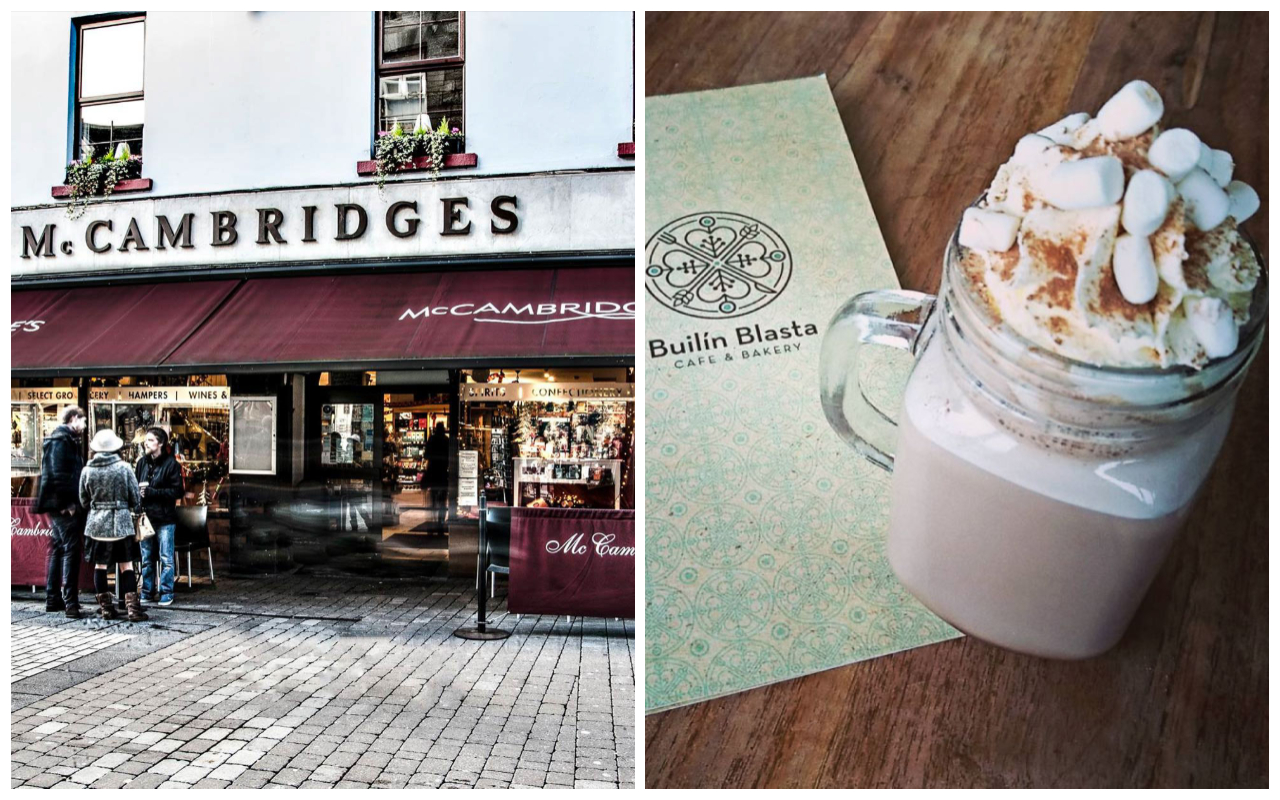 Left: McCambridge's; Right: Builín Blasta
McCambridge's
Maybe one of the best-loved cups of hot chocolate around. McCambridge's barista bar makes a gorgeous cup of hot chocolate, best enjoyed at the tables outside while watching the world go by.
40 William St, Galway // more here 
Builín Blásta
Take the day out to Spiddal and hide away from winter weather while sipping away in Builín Blásta's cosy, cute café. Homemade, local and made with love, it's a proud Irish Language café in the heart of the Gealtacht.
Ceardlann Design Centre, Spiddal, Co. Galway // more here 



Left: Hazel Mountain Chocolate; Right: The Lane Café
Hazel Mountain Chocolate
As chocolate bean to bar factory, they are truly the way forward for quality, locally made hot chocolate. With beans imported from Latin American, they whip up some superior tasting drink, with actual bar squares you can sample beforehand and blow-torched marshmallows to round out a perfect treat.
Middle St, Galway // 065 7078847
The Lane Café
This cute little café on Druid Lane is tucked out of the way, making it a great place to sit down and enjoy with a book in hand. They have a pretty garden out the back but you'll want to grab a seat inside, where it's cute and cosy. They make a mean hot chocolate and are always up for a chat, too!
1 Druid Lane, Galway // more here 
Java's Creperie and Cafe Francais
This cosy, late-night cafe is the perfect place to nip in for a warming hot chocolate after a night of shopping or visiting the Christmas market. Cosy sofas, warm lighting and the delightful smell of crêpes cooking makes for a perfect evening. Choose from your normal hot chocolate, or add Bailey's or whiskey to make it extra special.

17 Upper Abbeygate Street, Galway // more here