As the Galway air gets chilly and the winter wind starts to nip at your nose, it's the perfect time to indulge yourself and warm up with a hot chocolate
We love chocolate, especially when it's hot and drinkable! And, at this time of year, we have the perfect excuse to indulge ourselves. So here are the very best places in Galway to get a soothing cup of Hot Choc....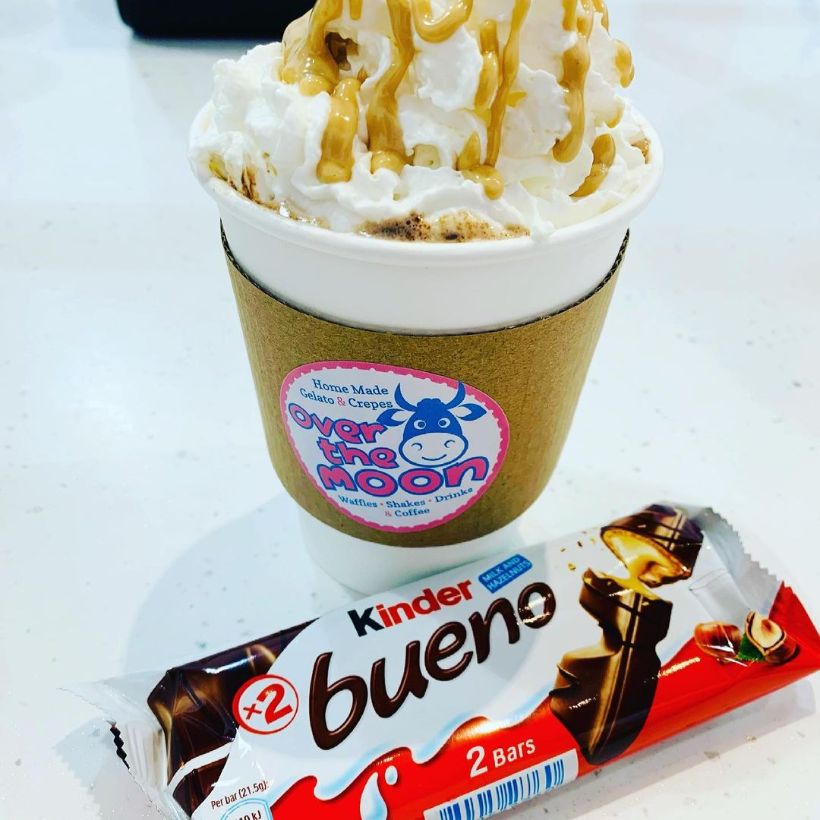 Over The Moon
When it comes to chocolate, sugar and all things nice, Over The Moon is an emporium of sweet dreams! Well known for their crepes, waffles, ice cream and gelato, you may not even realise that they also do some incredible hot chocolate. Their classic Belgian Hot Chocolate is so indulgent and decadent that it's almost too good to be true, but you can make it even more delicious by going for the Biscoff Hot Chocolate or Kinder Bueno Hot Chocolate! Packed with moreish flavours and sauces like velvet, these are really special...
Eyre Square Shopping Centre // more here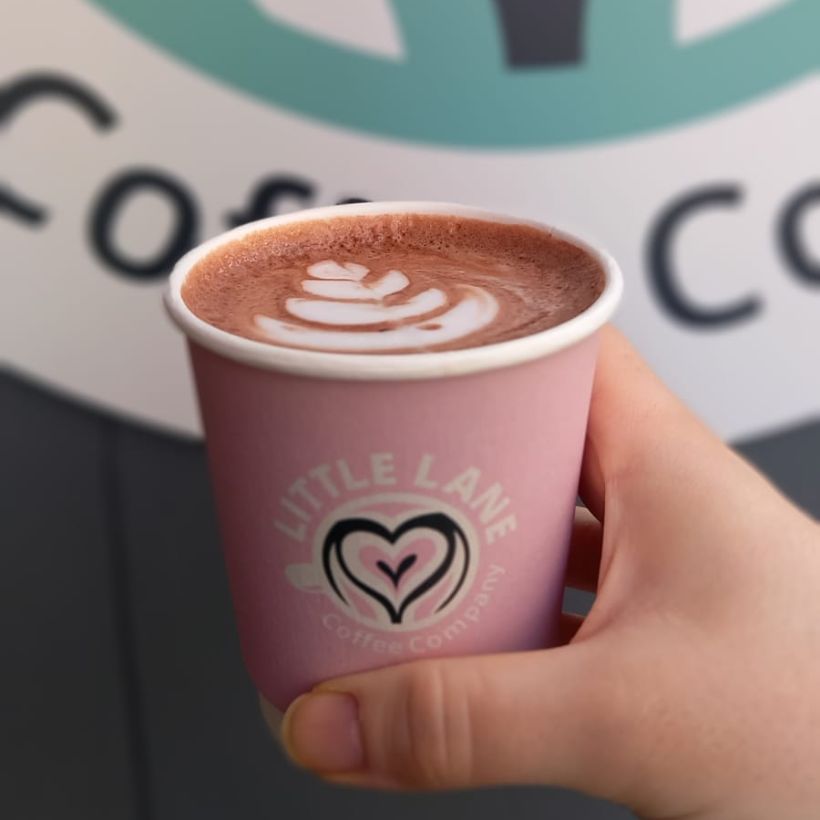 Little Lane Coffee Company
Little Lane Coffee Company take their hot chocolate every bit as seriously as their coffee! That's why they've sourced theirs from all the way Down Under (Melbourne to be precise!). Mörk's leads the way when it comes to traceability and quality all the way from bean to cup, setting it apart from the drinking chocolate you'll find elsewhere. Little Lane offer two of their speciality range but our favourite is the The Original Dark 70%, crafted with cacao powder, 100% cacao liquor and sweetened only with unrefined coconut blossom sugar. Notes of stone fruit, almonds and ripe berries are rounded off with hints of toffee and lingering dark chocolate. Keep an eye out for mouth-watering seasonal specials too, like Mint (literally tastes like an After Eight) or Coconut (literally tastes like a Bounty). Sweet divine!
Abbeygate Street // more here
Kettle Café
Brighten up your day with a gorgeous hot chocolate from Kettle Café. It's no wonder they're known to serve one of the best hot chocolates around as they use 53% Belgian chocolate in each delicious cuppa. Stick to a classic hot cocoa, or sample some of their more interesting flavours such Salted Caramel or Coconut Hot Choc, either of which will blow you away with chocolatey goodness. Perfectly paired with one of their fresh doughnuts and pastries which are baked, by hand, in the café every morning.
Eyre St // more here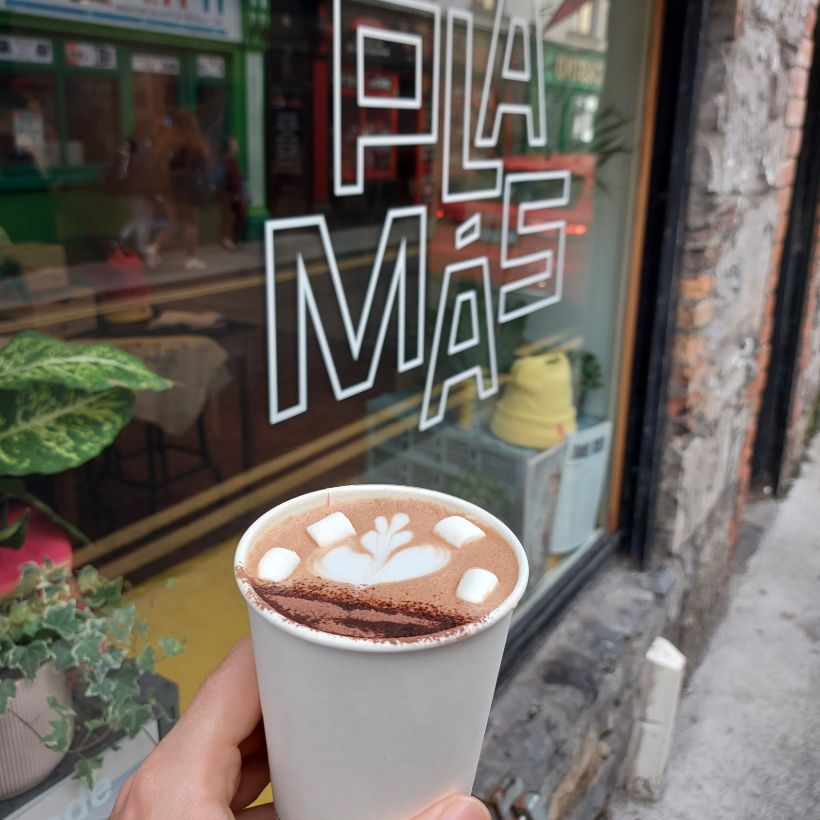 Plámás
Head towards Galway's Westend for a rich, creamy and sweet cup of goodness at one of the city's newest and most welcoming coffee shops. Their delicious hot chocolate is made using 100% Belgian dark chocolate which is ground down and melted expertly with steaming milk. It can be made vegan with a milk substitute and, if you're feeling extra indulgent, top it all off with some marshmallows - absolutely A1!
6 Dominick St Upper // more here
McCambridge's
A popular haunt for locals to pop in to collect some fresh homemade bakery treats, made better with a cup of their luxurious hot chocolate topped off with whipped cream. McCambridges of Galway is the perfect spot to grab some sugary treats to help keep you going and add some cheer to your day. Best enjoyed at the tables outside while watching the world go by.

40 William St // more here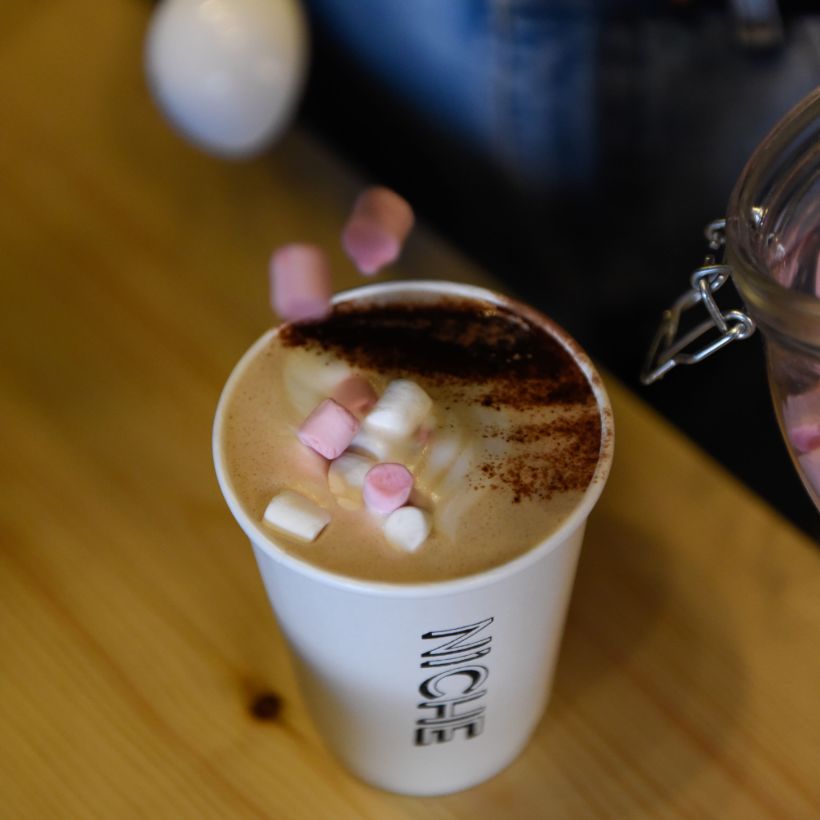 Niche
Another amazing spot to add to Tuam's growing foodie scene, Niche is a new cafe that serves delicious food and tasty treats. But their hot chocolate is proving almost as popular as their juicy burgers and crusty sandwiches! The creamy, smooth hug-in-a-mug comes in a trio of stunning flavours; Terry's Chocolate Orange, Kinder Bueno and Mint Aero! How good do they sound?! If that's not enough, you can add a brownie to your order for a real chocolate overload. Try something new at Niche in Tuam today
Vicar St, Tuam // more here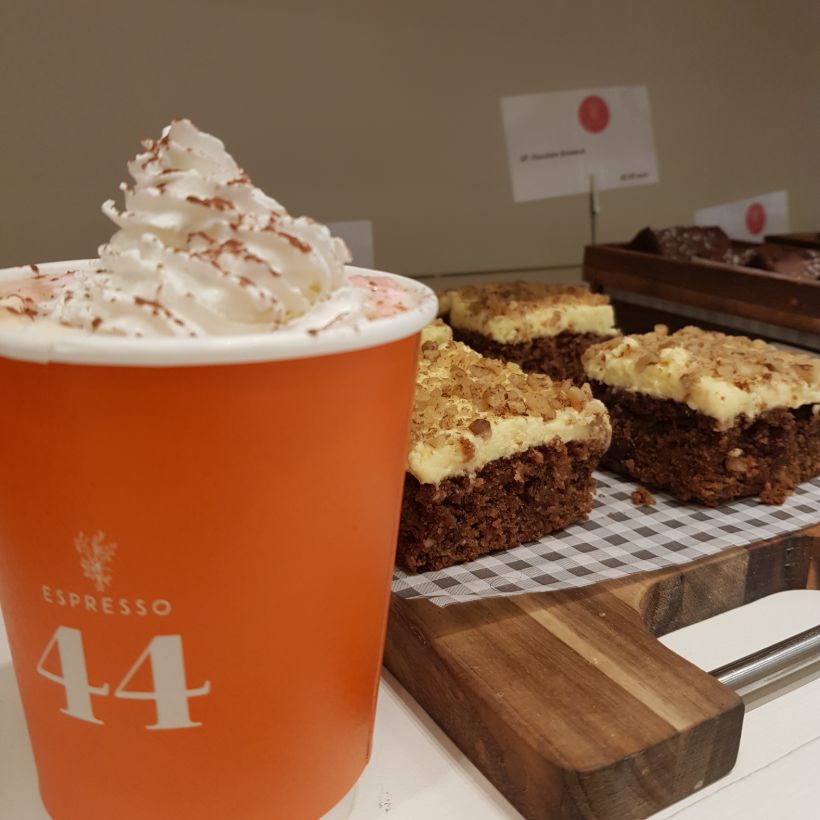 Espresso 44
One of the most popular spots in the city for a quick pit stop, Espresso 44 don't just do amazing coffee! Their hot chocolate is a pure joy and is made using real chocolate chips - no powder here! Slightly bitter tones from the darkness of the chocolate offset the sweetness nicely. There are nutty aromas from the hot milk as well as smoothness from the whipped cream and melty marshmallows. The flavours are beautifully balanced and oh-so-moreish! Espresso 44 is the perfect spot to grab a warming cup for takeaway, to keep you cozy as you stroll the city's cobblestone streets.
44 William St // more here
56 Central
If you feel like taking the weight off your feet and treating yourself to a sit-down cuppa, there aren't many cooler places to go than 56 Central. A warm welcome from the amazing team in a beautifully decorated restaurant and café will set the tone for the magic that's about to come. Their Orange Hot Chocolate is just gorgeous; not too sweet, with the orange bringing a nice floral, aromatic bitterness to proceedings. Perfectly topped with shards and flakes of freshly grated chocolate which melt in the mouth.
5/6 Shop St // more here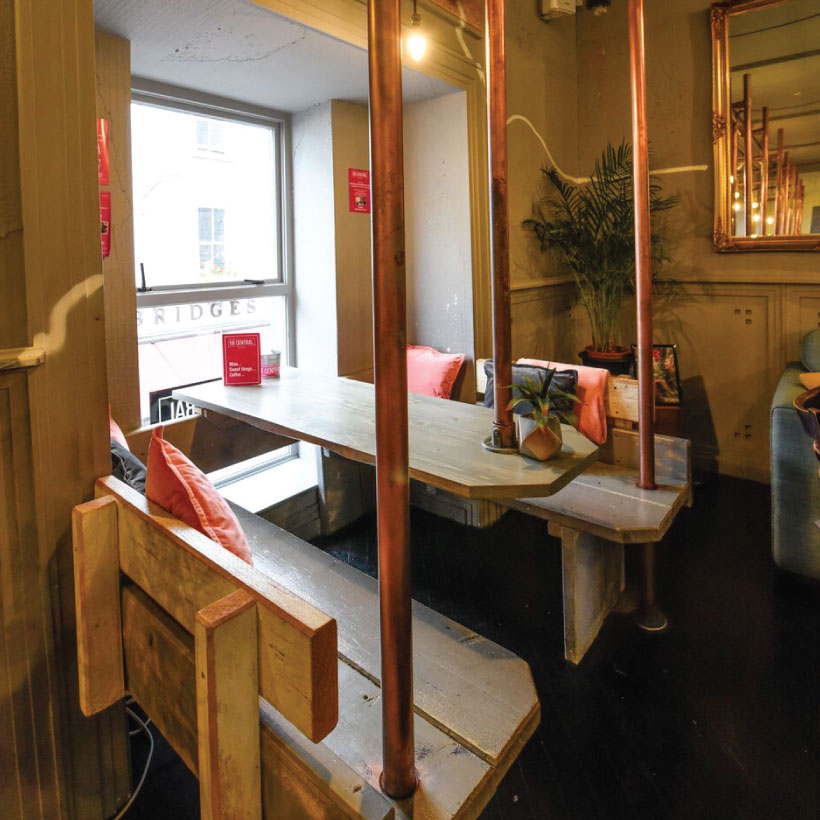 Hazel Mountain Chocolate
When you consider a fine cup of hot chocolate, the quality of the chocolate itself is paramount. That's why it makes sense to go to an actual bean-to-bar chocolate factory based right here in Galway, for the freshest hot choc around. With beans imported from Latin American, Hazel Mountain Chocolate whip up a serious tasting drink, with actual squares of chocolate you can sample beforehand and blow-torched marshmallows to round out a perfect treat.
Middle St // more here