Galway's status as one of the key visitor destinations on the island has been enhanced in recent years by its trail of Irish Whiskey bars. We delve into what delights they have to offer visitors here at the heart of the Wild Atlantic Way.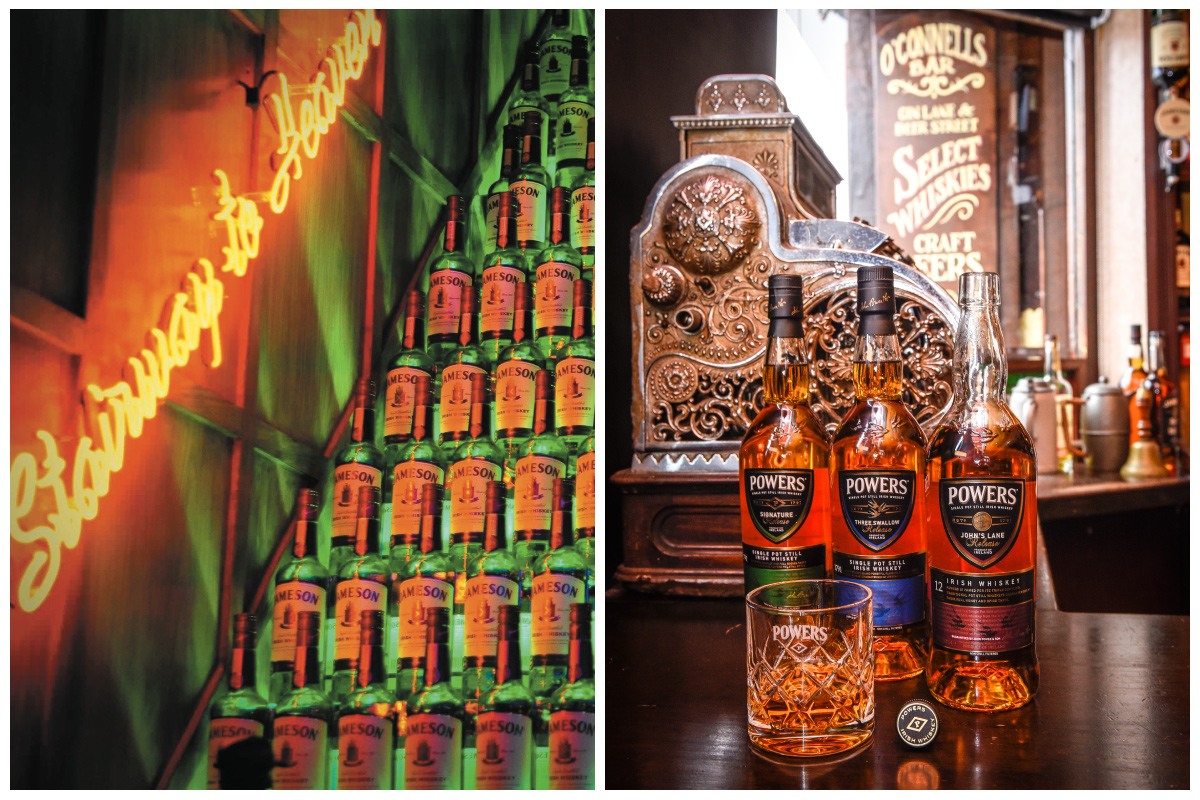 An Pucán                                                                                 O'Connell's Bar
An Púcán
An Púcán is renowned for its remarkable selection of Irish and international whiskies, with over 200 to choose from. The extensive range can be enjoyed in a number of ways including tasting platters and in delicious cocktails. An Púcán is the proud winner of Best Single Cask Irish Whiskey 2015 for their 13 Year Old Bottling. And in 2015 and 2016, An Púcán also won Gold Medals for Connacht Whiskey Bar Of The Year. Ideally situated just off Eyre Square - this is a favoured stopping off point for visitors to Galway and promises an intimate and relaxed whiskey tasting experience.
O'Connell's Bar
O'Connell's Bar is a traditional-style pub with tons of energy and a warm, inviting atmosphere. Their beer garden can best be described as a scene from a movie, filled with an other-worldly sense of magic and many nooks and crannies to explore. This cobbled street is lined with lanterns, fairy lights and heaters to make even the dullest of nights feel enchanted. They are well known for their vast and ever-expanding collection of whiskey, which currently has over 120 exquisite varieties to choose from. O'Connell's Bar is also a member of 'The Galway Whiskey Trail'. This trail is a collection of the finest 11 whiskey bars in the city, each waiting to share their story with you. Whether you're looking for that rare exclusive malt or wish to sample whiskeys from a wide variety of distillers, you'll find what you're looking for here.
                                The Skeff                                                                          Garavan's
The 1852 Whiskey Club at The Skeff
The 1852 Whiskey Club is a cosy, intimate bar on the ground floor of The Skeff, where you'll feel right at home learning about the whiskeys of the world! A gold medal winner at the 2018 Irish Whiskey Awards, the bar features an extensive, carefully considered and always evolving collection of over 100 Irish whiskeys - and there are some international whiskeys too! Don't worry if you don't know your Malt from your Single Cask because at the 1852 they love talking whiskey and can share with you everything you need to know. There are tasting platters available to whet the appetite and they even have their own whiskey book with tasting notes and lots of info on the Irish whiskeys on offer! The 1852 is a developing club where members get together to discover and try new things.
Garavan's
Nestled in the heart of Shop Street, Garavan's is the perfect stop off point for a restful moment and a luxurious whiskey. The building dates back to medieval Galway and has some fine artefacts, including original stone fireplaces. Garavan's has won Connacht whiskey bar of the year for 5 years running and overall Irish whiskey bar of the year in 2017. Their hugely popular Whiskey Platters offer patrons a unique and enjoyable experience. They are also world famous for their unique Irish coffee - served in its own specially designed glass, it's made using Garavan's traditional methods. The combination of coffee and whiskey, strong and sweet, picks you up and puts you down, while the cool cream is sheer indulgence. If you want to take a piece of history home with you, there are gift sets available and their very own 15 year old, limited edition Garavan's Power's Pot Still Irish Whiskey.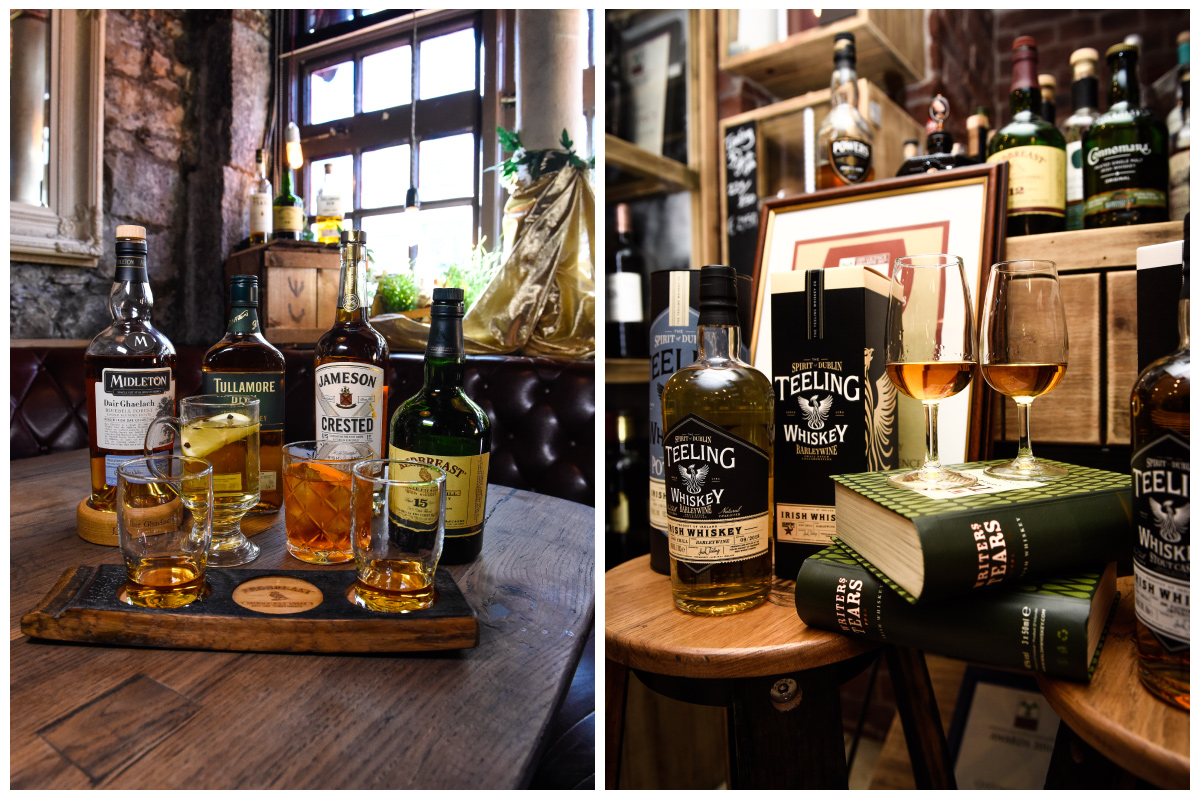 McCambridges                                                                 The Kings Head
McCambridges of Galway
On the 3rd of July 1925, George McCambridge opened a "high class grocery, provision, wine and spirit establishment" at 38 Shop Street, right in the heart of Galway, and this family owned restaurant, deli and fine foods shop has continued in that same spirit for almost 100 years since. The off-license section of the ground floor is a whiskey lover's dream come true. The enthusiasm and knowledge of the staff is infectious and there is always a fantastic selection available at the tasting table! Don't be surprised if you find your new favourite whiskey on your next visit! And if all that isn't enough Tom Conway is currently putting together an expansive whiskey menu for the upstairs restaurant!

The Kings Head
Located at the junction of Shop Street and High Street in one of Galway's oldest buildings, The King's Head is right in the heart of the city's Latin Quarter. Dating back to the 13th Century, the 800 year old pub has historic links to the beheading of King Charles 1st in 1649. A member of the Galway Whiskey Trail, The Kings Head Whiskey Bar is home to a fantastic array of Irish Whiskeys sourced from all over the Island, with something to suit every palate and pocket across the range. Pull up a seat by the original 200 year old Persses Galway Whiskey Mirror or by the 400 year old fireplace and enjoy their expansive range of whiskeys. Whether it's an award winning Irish Pot Still or Single Malt, you'll find them all here in this prominent Medieval pub.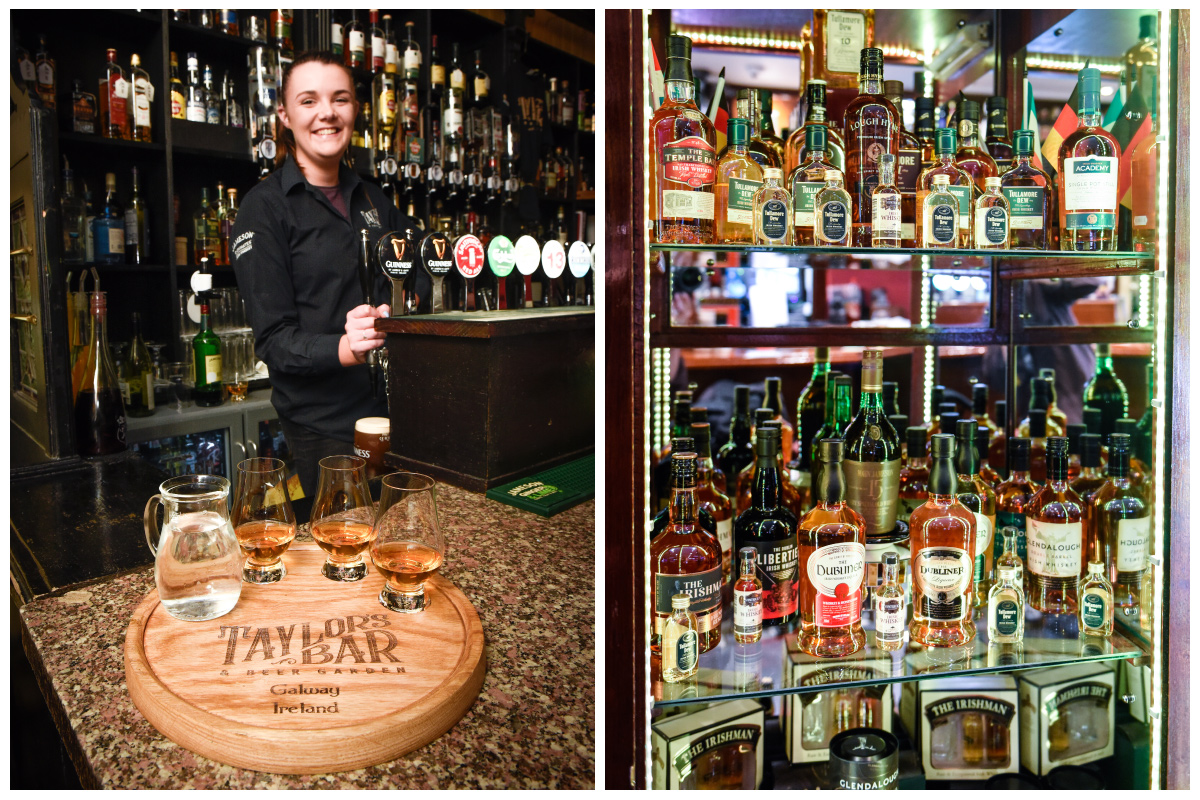 Taylor's Bar                                                                        Freeney's
Taylor's Bar
Taylor's Bar & Beer Garden has a very long history on Dominick Street, dating back to the early 19th Century. It had legendary status in Galway in the latter 20th Century when it was the favoured stomping ground of the artistic, musical and creative communities that gave rise to many of today's bands, artists, theatrical, cultural organisations and arts festivals. This historic bar boasts as fine an Irish Whiskey selection as you would expect, with tasting trays available for you to try across the full range of Pot Still, Malt, Grain and blended expressions. Once again, Taylor's is a key destination on Galway's pub trail. There is live music every night and a spacious rear (wink, nudge) where whiskey events are hosted, not to mention their splendid beer garden. It's perfect for those liquid sunshine days while offering the coverage and heating needed on those all too familiar drizzly days.
Freeney's
A venerable museum to Irish whiskey,Freeney's Bar have an incredible collection on display, as well as a range available to try by the glass and to buy by the bottle! Freeney's Whiskey shop is one of the best places to seek out a prized find! In times past and before the age of logistics and modern distribution Freeney's 'racked' their own whiskey. This practice involved stocking five gallon glass jars or bottles of various brands and then Freeney's would fill standard bottles from it. These would then be available for sale for patrons to bring home with them. In this way you could get naggins, halfs or full bottles of Paddy, Powers or Jameson. Tony Freeney remembers these days well, and says  that the camaraderie and personality is still in the whiskey industry, despite the huge growth in Irish whiskey over the last 10 years.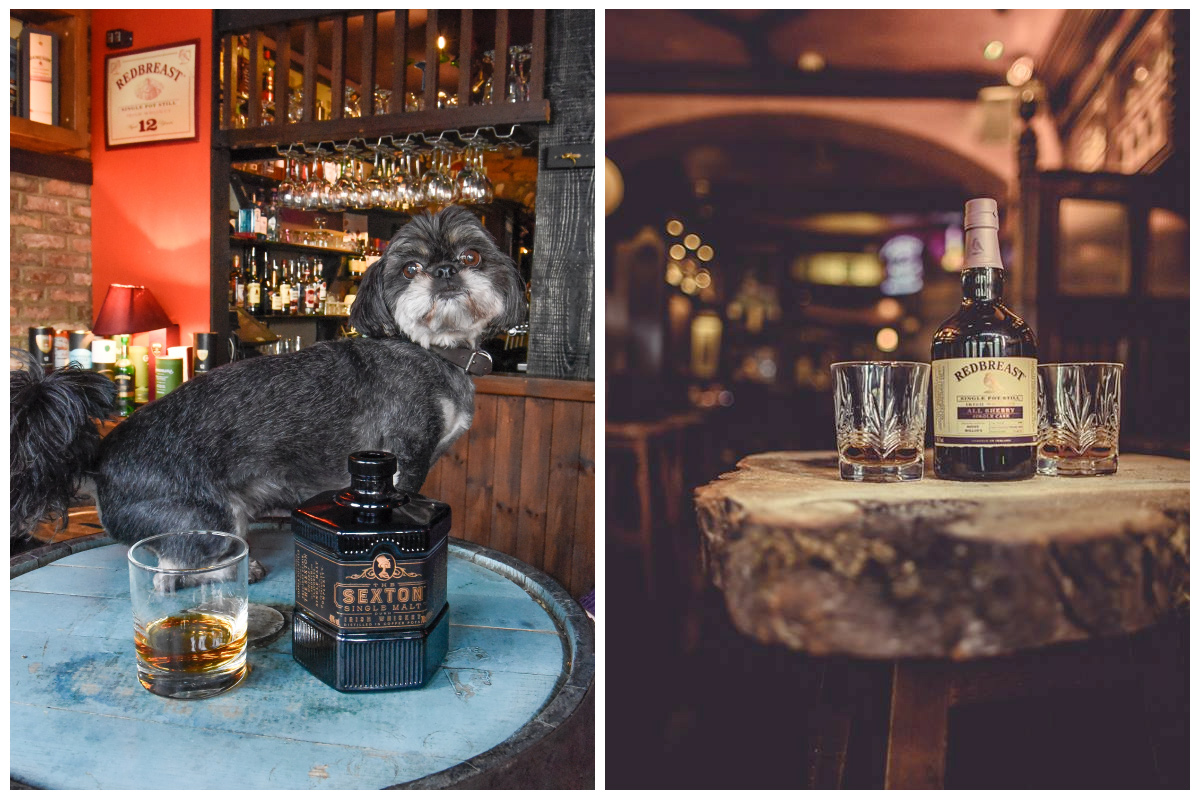 The Blue Note                                                                 Sonny Molloy's
The Blue Note
Take a step off Galway's tourist trail and you will find this hidden whiskey gem - The Blue Note whiskey snug. A fine array of whiskey greets you from the shelves, the temptation to dive in is aided by The Blue Note's great pricing for the range. The bar itself is crafted from whiskey barrels that were discovered during renovations during the early 21st century! Make sure to call in on a cold winter's night and try their groundbreaking flavour combination of ginger nut biscuits dipped in your favourite hot whiskey. The bar staff will happily join you for a glass and talk of Craic & Divilment.
Sonny Molloy's
Steeped in Galway's rich whiskey heritage, Sonny Molloy's is one of the country's most popular whiskey bars. Set in the heart of the city and a founding member of the Galway Whiskey Trail, the bar was recently chosen by Redbreast Whiskey as the first on-trade establishment in the world to release a 16-Year-Old Single Cask whiskey. Exclusively bottled for the award-winning bar, it marks the first ever partnership between Redbreast Whiskey and a bar. Each bottle forms part of an exclusive gift set, featuring two specially engraved Galway Irish Crystal tumblers and a certificate of authenticity, endorsed by Master Distiller, Brian Nation. Take a seat and relax with a whiskey platter in Sonny Molloy's, carefully created by their whiskey experts in the bar. With 5 platters to choose from, their experienced staff can go through the nose and the taste of each whiskey on your platter. A fun and interactive session with friends and family. No pre booking required....