Galway's status as one of the key visitor destinations on the island continues to be enhanced by its trail of Irish whiskey bars. We delve into what delights they have to offer visitors here at the heart of the Wild Atlantic Way.
The Skeff
Home to the 1852 Whiskey Club, The Skeff is the ideal destination for all whiskey enthusiasts. Don't worry if you don't know your single malt from your single pot still, all eager learners are welcome at this whiskey club. They love talking about all things whiskey and are more than happy to share their knowledge. The whiskey bar features an ever-evolving collection of over 100 Irish and international whiskeys. There are also tasting platters available to whet the appetite but if you don't know where to start, their whiskey of the month is always a safe bet.
27 Eyre Square / more here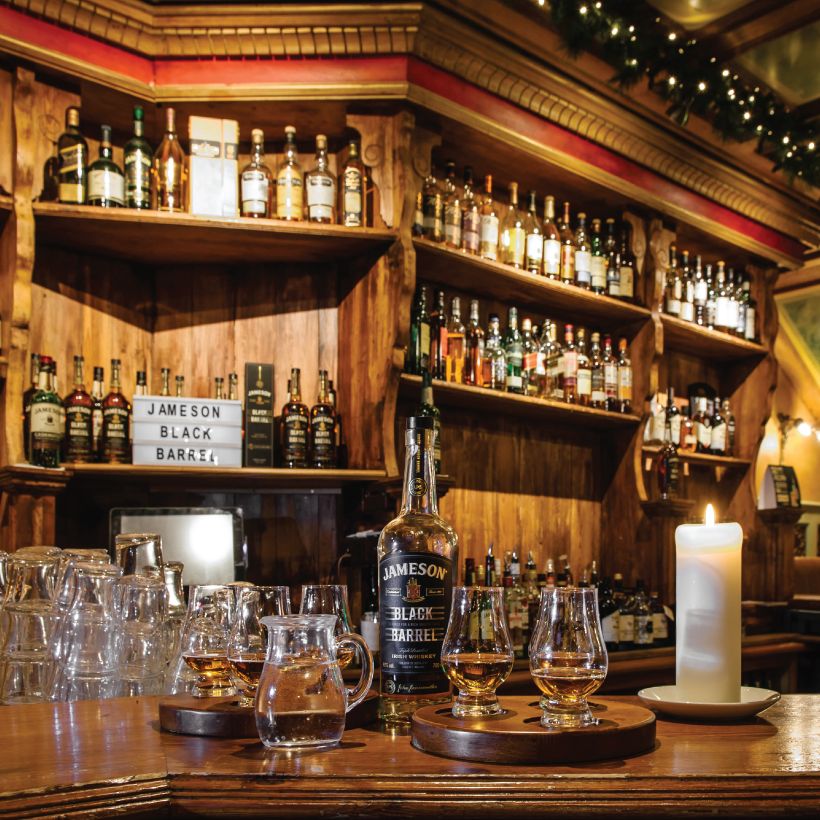 Garavan's Bar
Famous across Galway and beyond for their whiskey collection, Garavan's hugely popular whiskey platters offer patrons a unique and enjoyable experience. These tasting platters are also a great way to try a selection of Irish whiskeys along with all of the bar staff expertise that goes with them. You will also receive your whiskey notes (which you can keep) which will tell you everything you need to know about each whiskey, the nose, taste and finish. If it's feeling a bit wintery, Garavan's famous Irish coffee will hit the spot. Served in its own specially designed glass, it's made using Garavan's traditional methods and you can taste the quality in every sip!
46 William St / more here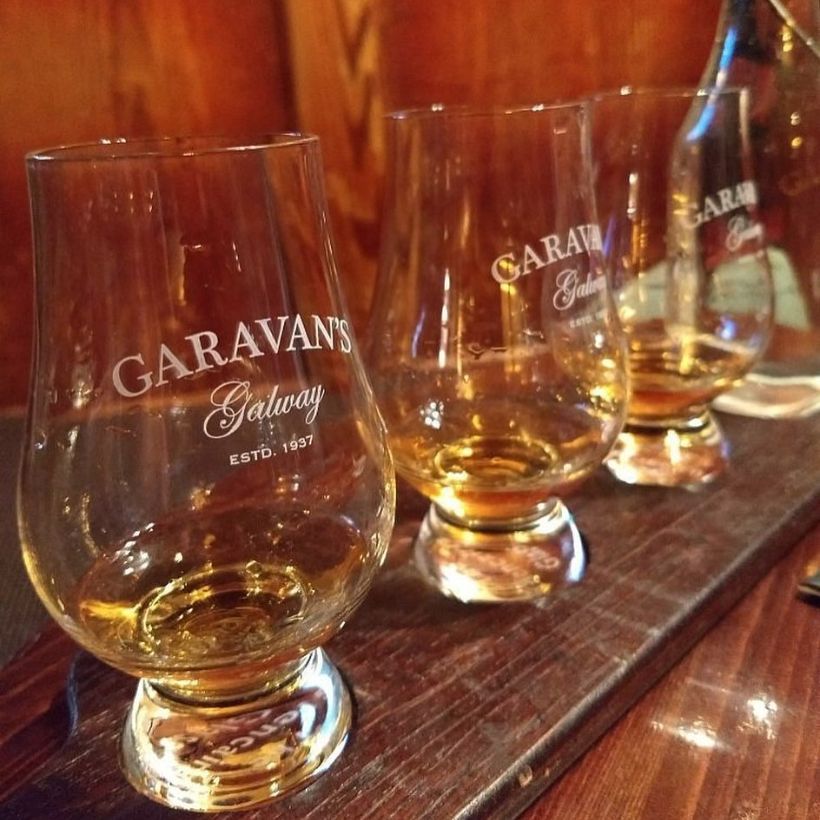 Taylor's Bar & Beer Garden
Taylor's Bar & Beer Garden's relationship with whiskey stretches as far back as the bar itself! Before Taylor's became the bar you know and love today, it was under the ownership of its namesakes Patrick and Vera Taylor in the 1940s. There they sold quality meats along with snuff, tobacco and general groceries. Whiskey and other liquid refreshments were available in the back bar. -  the more you know! Nowadays, this historic bar boasts as fine an Irish whiskey selection as you would expect, with tasting trays available for you to try across the full range of pot still, malt, grain and blended expressions.
7 Dominick St Upper / more here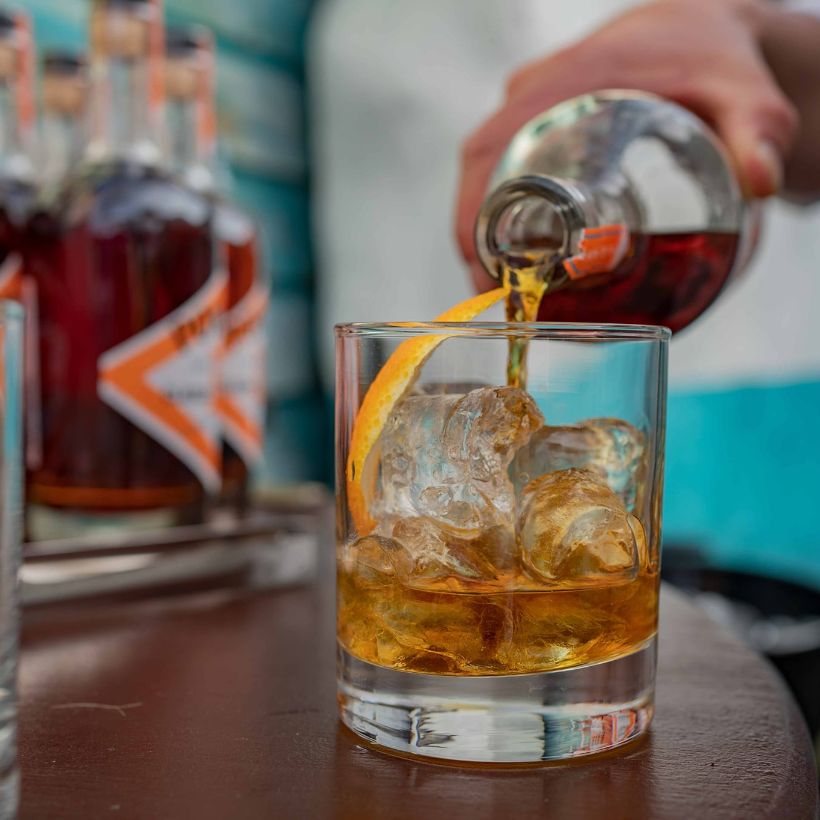 An Púcán
Offering customers access to a tailor-made whiskey experience that will not only engage the connoisseur but also the curious, An Púcán has a serious passion for providing whiskeys that everyone will love. Out of this dedication the An Púcán whiskey society was born. Bringing together like minded people to appreciate and enjoy some of the best whiskeys around.  Alongside their premium Irish whiskeys, you'll find a variety of whiskeys from across the globe, including; Japan, Sweden, Canada, America and more. This extensive range can be enjoyed in a number of ways including whiskey flights and in cocktails.
11 Forster St / more here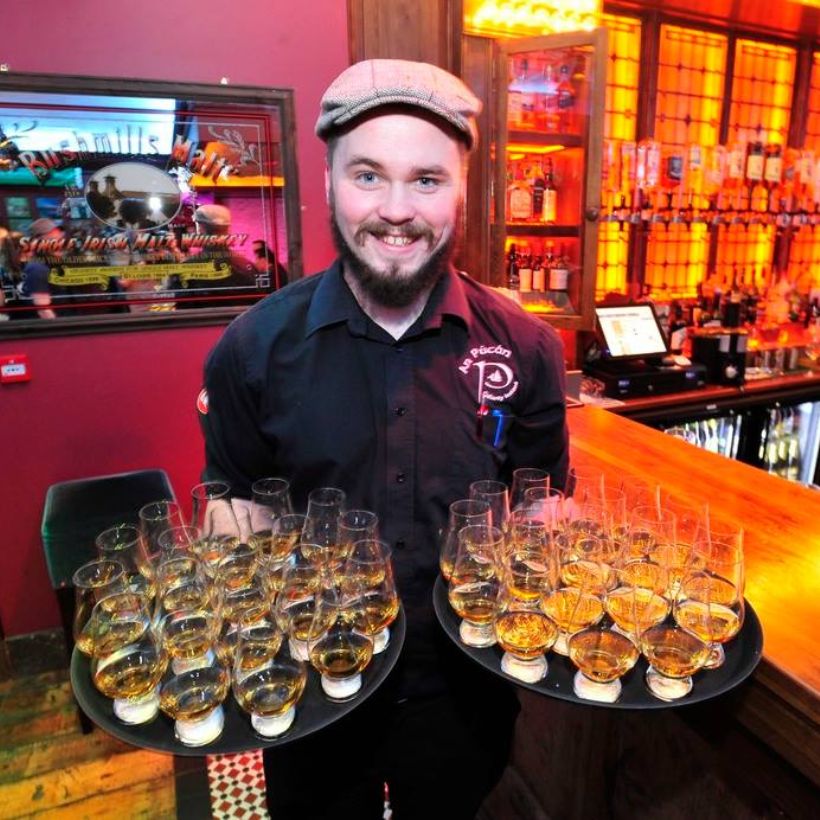 O'Connells Bar
The team at O'Connells Bar are well known for their vast and ever-expanding collection of whiskey. Their love of whiskey doesn't stop with just tasting however because in 2022, they launched their own exclusive Powers 12-year-old Single Cask Whiskey. Under the guidance of Midleton Distillery in Cork - the home of Irish Whiskey, O'Connells introduced the whiskey lovers of Galway to brand new flavours and the response they received was phenomenal, read all about it here.
8 Eyre Square / more here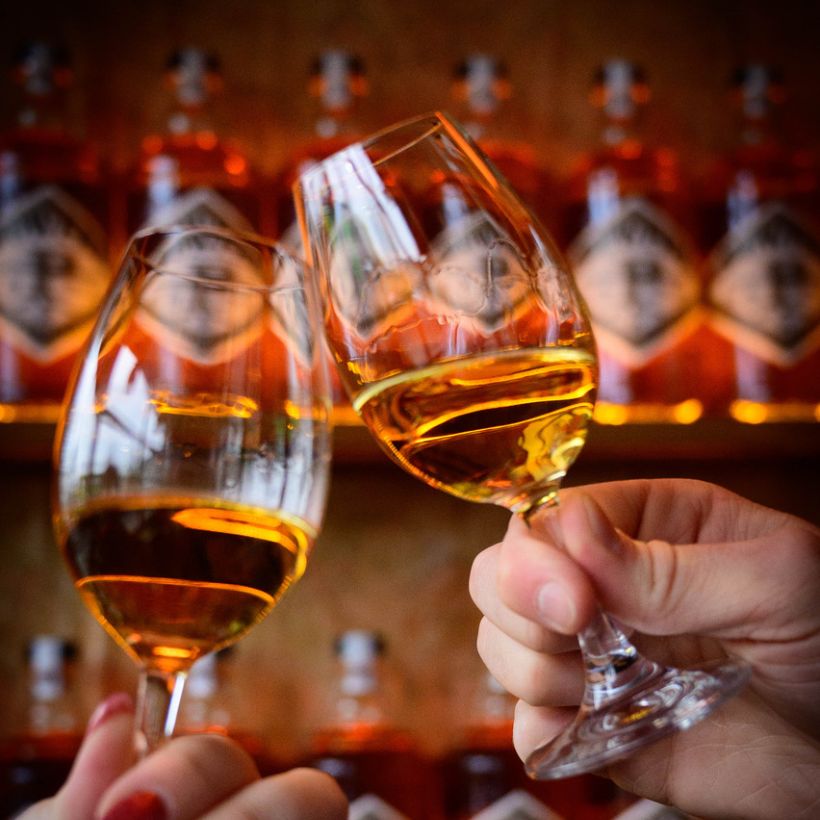 Freeney's Bar
A venerable museum to Irish whiskey, Freeney's Bar has an incredible collection on display, as well as a range available to try by the glass and to buy by the bottle. Family owned and operated since 1938, Freeney's is one of Galway's original whiskey bars. There's a real warmth and character about the bar and their Irish whiskey selection is truly exceptional. They also have quite the display of whiskeys around the bar and an expert knowledge of the stuff - so if whiskey is a love of yours, a quiet one in Freeney's Bar should be on the top of your to-do list.
19 High St / more here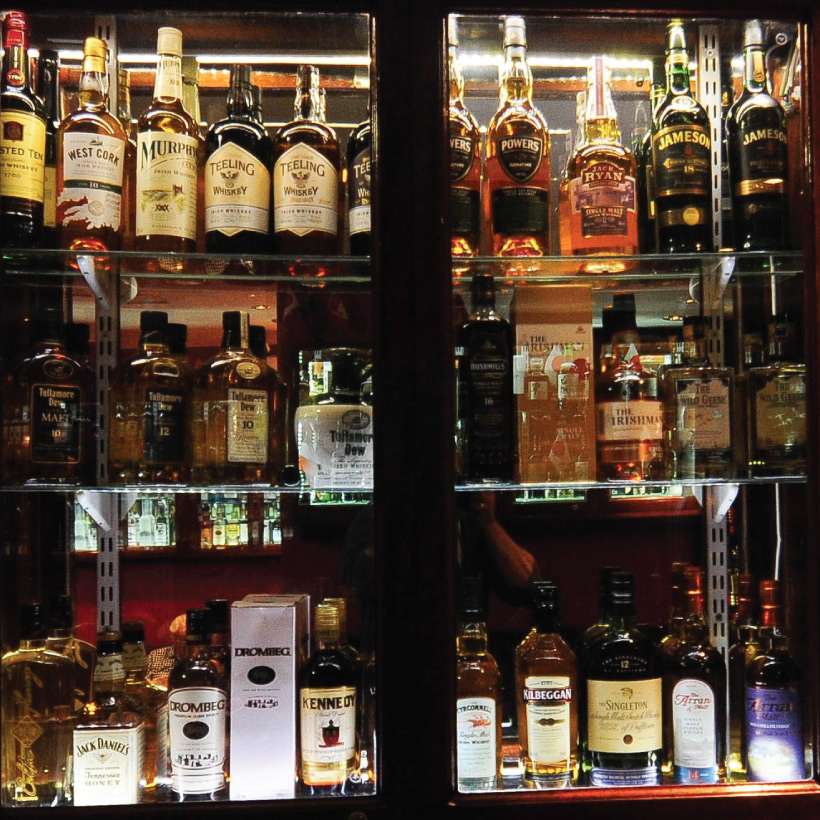 Sonny Molloy's Bar
Steeped in Galway's rich whiskey heritage, Sonny Molloy's is one of the country's most popular whiskey bars. Sonny's was chosen by Redbreast Whiskey as the first on-trade establishment in the world to release a 16-Year-Old Single Cask whiskey. Exclusively bottled for the award-winning bar, it marks the first ever partnership between Redbreast Whiskey and a bar. Following this achievement they released their Redbreast 19 Year Old Oloroso Sherry Single Cask which is one of the final ever releases of a Redbreast single cask, for the on-trade, resulting in an extremely limited edition and truly collectable whiskey.
3 High St / more here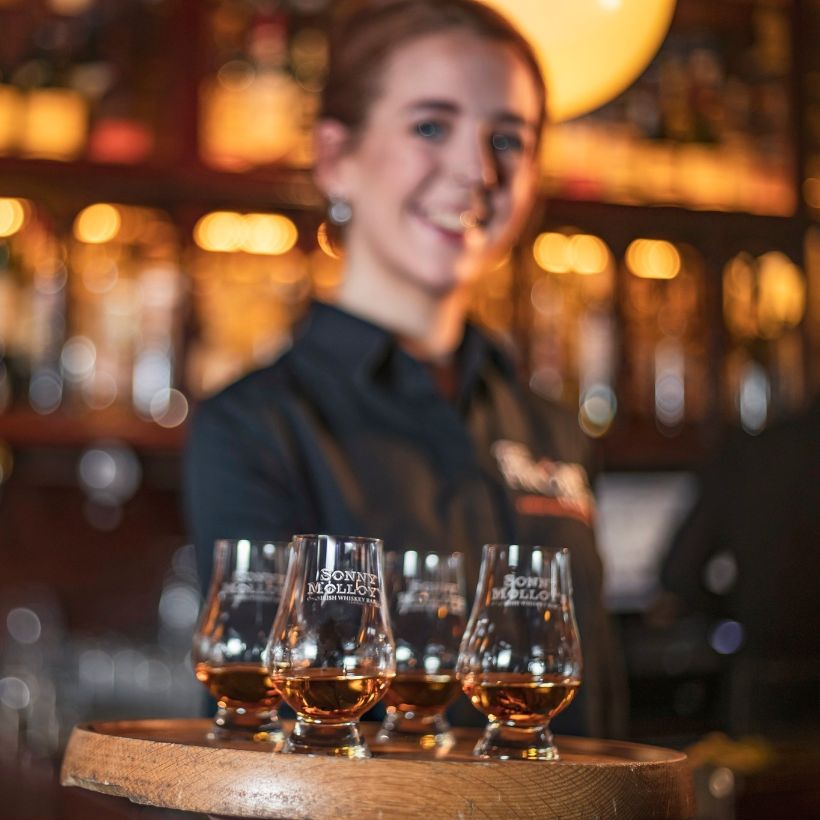 Ahascragh Distillery
Founded by Gareth and Michelle McAllister, Ahascragh Distillery produces authentically crafted Irish spirits to the highest quality of tasting experience with unique and innovative flavours. Their single malt Irish whiskey, the Clan Colla 20 PX from their Family Bond series was awarded gold at the Irish Whiskey Awards in 2022. They have also recently expanded the whiskey series to include their first single grain whiskey. Available to purchase from McCambridge's of Galway and nationwide stockists.
Ahascragh / more here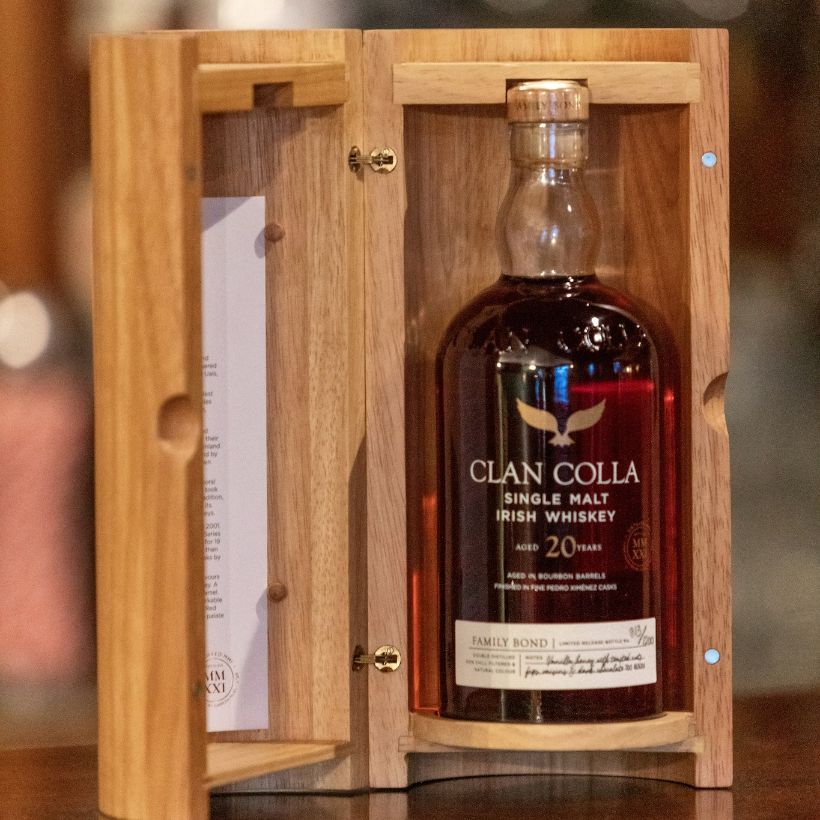 For more information head over to 'The Galway Whiskey Trail' Facebook page. Comprising a collection of the finest whiskey bars in the city, this trail can point you in the right direction for your next glass of whiskey. Whether you're looking for that rare exclusive malt or wish to sample whiskeys from a wide variety of distillers, you'll find what you're looking for with a little help from 'The Galway Whiskey Trail'.
Published on Updated on