Hand-harvested every day, the seaweed of the Wild Atlantic Way has many health benefits and can help you unwind at this stunning new facility in Lettermullen!
The rural community of Leitir Meáilláin (Lettermullen) in the South West Connemara Gaeltacht region has always sought resilience from its unique environment; the Wild Atlantic Way, the raging seas, the rocky shores.
Now, the community-led Co-op Comhar Chuigéal Teo brings nature a step closer with the opening of a beautiful new Seaweed Baths facility at The Seaweed Centre in Leitir Mealláin. Each day, hand-harvested seaweed from the local island of Crappach will form part of a menu of seaweed bath treatments which will detoxify and soothe your body, mind and soul. This relaxing experience will be available weekly, Thursday-Monday throughout July and August. Fashion Blogger, Stylist, and School Teacher, Caroline Seoighe, was quick to rush home to her native Connemara to try out the stunning new health and wellbeing facility!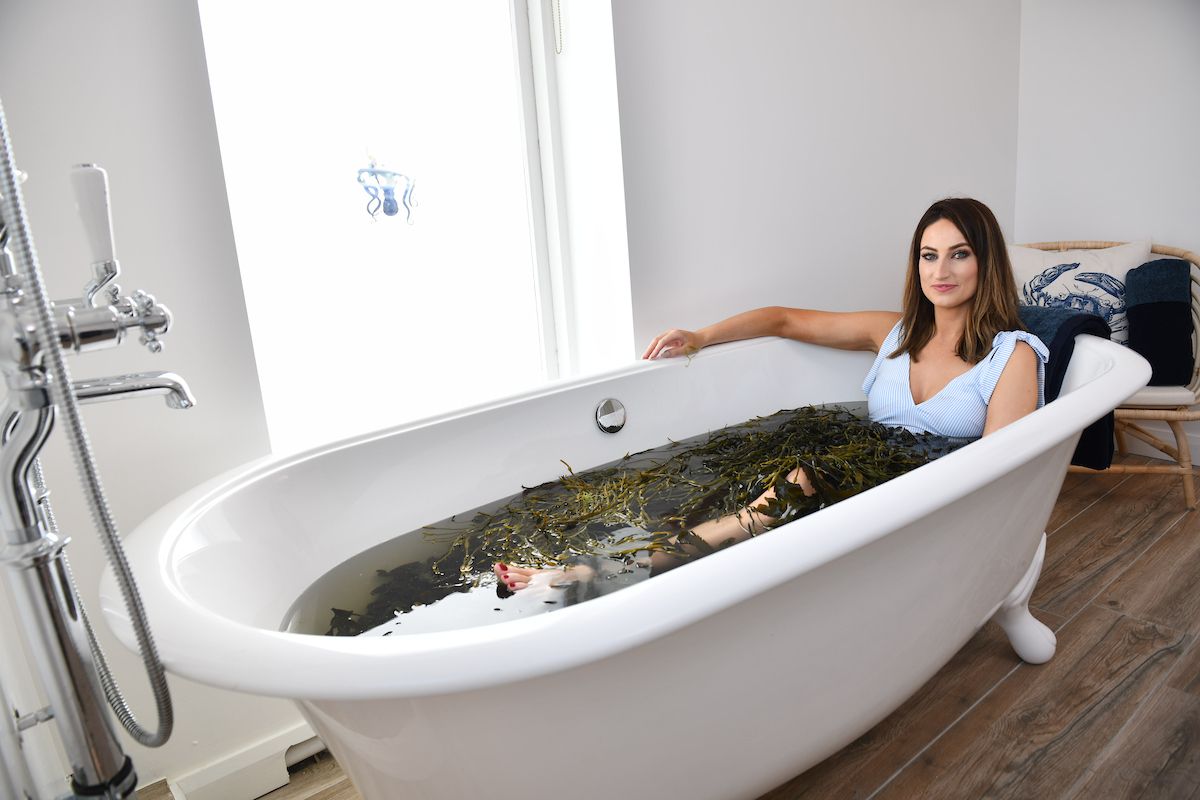 The Seaweed Centre offers single and double bath treatment rooms, a steam room and massage therapy room, combined with talented, skilled and knowledgeable therapists. Seaweed bath treatments start from €30 per person for an hour in the bath. A full range of deep-therapy body massage treatments are available too, starting from €50. You'll find a beautiful café space with outdoor seating at this gorgeous spot and all guests will receive fresh juice and fruit salad bowls afterwards to really round off their treatments. The Seaweed Centre also carries a full range of Connemara Seaweed based body products from Connemara Seaweed Products, Rí na Mara and Voya Brands.
This brand new Seaweed Bath facility at The Seaweed Centre in Leitir Mealláin, on the edge of Europe and overlooking the shores of the Wild Atlantic Way, is the ideal antidote to the stresses of recent lockdowns and a great way to escape the hustle and bustle of the city. This new development enhances the tourism infrastructure of the Connemara's Gaeltacht region, bringing together the natural resources of the contrasting Connemara landscape, combined with the vision of an inspired community and talented therapists! The Seaweed Baths offer an excellent organic, health and wellbeing product to visitors to the region as well as the people of Connemara and Galway.
"The core ethos of the offering is the natural surroundings of the Wild Atlantic Way coastline, rugged coastal landscape, fresh clean air, the cleanest ocean waters in Europe and an abundance of healthy seaweed", says Pádraic Mac Diarmada, Manager of The Seaweed Centre who is overseeing the phased development of the facility and leading a young, talented team who are involved in all aspects of showcasing the uniqueness of the facility. "From daily harvesting of seaweed, welcoming guests, the journey and story of the scientific benefits of the locally sourced seaweed to the professional treatments is part of each person's remit," says Pádraic, "while our talented and professional therapists deliver excellent treatments, each is a unique and personalised journey for all guests who book with us."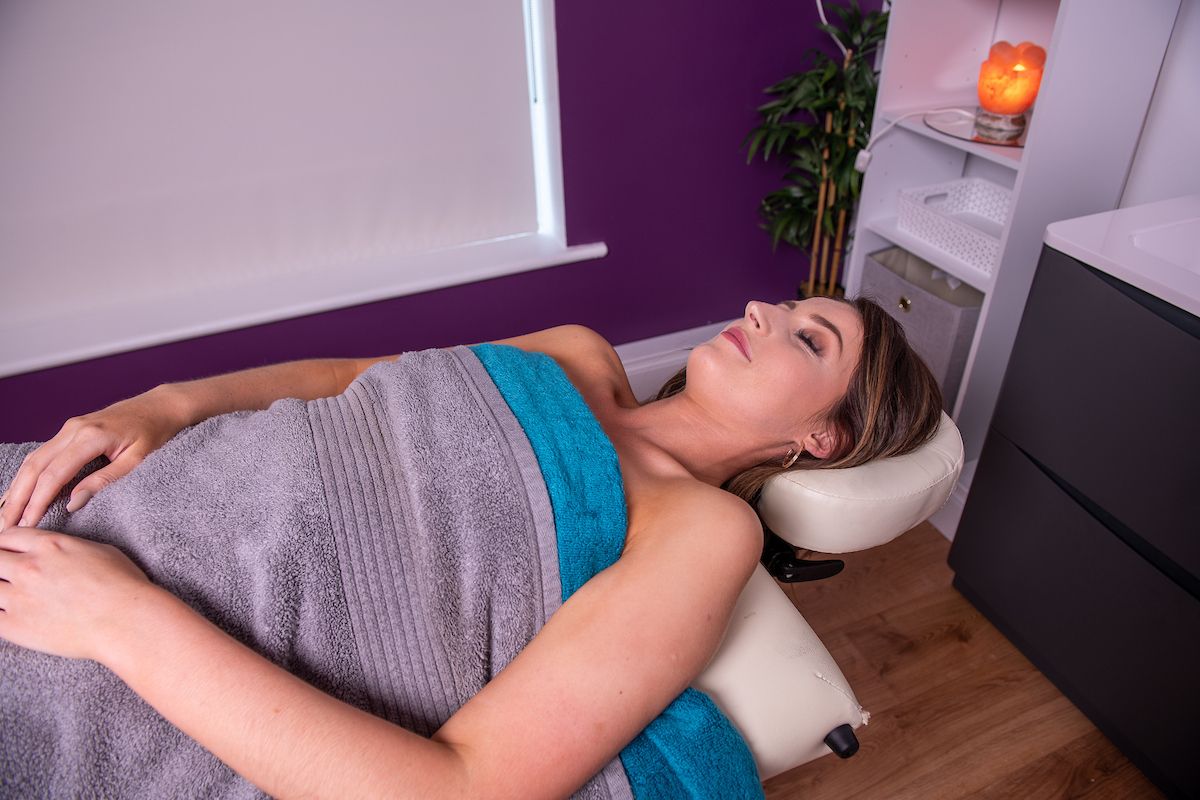 The health benefits to all who indulge in a relaxing fresh cut seaweed bath in the purest of waters are widely proven. Combining such organic medicinal benefits in a tranquil, yet modern, intimate setting, ensure that guests relinquish all of their stresses while replenishing nutrients.
"This is where I grew up, my happy place, and I'm beyond excited for myself, my community and my 25k followers on Instagram to see where I grew up and how they can now visit here, enjoy an authentic seaweed bath with daily harvested seaweed and indulge in what is a most stunning part of the world,2"says fashion blogger and local Connemara girl, Caroline Seoighe. "I'm a teacher in Blessington Co Wicklow and next term, I'll be visiting home more often for the seaweed baths, the benefits to your body and skin but also your mind are immeasurable, my pupils will certainly benefit from me having these treatments," Caroline smiled!
The new seaweed baths form Phase 2 of the development project at The Seaweed Centre and will create 2 new full time jobs and 2 part time jobs in the rural Gaeltacht community. This follows an investment project by BIM's FLAG (amounting to €86,328), locally sourced finance of €107,000 from Comhar Creidmheasa Cholmcille along with extensive investment of time by the local community-led Co-Op of Comhar Chuigéál Teo and Údarás na Gaeltachta supports.
For all details, or to book your treatment, head over to www.theseaweedcentre.com or follow The Seaweed Centre on Facebook and Instagram for all the latest news.
Published on Updated on