The Galway-based songwriter and musician, Rodney Owl has been earning praise for the best part of a decade. Now, The Black Gate's Record Label is pleased to launch his new album with a very special show in An Taibhdhearc on April 13th. Find out more here...
Rodney Owl (a.k.a. Mark McConville) is originally from Lurgan in Co. Armagh and has been living and playing music in Galway for more than fifteen years. Having grown up during the Troubles in Northern Ireland in the 1980s, Mark found his way to music after marginally losing the final of the under-12s All-Ireland boxing championship in Dublin. Disillusioned, he swapped his boxing gloves for a guitar and began his songwriting career. McConville currently lives a quasi-reclusive life in the west of Ireland, searching for inspiration in his surroundings - an ancient celtic rainforest, a dog and cats for companions, and a multitude of feathered friends.
This new album, entitled 'Truth Is Broken' showcases the singularly unique brilliance of McConville's songwriting and musicianship, as produced by the renowned Alex Borwick and the Black Gate Label. A collection of 12 remarkable songs, with influences as diverse as Aldous Harding, Lumen Drones, Velvet Underground, The Smiths and Sly & The Family Stone, 'Truth Is Broken' carves out a unique and compelling space for Rodney Owl in the Irish musical landscape.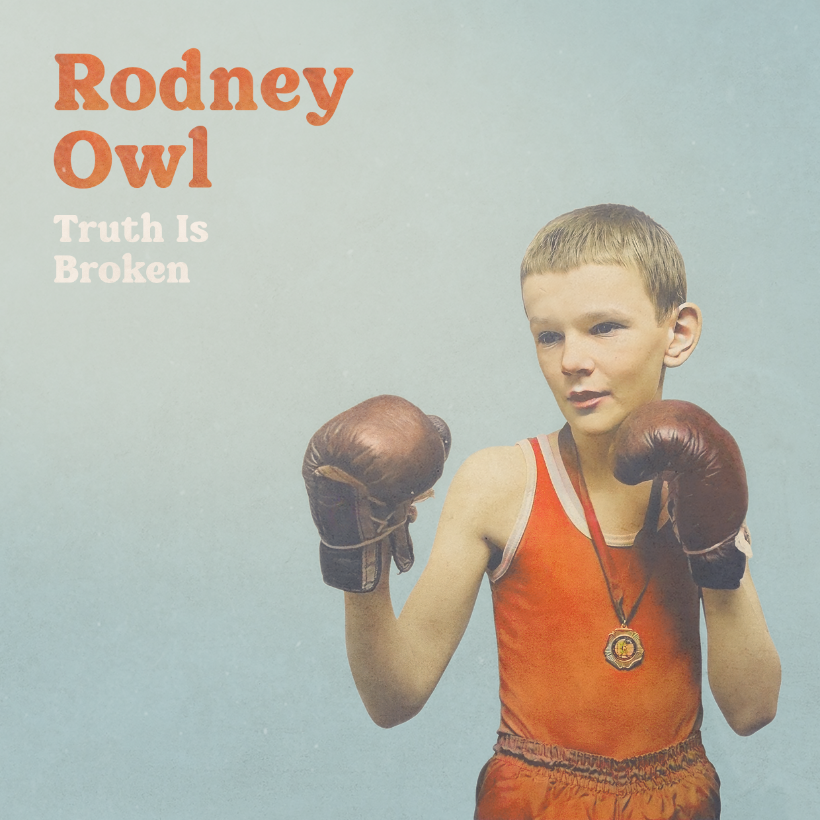 "Not of this time, Rodney Owl writes beautifully arranged and accomplished songs. Shades of Love, Lambchop, early REM." – Cian Ó Cíobháin An Taobh Tuathail, RTÉ RnaG
"Elegant, folksy guitar picking, a sweet wisp of melody, reminiscent of acoustic legend Nick Drake" – Across the Line, BBC Radio Ulster
Rodney Owl will celebrate the highly-anticipated launch of 'Truth Is Broken' with a very special live performance at the beautiful venue that is An Taibhdhearc in the heart of Galway city, organised by the fantastic team at The Black Gate. Book your tickets for this show here.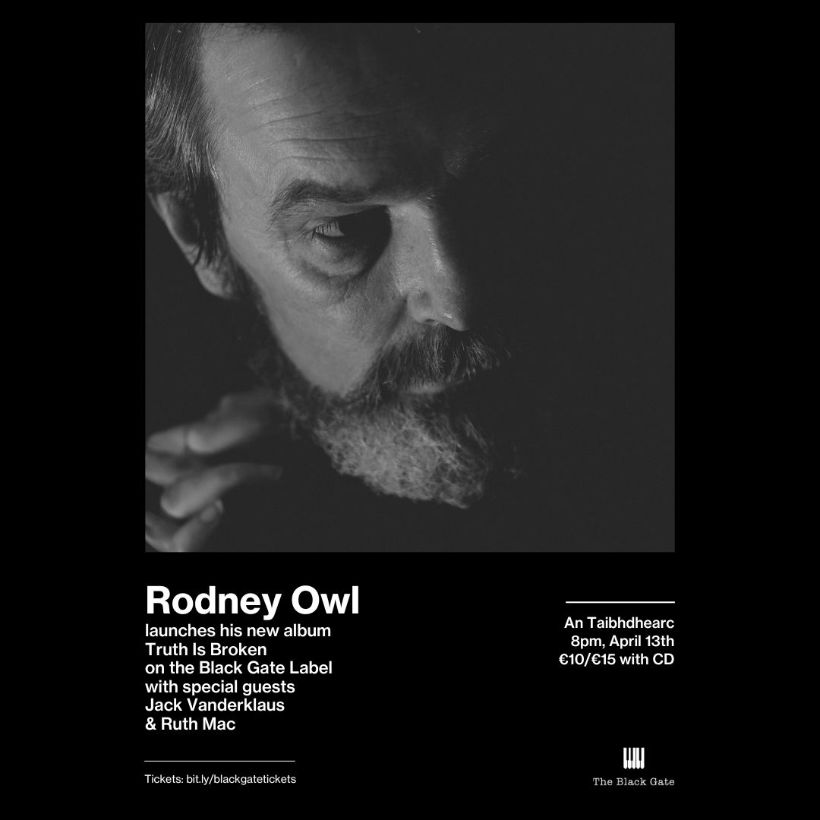 About The Black Gate..
Combining music venue, recording studio, record label and production house, The Black Gate is at the very heart of the Irish music industry and the cutting edge of Irish indie, folk and jazz music.
Established in Galway City in 2017 the venue hosted some of the finest artists in the world, provided a platform for emerging acts and was an integral part of the Irish music scene, while the world-class recording studio above the venue produced over twenty albums including Niamh Regan's Hemet, the first release on the Black Gate Label and nominee for the RTÉ Choice Music Prize Irish Album of the Year.

When the COVID-19 pandemic forced the closure of the live music industry in early 2020, Black Gate Productions was established and a series of beautifully filmed live-stream gigs led to CUMASC, a 12-part television series for TG4 featuring collaborations between well-known Irish and international musicians.
Partnerships with Music Generation, Creative Ireland and Galway City Council have since resulted in Black Gate Beginnings, an event series with mentorship opportunities for aspiring young songwriters; and Black Gate Introducing, a festival showcasing emerging talent from the region.
Currently developing a new and improved cultural centre in Galway's city centre, along with a slate of high-profile film and television productions, The Black Gate continues to work with incredible artists, venues and arts organisations to produce stunning albums, concerts and meaningful music experiences.
Follow The Black Gate on Instagram, Facebook and Twitter to get the low-down on
Feature photo by John Margetts
Published on Updated on