Galway's foodie offerings span the length and breadth of the globe, providing an authentic glimpse into the cultures and cuisines of far off places. When it comes to Asian food in Galway, we are blessed with several restaurants that showcase the niche flavours and nuanced approaches to cooking across various regions of the continent. Whether we're in the mood for a quick spice bag or some tasty pad Thai, here are our top picks for the best Asian food in Galway.

KHOW THAI
19A, Merrion House, Liosbán Industrial Estate // more HERE
Bringing authentic Southeast Asian cuisine to the Liosbán Industrial Estate, the folks at Khow Thai have a passion and enthusiasm for utilising the freshest of ingredients to ensure you'll experience the fragrances and flavours of Thailand with every forkfull. Whether you go for a wholesome bowl of noodle soup or a panang curry, this restaurant's aromatic components and complex taste will have you coming back for seconds.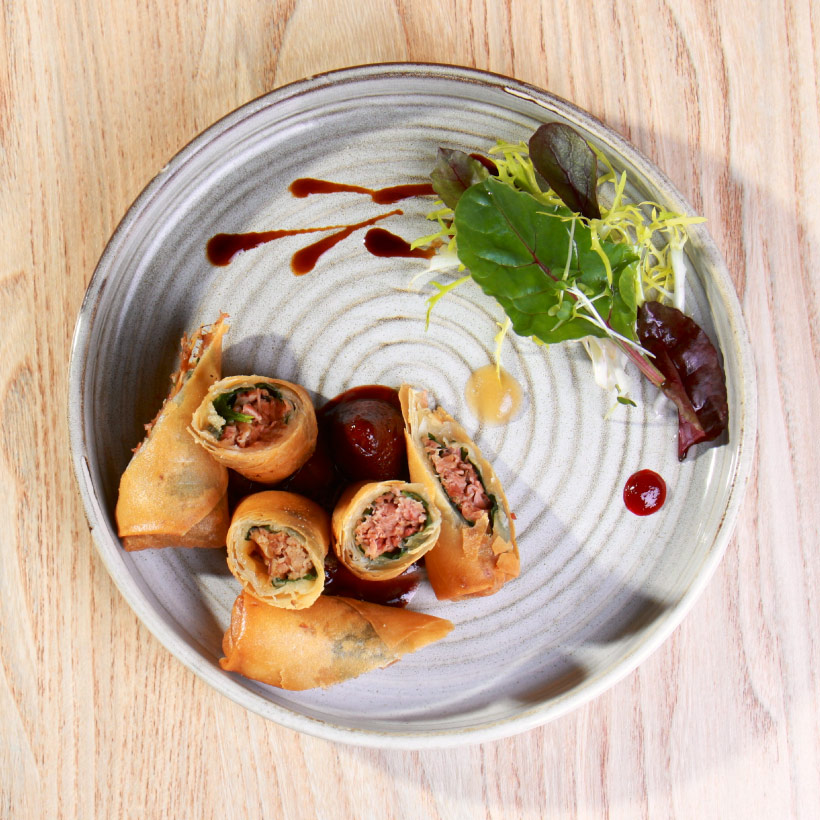 UMBRELLA ASIAN TAPAS
2 Middle Street // more HERE
The perfect place to try new things and discover amazing flavours, Umbrella Asian Tapas is a vibrant and welcoming restaurant that specialises in small portions and sharing plates to suit all tastes. Spring rolls, all kinds of sticky and delicious chicken skewers, sushi, fried noodles, BBQ ribs and aromatic duck pancakes - they've got it all in abundance.
XI'AN STREET FOOD
7 Quay Street & High St, Corralea West, Tuam // more HERE
If you haven't tried one of Xi'an Street Food's legendary spice bags yet, where have you been?! Showcasing Chinese food culture to the masses, this restaurant honours the central Chinese city of Xi'An and their array of noodles, dumplings and burgers are the tastiest way to be introduced to the region's unique food culture and history. A true highlight has got to be watching their expert chefs make Biang Biang noodles by slapping these big thick lengths of dough against the counter as they're pulled - also, they're seriously tasty.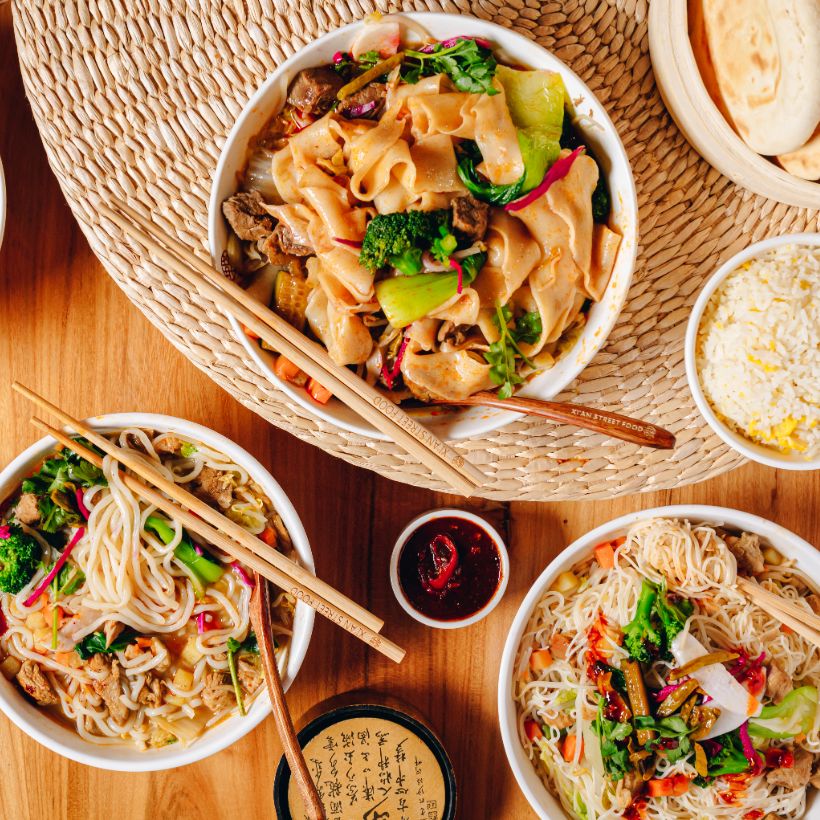 LANA
20A Mary Street & 224 Upper Salthill // more HERE
Bringing the tastes, colours and smells of Asian street food to Ireland, the team at Lana come from Thailand, Indonesia, China and Malaya and reflect the nuances of these different areas in their variety of options. Whether you go for a selection of light bites that include crispy wontons, ribs and wings, or something straight from the wok (we can never resist the Malay BBQ honey), you'll be leaving with a full belly and tingling tastebuds.

JIANBING BAR
6 Quay Street // more HERE 
Specialising in traditional Chinese street food inspired by ancient recipes from the Shandong Province, Jianbing Bar provides us with exceptionally unique options that always keep us coming back for more. The Jianbing itself is a thin and crispy pancake made with corn, rye and other grains, flavoured with black and white sesame seeds and comes in many different forms; sweet or savoury for breakfast or dinner. This spot also serves bubble tea, which is made by blending a tea base with milk, fruit and fruit juices before toppling in the signature flavoured tapioca pearls.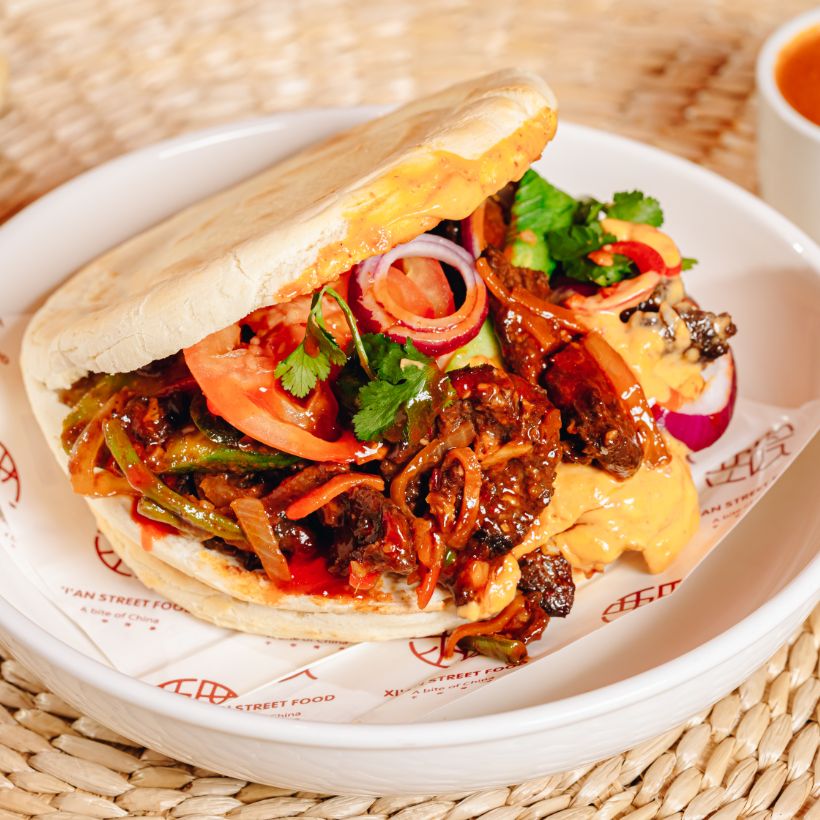 WA CAFÉ
13 New Dock Street // more HERE
Recently nominated for Best Casual Dining in Connacht 2021, Wa Café have been serving traditional Japanese sushi of the highest quality to the people of Galway since 2002. Dedicated to harmony and tradition, this restaurant endeavours to provide their customers with the absolute best and is a perfect illustration of the magic that can be made when East meets West. Whether you opt for a platter of varied sushi or a vegan gyoza and miso soup, your palate will thank you for it.
ASIAN TEA HOUSE
15 Mary Street // more HERE 
Dining at the Asian Tea House is a wholly immersive experience. Inspired by regional cuisines from China, Indonesia and Japan to Korea, Malaysia and Vietnam, this restaurant stays true to tradition while carefully balancing the flavours of each dish to ensure that every mouthful is perfect. Their extensive menu ensures that all tastes are catered to and with the Buddha Bar cocktail menu at your disposal, you've got yourself an ideal evening!